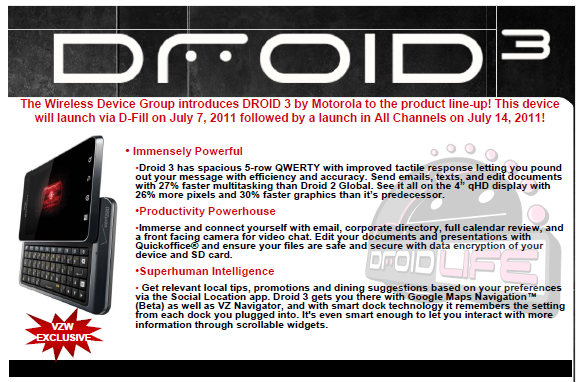 Recently Motorola launched the Milestone 3 in China which is actually successor to Milestone 2 which is known as Droid 2 in USA. Now its turn for the US version to come out which will be known as the Droid 3. We recently heard that Verizon will launch it on July 7th but it was just a rumor however Droid Life got their hands on a leaked screenshot which confirms it that Verizon will be launching it on July 7th via Direct Fill and it will hit all other Verizon stores on July 14th. As we also heard that BestBuy will be launching it on July 14th so it means Droid 3 will hit all other Verizon stores and some retailers on the given date.
Also our friends over at PocketNow claims that Droid 3 will be a global phone like Droid 2 Global and it will feature a 1 GHz dual-core processor, probably TI OMAP. At the moment, there are no words on the price of it but you can expect it around $199.99 with a 2-yr contract. Droid 3 looks like a promising successor to the famous Droid line and I am sure all Droid fans are looking forward to it. It will feature a 5-row keyboard which is a new addition to the traditional QWERTY keyboard, an 8-MP camera with dual-LED flash and a front-facing camera for video calling. Well, the phone really packs some good specs, no?
So anyone in USA looking forward to Droid 3?