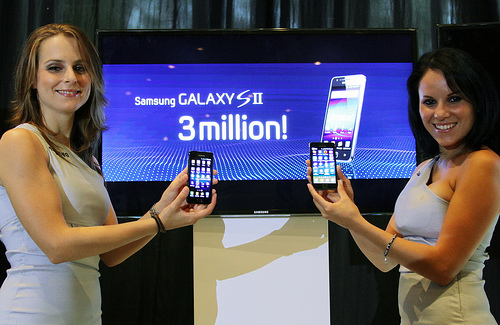 Looks like Samsung's latest Android flagship – Galaxy S2 has set new sales records for the company as it has managed to sell  3million units globally in just 55 days. Not a bad number at all ! The company claims one S2 was sold every 1.5 seconds.  Although the S2 has been successful , it has  had it's own share of problems some users have faced issues with the display and camera. We ourselves spotted a display bug in the S2 . some users also report over-heating. But for the most part , S2 users seem a happy lot. If you are picking up an S2 soon , make sure your unit does not face any issues mentioned above . For S2 owners , its party time ! Also do check out our review of the device.
Here is the press release
Galaxy S 2 Set a Record of 3 Million Global Sales in 55 Days

A global smart buzzword, Galaxy S 2 set a record of 3 million global sales only in 55 days.

Samsung Electronics said on July 3 that its flagship smartphone Galaxy S 2 has marked the accumulated global sales of 3 million units, 55 days after its initial release: Within the period, a unit of Galaxy S 2 was sold in every 1. 5 seconds. This record shortens the record of 85 days of its predecessor Galaxy S, a ten-million global seller, by 30 days.

Samsung Electronics has dramatically increased its mobile market share in Europe, owing to the Galaxy S 2 smartholics there. In the UK where the local major reviewer Uswitch.com selected Galaxy S 2 as the best mobile phone in May and June, Samsung Electronics has become the most sold mobile brand for straight 17 weeks.

In Austria, Galaxy S 2 jumped into the fourth place on the smartphone hit-list, right after its release. In Switzerland, it spearheaded into the third. Owing to the fast-growing popularity of Galaxy S 2, Samsung Electronics topped the Austrian smartphone market with the market share of 30 percent. It also seized 36 percent of the smartphone market in Switzerland.

Meanwhile, Samsung Electronics held the launching events of Galaxy S 2 in Mexico and Brazil on June 30 to spread its 'smart' frenzies to Latin America.