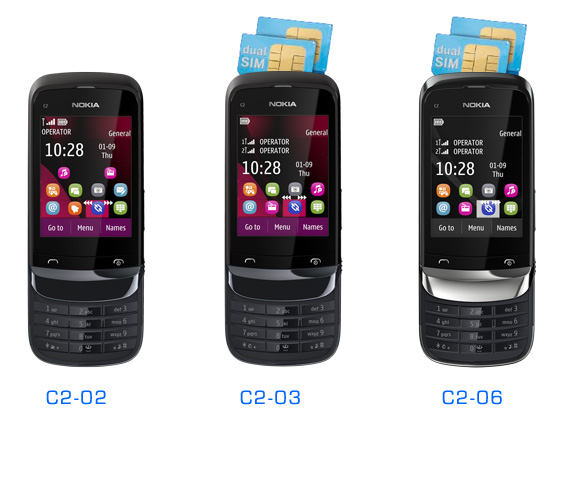 Nokia has announced three new Series 40 devices Nokia C2-02, Nokia C2-03 and Nokia C2-06 at the Nokia Connection at Singapore. These devices are affordable Touch and Type devices and they comes pre-loaded with the new Nokia Maps that supports offline map viewing. The Nokia C2-06 got leaked this April.

The Nokia C2-03 is a dual SIM phone that has SIM card hot swap option, so that it is easy to insert the SIM cards without removing the back cover. This also allows the users personalize up to five SIM cards. The Nokia C2-02 is similar to Nokia C2-03 but comes with single SIM card option. Nokia C2-06 comes in new colors and smooth finish.
These devices also comes with stereo FM radio, media player and expandable memory up to 32GB. The Nokia C2-02 and C2-03 would be priced at EUR 75 (US$ 105) which is around Rs 4,700 and Nokia C2-06 would be price at EUR 80 (US$ 112) which is around Rs 5,000.
These phones would be available at the 3rd quarter of 2011.