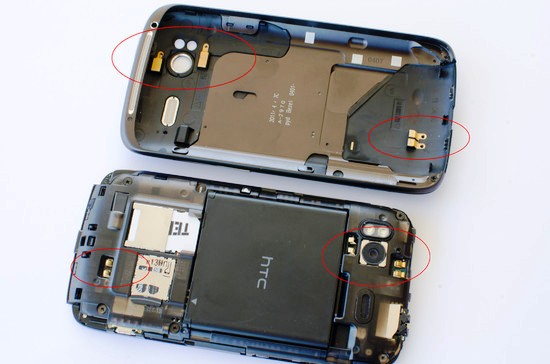 This is not a happy news for HTC fans who are eagerly waiting to buy the HTC Sensation. Nordic Hardware has tested the HTC Sensation in their Test lab and found that the phone has antenna issues, similar to that of the iPhone 4. HTC Sensation is already available in UK and coming to T-Mobile USA next week.
The HTC Sensation, which has single piece metal back cover with the antennas at the back, is said to be facing issues receiving the WiFi, Bluetooth and 3G signals, when the entire back of the phone is covered. Holding the phone by the sides, without covering the entire back is possible in the portrait mode, but it is unavoidable in the landscape mode.
They have also posted two videos showing the issues with the audio playback via Bluetooth in the first video and the Wi-fi Analyzer results in the second one.
httpv://www.youtube.com/watch?v=RQaBKzcTp8s
httpv://www.youtube.com/watch?v=ruc1Ua_mq5w
iPhone 4 that was launched last June, had similar problems with the antennas. Apple accepted the hardware issue and offered free bumpers for the customers to improve the signal and also offered full refund, if they return the phone within 30 days of the purchase.
Do you own a HTC Sensation?  Did you experience any antenna issues with the phone? Let us know.