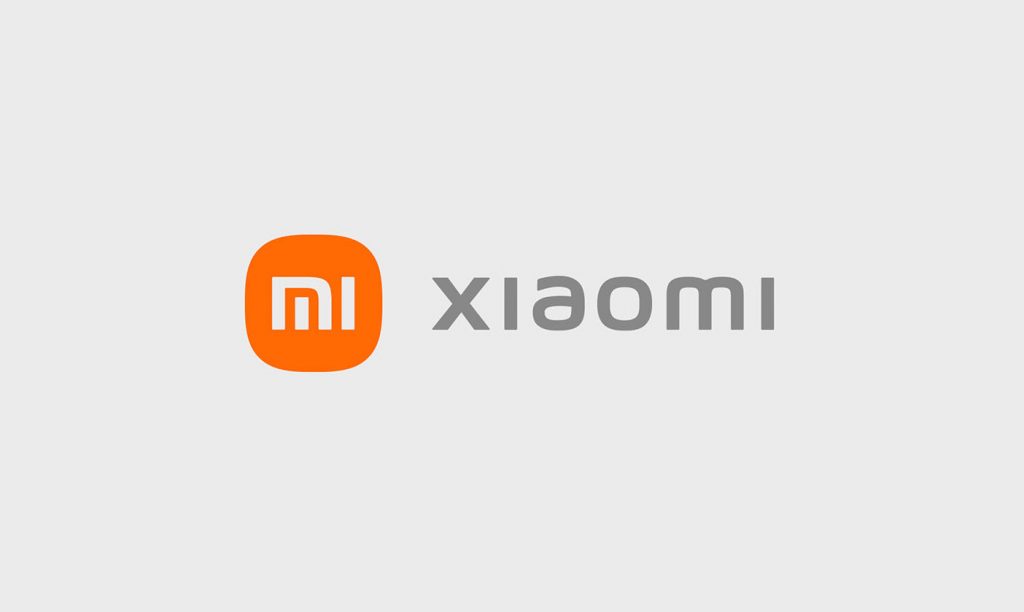 The 2022 Q3 results for the three months ended September 30, 2022, were released by Xiaomi Corporation. Xiaomi reported revenue of RMB 70.5 billion throughout the reporting period, a 10% decrease year-on-year. Net profit after adjustments totaled RMB 2.1 billion, down 59% YoY. This also included RMB 829 million in costs for the smart EV and other new projects.
Xiaomi has retained company resilience despite global macroeconomic headwinds by executing corporate strategies, reinforcing the core "Smartphone x AIoT" strategy, developing business operations, and optimizing monetization.
Canalys ranked the group third in worldwide smartphone shipments with a 13.6% share. Furthermore, Xiaomi's R&D spending grew 25.7% year over year to RMB 4.1 billion in Q3 2022. As of September 2022, 48% of staff were in R&D.
Xiaomi's business approach kept smartphone market share steady
Xiaomi has strengthened its leadership position in important regions while steadily developing in emerging markets by combining a mature business model with a strong local presence.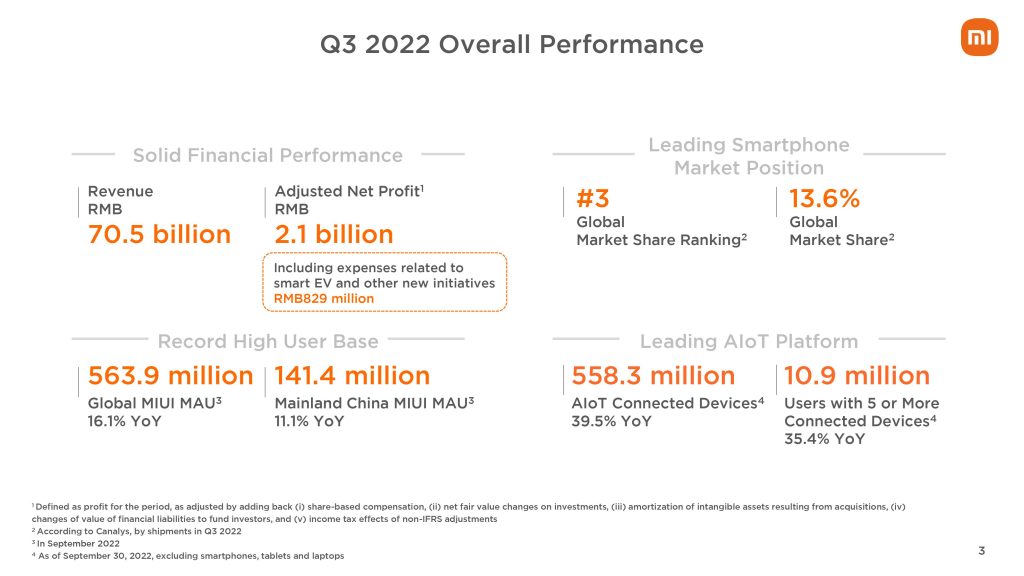 According to Canalys, in the third quarter of 2022, Xiaomi's smartphone market share will be among the top three in 52 countries and regions.
In Europe, Latin America, and the Middle East, the Group's smartphone market share grew year-over-year. Xiaomi ranked No. 2 in Europe in the third quarter with a 23.3% market share, up 1.8 percentage points year-over-year.
With a 17.6% market share, it is first in Spain and second in the Middle East. In Latin America and Africa, its smartphone market share was 15% and 6%, respectively.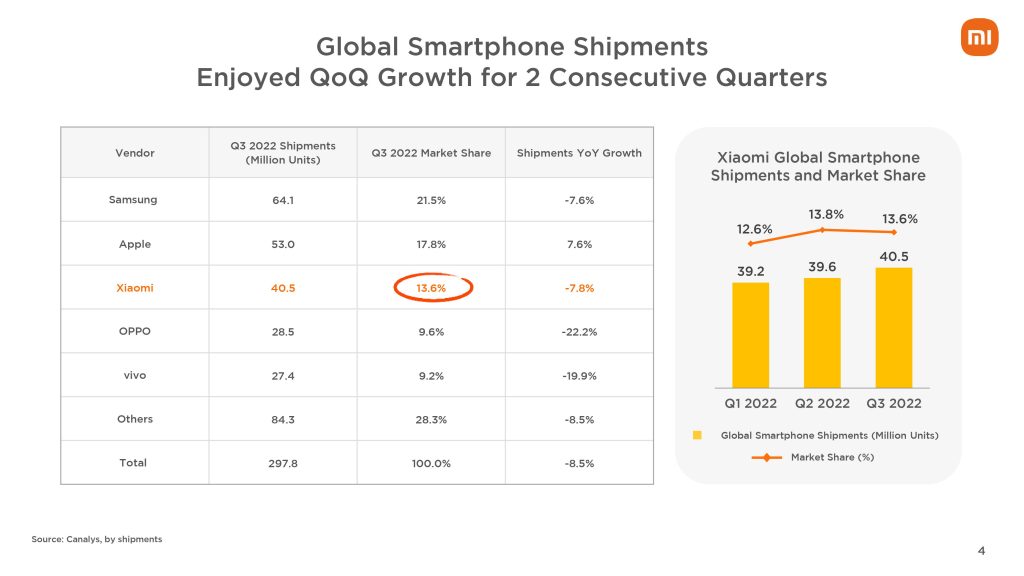 Xiaomi is committed to its globalization strategy, and its smartphone user base is growing, improving the performance and durability of internet service providers. In September 2022, MIUI MAU reached 564 million. The third quarter of 2022 saw 17.0 million MAU for MIUI globally.
During the earnings call, the company said that gross margin in India in the third quarter during Diwali tends to be much lower than the second quarter since it is trying to clean up its inventory in India. So as a result, quarter-over-quarter, it has seen a decline in terms of gross margin.
In the third quarter, overseas internet revenue totaled RMB1.7 billion, up 17.2% year-over-year. Its internet services revenue grew to 24.2%, a quarterly high. Leveraging Xiaomi's strong business strategy, overseas internet services are beginning to bear dividends.
Xiaomi's premium products gained recognition as it invested in tech
Xiaomi is built on technological innovation. The group invests in R&D to enhance products. In Q3 2022, the group's R&D expenses reached RMB 4.1 billion, up 25.7% year over year. The group has also expanded its R&D team and attracts top technologists. As of September 2022, 48% of the group's employees were in R&D.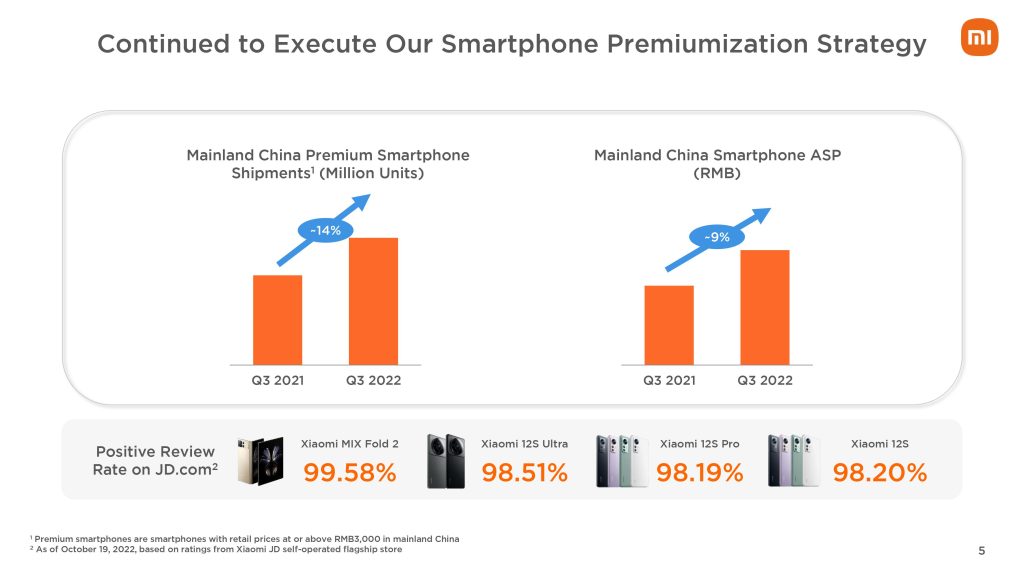 Xiaomi continues to innovate based on its technological brilliance. RMB 829 million was spent on the Smart EV and other innovative projects.
Xiaomi's technological innovation has been praised internationally. BCG named Xiaomi one of 2022's 50 Most Innovative Companies in October.
Xiaomi has been focusing on executing its smartphone premiumization strategy since the first three quarters of the year. Xiaomi has explored new mobile imaging technologies and presented the Xiaomi 12S Ultra, its premier imaging smartphone.
Its image technology was lauded by photographers. In addition, the Xiaomi MIX Fold 2, a foldable flagship smartphone with a self-developed Micro Waterdrop Hinge, gives a comfortable in-hand feel and attracts business people.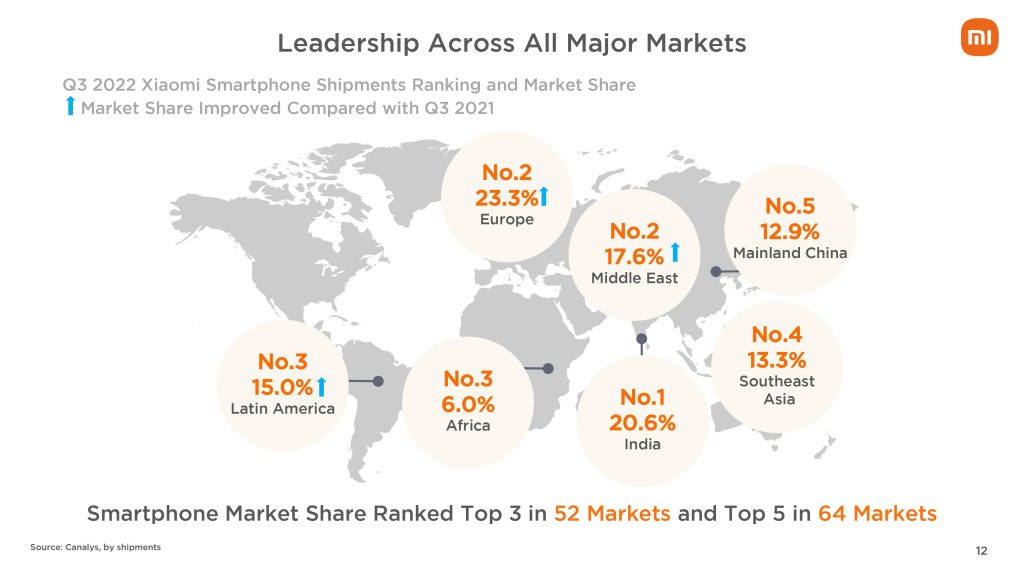 Xiaomi grew its premium smartphone market share. In the third quarter of 2022, Xiaomi's smartphone average selling price rose 9% year-over-year, and smartphone shipments above RMB 3,000 rose 14% in mainland China.
The group aims to connect premium products to boost its growth.
Xiaomi debuted the Xiaomi Buds 4 Pro and Xiaomi Watch S1 Pro during the reporting period. Based on internal statistical data without duplication elimination, approximately 50% of the users of these two new items are Xiaomi premium smartphone users.
Revenue from smart large home appliance category
Xiaomi's interconnectivity advantage grows as the world enters the smart living era. Xiaomi strengthened its "Smartphone x AIoT" strategy during the quarter.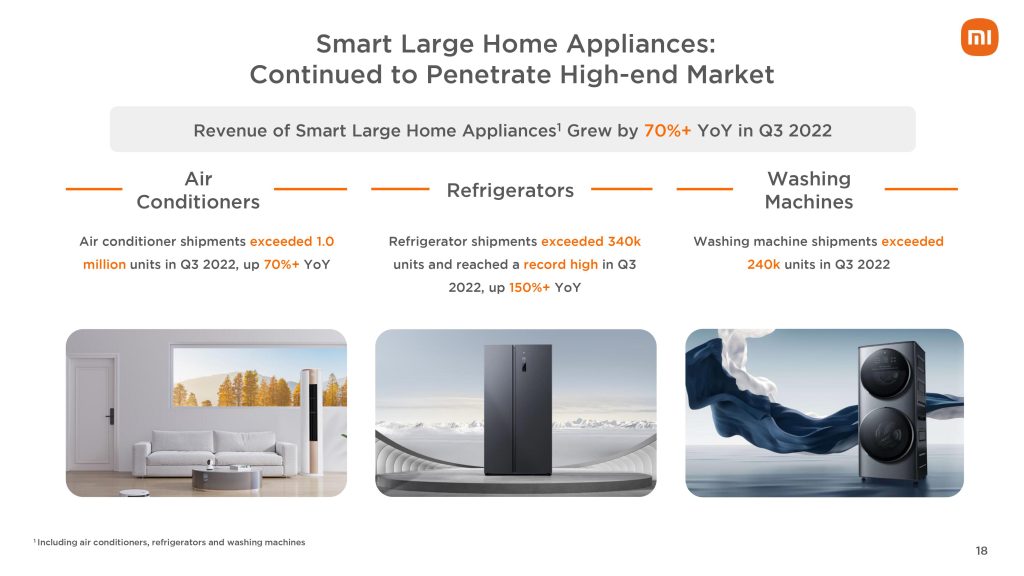 The group has extended its user base, developed a smart living environment, and improved the product experience in numerous scenarios.
As of September 30, 2022, Xiaomi's AIoT platform had 558.3 million linked IoT devices (excluding smartphones, tablets, and laptops), rising 39.5% year-over-year.
Users with five or more devices connected to its AIoT platform surpassed 10.9 million.
In September 2022, AI Assistant MAU reached 114.6 million, up 9.0% year-over-year, and Mi Home App MAU reached 72.4 million, up 20.9%.
Xiaomi's IoT and lifestyle revenue was RMB 19.1 billion in Q3 2022. Its smart major household appliance category (air conditioners, refrigerators, and washing machines) maintained strong growth momentum, setting another record high.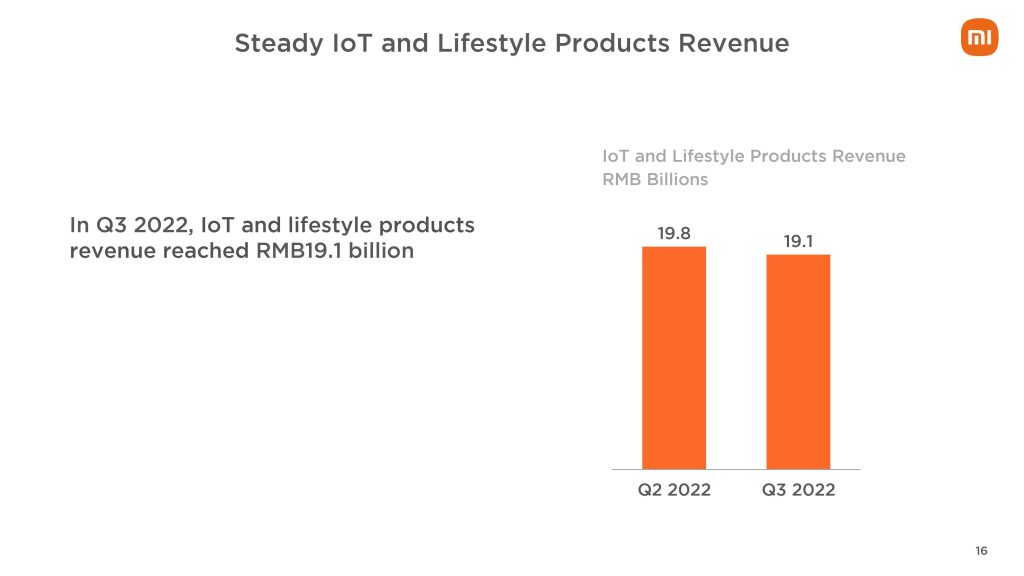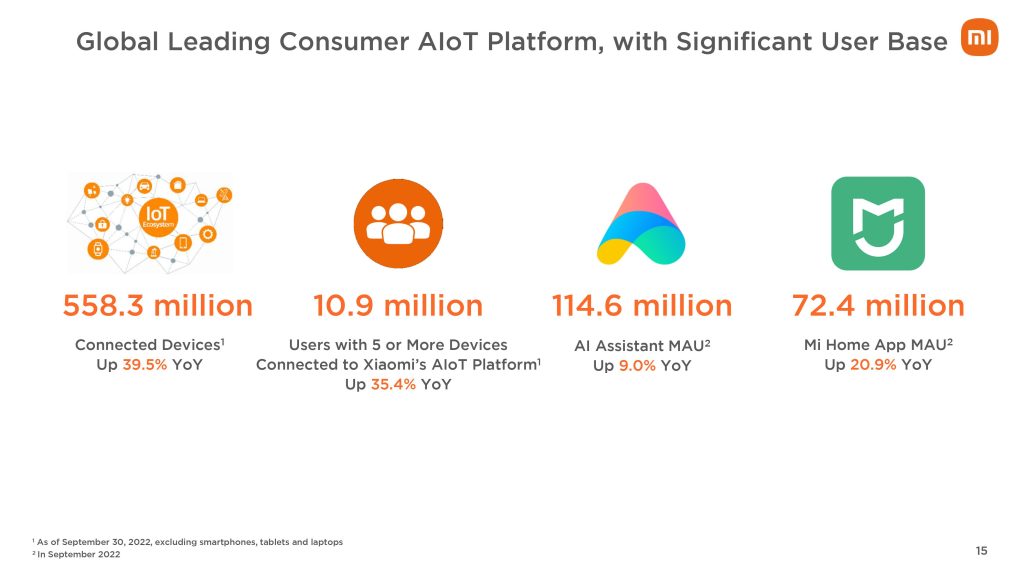 Smart air conditioner shipments topped 1 million units in the third quarter, up 70% year-over-year. Refrigerator shipments increased by 150% year-over-year to 340,000 units.
The group introduced two new IoT products in the third quarter of 2022: the Mijia Outdoor Power Supply 1000Pro and the Mijia Solar Panel 100W.
Solid growth in Internet business
Xiaomi continued to build its user base and optimize its monetization skills despite adverse market conditions, especially in mainland China.
Internet services revenue grew 1.4% quarter-over-quarter to RMB7.1 billion in Q3 2022. MIUI's MAU reached global and mainland China records in September 2022.
MIUI's global MAU grew by 78.1 million year over year to 564 million. MIUI's MAU in mainland China climbed for the eighth consecutive quarter to 141.4 million, up 14.1 million year-over-year.
Advertising revenue increased by 2.9% to RMB 4.7 billion. Gaming revenue increased 1.8% year over year to RMB 1 billion.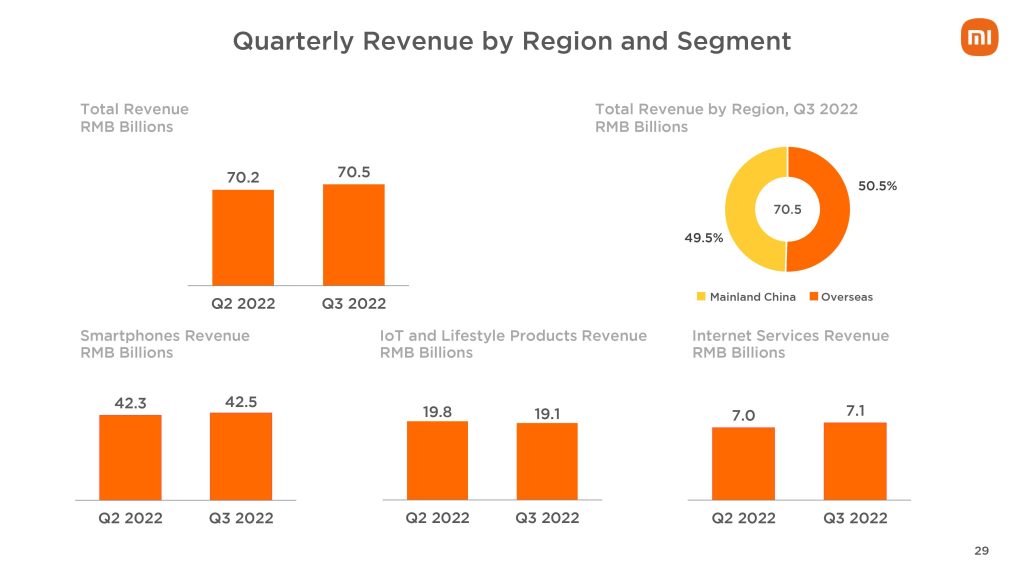 Xiaomi is diversifying its internet services sector, which has huge potential. Since Q3 2022, the group has expanded its large-screen TV product line.
Its smart TV exports have bucked a global TV market drop, fueling TV internet user growth. In September 2022, Xiaomi's smart TV MAU hit 54 million.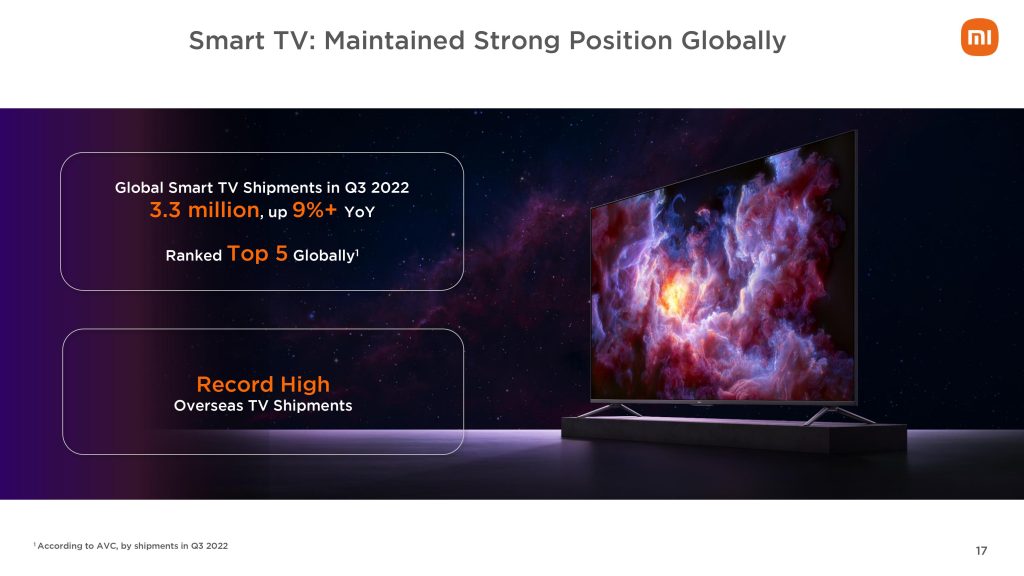 The TV Internet business expanded in the third quarter of 2022. Increasing user bases and optimizing's content operations boosted TV internet service revenue in mainland China to over 15% of total internet service revenue. Paid TV subscribers number 5.5 million.
In the blog post, the firm shared,
Building on Xiaomi's technological excellence, Xiaomi continues to explore the frontiers of technological innovation. Xiaomi's dedication to technological innovation has also been highly recognized by the international market.