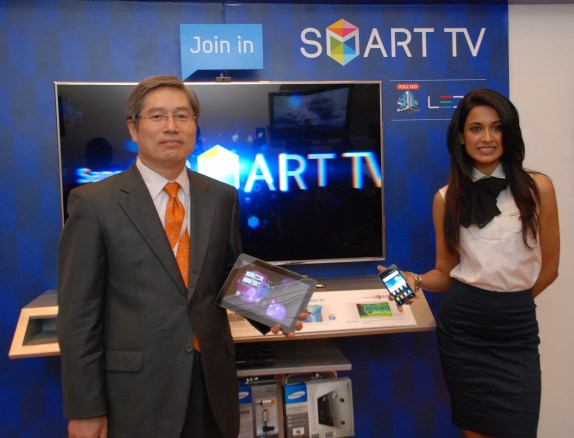 Korean Electronics giant Samsung held it's first Southwest Asia Regional Forum at New Delhi today. The company launched LED TVs , Bluray players,  Monitors, Cameras, Home appliances and Mobile Devices too. Since we are most interested in this aspect, let's take a look at what Sammy showcased today. The Galaxy S2 along with the Galaxy Tab 8.9,10.1  were shown off.  Also a bunch of android handsets – Galaxy Fit, Ace, Pop, Pro were on display. The good news is that the Galaxy S2 is coming to India next month for around Rs.35k. The company did not reveal the pricing of the tabs. We also got hold of the spec sheets of the Galaxy S2 , Tab 8.9 and 10.1 which are embedded below.
Here is the mobile segment of the news
Broadening the Horizon of Smart Mobile Devices

Southwest Asia Forum attendees will have the opportunity to explore Samsung's new class of Android -based smart phones and tablets in the GALAXY family line, a powerful lineup exemplifying the Smarter Life in the areas of speed, screen and content:

GALAXY S II – A lightning-fast, dual-core Samsung GALAXY S II powered by Android Gingerbread has been equipped with Samsung's new crystal-clear Super AMOLED Plus screen, the most advanced mobile visual display ever created. Setting the standard of quality viewing on a mobile, Super AMOLED Plus introduces the best in quality in color gamut, contrast ratio and edge sharpness. As the world's thinnest smart phone, the GALAXY S II represents the company's commitment to delivering the ultimate mobile experience. With Samsung Hubs, the GALAXY S II delivers rich catalogues of books and magazines, music, advanced mobile games to consumers. Also, with enterprise mobility solutions, the GALAXY S II helps enterprise users empower a flexible and connected mobile workforce.

GALAXY Tab 10.1 – Samsung expands the Samsung GALAXY Tab range with a 10.1" entertainment powerhouse. A dual-core smart media device powered by Android Honeycomb, the GALAXY Tab 10.1 boasts its lightweight and thin design on a 10.1-inch large display. The GALAXY Tab 10.1 delivers the ultimate mobile entertainment experience to immerse users with its dual surround-sound speakers.

GALAXY Tab 8.9 – At just 8.6mm thin and weighing only 470g, the GALAXY Tab 8.9 is the perfect device for today's mobile professional. Whether writing emails on a trip or reading an eBook on the couch, the GALAXY Tab 8.9 provides the ultimate tablet experience without compromising mobility.

In addition, five new members join the GALAXY family of smart phones, each designed with a specific audience in mind:

GALAXY Ace – Designed for the trendy young professional, GALAXY Ace offers a premium experience with a 3.5" display on a compact and comfortable handset. Its 800MHz processor, voice search and ThinkFree document viewer deliver quality performance.

GALAXY Fit – This device was crafted for the user who wants a mobile that meets all the challenges of a career and busy social life. With a 3.31" display, the Samsung GALAXY Fit is functional and fun, delivering a user experience optimized for sharing and web browsing on the go.

GALAXY Pop – The Samsung GALAXY Pop embodies great productivity and performance while boasting a 3.14 inch QVGA display. Powered by a 600 MHz processor, the Samsung GALAXY Pop offers Google voice actions and Quick Office document viewer.

GALAXY Pro – Designed as a smart phone with an edge, the Samsung GALAXY Pro comes with Samsung's Social Hub Premium and a dual-input control based on a touch-screen and QWERTY keyboard. On a 2.8" display, professionals are able to get ahead – and stay ahead – of the game when managing their busy work and social lives.
Samsung Galaxy S2 Specs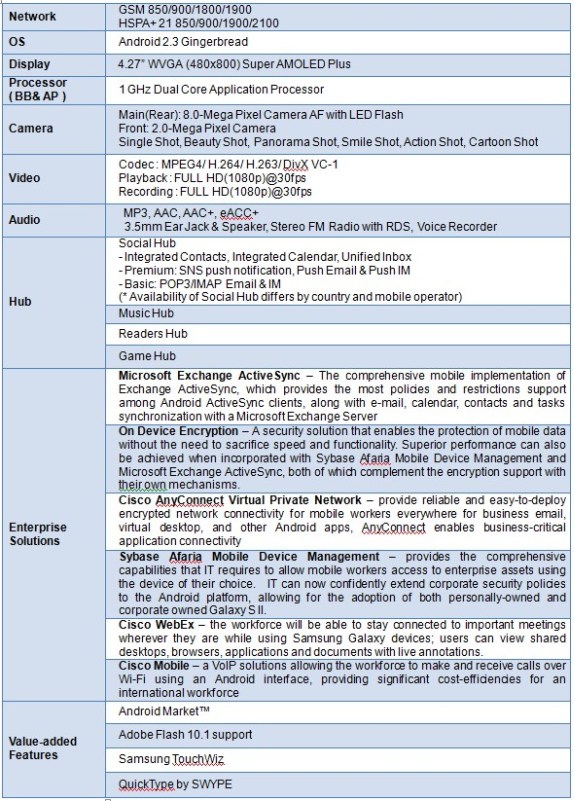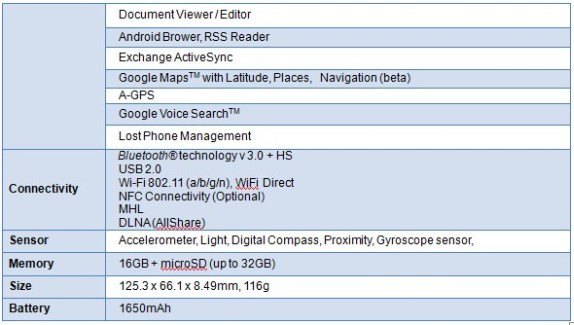 Samsung Galaxy Tab 8.9 Specs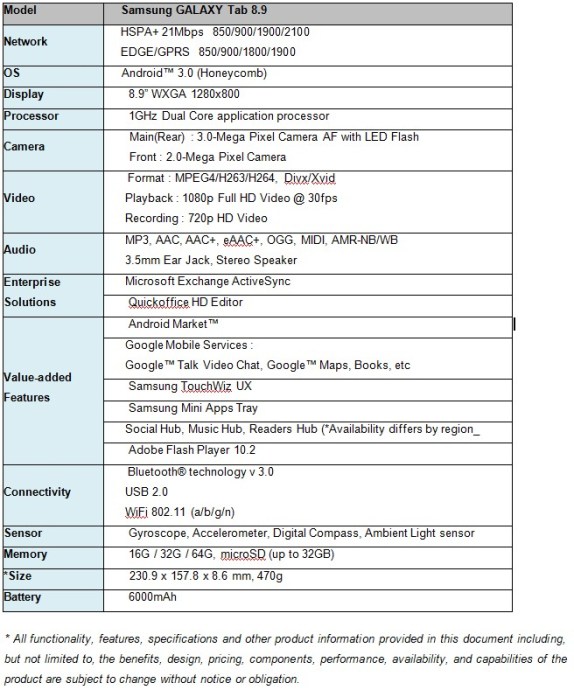 Samsung Galaxy Tab 10.1 Specs