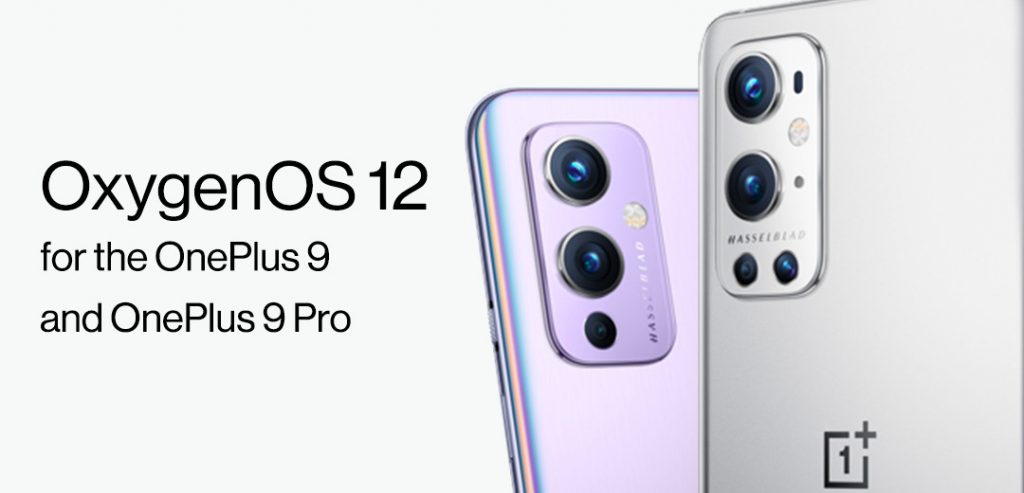 OnePlus, earlier this week, rolled out OxygenOS 12 update, based on Android 12, for the OnePlus 9 and OnePlus 9 Pro in India and North America. OxygenOS 12 brings with it several new features such as Reworked Icons, Adjustable Dark Mode, Improved Shelf, Work-Life Balance 2.0, Improved Shelf, Canvas AOD improvements, and more. However, it looks like OnePlus rushed to roll out the update as soon after updating the devices, OnePlus and OnePlus 9 Pro users started complaining of bugs.
OnePlus 9 and OnePlus 9 Pro users reported that they are noticing inconsistent font sizes though out the UI. Also, the fingerprint scanning response is slow after the update as per various users. Moreover, despite tapping clear all apps in the Recent Apps panel, the current app isn't getting killed. Several users are complaining that their handsets aren't recognizing sim cards, and so can't make calls. Users are also reporting heating and battery draining issues.
That's not the end of the story, a lot of users said that some OnePlus OxygenOS features are missing in OxygenOS 12. Some of these features are Hidden apps, Call recorder app, and Advance reboot. Users are also not able to disable the Google Discover feed, and customize the status bar.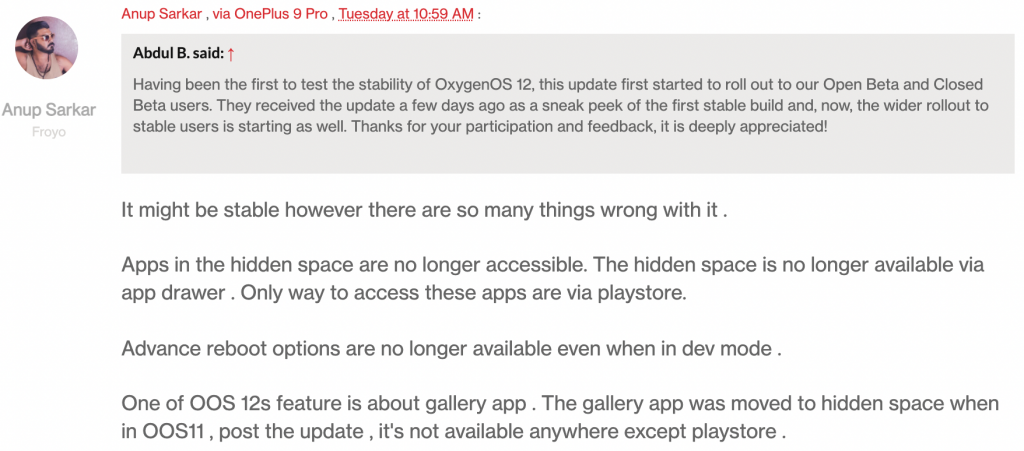 Also, OxygenOS 12 seems to be blocking access to auxiliary cameras to third-party apps such as GCams, at least if Google Camera Ports Updates channel is to be believed.
OnePlus is blocking access to the auxiliary cameras (wide, macro, telephoto) on Android 12.

This was working on Android 11 with some package names, but right now nothing works. It's the same limitation as OPPO phones had for a while now.

If you want GCam to work with all sensors, do not upgrade to OOS 12.

You may also want to avoid OnePlus if you plan to use GCam… things are getting worse, not better.
Mishaal Rahmaan, a noted Android geek, in a Twitter thread talked about the issues and mentioned that the inconsistencies and bugs are due to the fact that OnePlus is migrating to Unified OS with Oppo. The users should do a clean data wipe and shouldn't restore the settings for a better user experience. If you are someone who has updated their handset to OxygenOS 12, and are facing trouble due to various bugs, a factory reset might be helpful.
This reminds me of the bug in Realme UI/ColorOS wherein if you restore settings from a phone that used AOSP's Night Light implementation, your new phone may be stuck with night light enabled with no way to turn it off in settings.

— Mishaal Rahman (@MishaalRahman) December 9, 2021
If you own a OnePlus 9 and OnePlus 9 Pro, on the basis of such feedback, we would recommend not to update to OxygenOS 12 version for now. We hope the company rolls out a hotfix update soon for both these smartphones.