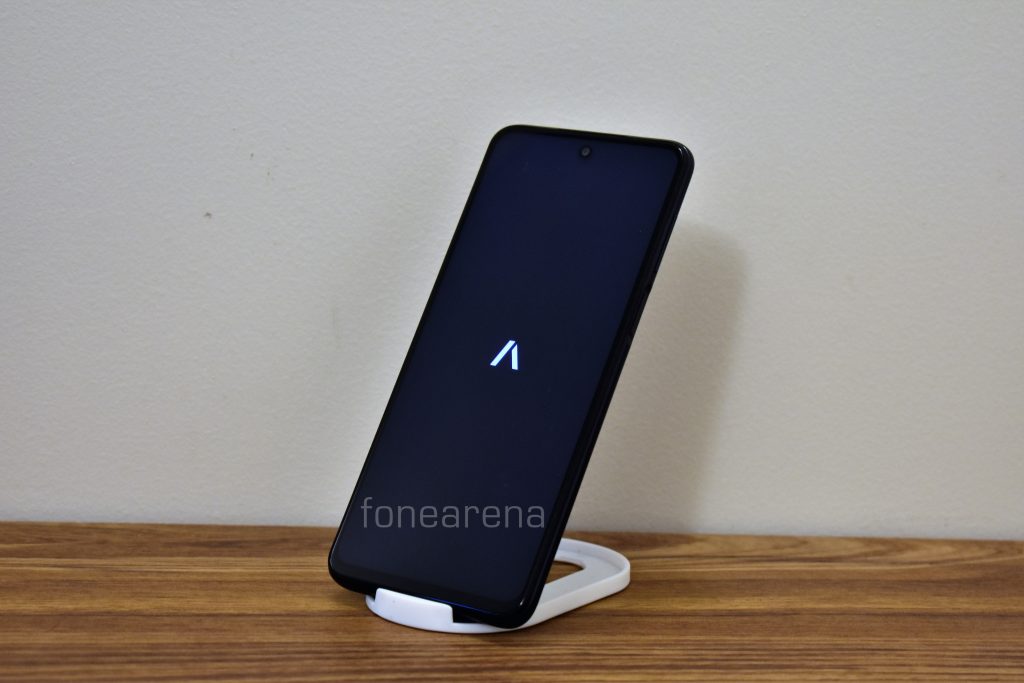 POCO launched the POCO M2 Pro handset last year in India. The POCO M2 Pro shares a lot in common with the Redmi Note 9S, Redmi Note 9 Pro, and Redmi Note 9 Pro Max. All these devices came preloaded with Android 10, and have already been updated to Android 11 based MIUI 12. It's not clear if Xiaomi and POCO have plans to upgrade these devices to Android 12 based MIUI.
However, there are several Android 12 custom ROMs available for these devices that third-party developers have released over the last few weeks. We tried Android 12 based AwakenOS 2.1 custom ROM on our POCO M2 Pro, and here is our review of the same to let you help decide if you should flash it too on your unit. Also, this is a  unified ROM, which means it will work on Redmi Note 9S, Redmi Note 9 Pro, and Redmi Note 9 Pro Max as well.
Android 12 based AwakenOS 2.1 on POCO M2 Pro: Performance and Benchmarks
For those who care about numbers, the POCO M2 Pro 6GB RAM variant running Android 12 based AwakenOS 2.1 scored 565 points in the single-core test and 1547 points in the multi-core test in Geekbench 5. It managed to score 2524 points in the single-core test and 5902 points in the multi-core test in the Geekbench 5 test. We also ran Antutu v9 test on it and got a score of about 346046 points.
The POCO M2 Pro with Android 12 based AwakenOS 2.1 handled day-to-day tasks very well. Even with occasional gaming, we didn't face any trouble. Performance-wise, it felt smoother compared to stock MIUI (Indian version).
Android 12 based AwakenOS 2.1 on POCO M2 Pro: Software, UI, and Customizations
Android 12 based AwakenOS 2.1 is based on AOSP and offers a clean bloat-free experience as you would expect. It comes preloaded with 18 essential apps including Calculator, Calendar, Chrome, Contacts, Messages, Phone, Photos, Play Store, etc. Most of these pre-installed apps can also be disabled as well as uninstalled.
AwakenOS 2.1 comes with a 'Material You' theming engine that applies wallpaper-based accent colors to the entire user interface. Even Google suite of apps adapt to the Material You UI.
Android 12 based AwakenOS 2.1 runs November Android security patch. The system occupies around 20GB of storage out of 64GB of internal storage. AwakenOS 2.1 supports OTA updates, it remains to be seen if the developers can keep up with updating the ROM on a monthly basis.
AwakenOS 2.1, based on Android 12, offers all the display features that you will find in any other custom ROM, be it Dark Theme, Adaptive brightness, Night Light, or Tap to wake. Users also get an option to choose Colors based on their preference.
It also offers features like Adaptive sound and the Live Caption. To those unaware, the Adaptive sound feature was introduced back in 2020 by Google. It uses the microphone to assess the ambient sound and then adjusts the sound equalizer settings accordingly.
AwakenOS 2.1 also has supports Bubbles, Conversations, as well as Notification History. Users can also enable Pop on screen (banner) notifications for apps. Overall, to sum things up, the UI is clean and minimal but offers all the necessary crucial features that one might require for day-to-day usage.
Android 12 based AwakenOS 2.1 on POCO M2 Pro: Security
AwakenOS 2.1 doesn't support face unlock, which might be a disappointment for some folks. The fingerprint unlock works each and every time without fail but similar to every other AOSP based ROM, the fingerprint unlocking animation is a bit slow.
Android 12 based AwakenOS 2.1 on POCO M2 Pro: Battery Life
One of the things that I liked the most about the AwakenOS 2.1 was the battery life. With moderate usage, the phone lasted easily for a couple of days with some charge left on it. It recorded a screen on time of about 5 hours 46 minutes over a usage period of about 55 hours, and a 14% charge was left on the device. However, if you are into gaming or use resource-hungry apps, the battery stats might be different.
Android 12 based AwakenOS 2.1 also offers Battery Manager and Battery Saver. The Battery Manager detects the apps that drain memory and notifies users to restrict the apps to save the battery. The Battery saver turns on the Dark theme and limits background apps to save some juice. However, the Extreme battery saver is missing here.
Should you try Android 12 based AwakenOS 2.1 on POCO M2 Pro?
Definitely. The AwakenOS 2.1 offers a good battery life, smooth day-to-day performance, and the latest Android 12 features without any compromise in any department.
Android 12 based AwakenOS 2.1: Compatible Devices
AwakenOS 2.1, based on Android 12, is available for a bunch of devices including
POCO F1
POCO X3 NFC
POCO M2 Pro
Redmi Note 9 Pro
Redmi Note 9 Pro Max
Redmi Note 8
Redmi Note 8T
Mi 9
Mi A2
Mi 6X
realme X2
realme XT
Asus Zenfone Max Pro M2
Lenovo Z6 Pro
Requirements
If you are on a Mac, you need to
Extract the Android zip and place the folder on your Desktop.
Open Terminal
Type cd Desktop/Android
Enter ./ADB-Install-Mac.sh
How to flash Android 12 based AwakenOS 2.1 on your POCO M2 Pro, Redmi Note 9 Pro, and Redmi Note 9 Pro Max?
Switch off the phone and boot it into fastboot mode by long pressing Power and Volume down buttons simultaneously.
Connect your phone to PC by a USB cable, open the command prompt on your PC, and navigate to the folder where you have saved Orangefox img file.
Type the following command in the command prompt and check if the device is detected by the system.
fastboot devices
If the system detects the phone, type another command (given below) and hit enter. This process will be completed within 10 seconds.
fastboot flash recovery_filename.img
Now long-press the Volume up and Power Button to boot the phone in recovery mode.
Go to Menu section, and select Manage Partitions. Now, select Data and click the button that appears on the bottom right of the screen.
Click on Format Data, and type Yes.
Now, go to Wipe, select the following options then swipe towards the right to Wipe.

Dalvik / ART Cache
Cache
Data
Internal Storage (Optional)

Also, remember to Mount (under Menu) USB Storage or MicroSD depending on what you're using.
Go back and click File, navigate to the location where you have stored the required zip file, it's better to keep these zip files on SD Card or USB OTG drive. Select the ROM zip, and then swipe towards the right to flash.
Click on Reboot System, and within 10 minutes device will boot with dot OS 5.0
You can also join POCO M2 Pro Updates, Redmi Note 9 Pro, and AwakenOS channels on telegram.
Credits: We would like to acknowledge the efforts of DarthJabba9 for the development of Orangefox recovery for the device.
Warning Disclaimer: Bootloader unlocking and flashing ROM may void the warranty of your device, FoneArena is not responsible for any damage or loss caused to your device.