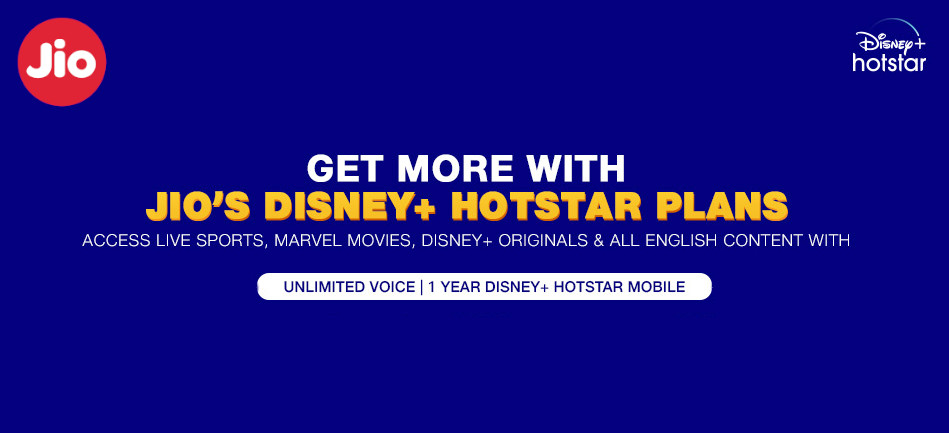 Reliance Jio has launched new pre-paid plans that offer a 1-year Disney+ Hotstar Mobile subscription. In addition, these offer bundled data, unlimited voice calling, SMS (100 / day) and access to Jio apps. These are available for 1 month, 2 months, 3 months, annual and also as a data add-on pack that comes with 2 months of validity without voice calling or SMS features.
New Jio Plans with a Disney+Hotstar Subscription
Plan Type
1 month
2 months
3 months
Annual
Data Add-on
MRP
499
666
888
2599
549
Data per day
3GB
2GB
1.5GB
Free voice and SMS
Yes
No
Validity
28 days
56 days
84 days
365 days
56 days
To continue getting Disney+ Hotstar Mobile subscription benefits for 1 year, user needs to continuously to be on any active plan. These prepaid packs are available on Jio's website, MyJio app and should be available at all existing checkpoints.
To remind you, last month Disney+ Hotstar announced new plans that offer access to all content, and this came into effect starting today, September 1st. The Disney+ VIP did not offer access to English content, but the new Disney+ Hotstar Mobile subscription offers access to all content, but only on mobile, compared to VIP plan that also offered access to TV and Desktop.