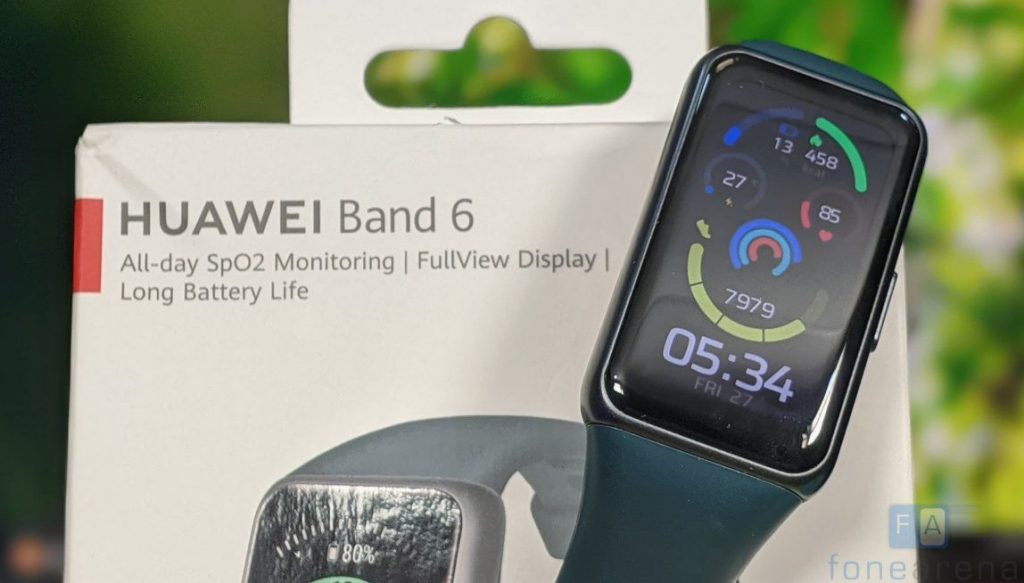 HUAWEI launched its HUAWEI Band 6, the company's latest smart band, in India last month. This has a large  1.47-inch AMOLED 2.5D touch screen that has 148% bigger display area compared to the HUAWEI Band 4 Pro. In addition to 24-Hour Heart Rate Monitoring, it also offers 24-hour blood oxygen (SpO2) monitoring that is not available even in the HONOR Band 6 that is slightly cheaper. Is it worth the price? Let us dive into the review to find out.
Box contents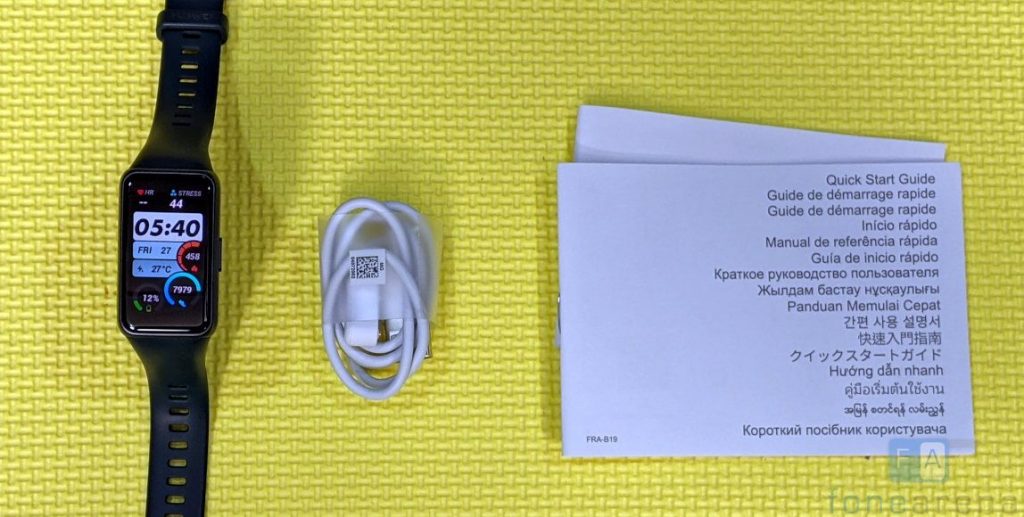 HUAWEI Band 6 with Green colour strap
Charging connector
Quick start guide
Design and Build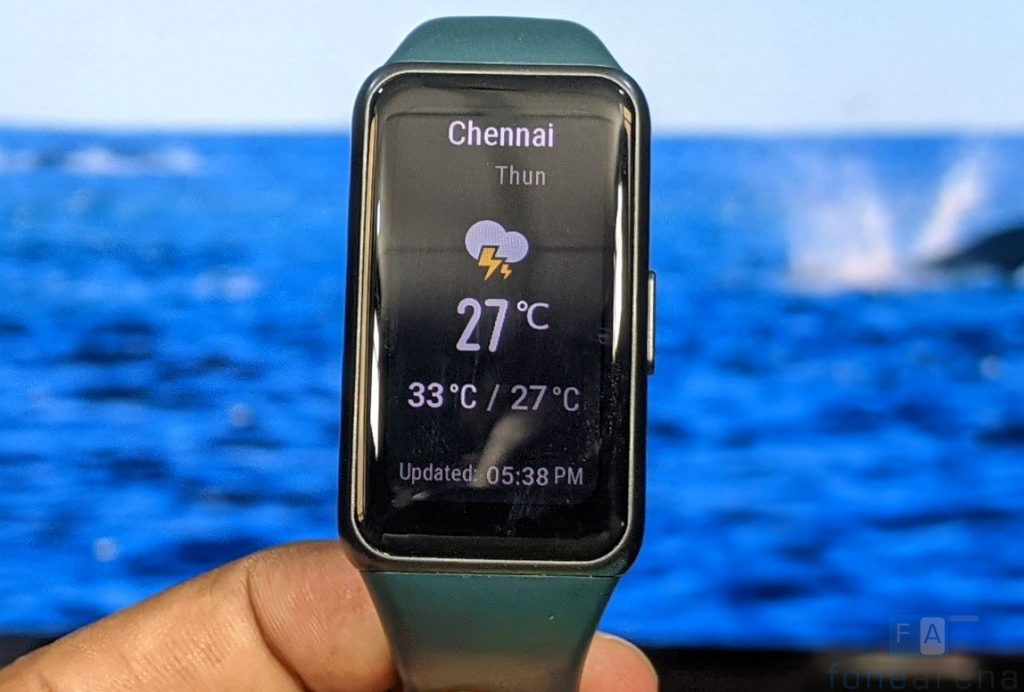 Starting with the design, the HUAWEI Band 6 has a unique screen design   that looks more like a smartwatch instead of band, thanks to its large 1.47-inch screen. You can see bezels around the screen. This measures 43 × 25.4 × 10.45 mm and weighs 18 grams (without the strap) compared to dimensions of 43 × 17.2 × 11.5 mm and weight of 22.7 grams in the HONOR Band 5. It has a polycarbonate body. It has 5ATM water resistance, so you can even wear when swimming. There is 6-axis IMU sensor (Accelerometer sensor, Gyroscope sensor), Optical heart rate sensor as well as PPG heart rate sensor and also comes with a SpO₂ sensor. It uses Bluetooth 5.0 LE compared to Bluetooth 4.2 in the HONOR Band 5 and HUAWEI Band 4.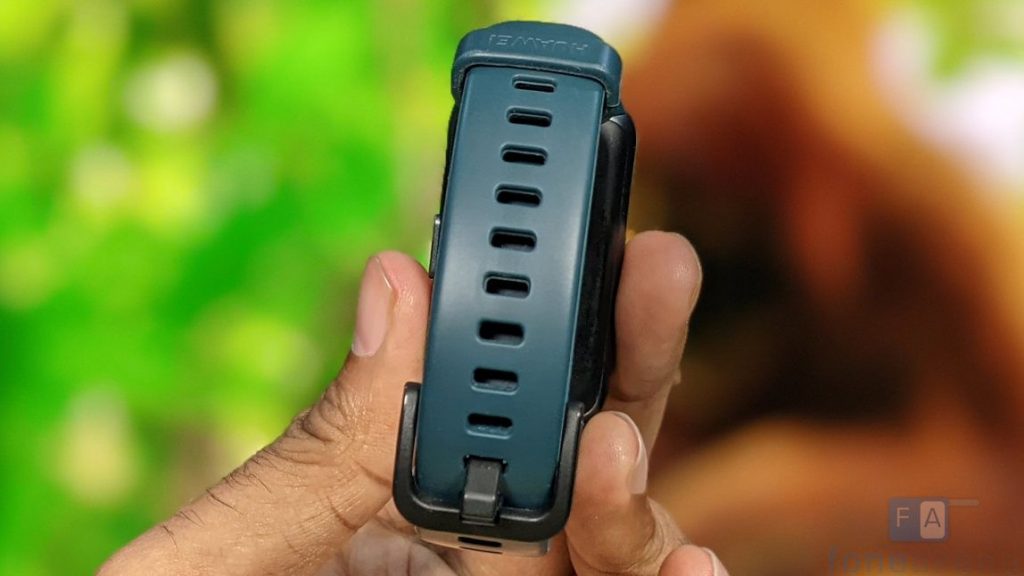 The strap is made of skin-friendly, UV-treated silicone, and the company says that they are super-light and refreshingly dirt-resistant. It is adjustable and look like a normal watch strap, which we had seen in the HUAWEI Band 4. The strap has a plastic buckle which gives a metal look. It is tight, and doesn't come out easily, unless removed.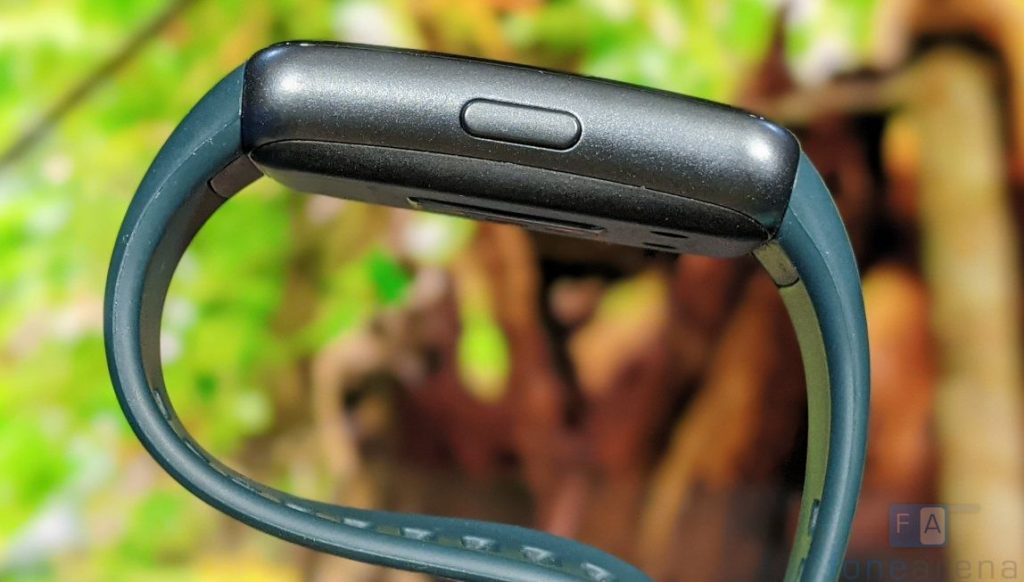 There is a button on the right side to launch apps menu or go home.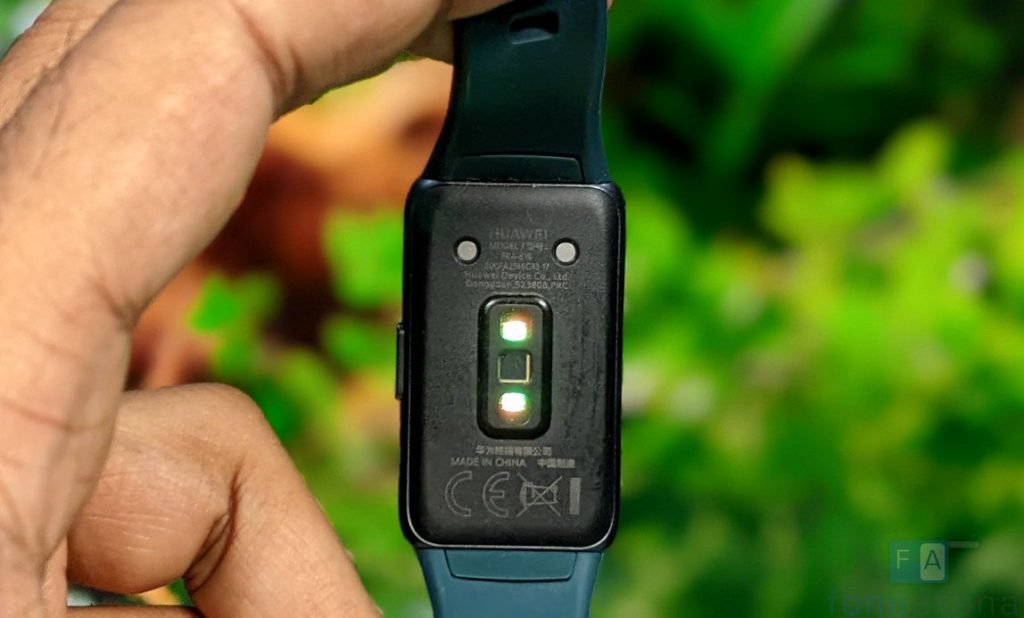 The core unit is heard to remove from the strap. You need to press the buttons on both the ends of the strap hard to remove them from the core unit. HUAWEI sells the Band 6 in Graphite Black, Sakura Pink, Amber Sunrise and Forest Green colours, but it doesn't sell the strap separately. There are third-party straps online, but I don't know how reliable they are.
On the back, you can see the heart rate sensor that has glowing green LED lights when you are using it to measure heart rate. The SpO2 sensor glows in red colour when you measure blood oxygen saturation, but it comes embedded with the green LED. You can also see the charging pins on the back. Overall, the build quality is good.
Display and features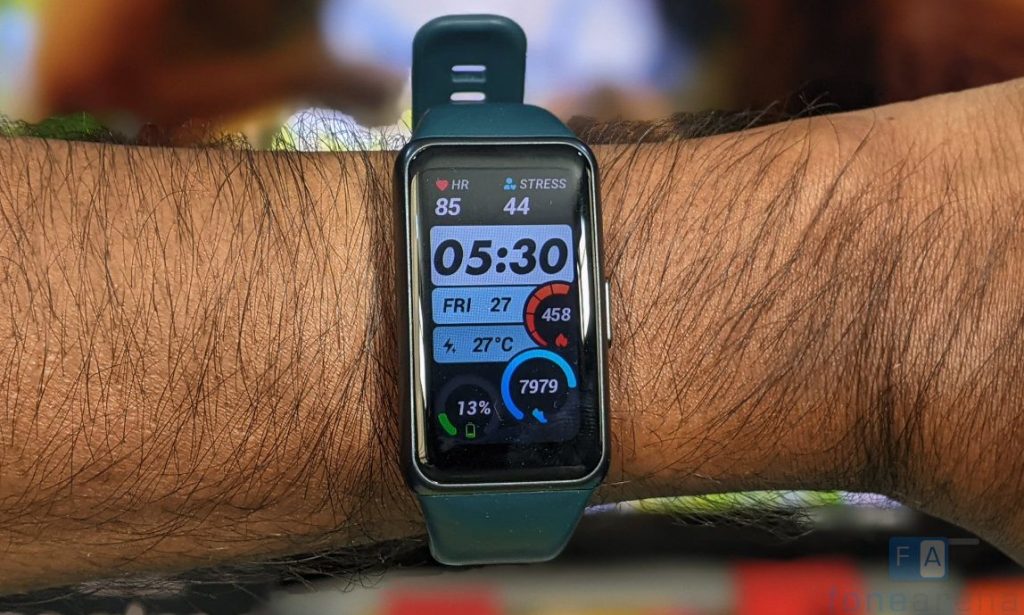 Coming to the display, the Band 6 has a large 1.47-inch (152 × 486 pixels) 283PPI AMOLED color touch screen 2.5D cured glass display that is bright. 3D scratch-resistant glass. You can set it to turn on when you lift your hand, and the screen turns off in a few seconds to save power. It still attracts fingerprints and is not completely scratch resistant. The touch screen is smooth to use, and has 148% bigger display area compared to the HUAWEI Band 4 Pro to display more content.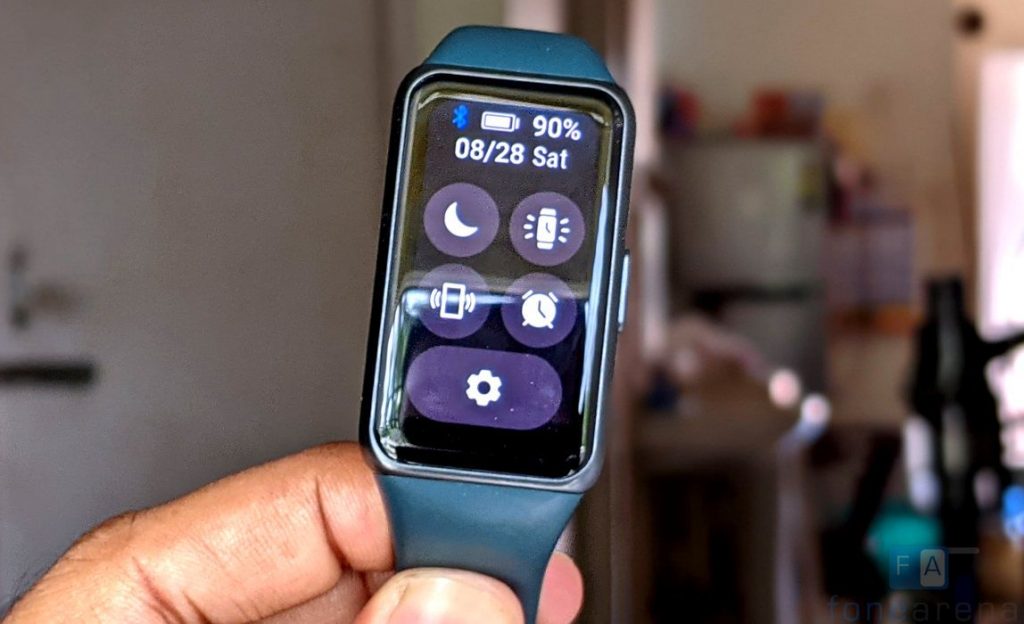 The screen is bright, and there is no outdoor visibility issue. You can adjust the brightness from Settings→Display→Brightness Settings.  You can adjust it from level 1 till level 5. Level 2 or 3 is enough for indoor, but you need to bump up the brightness to 4 or 5 to view the screen when you are in bright outdoors. In fact, I found the screen bright even in Level 1 at night, even with 'Reduce brightness at night' option enabled. There is no ambient light sensor for auto brightness adjustment.
When you swipe from the top, you get the quick settings toggle that has shortcuts for DND, Keep screen on for 5 minutes, Vibration, Alarm and settings. You can just swipe from left or right on the touch screen to view heart rate, Weather, Music controls and more. You can add 5 of these widgets from favourites in the settings and rearrange the order. Other options available are – SpO2, Sleep, Stress and Activity records. Music control panel lets you play, pause, skip tracks and also adjust volume when you play any music or any kind of content like videos or music when the band is connected to the phone. There is no camera control option that is available in a lot of bands in the price range.  You can read or clear the notification you receive from the smartphone, but you can't reply to them directly from the band. You get notifications for calls. There is an option to reject or auto reply with a message, but you can't mute it.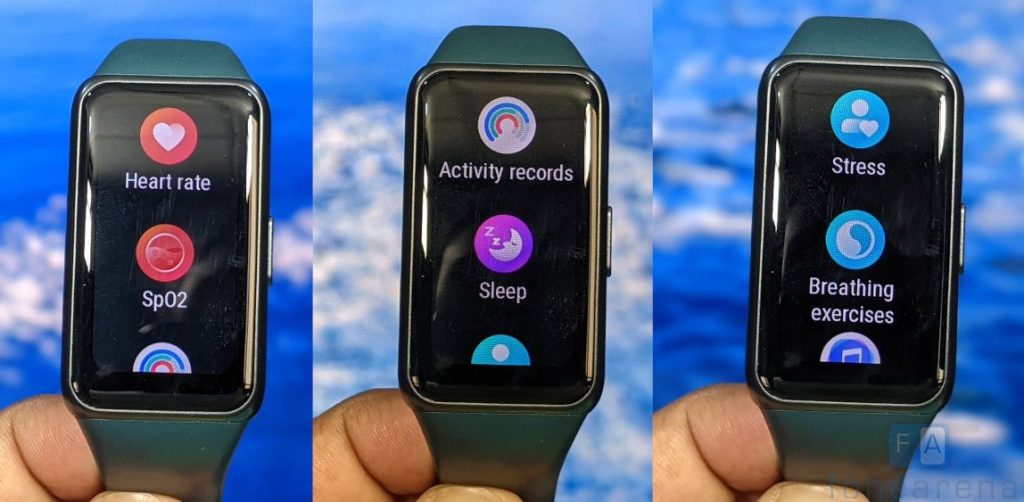 Pressing the hardware button lets you launch workouts, Workout records, heart rate, SpO2, Activity records, Sleep, Stress, Breathing exercises, Music, Notifications, Weather, Stopwatch, Timer, Alarm, Flashlight, Find phone and settings. In the settings under the Display, you can choose different watch faces, Choose widgets from favorites, Adjust brightness, and in the Advanced option under it, there are options to Set screen timeout period (10, 15, 20 or auto). You can also choose the vibration strength (Strong, Soft or off), DND schedule, Enable option to auto-detect workouts, and finally System menu to Update, Restart, Power off, Disconnect or Reset the band.
Software
The band lets you use HUAWEI health app for Android and iPhone. It is recommended to side-load the latest APK for Health app since the one in the Play Store is outdated and misses a lot of features like all-day SpO2 monitoring. The Health section shows Steps, workout time, distance and calories burnt on the top. You can see other sections below. You can also customize them by adding Cycle calendar for mensural cycle tracking, but other features such as Skin temperature monitoring and Weight is not supported by the Band 6. Next up is the exercise tab, which we will check out later in the fitness section, and the devices section shows the devices added. The 'Me tab' shows medals, reports, plans and more for workouts.
When you click the HUAWEI Band 6 in the devices tab, you get the battery data and option to choose watch faces. There is a separate store that lets you download hundreds of watch faces, both free and paid. You can store up to 25 watch faces in the band, which I have not seen in any models in the price range or even in some smartwatches.
Next up, you have the health monitoring, notification, alarm, weather reports, troubleshooting and help. For notification, you can choose which app should show you notifications. Device settings have more option including option to disable music playback control and raise to wake.
Fitness and sleep tracking
The HUAWEI Band 6 has 96 Different Exercise Modes including 11 professional workout modes such as indoor and outdoor running, cycling, and rope skipping, and 85 more customized modes, including fitness, ball games, and dancing types. There are automatic workout tracking for walking, running, elliptical and rower.
For outdoor workouts like running, you get route map, distance, calories burnt, steps, average speed, cadence, stride, average heart rate, heart rate zones and even recovery time right from the band. Steps tracking is almost accurate compared to Mi Watch Revolve Active. Even without built-in GPS, tracking using phone's GPS is good.  It hardly takes a couple of seconds to get the GPS from the phone for outdoor workouts. However, I couldn't get the GPS lock directly from the band, and I have to manually start the running option from the app, and it shows in the band. Since there is a button in the band, you can press it to pause or stop the workout.
I like the workout setting that lets you enable audio reminders such as distance, pace for last KM and average heart rate. There is also training reminder to motivate you. Another thing I like in the app are the running courses and running plans. Nike running app used to have the running plan feature that helped me to train for my marathon, but it was removed in an update. This is definitely a useful feature.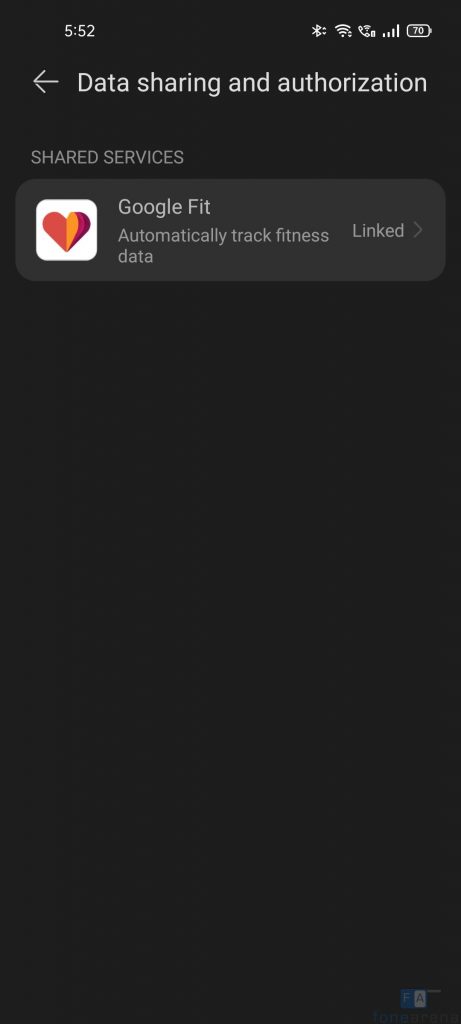 You can share the workout data as an image with a custom photo such as a selfie. You can share your data with Google Fit, but it is hidden under Me→Privacy management→Data sharing and authorization. Wish there was support for Strava, My Fitness Pal and other apps as well.
Sleep tracking is accurate when compared to the Mi Watch Revolve Active. It shows light, deep and REM sleep as well as awake time as usual. It can also track daytime naps, which was also accurate. This can also measure breathing quality when you are sleeping. The HUAWEI TruSleep, which can be enabled from the settings, can monitor your sleep quality and gives recommendations. However, the company says that it can drain the battery. Compared to Sleep breathing quality feature in the Mi Band 6, this drains less battery and has also better accuracy.
Heart rate and SpO2 monitoring
The band uses LED lights and photo-diodes to illuminate the blood vessel for a while and monitors the heart rate via the change of green light absorbed. You can't say this is 100% accurate, but heart rate recordings — both resting and active, are almost accurate compared to Blood oximeter device. It shows a graph for heart rate and SpO2 throughout the day in the band itself. SpO2 or blood oxygen monitoring is almost accurate compared to oximeter. The app also has stress level monitoring throughout the day.
Battery life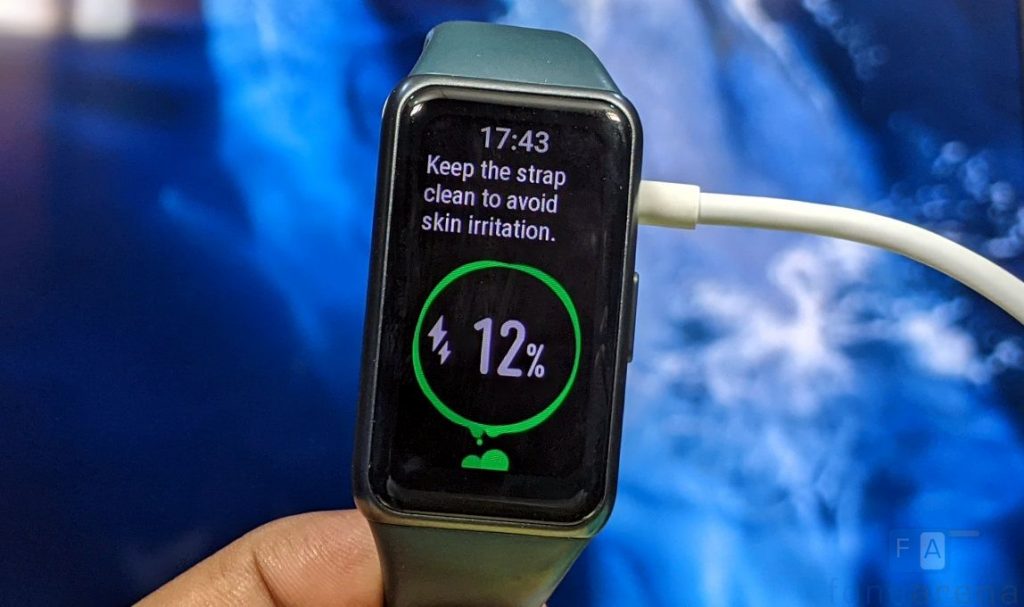 It has a 180mAh battery, and the company promises 14 days of battery life with typical usage and 10 days with heavy use. I have been using it for a week now, and charged the band for the first time today. This includes initial setup, daily workouts for half an hour, 24×7 heart rate and SpO2 monitoring, stress monitoring, HUAWEI TruSleep analysis, call and message notifications. With outdoor activity of 30 minutes, it only drained 2 to 3% battery. Battery life might vary depending on frequent use of the display with increased brightness, use of heart rate monitor during workouts and all the notifications turned on.
The band uses magnetic charging. When charging it shows time, and useful information on how to use the band.  The company recommends 5V-0.5A/1A/1.5A/2A input, which is higher than most other bands. It also has fast charging. The company says that a 5-minute charge offers two days battery life. It takes less than an hour to charge the band fully from 0 to 100%.
Conclusion
Overall, the HUAWEI Band 6 is a feature-packed smart band. I liked the large display, workout modes it offers, and it even has all-day SpO2 monitoring. The battery life is also good, and it also supports fast charging. Wish it had GPS, since some watches offer GPS in the price range, and this misses easily replaceable straps. Priced at Rs. 4490, it is available from Amazon.in. It is priced on the higher side, but it is worth it for features you yet. You can get it at a cheaper rate during sale on Amazon or choose the cheaper HONOR Band 6 which has almost the same features.
Alternatives
If you don't need 96 workout modes and all-day SpO2 monitoring, the HONOR Band 6 is good at a cheaper rate. Even the Redmi Watch with GPS, auto brightness adjustment, and Barometric Press sensor (altimeter) is good, but you will lose the AMOLED screen.
Pros
Large, Bright OLED color display
96 workout modes, including 11 professional workout modes and 4 automatic workout tracking modes
All-day heart rate and SpO2 Monitoring
Water resistant (5ATM)
Good battery life with fast charging
Cons
Straps are not easily replaceable
Doesn't lock GPS directly from the band
Priced slightly on the higher side compared to HONOR Band 6