Leading Android phone maker HTC has crossed the market cap of Nokia ($32.84 billion) and leads with $33.8 billion market share, reports the site All Things D. Recently they have surpassed RIM's market cap that remains at $28.5 billion.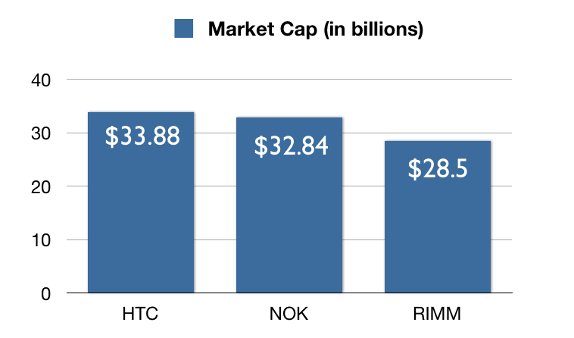 Few years ago both Nokia and RIM were way ahead of HTC and now everything has changed. HTC's current position is 30 times more than it was five years ago which is definitely a great achievement. HTC which is a leading Android phone manufacturer attracts its customers of all categories with both mid and high-end Android smart phones. Recently they have launched new Window 7 phones and Android tablet – HTC Flyer.
HTC is expected to ship 200 million smartphones and 30 million tablets over next 3 to 5 years , which proves that HTC will continue to lead the mobile phone market for few years.
Nokia has been losing market share mainly due to lack of high-end smartphones in it's portfolio but the company is expected  to launch new windows phones this year which is sooner than expected that may boost its chance to gain some marketshare.
RIM is said to be preparing to launch two new Blackberry Bold Touch phones that will launch this year and the Blackberry Playbook tablet is expected to hit the market soon.They have also announced that Playbook can run Android apps to boost up its sales.