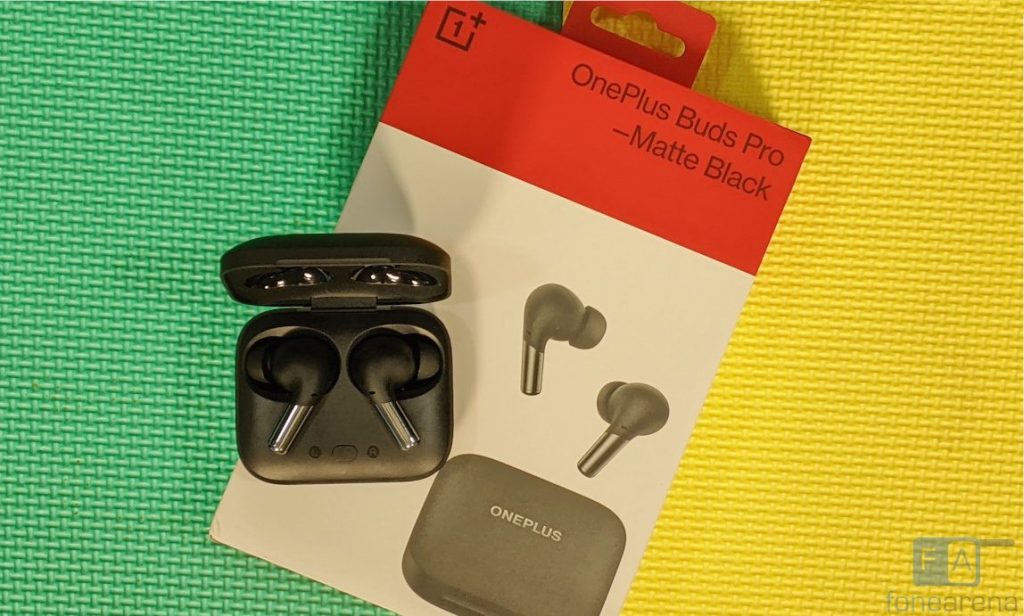 OnePlus launched the OnePlus Buds, the company's first true wireless earbuds last year, and there was also a cheaper Buds Z model which was launched later in October. The new OnePlus Buds Pro which was launched in India is the company's first high-end TWS earbuds with support for Active Noise Cancellation (ANC), which the company calls Smart Adaptive Noise Cancellation. It also comes with Bluetooth 5.2 with LHDC audio codec and also comes with Warp charge and wireless charging. So, are these the best true wireless earbuds with ANC under Rs. 10,000? Let us dive into the review to find out.
Box contents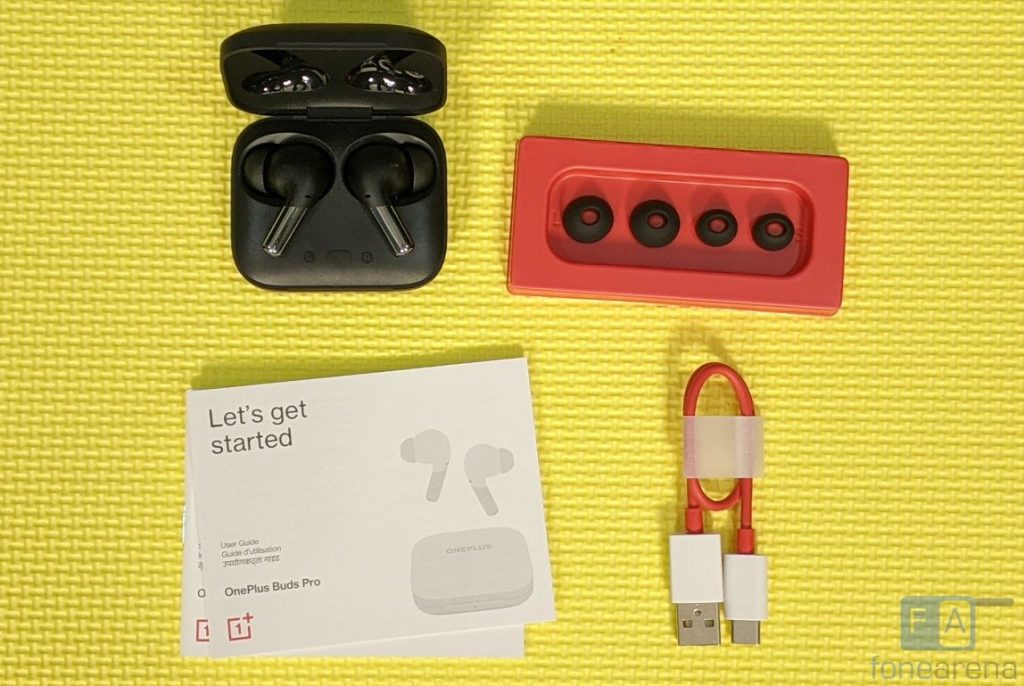 OnePlus Buds Pro in Matte Black Colour
USB Type-C charging cable
Ear tips in Small and Large sizes (Medium sized tips pre-installed)
Quick start guide and Safety guide
Design and Build Quality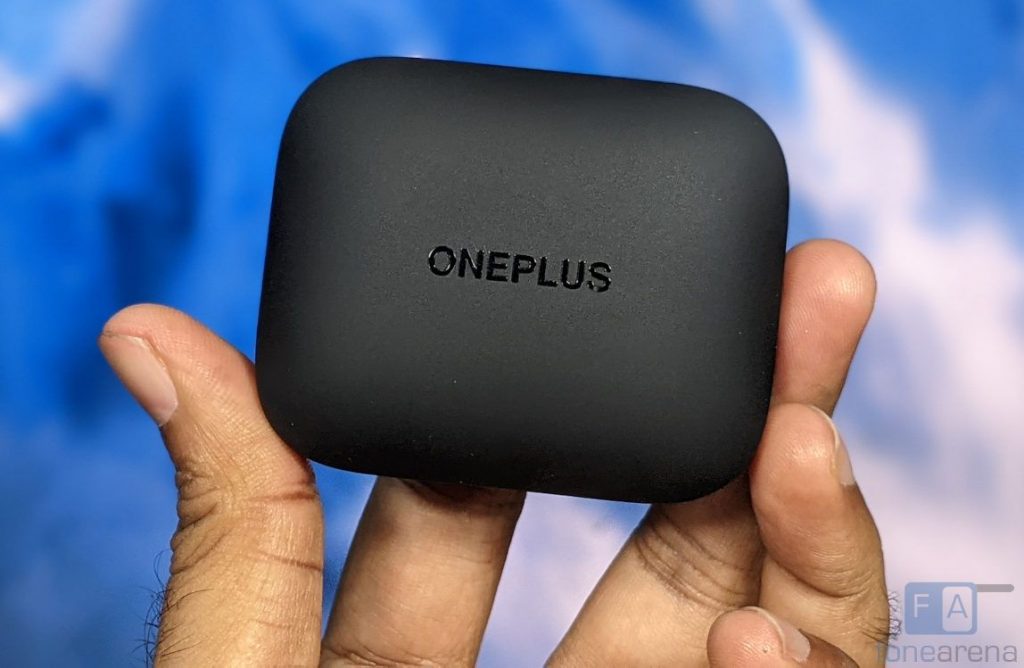 Starting with the design, the headset comes in a rectangular charging case with rounded corners, and it fits in your pocket. It has a matte finish, so it doesn't attract fingerprints, smudges and is also not prone to scratches.  There is also a glossy white version which will get dirty easily, so I would prefer the Black colour. The charging case measures 60.1x49x24.9mm and weighs 52grams.
There is a tiny LED indicator on the front that glows in green and red colours. The USB Type-C port is present in the back.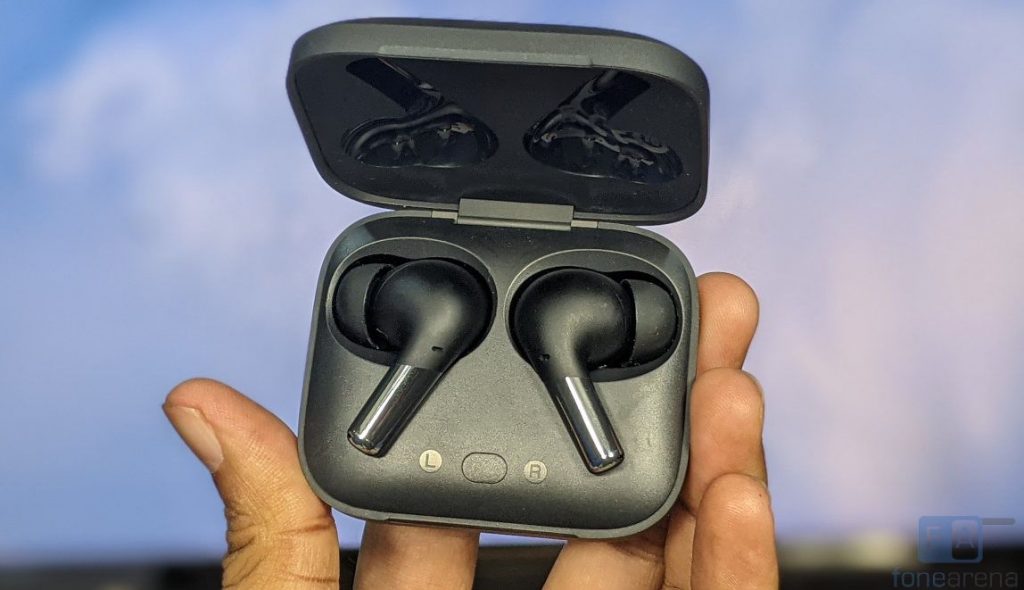 Opening the case, you can see the slots for Left and Right earbuds with the markings. There is a function button in the middle. It has a magnet to secure the buds in its place, but this is not as strong as Nothing ear (1).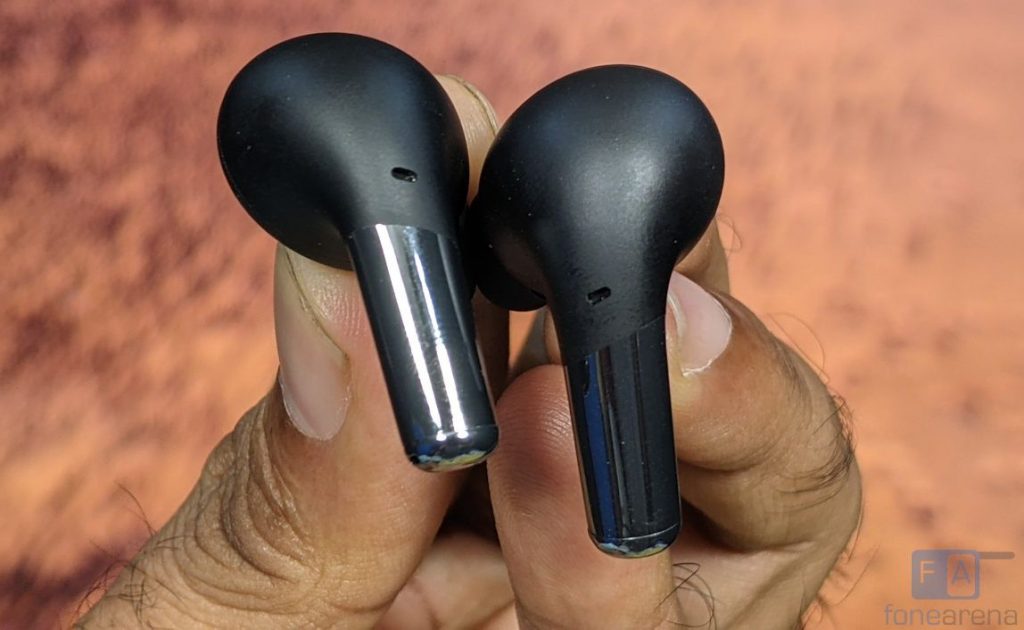 The headset has a plastic build, but it has a dual finish, with the stem design featuring a glossy finish that attracts fingerprints easily, but the other parts with a matte finish looks good. You can also see the microphones on the outside. Instead of touch controls that is present in most earphones, this uses squeeze or press controls, similar to the Apple AirPods. This might need sometime to get used to, but it works without any issues.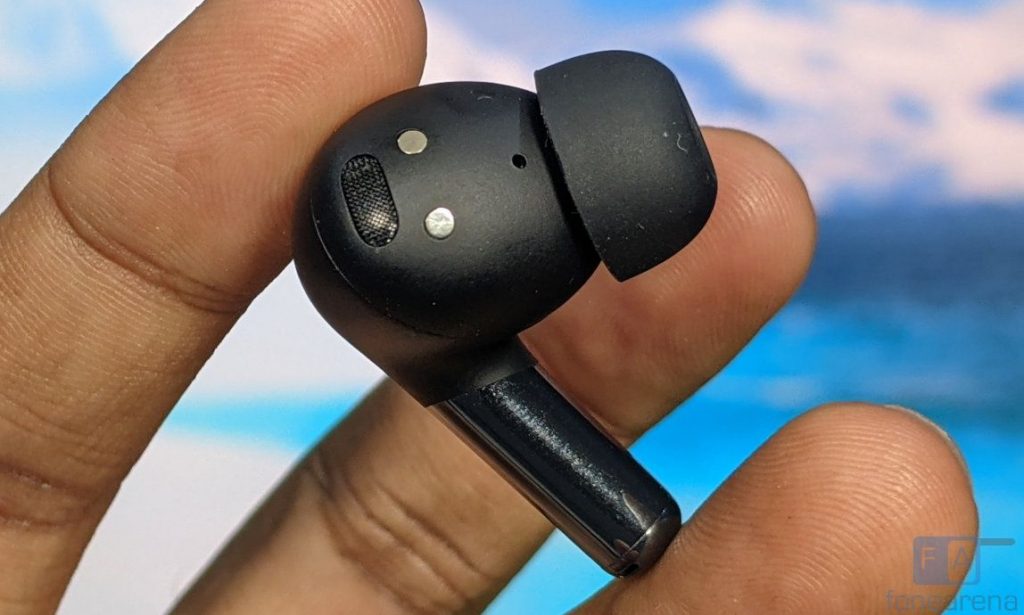 The earbuds weigh about 4.35 grams, which is light. The earbuds feature an in-ear design and also come with medium-sized ear tips pre-installed. You can change to bundled Large or Small sized ear tips if you wish. There is an Optical Sensor for Wear Detection so that it can automatically pause the audio when you remove it from your ears and play when you put it back. There is a microphone near the ear tips, and you can also see the contacts for charging.
Overall, the headset offers a good build quality and fits your ears perfectly so that they don't fall off your ears easily, even during outdoor activities like running or cycling. The earphones also have IP55 ratings for dust and water resistance, so it can withstand splashes or light rain, but you can't use it when swimming. Even the case is IPX4 rated for water resistant, so that it can withstand splashes or light rain.
Connectivity, Pairing, and Controls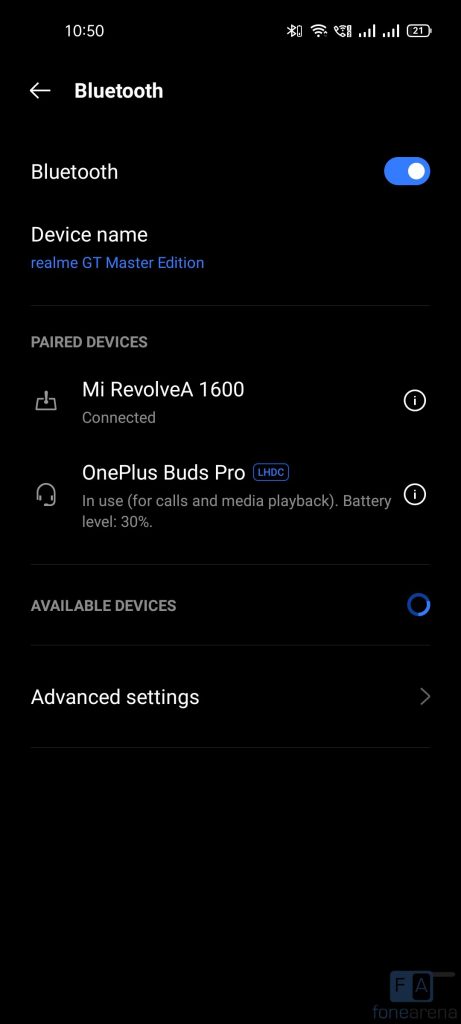 The OnePlus Buds Pro supports Bluetooth 5.2 with LHDC Hi-Res audio codec for HD sound quality on supported devices, it also supports AAC codec that works in phones that have it. The connection range is around 10 meters, which is common in most headsets, but the connection quality is good. The pairing process is very easy for OnePlus (6 or later) devices. Just enable Bluetooth on the OnePlus phone, open the charging case of the buds, place the charging case close to the phone, and follow the prompts.
To connect to a non-OnePlus phone or other Bluetooth device, place the Buds Pro into the charging case with the cover opened. Press and hold the setup button in the case for 2 seconds to enter Bluetooth settings. Then, select OnePlus Buds Pro. To restore factory settings, place the buds into the charging case with the cover opened. Press and hold the setup button of the charging case for 10 seconds until the indicator blinks red. There is fast pair option, but it works on OnePlus phones (OnePlus 6 and later). We tested it on the realme GT Master Edition and Mi 11 Ultra, and never faced any pairing or disconnection issues. Since the phone pairs with the case and not the headset, you will need the case if you want to reconnect it or even turn on the headset if it's disconnected from the phone.
Function
Left earphone (L)
Right earphone (R)
Play / Pause and Answer call / Hang calls
Squeeze once
Play next track or Reject a call
Squeeze twice
Play previous track
Squeeze thrice
Enable noise cancellation
Squeeze and hold for 1s
Enable Zen Mode Air
Press and Hold for 3s
There is no option for volume control, which are the features I love in the OPPO Enco X.
You can customize the controls from the settings in the Hey Melody app on Android and iOS, but it is limited. You can't edit single squeeze for play/pause and double-squeeze for next track. But you can customize triple-squeeze and change it from previous track to launch voice assistant for either left or right or both the earbuds.
You can also choose at least two from Noise cancellation, Transparency, Noise cancellation off, when you touch Squeeze and hold either earbud. You also can't change long touch and hold, which is set to launch Zen Mode Air by default.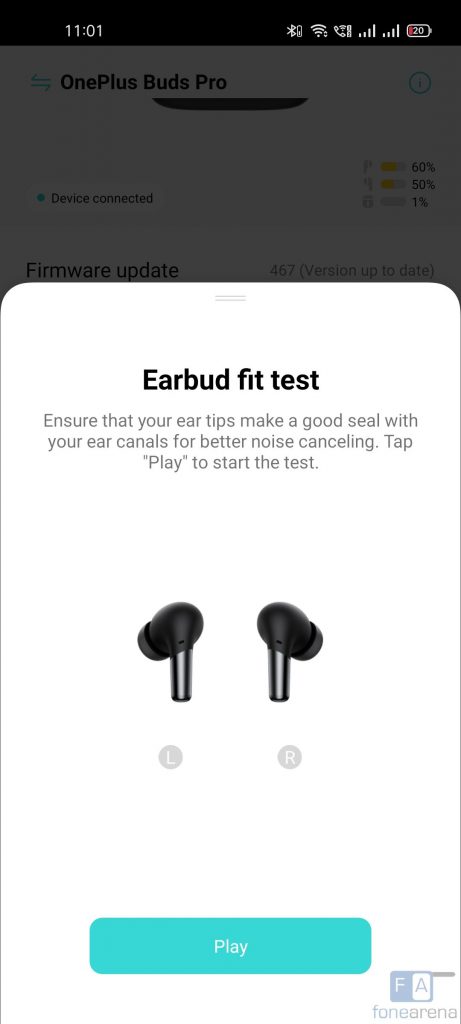 The Earbuds fit test option plays music to ensure that your ear tips make a good seal with your ear canal for better noise-cancelling. You also get frequent firmware updates for the headset that improves the quality and adds new features.
Zen Mode Air
One of my favorite features in the headset is the Zen Mode Air that plays white noise. The company says that it creates a comfortable and independent space to let you stay focused at work efficiently. You just have to touch and hold the stem for 3 seconds to launch the Zen Mode Air and press once to exit.
There are Five white noise options to choose from – Warm sunrise, Mediation, Summer seashore, Nighttime camping and Iceland. Once you download all the sounds, you can save one white noise to the earbuds. Once done, you don't need the headset to be connected to the phone to enter the Zen Mode Air. The sounds are provided by O Relax, which is OPPO Relax, an app that is available in OPPO phones. It is surprising that OPPO has not built this feature in its Enco X headset.
Audio Quality,  Call Performance and Noise Cancellation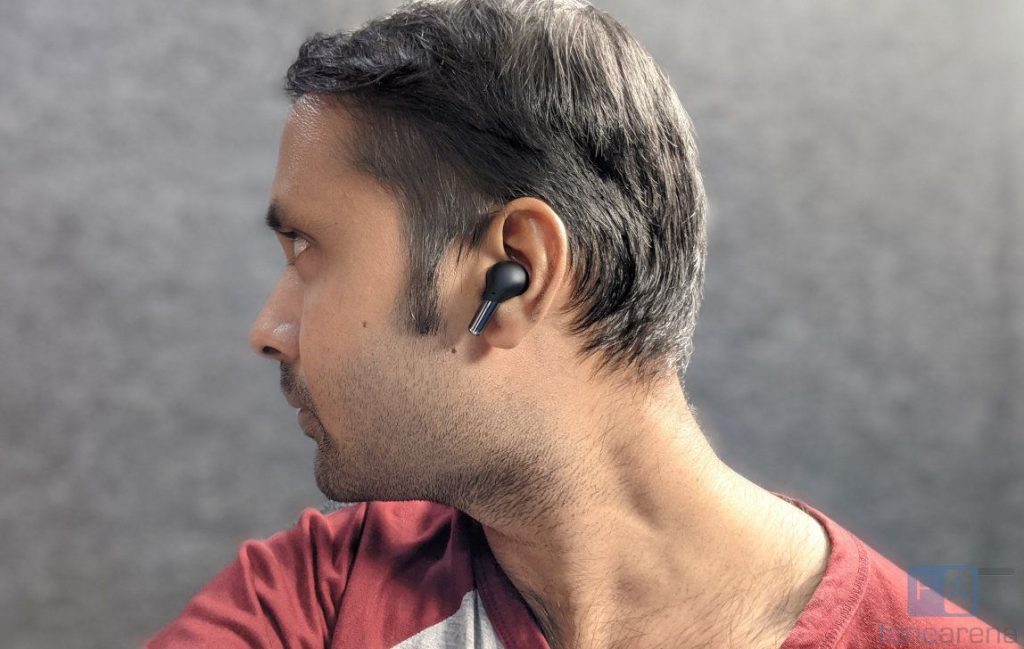 The OnePlus Buds Pro pack a 11mm dynamic driver, which the company says is tuned for rich bass. Audio from the OnePlus Buds Pro are very loud. With the LHDC enabled, the audio quality is crisp with clear vocals and good amount of bass that is punchy. Highs are good, but I felt the OPPO Enco X that has an additional 6mm balanced membrane driver does a better job. In AAC the audio quality is not immersive, but it is good. There are only few smartphones that support LHDC, so if you want the best audio from the headset, make sure your smartphone supports it. There is also Dolby Atmos feature, but it works only with compatible OnePlus phones (OnePlus 7/7 Pro later) which is a bummer since Dolby Atmos feature is also available in other mobile phones. With Dolby Atmos, audio quality is even better.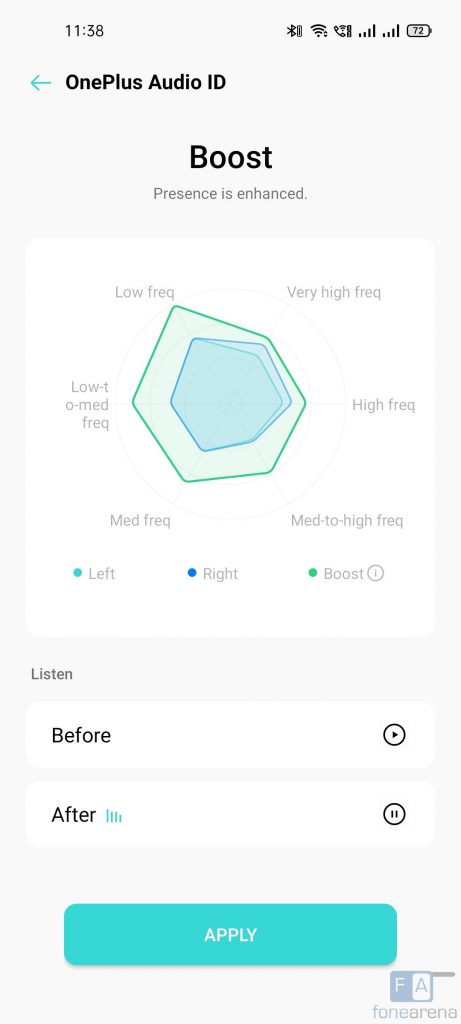 OnePlus Audio ID is another feature that lets you create your personalized audio experience. It plays different sets of audio which you need to listen. Based on this, it comes up with a hearing enhancement solution based on your hearing characteristics. After setting this up, I feel a slight improvement in the audio quality, but this might vary depending on the user.
Regarding the Noise cancellation, the Active Noise Cancellation (ANC) blocks the ambient sound up to 40dB that helps in most cases. You can feel the difference when you are listening outdoors and even indoors when the AC or fan is on. There are three modes – Default, Smart and Max noise cancellation. You can switch between noise cancellation, transparency and noise cancellation off by squeezing the earbuds.
The Smart noise cancellation option works well in blocking the noise from 15db to 40db depending on the noise outside. This works well. For the price it does a good job, even better than the OPPO Enco X that are priced in the similar range. It is also better than the Nothing ear (1) that are cheaper. However, the Samsung Buds Pro at a slightly higher price offers better noise cancellation. I still haven't tested the Samsung Galaxy Buds 2 personally to compare this with it.
This also has Transparency mode that allows you to listen to ambient sound so that you can recognize the surrounding situation and any potential risks. This is a useful feature that every headset should have. It can turn on the transparency mode automatically when you remove a single earbud. Since it has LHDC codec, it offers low-latency as low as 94ms that is useful when gaming, but it again limited to OnePlus phones since you have to turn on the Pro Gaming mode.
Coming to the call noise cancellation, it uses AI-powered noise reduction algorithm and three ENC  microphones to cut external noise. This does a good job in cutting down wind and traffic noise. During my run, wind noise was complete cut out to the receiver, but the traffic noise was faintly audible.
Battery Life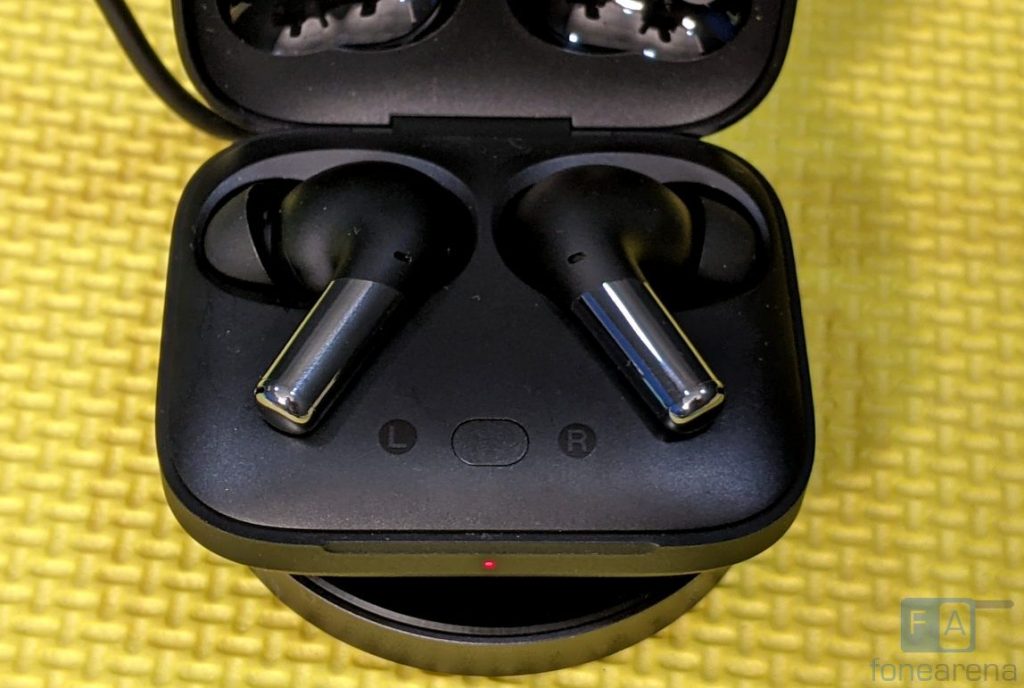 The earphones pack 40mAh battery that promises about 7 hours of standalone battery life and 5 hours with noise cancellation enabled. During my run with LHDC and noise cancellation enabled, I got about 5 hours with mixed use of with and without noise cancellation in about 60% volume, so it is decent, but it could have been better. Without LHDC and noise cancellation fully off, it lasted for close to 6 hours. For calls, it lasts only for 3 hours since it uses call noise cancellation tech.
With the 520mAh charging case, it promises up to 38 hours of total battery life without ANC and 28 hours of total battery life with noise cancellation enabled. I got about 30 hours with mixed use, which is decent. The green light in the case indicates that the battery is high, and it turns red when it is low. You can also see the charge left in the case in the HeyMelody app when the earbuds are placed in the case. Charging the case fully with the earbuds takes about an hour. It also has fast charge, so that you get 10 hours (charging case + earbuds combined) of playback with 10 minutes of charging. The charging case also offers wireless charging, so you can simply drop your earbuds onto a Qi Wireless charging pad.
Conclusion
Overall, the OnePlus Buds Pro offers a brilliant audio quality with good noise cancellation and call noise cancellation for the price. It also has a compact design and a matte finish case. Even though it has wireless charging and fast charging, standalone battery life will be be less if you use LHDC, ANC and also make calls. Priced at Rs. 9,990, it will be available from Amazon.in and OnePlus.in as well as OnePlus Experience Stores and partner stores starting from August 26th.
Pros
Brilliant audio quality and thumping bass
Good call quality
Good build quality with matte finish exterior
Up to 40dB ANC with smart mode
Fast charging, wireless charging
Cons
Less customizations for squeeze controls and no volume control
Dolby Atmos and Google Fast pair work only with OnePlus phones
Battery life takes a hit if you make a lot of calls or use ANC + LHDC