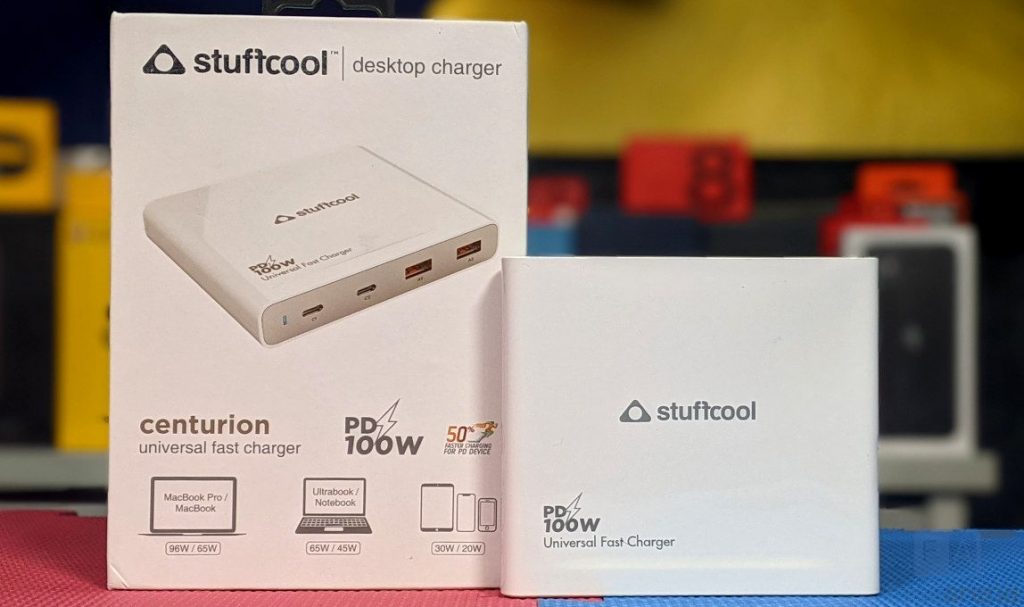 Recently Stuffcool, popular for its chargers, cases and other accessories launched its Centurion 100W universal fast charger with two USB-C PD Ports and two QC3.0 USB Type-A ports so that you can charge a MacBook Pro 16″, MacBook M1 Series, Ultrabooks, iPhones, and other smartphones. Let us check out the review to find out what this has to offer.
Box Contents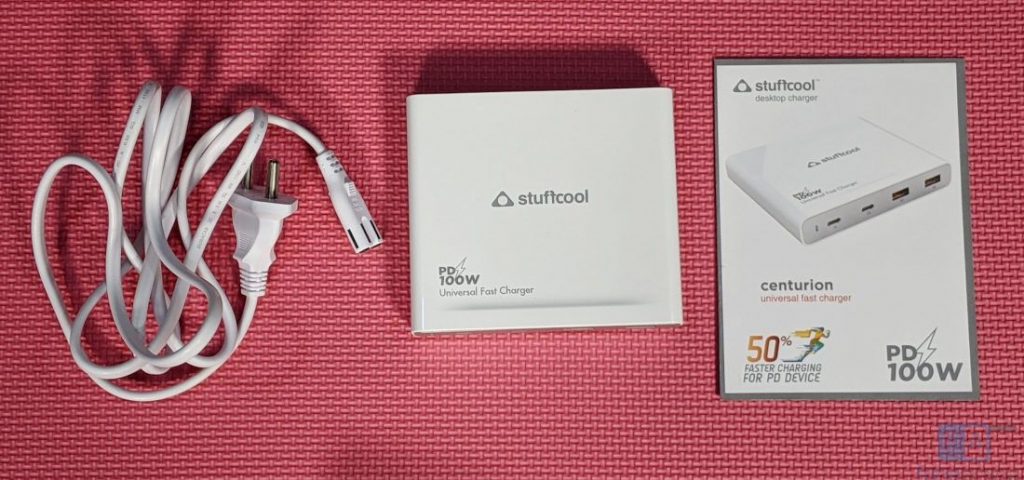 Stuffcool Centurion 100W charger in white colour
2-pin 1.5m power cable
User manual
Design and build
Starting with the design, the charger has a square design, and has branding on the front and back. It has a plastic build and measures 100x114x20mm and weighs 235 grams. You can see small bushes on the bottom that prevents the charger from getting scratched. Even though it is not a GaN charger, it is compact and has a lightweight design. The build quality is decent, but the glossy finish is prone to scratches, and it attracts dust easily.
On the front there is an LED indicator, two USB Type-C PD ports (C1 and C2) and two USB Type-A ports (A1 and A2) with QC 3.0 support. The front part has a metal finish.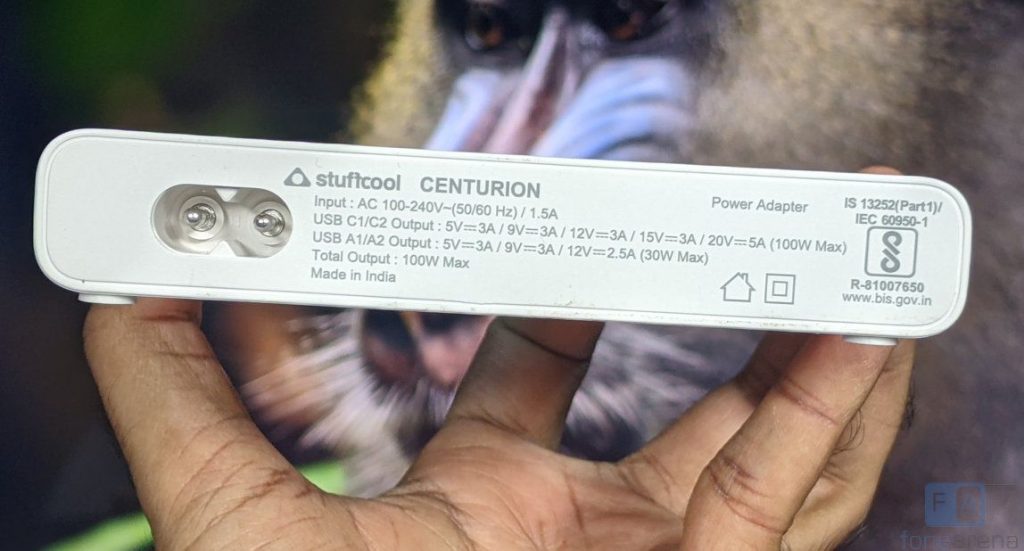 The back has an input port that takes in AC 100-240V~50/60Hz / 1.5A. There are also specifications of the Input and output ports, so the total output is 100W.
USB (C1 and C2) Output: 5V/3A, 9V/3A,12V/3A,15V/3A,20V/5A (Max.100W)
USB (A1 and A2) Output: 5V/3A, 9V/3A, 12V/2.5A (Max30W)
Performance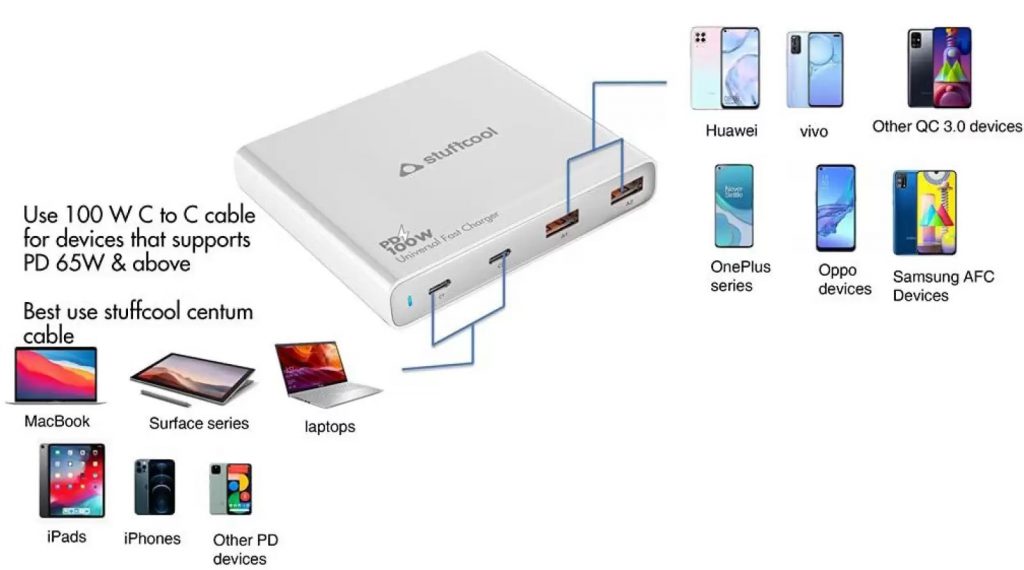 Type C Ports are PD enabled to deliver up to 100W of power that lets you charge MacBooks, Surface tablets, and other laptops that charge over Type-C. This also supports 45W/30W/20W Type-C PD (PPS – Programmable Power Supply support) for laptops and tablets as well as iPads. You can also charge Samsung phones that support up to 45W PPS Fast charging, and iPhones.
The two Type A ports are QC3.0 enabled and compatible with fast charging protocols such as Samsung AFC, VOOC for OPPO / Dash Charge for realme, Moto TurboCharge, OnePlus Warp charge, Mi Turbo Charge, and is also compatible with vivo phones.
Even though it offers a total 100W output, you can't take 100W output from both the Type-C ports simultaneously, so When only a single port is used you get up to 100W from each Type-C port, and up 30W from each Type-A port. Since it has an Auto Detect IC, the charger distributes power to each connected device at their optimum requirement.
When multiple ports are used simultaneously, the output combinations are:
C1+C2 / C1+A1 / C1+A2 / C2+A1 / C2+A2=65W+30W
A1+A2=5V/3A(15W Max)
C1+C2+A1 / C1+C2+A2 =45W+30W+18W
C1+(A1+A2) / C2+(A1+A2) =65W+(15W)
C1+C2+(A1+A2)=45W+30W+(15W)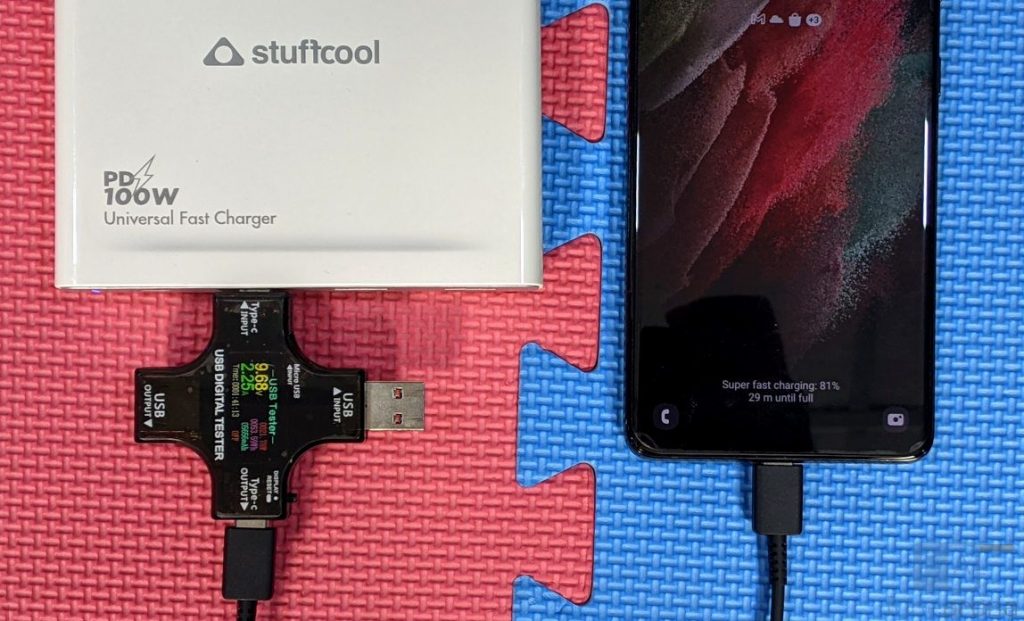 To put the charger to test, I charged the Samsung Galaxy S21 Ultra, which supports up to 45W PPS through Type-C to C. I used the official Type-C cable that came in the box. It was able to charge at maximum 21W (9.68V-2.25A), and it showed Super Fast Charging on the phone, which only appears when you connect a 25W charger or more.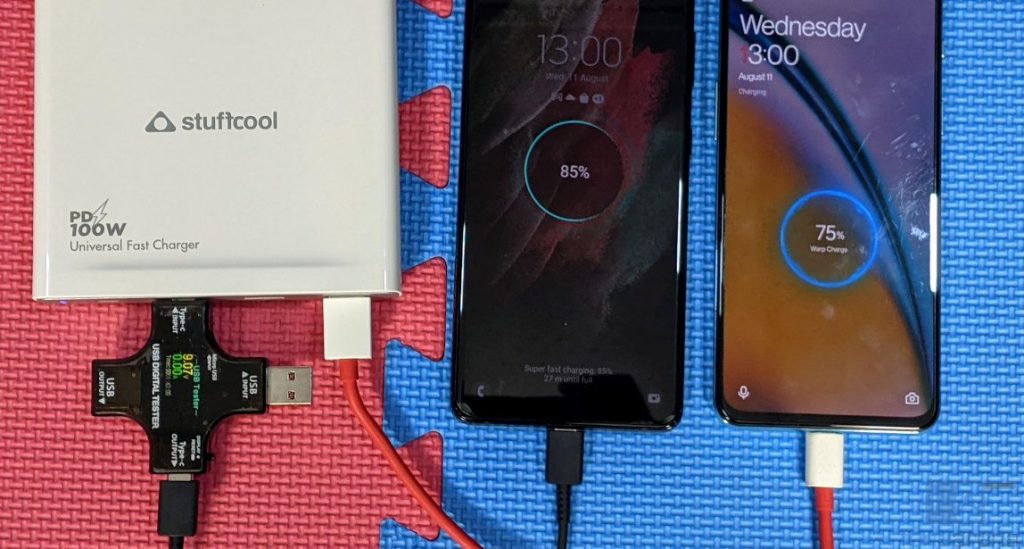 When I connected the OnePlus Nord 2 phone into the USB Type-A port using the official cable, the Samsung Galaxy S21 connected to the Type-C  port still showed Super Fast Charging and was charging at about 21W and the Nord 2 showed Warp Charge and was charging at 16W (4.56V-3.55A).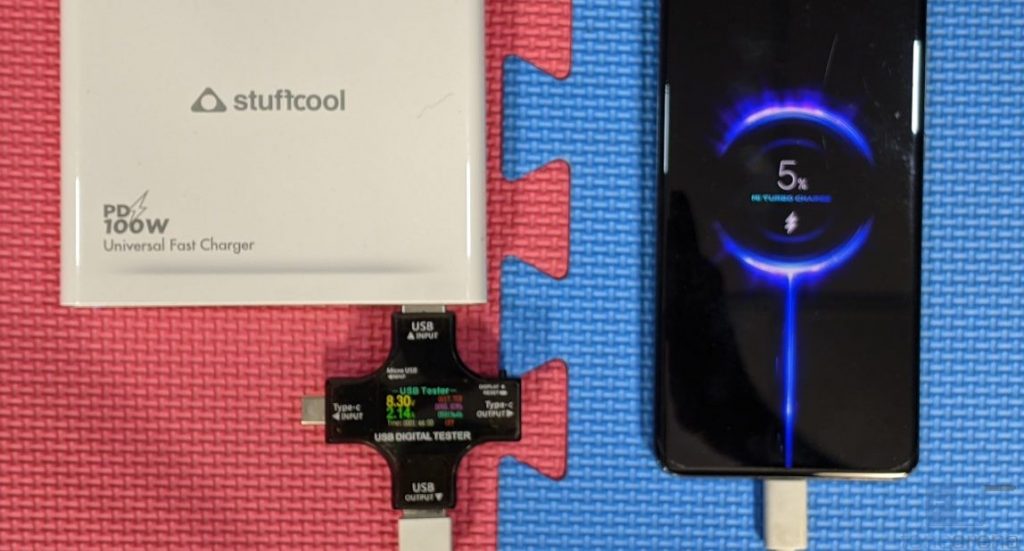 The Mi 11 Ultra officially supports up to 67W charging through its proprietary charger, but it showed Mi Turbo Charging when it was connected to the Type-A port using the official 6A cable and was charging at about 18W (8.30V- 2.14A).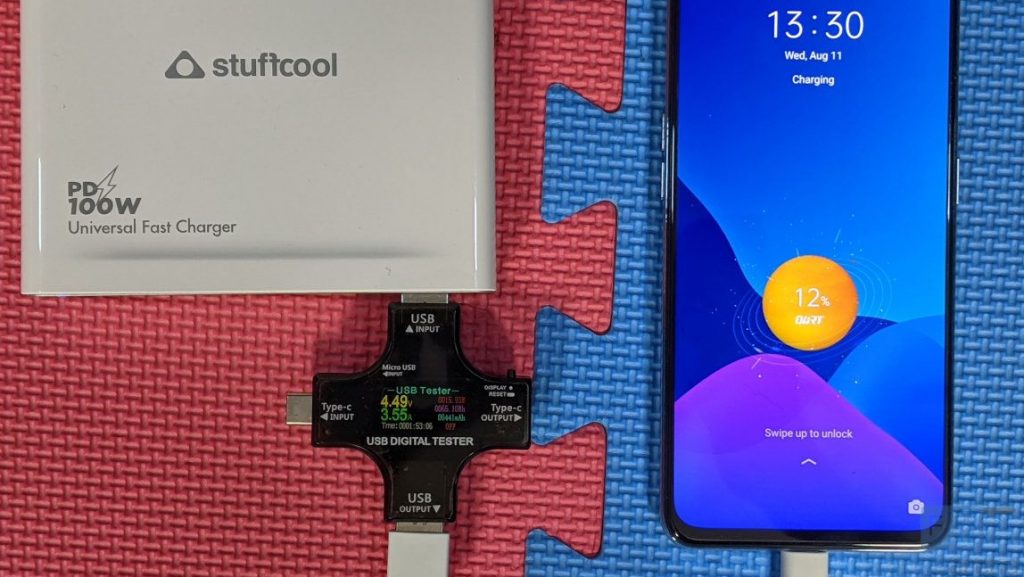 The realme X7 Max officially supports 50W charging. When connected to the USB Type-C port using the official cable, it showed DART charge and was charging at about 16W (4.49V- 3.55A). Change in the charging speed varies depending on the power required by the phone. Since all the devices shows their official charging tag, the charger supports all these standards.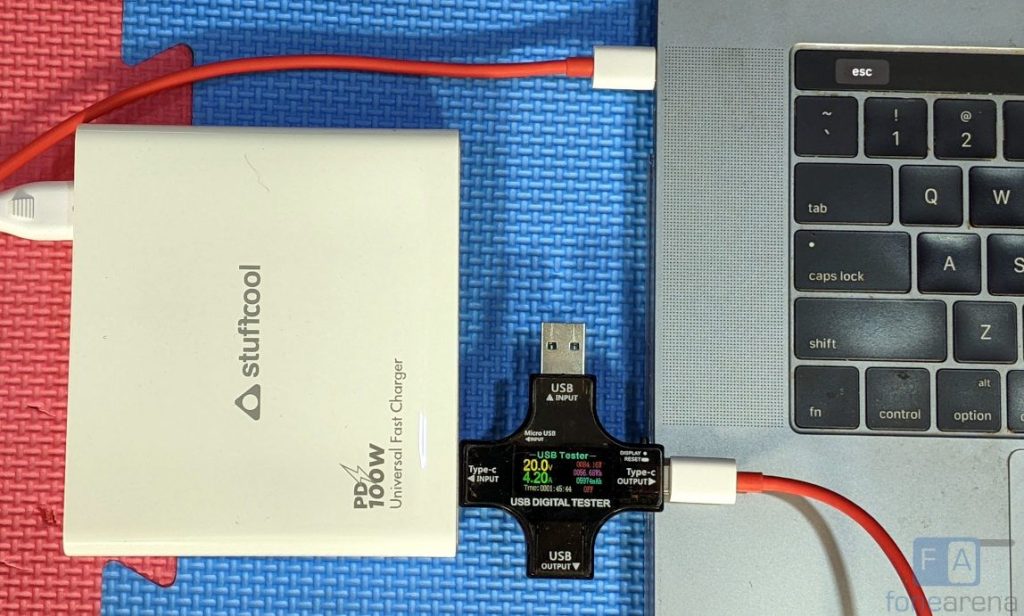 Finally, when the 15-inch MacBook Pro touch bar model that supports 87W USB-C Power Adapter is connected (Used OnePlus Type C PD cable since the official cable got damaged), it charged at 84W (20V-4.2A). The charger even lets you charger 16-inch MacBook Pro models that takes 96W chargers. But you need to remember that when you are charging Macbooks or laptops, you can't fast charge other devices using other ports.
The charger has 6 layers of intelligent protection, including protection from over current, over voltage, over power, over temperature, short circuit and electrostatic protection. It was warm, but it didn't heat up even when charging the MacBook Pro.
Conclusion
This Stuffcool 100W Centurion Power Delivery + QC 3.0 Multi-port desktop charger is a good product to own if you're someone who need to charge multiple devices like laptops, tablets and phones simultaneously. Since it has 100W Power Delivery output that can charge most USB-C laptops, including Macbooks at their max charging speed, it is useful.
There is also Super Fast PPS charging for Samsung smartphones, and the QC 3.0 Type-C port to charge other phones. There are some models in the market with USB Type-C + Type-A ports, but it is rare to find chargers like this that have four ports.
The charger was launched at Rs. 6,999, but you can get it at an offer price of Rs. 5,999 from Stuffcool website. As a part of limited-period Independence Day offer, you can use the code IND15 during check out to get 15% off (Applicable for all product purchases over Rs. 799), so the effective price is Rs. 5,279. The charger also available on Amazon.in at a slightly higher price tag, but you can grab it at a cheaper rate during some deals.