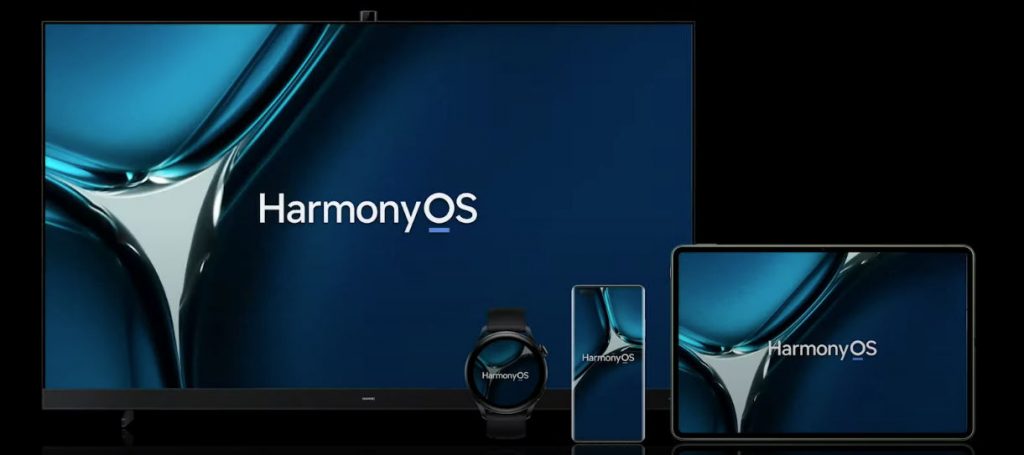 HUAWEI today announced HarmonyOS 2.0 at its event earlier today bringing the company's own OS to smartphones, tablets and smartwatch after the beta release last year, and this is reportedly a forked Android, but HUAWEI says that it is based on open source project OpenHarmony 2.0. It has a tag line "One As All, All As One", and the company says that the new operating system offers cross-device communication and innovative features such as service widgets, new control panel, and a superior performance for all-round superior performance, with powerful security management.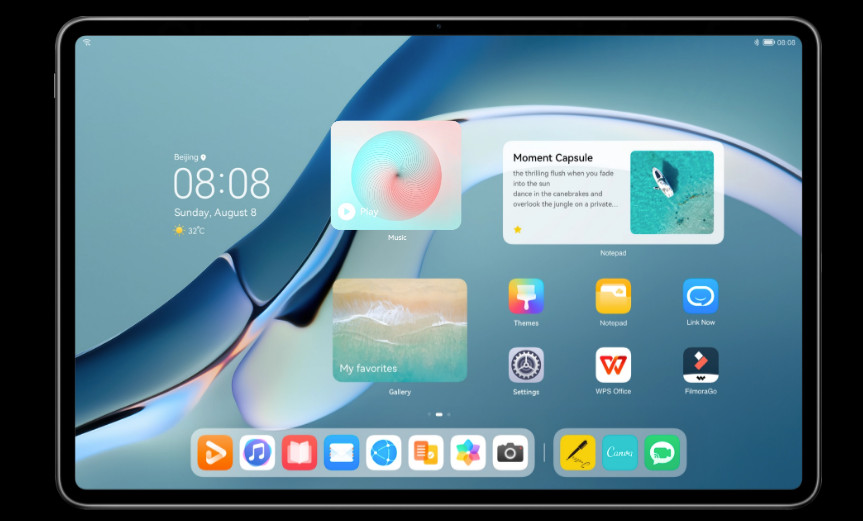 The Service Widgets lets you interact with your apps that display real-time, easy-to-access information or services without having to open the app itself. See the information you want and control key functions in an instant, without needing to open the app. Service Widgets can also be used to access Atomic Services, which can be easily called on and shared in the Service Center without the need to download or install anything, making it easier and more convenient to access functions like news aggregation.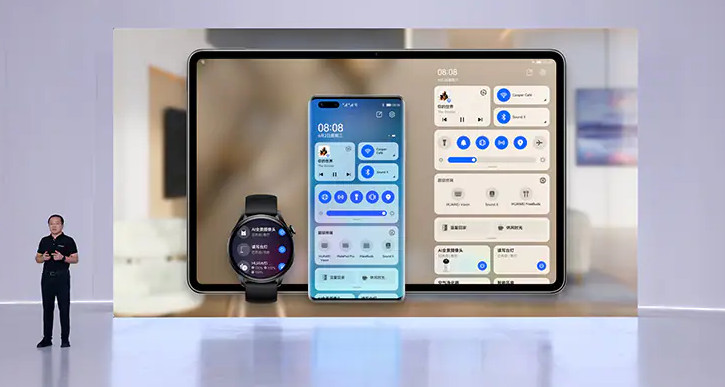 Swipe to from the top right to open Control Panel to access display settings, Wi-Fi, Bluetooth and volume, plus manage device connections by tapping the Super Device button and transfer audio and video playback from your device to other devices.
For example, if you want to watch a movie at home late at night, all you have to do is open up the Control Panel and drag the smart screen icon to your phone icon, and the movie jumps directly from your phone to the TV. If you're wearing your HUAWEI FreeBuds 4, you can then drag the earphone icon to the phone icon, at which point the movie will play on your smart screen while rerouting its sound through your FreeBuds. This is just one example of the Super Device experience.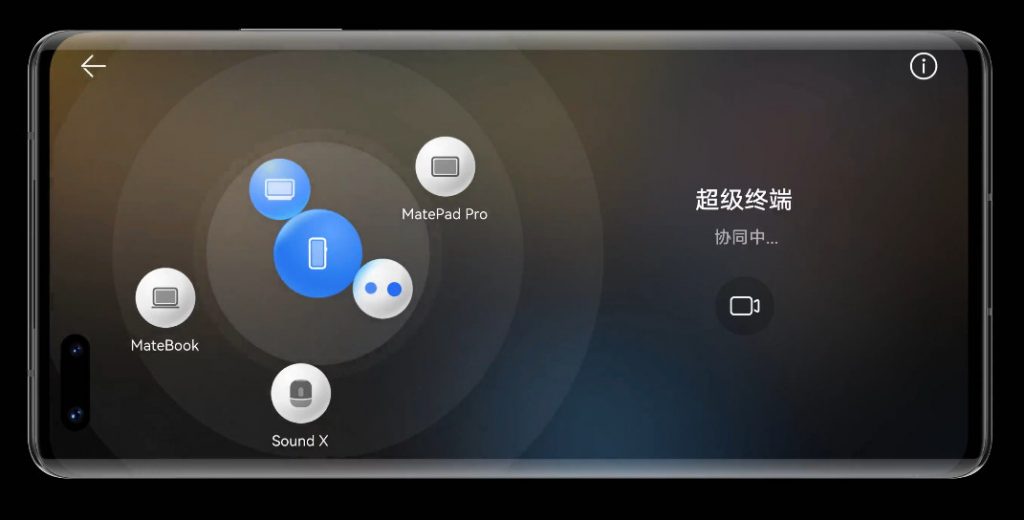 In HarmonyOS 2 you can see a clear, easy-to-view map of nearby trusted
devices you can connect to. Whichever device you choose, just drag and drop its icon onto your device icon, and enjoy instantaneous connection and seamless services. You can turn your smartphone and tablet into an expansion screen for your laptop with Extend Mode, or mirror your laptop screen to your tablet or smartphone with Mirror Mode. Plus, turn on Collaborate Mode to drag and drop files between devices.
The specially designed HarmonyOS Sans font and natural Gravitational Animations offer a consistent user experience across all HarmonyOS devices. Text size automatically adjusts to fit different display formats, while the font grayscale alters to fit every kind of device, for all-round more comfortable viewing.
HUAWEI also said that web pages and apps load as you scroll in the HarmonyOS 2, so the content you're looking for is always right there. It also has better memory management, so that you can return to the same page you left off next time you load up. There will no performance degrade even after long-term use, operation response and application startup are as smooth as always.
Only devices that meet strict security requirements can be connected to via Super Device and the system will manage the security clearance level of each connected device, so that the more important the data, the stricter the protection. When you enable Pure Mode, only apps that have undergone the stringent testing for listing in the HUAWEI AppGallery can be installed. And for an even higher layer of security, installed apps are constantly monitored to detect potential risks and security infringements. HarmonyOS 2 has EAL 4+ certification for information security, as well as the CC EAL 5+ micorkernal security certification.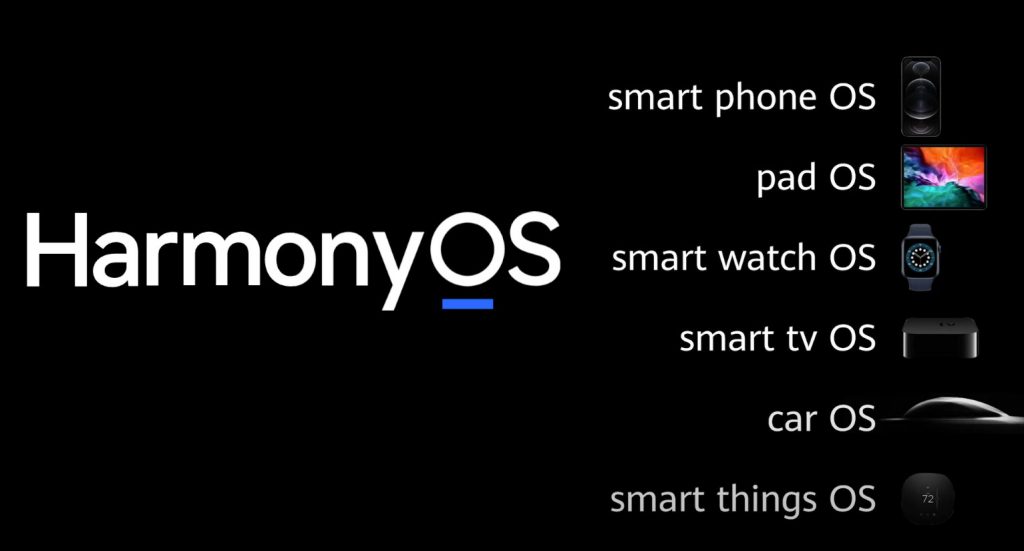 Starting from June 2nd, the Mate 40 series, P40 Series, Mate 30 series, and the existing MatePad Pro will receive the update to Harmony OS 2. In Q3 this year, Mate 20 series, Mate Xs, Nova 6/7/8/ series, MatePad series will get it, and in Q4 the Mate 20 X series, M6 series tablets and V and S series smart screens will get it. Old models, including Mate 10 series, Mate 9 series, P20 series, P10 series will also be upgraded to Harmony in the first half of 2022. Even devices from 2016 will get the update, said the CEO. Nearly 100 Huawei devices are set to receive the HarmonyOS 2 upgrade in China.
List of HUAWEI devices that are confirmed to receive Harmony OS 2 update starting June 2nd
Huawei Mate 40
Huawei Mate 40 Pro
Huawei Mate 40 Pro+
Huawei Mate 40 RS Porsche Design
Huawei Mate 40E
Huawei Mate X2
Huawei P40
Huawei P40 4G
Huawei P40 Pro
Huawei P40 Pro Plus
Huawei Mate 30 Pro 4G
Huawei Mate 30 Pro 5G
Huawei Mate 30E Pro 5G
Huawei Mate 30 RS Porsche Design
Huawei Mate 30 4G
Huawei Mate 30 5G
Huawei MatePad Pro WiFi
Huawei MatePad Pro 5G
List of HUAWEI devices that are confirmed to receive Harmony OS 2 update in Q3 2021
Huawei Mate Xs
Huawei Mate 20
Huawei Mate 20 Pro
Huawei Mate 20 RS Porsche Design
Huawei Nova 7 SE 5G
Huawei Nova 7 SE 5G Lohas Edition
Huawei Nova 7 SE 5G Vitality Edition
Huawei Nova 8
Huawei Nova 8 Pro
Huawei Nova 8 Pro 4G
Huawei Nova 7 5G
Huawei Nova 7 Pro 5G
Huawei Nova 6
Huawei Nova 6 5G
Huawei Nova 6 SE
Huawei MatePad 10.8
Huawei MatePad 10.4 (2020)
Huawei MatePad 5G 10.4 (2020)
List of HUAWEI devices that are confirmed to receive Harmony OS 2 update in Q4 2021
Huawei Smart Screen V 55 2021
Huawei Smart Screen V 65 2021
Huawei Smart Screen V 75 2021
Huawei Smart Screen V 85 2021
Huawei Smart Screen S Pro 55
Huawei Smart Screen S Pro 65
Huawei Smart Screen S Pro 75
Huawei Smart Screen S 55
Huawei Smart Screen S 65
Huawei Smart Screen S 75
Huawei Smart Screen X 65
Huawei P30
Huawei Mate 20 X 4G
Huawei Mate 20 X 5G
Huawei Mate X
Huawei P30 Pro
Huawei Nova 5 Pro
Huawei Enjoy 20 Pro 5G
Huawei Enjoy Z 5G
Huawei Enjoy 20 Plus 5G
Huawei Maimang 9
Huawei MediaPad M6 10.8-inch
Huawei MediaPad M6 8.4-inch
Huawei MediaPad M6 Turbo Edition
Huawei Enjoy Tablet 2
List of HUAWEI devices that are confirmed to receive Harmony OS 2 update in H1 2022
Huawei Mate 10
Huawei Mate 10 Pro
Huawei Mate 10 Porsche Design
Huawei Mate RS Porsche Design
Huawei P20 Pro
Huawei P20
Huawei Nova 4
Huawei Nova 3
Huawei Nova 5i Pro
Huawei Nova 5z
Huawei Nova 5
Huawei Nova 4e
Huawei Maimang 8
Huawei Enjoy 9S
Huawei Nova 5i
Huawei Enjoy 10 Plus
Huawei Mate 9
Huawei Mate 9 Pro
Huawei Mate 9 Porsche Design
Huawei P10
Huawei P10 Plus
Huawei Nova 2s
Huawei Enjoy 10
Huawei Enjoy 10s
Huawei Enjoy 9 Plus
Huawei Nova 3i
Huawei MediaPad M5 10.8
Huawei MediaPad M5 8.4
Huawei MediaPad M5 Pro 10.8
Huawei MediaPad M5 Youth Edition 10.8
Huawei MediaPad M5 Youth Edition 8
Huawei Enjoy Tablet
Huawei Smart Screen V55i
Huawei Smart Screen V65i
Huawei Smart Screen V 65
Huawei Smart Screen V 65 2019
Huawei Smart Screen V 76 2019
Users who want to try out the new OS sooner can submit an application at the Huawei Club or on the My Huawei app, or sign up for the HarmonyOS Experience Officer Program in any of Huawei's 66 offline experience stores in China