Samsung is finally releasing the successor to the popular 860 EVO SATA SSD with the launch of the 870 EVO SSD. The 870 EVO is the most refined V-NAND TLC flash SSD in the lineup and features the updated Samsung MKX Controller. I have been using the drive for a few days now and here are my thoughts in the review below. Is the 870 EVO a worthy successor to the 860 EVO SSD?
Box Package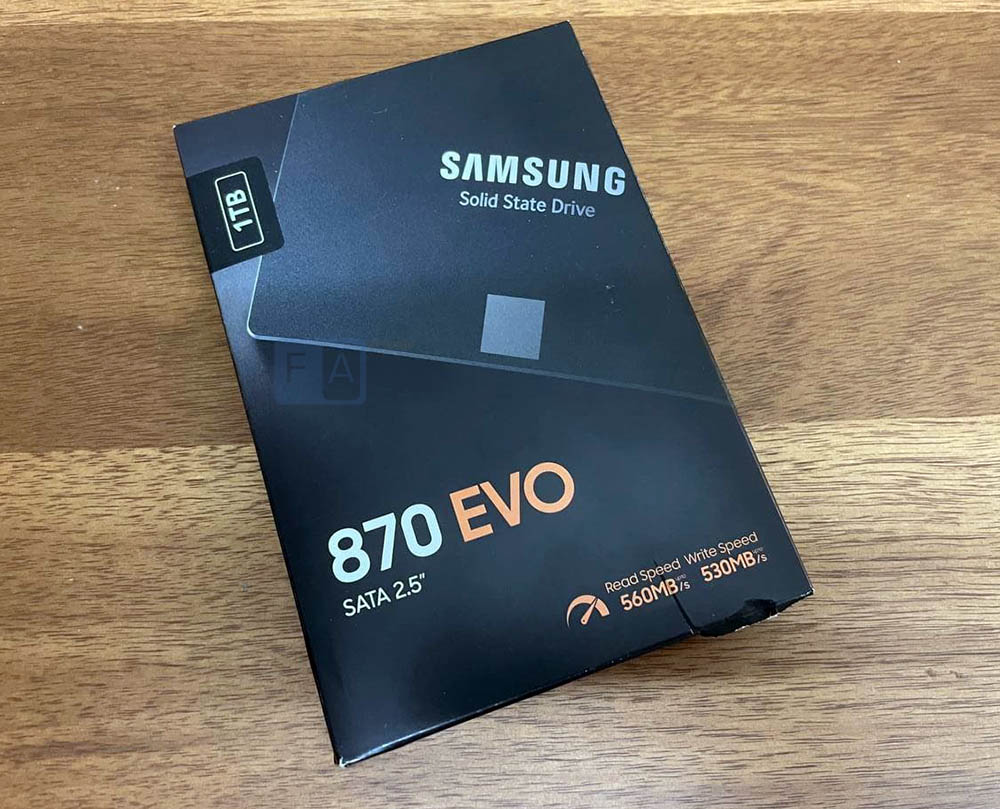 The SSD ships in a protective box but there are no inbox accessories. You get just the drive and some paperwork.  I wish at least a mounting/plate or screws were included but that trend of SSD OEMs shipping these have slowly come to an end.  If Samsung wants to sell these as upgrade kits to consumers, it would be nice to have a SATA to USB cable, but you are on your own here.
Test System
AMD Ryzen 7 5800x CPU
ASrock Taichi X570 Motherboard
16GB DDR4 3200MHz RAM
750w SMPS
Samsung EVO SSD Evolution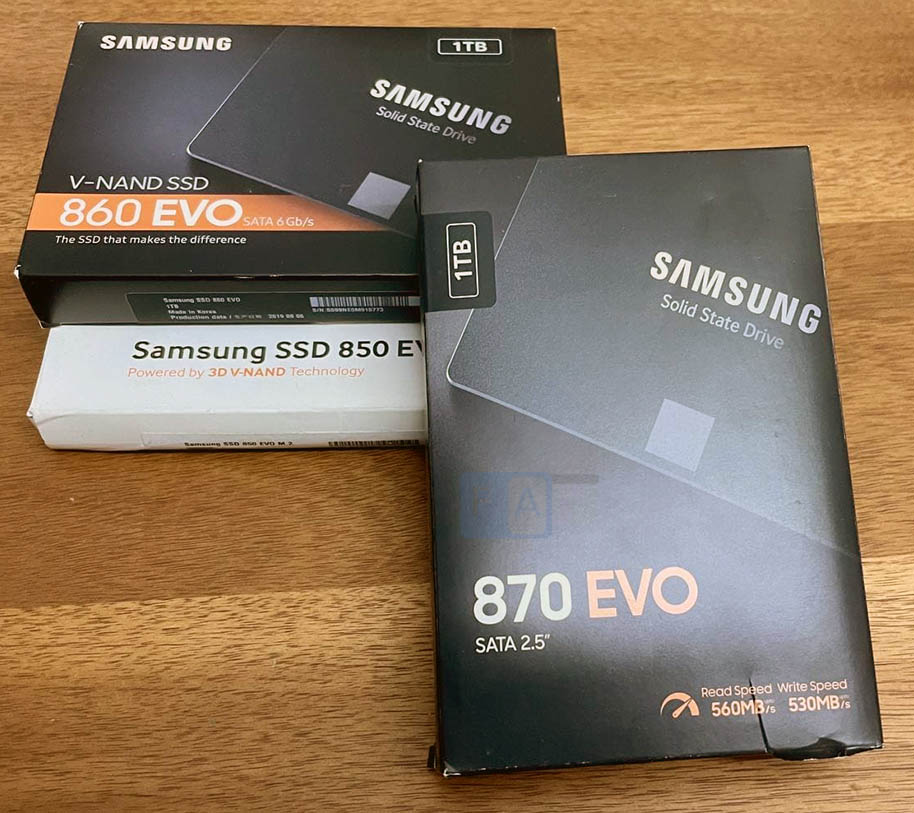 The Samsung EVO line of SSDs has been around and matured over the years and the 870 EVO is an example of that. Samsung claims that the 870 EVO offers close to 38% improvement in random read speeds versus the 860 EVO. The drive uses Intelligent TurboWrite technology for sustained peak performance with a large variable SLC buffer.
I have thrown in the 850 EVO as well for comparison which used DDR3 RAM for the cache.
Specifications

Product
Samsung 850 Evo
Samsung 860 Evo
Samsung 870 EVO
Year of Introduction
2014
2018
2021
Interface
SATA 6Gbps
Form Factor
2.5-inch
Storage Memory
Samsung V-NAND TLC
Samsung V-NAND 3bit MLC
Samsung V-NAND 3-bit MLC (TLC)
Controller
Samsung MGX/MHX
Samsung MJX Controller
Samsung MKX Controller
DRAM
4 GBLPDDR3  (4TB)
4GB LPDDR4 (4TB)
2 GB LPDDR3 (2TB)
2GB LPDDR4 (2TB)
1 GB LPDDR3 (1TB)
1GB LPDDR4 (1TB)
512 MB LPDDR3 (250 GB, 500 GB)
       512MB LPDDR4 (250/500GB)
256 MB LPDDR3 (120 GB)
Capacity
4TB, 2TB, 1TB, 500GB, 250GB 120GB
4TB, 2TB, 1TB, 500GB, 250GB
Sequential Read/Write Speed
Up to 540/520 MB/s
Up to 550/520 MB/s
Up to 560/530 MB/s
Random Read/Write Speed
Random Read 98K, Write 90K IOPS
Random Read 98K, Write 90K IOPS
Random Read 98K, Write 88K IOPS
Total Bytes Written / Endurance
300TBW (4TB)
2,400TBW (4TB)
2,400TBW (4TB)
300TBW (2TB)
1,200TBW (2TB)
  150TBW (1TB)
   600TBW (1TB)
        150TBW (500GB)
        300TBW (500GB)
       75TBW (250GB)
       150TBW (250GB)
Warranty
Five-year Limited Warranty
Samsung QVO or EVO?
Samsung also has a QVO line of SSDs which offers higher capacity drives at more attractive price points. The only draw back with these drives is that they use QLC based NAND flash and heavily rely on SLC cache for sustained performance which means it will struggle under heavy workloads. We did see this in our review.  So overall performance of the 870 EVO should be better than the 870 QVO which comes with only a 3-year warranty.
Benchmarks
Here are a few benchmarks of the drive :-
CrystalDiskMark 8.01
Crystal Disk Mark is one of the most popular tools for assessing drive performance and the drive showed good sequential read/write speeds.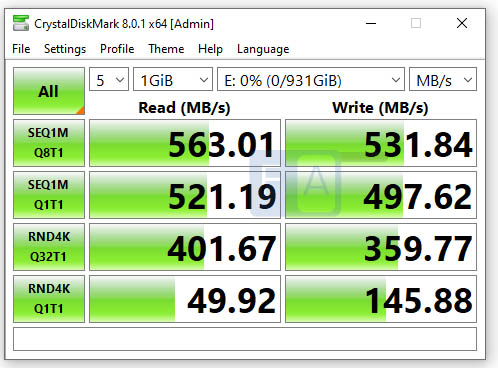 Samsung Magician
Samsung Magician is the company's own disk management software  and lets you update the firmware,  monitor the health and also perform benchmarks. It works only with Samsung SSDs. Here we see that the Sequential Read Speeds were over 560 MB/s and Write speeds were over 530MB/s.

ATTO Disk
Atto Disk is another good tool to measure sustained performance and the 870 EVO shows 537 MB/s read and 509 MB/s write speeds

Blackmagic Disk Speed Test
In Blackmagic Disk Speed Test which is generally used to measure video editing capabilities, the 870 EVO came up with 511.3 MB/S Read and 484.3 MB/s write speeds

Conclusion
If you are looking to replace a regular hard disk on your desktop computer or laptop computer, the Samsung 870 EVO will provide a big jump in performance anywhere between 3X to 10X in terms of read write speeds and I have done this time and again to speed up slowing PCs. Windows 10 is  optimized for SSDs and you should see instant difference in boot times, application launch times and general overall performance.  Samsung has a very good track record in this segment and I personally have tried many of their previous EVO and PRO SATA SSDs and not encountered any trouble so far, and you surely consider this drive if you are in the market for a reliable 2.5 inch SATA SSD.
In terms of pricing, the India pricing is very close to the US pricing. The 1TB version retails for $129.99 before taxes. The Indian pricing is INR 10,999 which is reasonable. At one point it was just a lot cheaper to get these from overseas but not anyone.
In case you already have a fast PC with a NVMe SSD as the boot drive and are looking for fast storage on a secondary disk, you could consider the higher capacity versions of the 870 EVO or even the Samsung QVO SSD. 
If you are looking for a portable solution, you can consider the Samsung T7 series or the WD My Passport SSD.
Pricing and availability
The Samsung 870 EVO 250GB costs Rs. 3,599, 500GB model costs Rs. 5999, 1TB version costs Rs. 10999, 2TB model costs Rs. 21999 and the top-end 4TB model costs Rs. 43999. These are available across retail channels, online and offline in India.
Pros
Reliable performance for most workloads
5 Year limited warranty
Runs cool
Cons
Not as fast as NVMe drives due to SATA limitations
Pricing needs to be more attractive
No mounting plate, screws or USB cable for migration