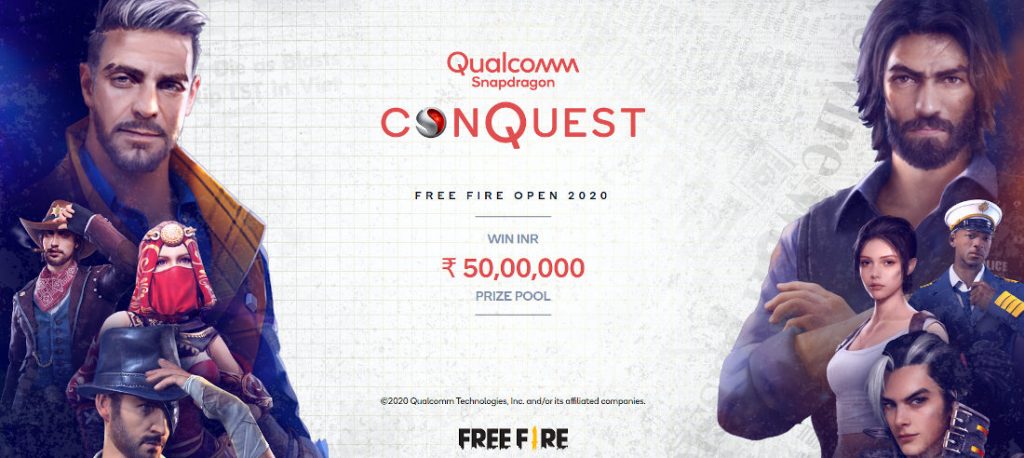 Last month Qualcomm announced Snapdragon Conquest, its first-ever mobile Esports program in India. It already said that Snapdragon Conquest: Free fire Open 2020 will have a prize pool of Rs. 50 lakh and there is no entry/registration fee charged for participating in the tournament. Today it has started registrations for it on snapdragonconquest.com.
The Snapdragon Conquest: Free fire Open 2020 tournament is open to Indian residents above the age of 12,subject to applicable terms and eligibility criteria including possessing a Garena Free Fire account above level 10. To participate in the tournament, players will be required to form a four-member squad and are welcome to invite their friends or join other teams.
How to play: Formants and Rounds
A three-month long tournament, the 'in-game qualifiers' will commence once the two-week registration period comes to an end. The in-game qualifiers will take place over a period of 6 days, where squads will be required to play 15 classic matches in the community favourite Bermuda and Kalahari maps. Out of the 15 matches, the top 10 performances will be considered.
A total of 648 teams will progress to the playoffs.  During the 'Playoffs', the 648 teams will be divided into 54 groups.  To up the ante and challenge the players, the squads will be subjected to direct single-match eliminations through 3 rounds.  Only the top 4 from each group comprising 216 teams will progress to round 2 and be further divided into 18 groups, out of which again, the top 4 from each group made up of 72 top teams will qualify for round 3.
The final playoff round will consist of a total of 18 matches and the teams will be divided into 6 groups.  The Top 3 teams from each group will then qualify for the next phase. The top 18 teams from the playoffs along with 6 invited teams will be allowed to participate in the 'League Stages'.
A grueling four weeks long match schedule will test the perseverance of the teams in a round-robin format, where each competitor will in turn face every other competing team. Top 12 teams compete over two days in the Snapdragon Conquest: Free fire Open 2020 Grand Finale. The squad with the highest cumulative score will be crowned the Free Fire Open 2020 Champions.
Prize Pool
The tournament gives squads a chance to walk away with
INR 20,00,000 to the team who comes in first place
INR 8,00,000 for first runners-up
INR 5,00,000 for second runners up.
INR 1,00,000 for team with the highest kills in the Grand Finale
INR 50,000 for individual with the highest kills in the Grand Finale
INR 50,000 for The Most Valuable Player Award (Fan vote)
INR 1,00,000 for the Most Popular Team Award (Fan vote)