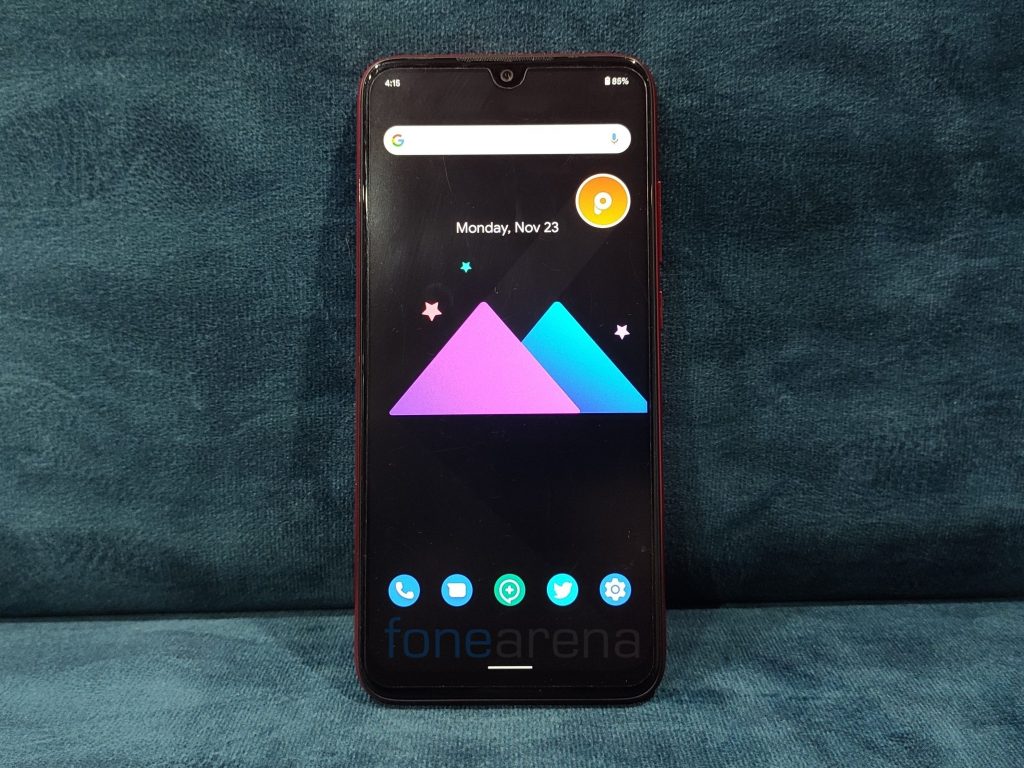 Xiaomi's Redmi Note 7 Pro was amongst the popular mid-range smartphones in 2019. It was the first smartphone in the segment to offer a Qualcomm Snapdragon 675 SoC, a 48MP camera setup, and more. The company recently rolled out Android 10 based MIUI 12 to its 2019 bestseller, Note 7 Pro. Its been a couple of months since Google announced Android 11, and the software on the Redmi Note 7 Pro might feel outdated to tech enthusiasts.
However, if you're comfortable with a bit of tinkering, there are plenty of Android 11 custom ROMs out there for Redmi Note 7  Pro. We have been using Android 11 based PixysOS 4.0 on our Redmi Note 7 Pro for a couple of weeks now, and here is what we think of it. We hope that this post will help you in deciding whether or not you should flash Android 11 based PixysOS 4.0 on your Redmi Note 7 Pro.
Android 11 based PixysOS 4.0 on Redmi Note 7 Pro: Performance and Benchmarks
For those who are into benchmark figures,  Redmi Note 7 running Android 11 based PixysOS scored 2236 points in the single-core test and 5549 points in the multi-core test in Geekbench 4. In Geekbench 5 test, it managed to get 502 points in the single-core test and 1441 points in the multi-core test.
We used Android 11 based PixysOS on Redmi Note 7 Pro for about 2 weeks duration and didn't encounter any major issue. One issue that we encounter was related to WiFi, the phone automatically gets disconnected from the WiFi network, and needed a reboot to connect to a WiFi network. This issue doesn't occur very frequently, I faced it around 3 times in 2 weeks.
Apart from the WiFi issue mentioned above, we didn't encounter any other issues. Android 11 based PixysOS for Redmi Note 7 Pro felt well optimized, and the performance felt snappier compared to the stock MIUI ROM. Also, note that we didn't play games during our usage, so we can not comment on gaming performance.
Android 11 based PixysOS 4.0 on Redmi Note 7 Pro: Software, UI, and Apps
Android 11 based PixysOS 4.0 offers a clean bloat-free experience with only a few essential Google apps pre-installed. It is worth noting that most of these apps can even be disabled if needed. It also shows you app suggestions on the bottom row of the home screen, though it also provides you an option to opt-out.
Android 11 based PixysOS 4.0 runs on October Android security patch as of now. Though, a new build has been released now, which might offer November security patch. Out of 128GB internal storage, about 13 gigs of storage is occupied by the system. As a result, users get about 115GB of storage.
Android 11 based PixysOS 4.0 offers all the native android features, be it, Adaptive brightness, Dark theme, or the Night light. Users can also adjust the Font size, and Display size. There is an option to wake the device via a double-tap anywhere on the screen.
You can control smart devices from the power menu itself on PixysOS, similar to other AOSP based ROM. Also, you can opt for 3-button navigation or gesture-based navigation.
PixysOS 4.0 doesn't offer features like a three-finger screenshot, long scrolling screenshot, or double-tap to lock. It's basically the exact same experience that you get on Pixel devices. Coming from stock MIUI ROM, and ROMs like Extended UI 2.0, and NitrogenOS (stay tuned for our post), I found it a bit incomplete as it doesn't offer useful essential features.
Android 11 based PixysOS 4.0 on Redmi Note 7 Pro: Fingerprint Sensor
The fingerprint works flawlessly on this ROM as you would expect, users can add up to five different fingerprints to unlock the phone. The fingerprint animation felt a bit slow similar to any other AOSP ROM due to which the phone unlocking experience feels slower as compared to stock MIUI Global ROM but during our usage, we found it accurate and reliable.
We used the beta build of PixysOS 4.0 which didn't have face unlock feature, but developers released a new build a couple of weeks back with face unlock functionality.
Android 11 based PixysOS 4.0 on Redmi Note 7 Pro: Camera
The inbuilt camera app on the PixysOS 4.0 is very basic, but you can always install a working GCam mod on it since Cam2API is enabled by default. There are plenty of GCam ports available for the device, which enable Night Sight, Portrait, Astrophotography, 4K timelapse videos, and Video stabilization on the smartphone. The download link for a working GCam can be found in the download section below.
Android 11 based PixysOS 4.0 on Redmi Note 7 Pro: Battery Life
The battery life on the Android 11 based PixysOS 4.0 was fine for day to day usage. Most days I ended up with around 3-4 hours screen-on-time and about 50% battery left on the device. The smartphone can even last for a couple of days on PixysOS 4.0 as can be seen in the screenshot above. We got a screen time of around 6 hours 10 minutes with around 5% battery left over a period of 2 days without charging the device.
However, you should remember that everybody has a different usage pattern. You can also see some information including the percentage and time needed for a full charge on the lock screen while the device is charging.
Android 11 based PixysOS offers Adaptive Battery feature that limits battery for frequently used apps.  There is also a Battery Saver on the device which puts enables dark mode, and can extend the battery life by restricting background activities.
So should you try Android 11 based PixysOS 4.0 on your Redmi Note 7 Pro??
PixysOS 4.0 offered a good day to day performance with good battery life. You should definitely consider it if you are looking for a stable Android 11 based custom ROM for your Redmi Note 7 Pro (violet) and ready to compromise on features and customization.
If you want a ROM with plenty of features, and customization for your Redmi Note 7 Pro, stay tuned for a while as we will be dropping another custom ROM post for Redmi Note 7 Pro very soon!
Pros
Fluid day-to-day performance
Clean minimal UI
Good battery life
PhonePe worked fine without Magisk
Screen Recorder
Cons
WiFi Bug
Lacks customizations
Lacks basic features such as Long Screenshots, Three-finger Screenshot Gesture
Requirements:
If you are on a Mac you need to
Extract the Android zip and place the folder on your Desktop.
Open Terminal
Type cd Desktop/Android
Enter ./ADB-Install-Mac.sh
How to flash Android 11 based PixysOS 4.0 on Redmi Note 7 Pro??
Switch off the phone and boot it into fastboot mode by long pressing Power and Volume down buttons simultaneously.
Connect your phone to PC by a USB cable, open the command prompt on your PC, and navigate to the folder where you have saved Orangefox img file.
Type 'fastboot devices' in command prompt and check if the device is detected by the system.
If the system detects the phone, type 'fastboot flash recovery_filename.img' and hit enter, the process will be completed in seconds.
Now long-press the Volume up and Power Button to boot the phone in recovery mode.
It will ask to allow modifications, slide towards the right to allow Modifications.
Select 'Wipe', click on 'Format Data' and type 'Yes'. Go to 'Advanced Wipe', select 'Dalvik / ART Cache', 'System', 'Data', 'Cache', and then swipe towards the right to Wipe.
Go back and click on 'Install', navigate to the location where you have stored the required zip files, it's better to keep these zip files on SD Card or USB OTG drives. Select the Firmware zip, ROM zip, and NikGApps, and then swipe towards the right to flash.
Click on 'Reboot' and then 'System', within 5-10 minutes device will boot with PixysOS.
Credits: We would like to acknowledge the efforts of Nishant Singh, and Panchajanya Sarkar towards developing PixysOS 4.0 for the Redmi Note 7 Pro, Arnova8G2 for the development of GCam.
You can also join Redmi Note 7 Pro Updates, and PixysOS channels on telegram.
Warning Disclaimer: Bootloader unlocking and flashing ROM may void the warranty of Xiaomi devices, FoneArena is not responsible for any damage or loss caused to your device.