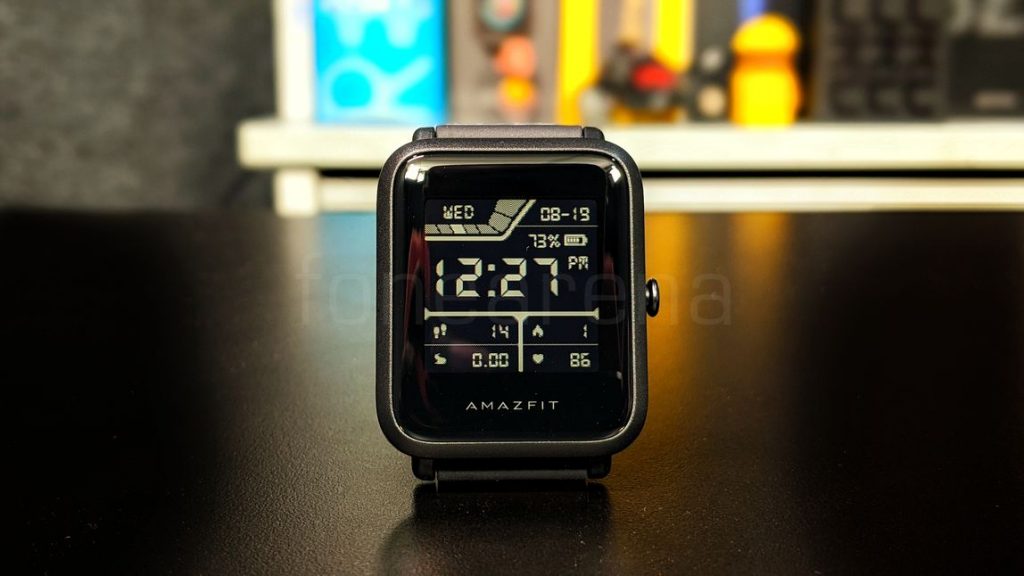 Activity trackers play a major role in India's wearable market! Among major players, Amazfit has a dominating presence in terms of value for money products. I stand in favour of activity trackers, as it keeps me motivated throughout the day. It makes me push my limits every day and if you, like me, have a fitness regime, activity trackers are great.
With so many showing interests in activity trackers, I share my thoughts about Rs. 3,799-priced successor of a successful entry-level activity tracker watch, the Amazfit Bip Lite. Also, what for they named it Lite when most features are similar to bigger brother!
Box contents
Box that carried the product was good in quality and had key information printed externally. Package contains –
Bip S Lite
Proprietary Charger
User manual
Highlights
30g (with strap) and 18g (without strap)
40-day Battery Life
5 ATM Water Resistance
Specifications
1.28-inch ( 176 x 176 pixels) colour Always-on reflective touch display with 2.5D Corning Gorilla Glass 3 protection + AF coating provides at-a-glance view for time, date, steps, weather, sports stats etc.
Receive notifications for calls, messages, emails, weather and other apps on the always-on colour touch display
8 sports modes (Treadmill, Outdoor running, Walking, Indoor cycling, Outdoor cycling, Yoga, Elliptical trainer, Freestyle.)
Optical heart rate sensor for heart rate zones, Tri-axis Accelerometer + Tri-axis Gyro
Bluetooth 5.0 LE, Compatible with Android and iOS
PAI health analysis
Control music on the phone
Water-resistant up to 50 meters (5ATM)
Amazfit OS; Compatibility: Android 5.0 or iOS 10.0 and above
Dimensions: 42 x 35.3 x 11.4mm Weight: 30 grams with strap and 18 grams without strap
200mAh battery with up to 30 days battery life with basic use, 30 days standby
Design
The Amazfit Bip S lite is very well-built, especially with the price point in mind. Even the button is 316L stainless steel which is claimed to be finely machined by high-precision CNC machine tools, sandblasted, and treated with a PVD vacuum coating process to make the surface of the button colourful and wear-resistant.
In the middle of the button, the watch's colour scheme is matched through a tone drip process, which enhances the overall fullness and design details of the watch and adds a finishing touch. Sadly we have the black variant and can't enjoy the so-called 'Two-Tone' design. The button is clicky and works fine. The overall casing is Polycarbonate which is in matte texture. The Silicone and skin-friendly TPU strap is fine and lock grip is good
Overall, it is still like BIP S in appearance with fine-tuning in and around. Besides Charcoal Black, the Amazfit BIP S Lite is available in Oxford Blue and Sakura Pink in case if you want to satisfy your desire for colour and expression.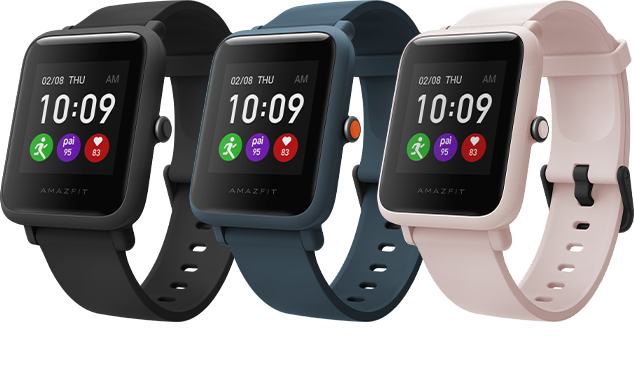 Display and Vibration feedback
Display plays a major role as it is the one between user and activity tracker to communicate. Amazfit did an excellent job by using a color Always-On reflective touch display.
This display is 1.2-inch Transflective Color TFT with resolution 176 x 176, 64 RGB color gamut which performs really well for outdoor activities with excellent sunlight legibility and viewing angle.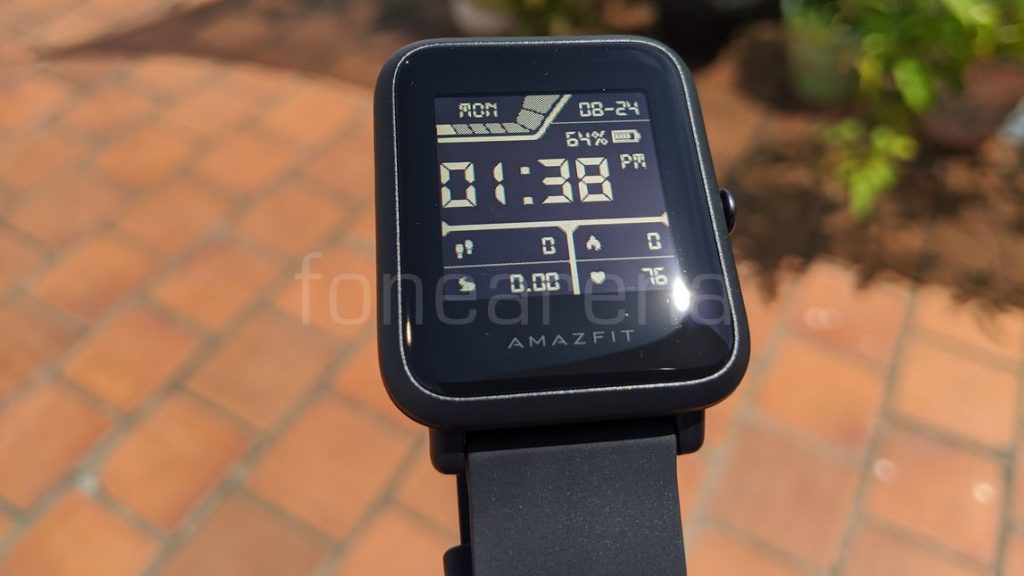 The 2.5D Corning Gorilla Glass 3 protection works well and keeps the display protected from minor impacts. It is scratch resistant up to certain levels. Lack of a speaker for notification is compensated by vibration motors, which of course is strong and will surely make you respond to it. Even during intensive routines or deep sleep, you won't miss any notifications.
Durability
For an activity tracker, durability is one of the key areas, considering the day-to-day activities most users go through. At this price point, one would expect all-weather protection and even abuse-resistant to a certain level.
Keeping this in mind Amazfit came up with colourful transflective display protected by 2.5D Corning Gorilla Glass 3 protection, 30g ultra-lightweight design makes it very light and even a sudden drop from a height is handled well unless the impact is not on display.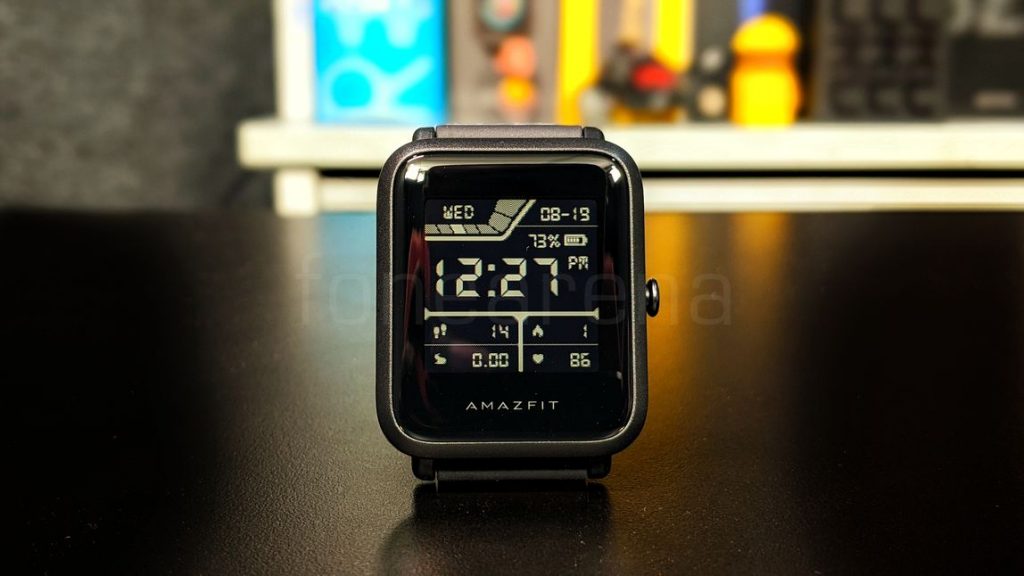 5 ATM water resistance is in favour of swimming and intense activity related to water and this watch should handle it perfectly as claimed by Amazfit. I felt it comfortable to use without any protection on it. Even it overcomes a few rough situations without any visual scratches.
Connectivity and Sensors
Bluetooth 5.0/LE is the key communicator which sends data between activity tracker and smartphones. Bluetooth 5.0 is power efficient and the range is good at indoor as well as outdoor. Continuous Heart Rate Monitoring with BioTracker PPG Bio-Tracking Optical Sensor – PPG (photoplethysmography) sensors use light-based technology to sense the rate of blood flow as controlled by the heart's pumping action).
The effective high-precision sensing area is 3 times that of the previous generation, the LED luminous intensity is 7 times that of the previous generation, and the heart rate monitoring accuracy is improved to 98%, all while using only one-fifth the power of the previous generation of products, making this a significant advance for watches with full-day heart rate monitoring.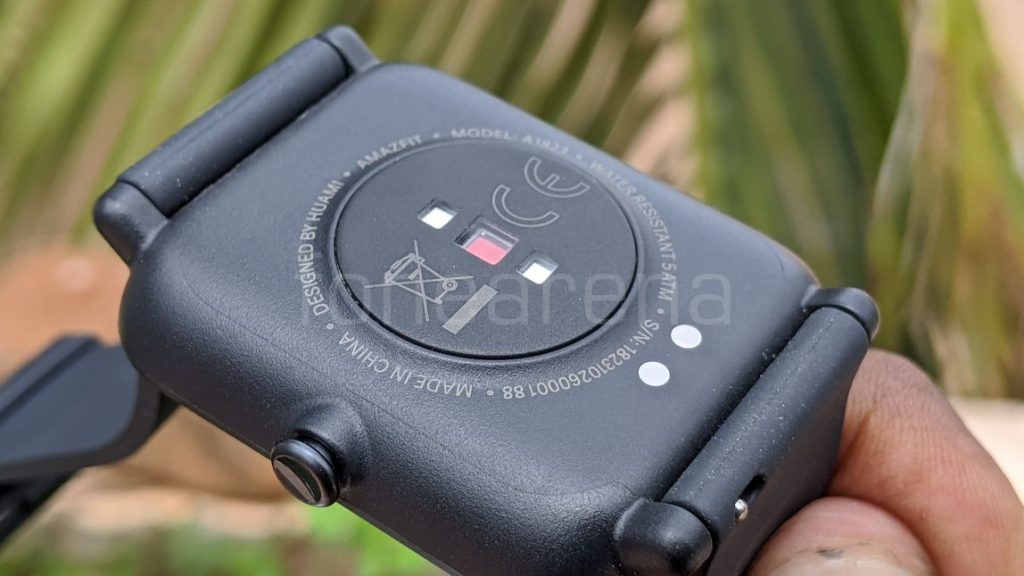 A 3-axis acceleration sensor will track movement in every direction. This sensor takes inertial measurements of velocity and position. Usually, on three axes, it can sense inclination, tilt, and orientation of the body as well. This ensures proper measurement of Steps taken and also other movement-related data like sleep tracking. 3-axis geomagnetic sensor for compasses and also to consider the slope (inclination).
Watch UI
Amazfit has done excellent work by changing the UI of BIP S Lite. BIP S Lite runs Amazfit OS It feels nearly like Verge lite and other higher budget siblings. A simple press on the button will unlock the watch to Home Screen from where we can swipe and navigate around. Swiping from top to bottom will show up shortcuts to access like DND, Brightness, Lock, and Music control.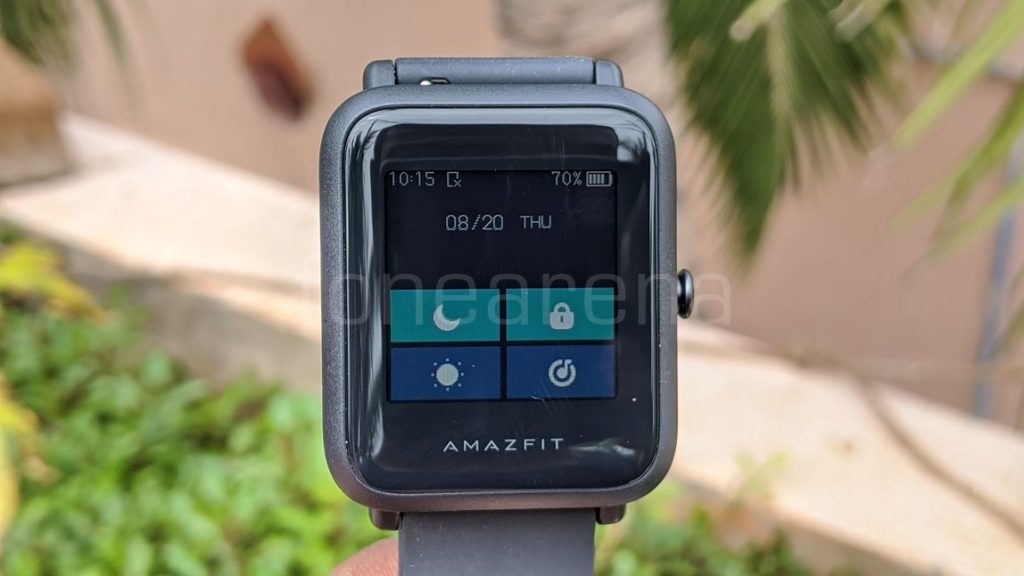 Swiping up from the bottom will take us to the latest notifications (SMS), further swiping bottom to top we can access older notifications, and also swiping from right to left will show the option to delete and left to right swipe will take us to the home screen. By pressing the button we can access the menu and this list in the menu can be altered to our convenience with the help of the Amazfit app. Swiping from top to bottom or opposite we can glide through the list of options available to use. Options like STATUS, WEATHER, WORKOUTS, PAI, ALARM, MUSIC, SETTINGS etc. can be accessed here.
Homescreen can be customised by a long press, or we can change from the Amazfit app. This watch is perfect for those who want to be notified for incoming calls and SMS as Vibration strength is good you won't miss any notification. You can not reply to SMS or attend calls or make calls via BIP S Lite. Sometimes BIP S Lite keeps me notified multiple times for a single SMS and hopes this also will be fixed via OTA update.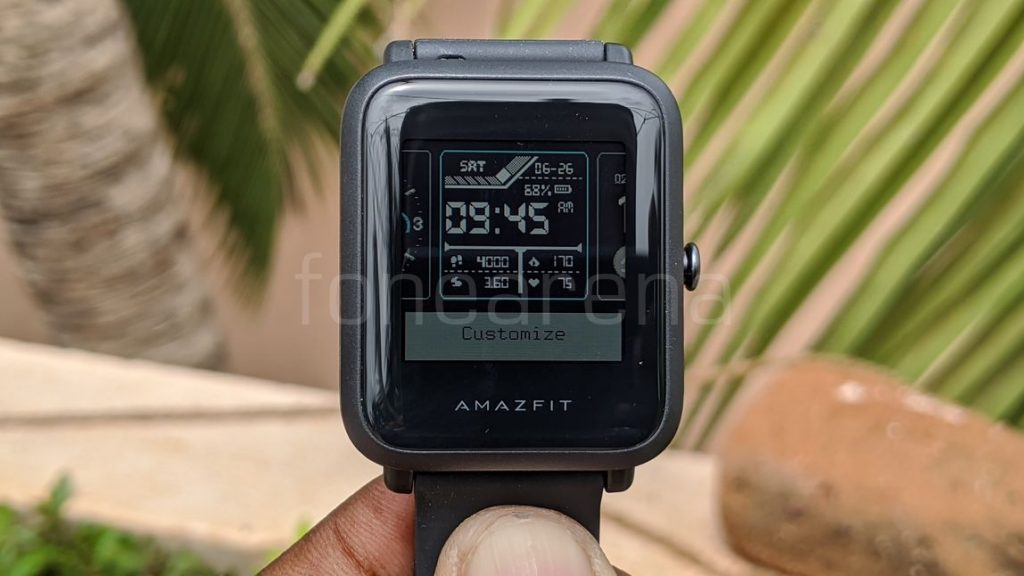 STATUS and ALARM requires more attention than other options. STATUS is like a collecting hub where we can check data about day-to-day activities Like Steps, Distance covered, Calories burned, and also Heart Rate data. Multiple predefined ALARMS via the Amazfit app can be managed here, We can't set a new alarm from the Watch interface. Also, can not control or use the watch as a shutter key for smartphone cameras. Those who have the habit of misplacing your mobile phone are gifted with the Find Device option in watch settings. By tapping it your phone will make an alarm sound if it is within the BIP S Lite Bluetooth range.
Workouts and Accuracy
The smartwatch is equipped with 8 sports modes –
Outdoor running
Outdoor cycling
Indoor cycling
Treadmill
Walking
Elliptical trainer
Freestyle
Yoga
I was able to use Freestyle without any issues. But I won't recommend activity trackers without built-in GPS for outdoor activity. Those without native GPS will be dependent on the phone and will force us to carry our phone along to get location details. During outdoor activities like running or cycling, Current pace and average pace throughout the activity are provided by GPS, and we will be missing those in the absence. Time taken to locate the phone's GPS data is more and also complicated. Mi band 4 or other basic bands did better in this area.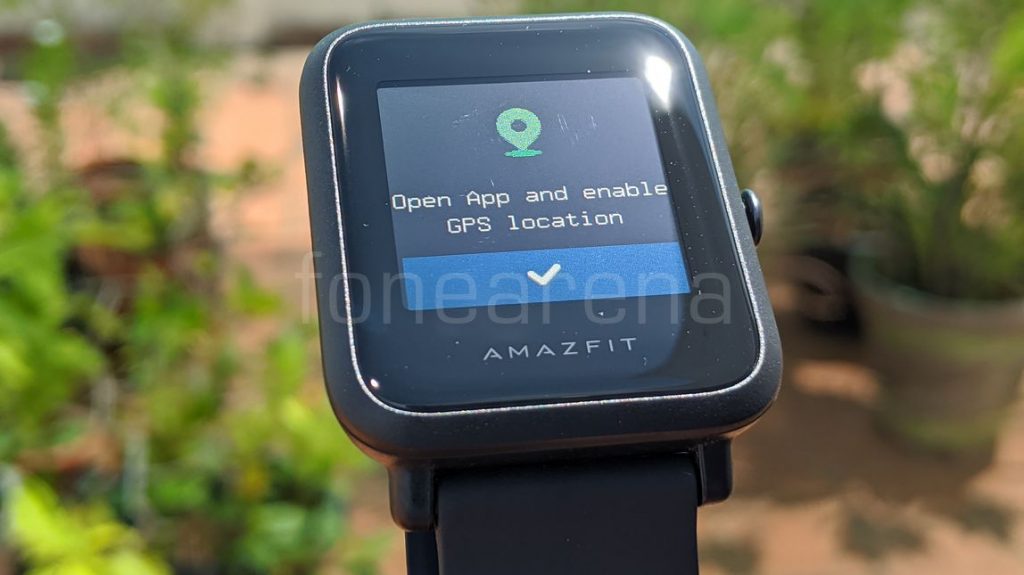 Freestyle and yoga data are really good and has required information. During some intensive tasks like Running and Badminton heart rate experienced certain level error. BIP S Lite got locked in 190+ BPM for a while and recovered automatically as when I was using GTS I used to manually fix it. Some issues with internal Storage or Cache memory resulted in data loss. Twice I experienced crash during activity being performed due to which I lost total of 2hrs of freestyle data. That was really painful and can't be missed. Have reported Amazfit about this issue and hoping for a better response from them. My daily routine used to be 60 mins outdoor cycling, 90 mins badminton session and some freestyle workout session if I have reserve to go further. With BIP S Lite I miss Badminton mode and Waiting for OTA update as well to overcome issues related to activity data loss.
Regarding Step counting accuracy in BIP S Lite – Those who used to ride Bike to long distance should be aware of false counting or counting errors with trackers. During normal use BIP S Lite accuracy is good and it is not making any excess step counts. But while riding bike like around 8KM it adds 100 steps on average (If road is poor and Bike results in more vibration, then the count may increase further). Also while clapping or waving hands will result in step count increase. These kinds of issues are common among activity trackers. Have spotted similar error on Apple watches too.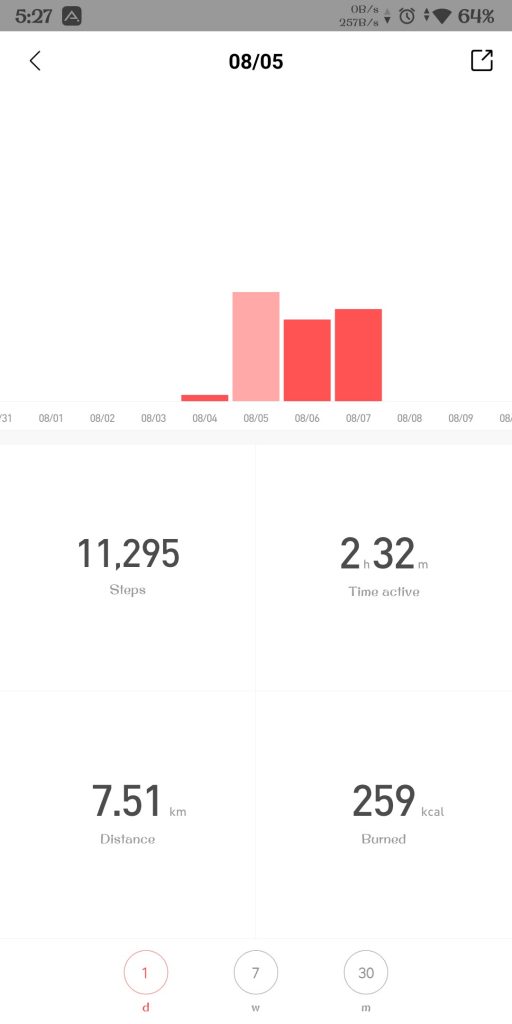 Huami-PAI Health Assessment System, Precisely Quantifies Your Physical State. Amazfit Bip S Lite integrates the innovative Huami-PAI Health Assessment System, which eliminates the need to track complicated data and allows you to intuitively understand your physical state at a glance, as well as more concisely and precisely control your health.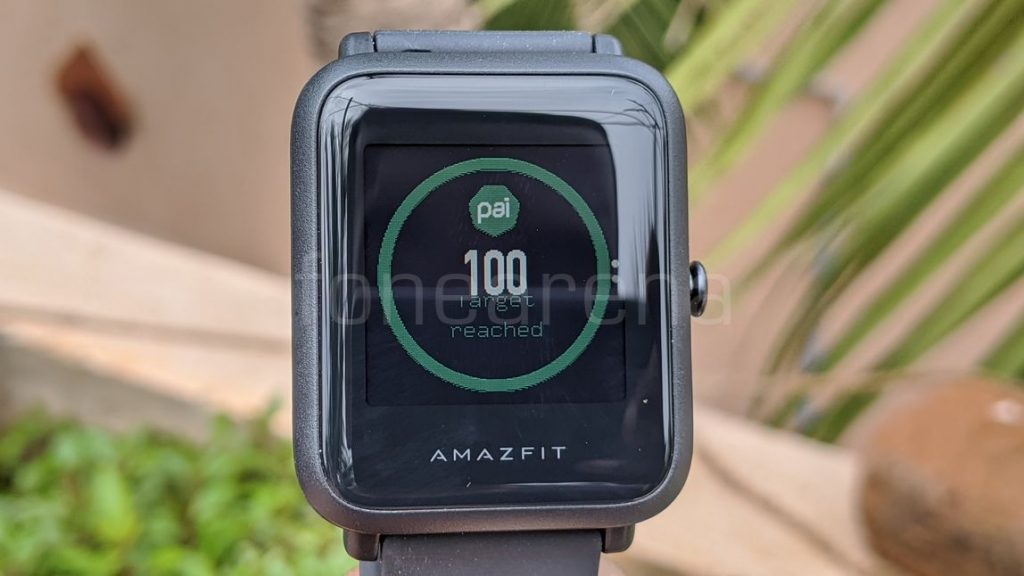 PAI (Personal Activity Intelligence) is a science-backed health score, which measures the impact of your physical activity on your heart and guides you to a longer, healthier life. Backed by one of the world's largest health studies, maintaining 100 PAI or more is scientifically proven to provide maximum protection from heart disease and other lifestyle diseases.
HUNT Fitness Study: The study was led by Professor Ulrik Wisloff from Faculty of Medicine and Health Sciences, Norwegian University of Science and Technology, lasted 25 years, and involved 45,000 participants.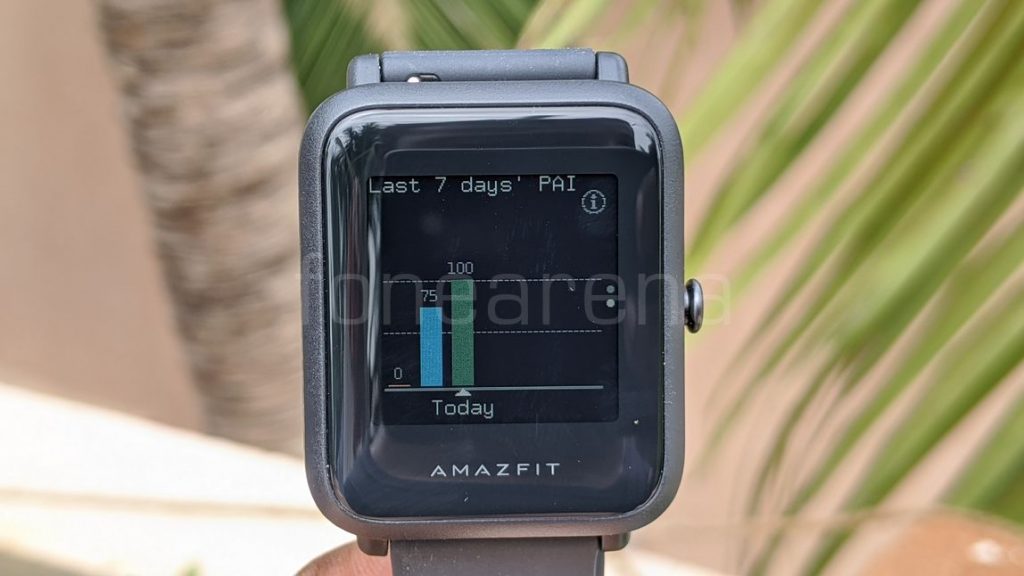 Amazfit App
Amazfit app feels refined and comes with a new homepage. Also, it is compatible with Android 5.0 or iOS 10.0 and above. Previously when I was using the GTR Amazfit app was not this mature and looked similar to Mi Fit. From top to bottom on the homepage we can see total steps, Calories burned, Sleep time, Workout records, Sleep score, PAI, Heart rate, Consecutive achievements and more of personal data feeds. Top right corners houses a small flower-like icon which is a shortcut to access personal data like overall heart rate records or Exercise records etc.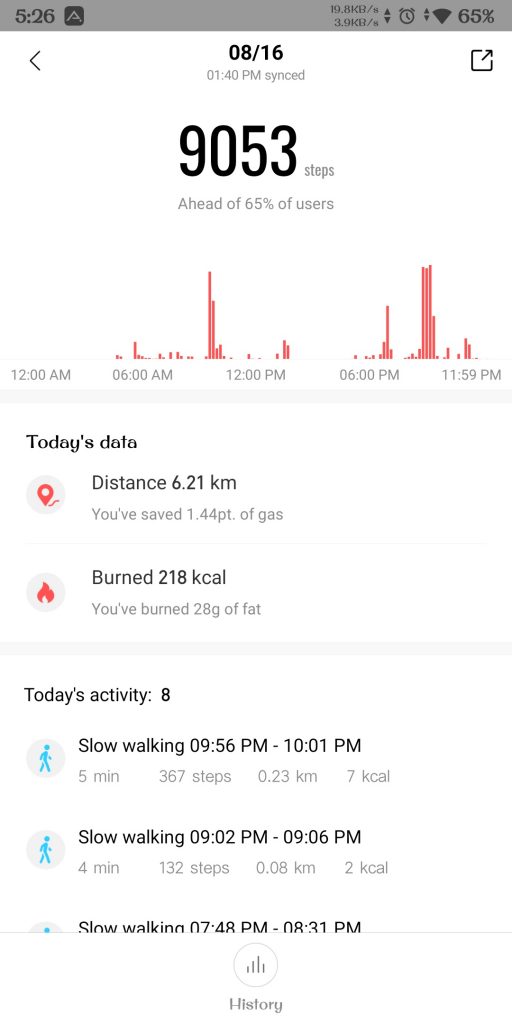 The 'Enjoy tab' is set next to the homepage which is a shortcut for settings related to BIP S Lite interface. It comes with basic settings which we can change here in the app as it will be reflecting in Bip S Lite. Available options are based on the model we own and some of the advanced smartwatches from amazfit can utilize most options available at this tab. We can change Alarm, Event reminder, Find device(to locate watch), Relatives and Friends, Target settings, Dial settings (Watch Face), Incoming call, App alerts and Unlock Screen.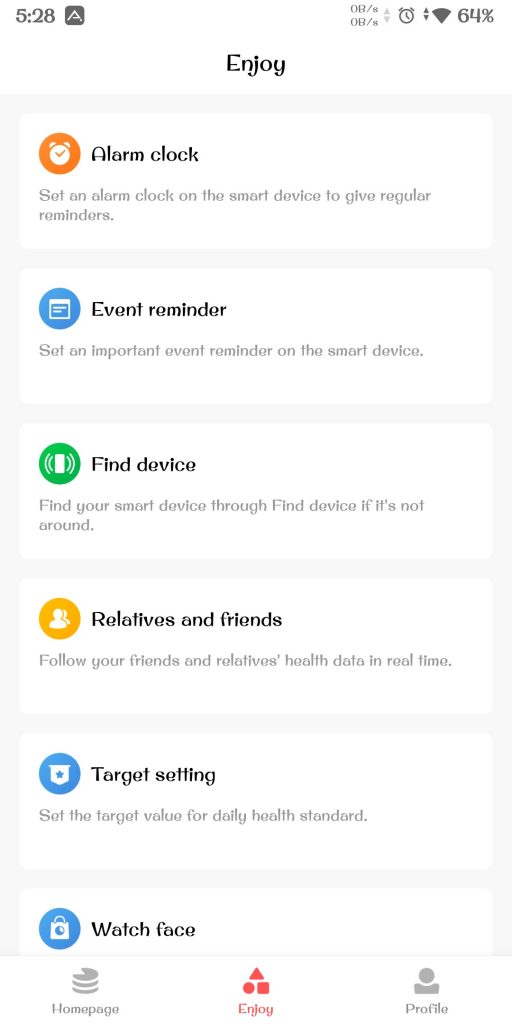 Final tab is Profile and here we can control watch settings and other information related to user profile and also basic app settings can be changed here. In More section you can check My goals, My records, Friends, Behaviour tagging, Add accounts (Can sync with Google Fit, Strava and weChat), Feedback (Suggestions and Bugs can be reported), Smart analysis and Settings.
Watch settings is very much helpful to change the watch screen settings and also tweaks to be done in its UI. Changing watch face is easy and can be done in a tap. Also, settings available are simple and not further updates should add more valuable changes to it.
Battery Life
One of the key area for considering Amazfit Bip S Lite is its battery life. Amazfit BIP S Lite comes equipped with 200mAh lithium-ion polymer battery (Typical value), Company claims that 30-day battery life (Typical usage scenario): Factory default dial, heart rate measurement every 30 minutes, sleep monitoring, 100 notifications per day lighting-up the screen. 90-day battery life (Standby mode): Factory default dial, time display, activity tracking, sleep monitoring; turn off Bluetooth connection, all-day heart rate and other functions.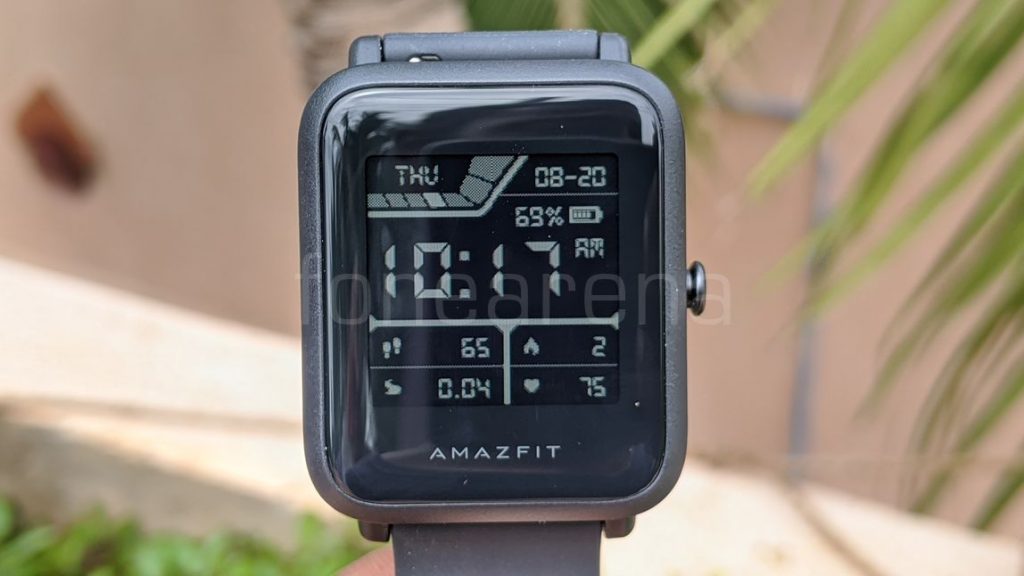 From my personal experience with this watch for the past 10 days, I will rate its battery life as GOOD. In the past 10 days I started using it when the battery was 100% and have used mostly for recording freestyle data and still have 12% juice left, It went good as Amazfit claimed. Specially this power efficient internals and display adds more strength to BIP S Lite in this area.
Lack of power saver mode is painful. For now manually we can make few changes to prolong battery life by
Reducing screen brightness
Disabling continuous heart rate
Using recommended Homescreen theme
When you wish not to use it during sleep, Power off is recommended.
In Box 2-pins POGO pin Charger works good and holds the watch tight 👌 and feels comfortable to carry around. Also BIP S Lite should fully charge from 0 to 100% in 2.5 hours.
Conclusion
Considering the price (Rs. 3,799), Amazfit BIP S Lite is good but forced to face some tough contenders like ColorFit Nav. This does not mean BIP S Lite is weaker, It has some flaws but good for indoor and gym activities. No Activity tracker in this budget comes with this good battery and display. So I personally recommend this Activity tracker for those who are ready to spend 3,799 and involve in indoor activities.
Pros
Built-in GPS
Display (AOD) and Outdoor visibility
Accuracy considering the price tag
Lightweight – 31 grams
PAI (Personal Activity Intelligence)
Can connect data with GOOGLE FIT and STRAVA
Cons
Experienced Crash during activity which results in data loss
Not suitable for outdoor activities since it lacks GPS
Heart Rate reaches 190+ during intensive tasks
Can't control smartphone camera Shutter / Set alarm from watch
No Power Saver Mode
Amazfit App needs maturity
BIP S Lite is available in Flipkart, and Amazfit India website online.
Alternatives for BIP S Lite or Activity trackers below 5000 rupees are
Amazfit BIP S
Amazfit Verge Lite
Noise ColorFit Nav
Amazfit BIP Lite
Realme Watch
Samsung Galaxy Fit e
Honor Band 5
Mi Band 4