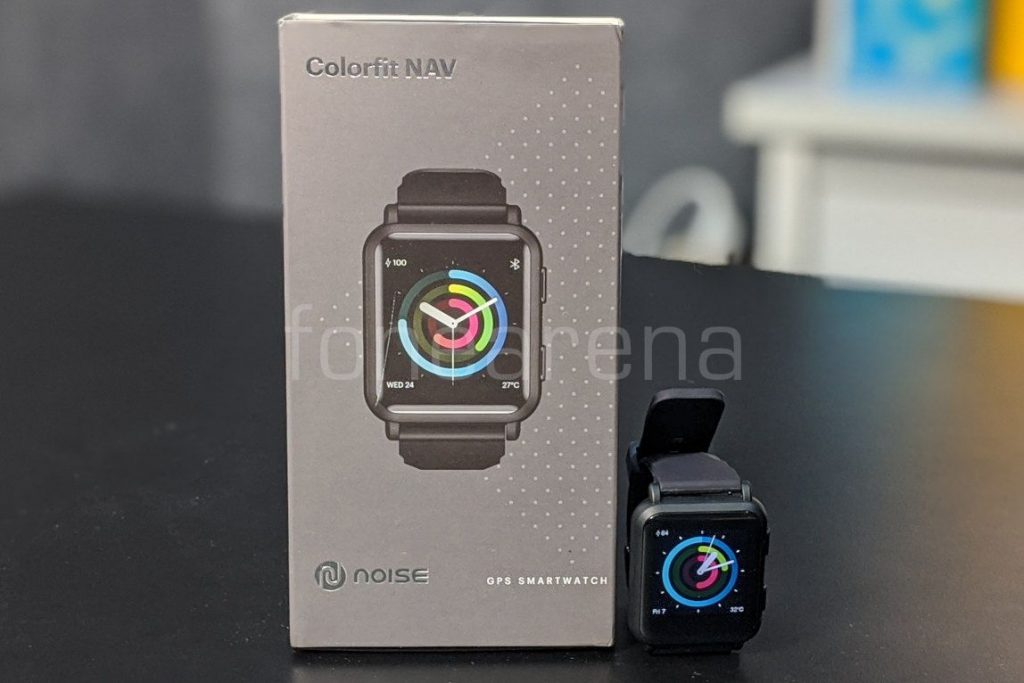 Noise launched the Colorfit NAV, the company's first GPS smartwatch this week. Apart from GPS, it has a high-resolution screen, features including music controls, IP68 ratings, heart rate sensor and more. I have been using the smartwatch from Noise for about a week now, here is the review.
Box contents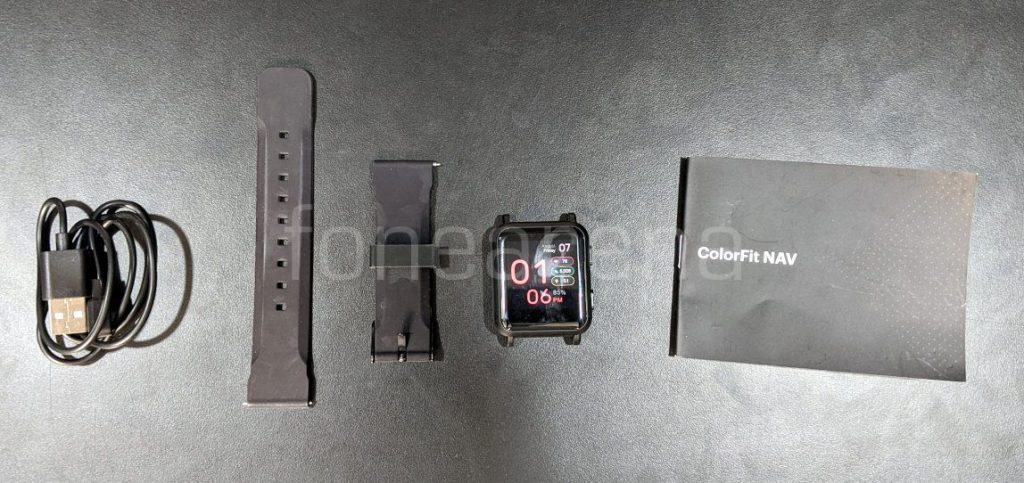 Noise Colorfit NAV smartwatch in Stealth Black colour
22mm wrist strap in Black colour
Charging cable
Quick start guide
Design and Build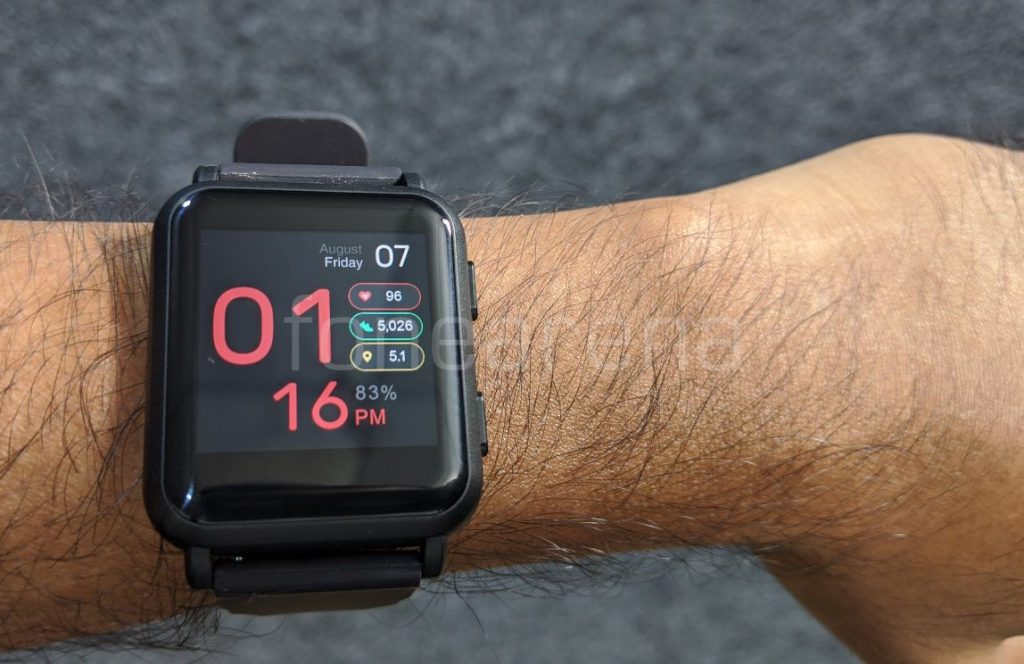 The smartwatch has a square dial with minimal bezels around the display. It weighs just 40 grams with the band and measures 38.5×42.5×11.0mm, so it can be compared to watches with a 38mm dial. It has polycarbonate shell with a matte finish so that it doesn't attract fingerprints and also looks and feels good.
The Noise Colorfit NAV has IP68 water resistance, and can withstand dust, dirt and sand, and are resistant to submersion up to a maximum depth of 1.5m underwater for up to thirty minutes, and can be used in shower, however, the company says that it should not be used in sauna, hot water bath and ocean water as the moisture and salty water can damage the band. The company also says that you should not wear it when swimming.
There is 3-axis accelerometer as well as 3-axis gyroscope sensor and features Bluetooth 4.2 to connect to Android and iOS devices. Since the Bluetooth chip is programmable, so it can store data even when it is disconnected from the smartphone. Coming to the 22mm wrist strap, it is made of skin-friendly thermoplastic polyurethane and the strap is adjustable depending on your wrist length. Since the strap is easily removable, you can use any third-party strap with the watch.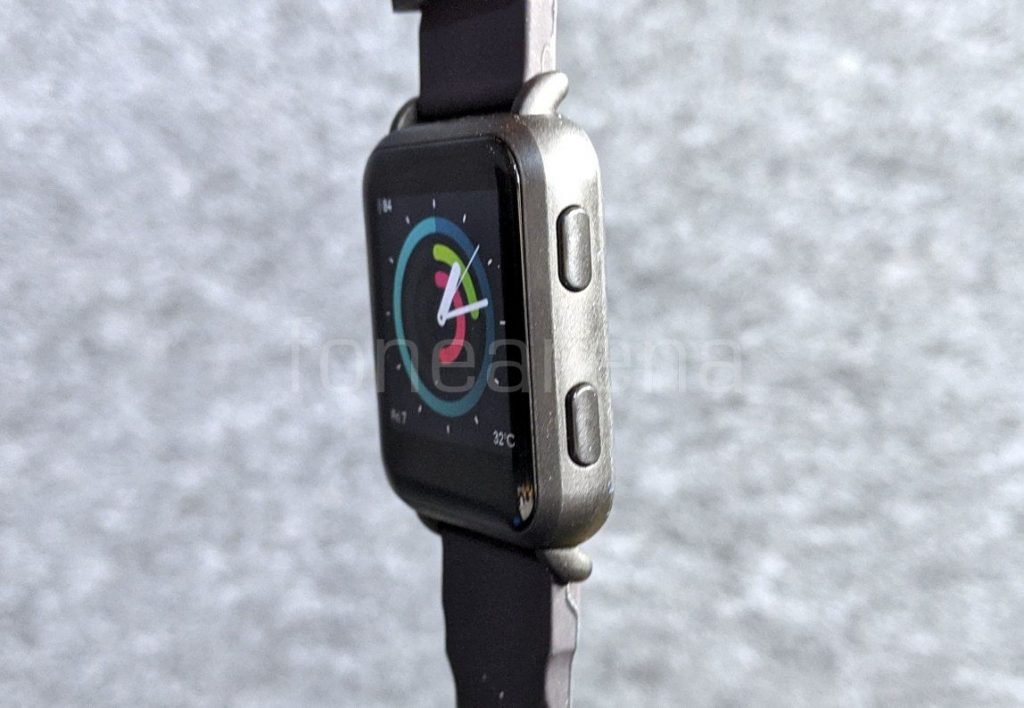 There are two buttons on the right side that also offer a matte finish. The on on the top is the home button and the other one acts as a back button. Holding the power button shows an option to power off the watch.
On the back you can see the heart rate sensor that has glowing green LED lights when you are using it to measure heart rate. You can also see the charging pins on the back. Even the back has the same polycarbonate finish that offers a matte finish.
Display and features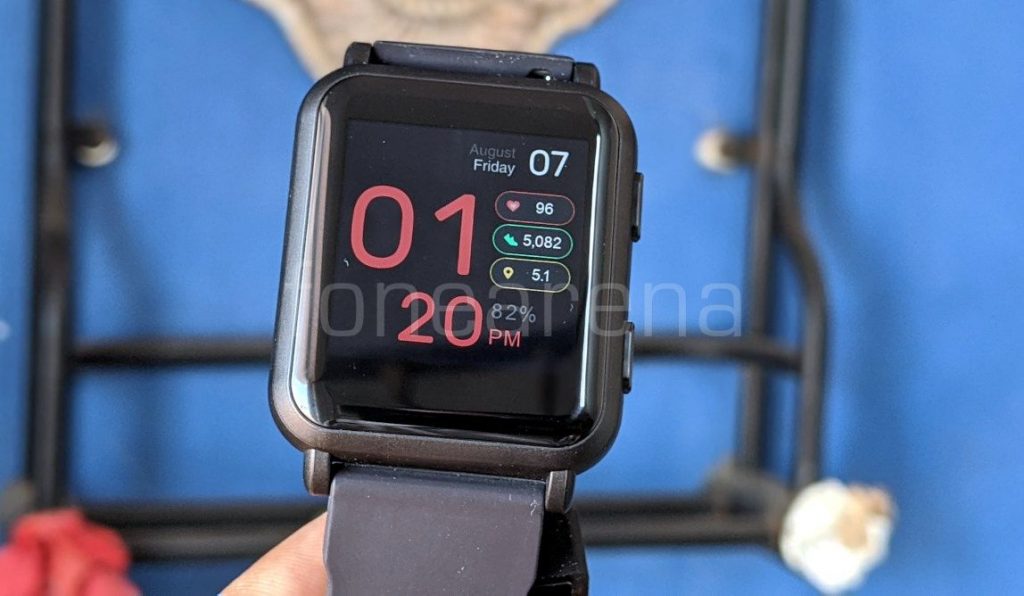 Coming to the display, the smartwatch has a 1.4 (320×320 pixels) TFT LCD color touch screen with a pixel density of about 323 PPI. The display is bright even under bright sunlight and the viewing angles are good. The display attracts fingerprint easily, and the company doesn't say if this has a  scratch-resistant glass. This doesn't have an always-on-display, but you can set it to turn on when you lift your hand, and the screen turns off after sometime (5,10 or 15 seconds) to save power. There are 12 different watch faces to choose from, but the company says that it will push an update soon to add more cloud watch faces. Only 2 to 3 watch faces are to my liking.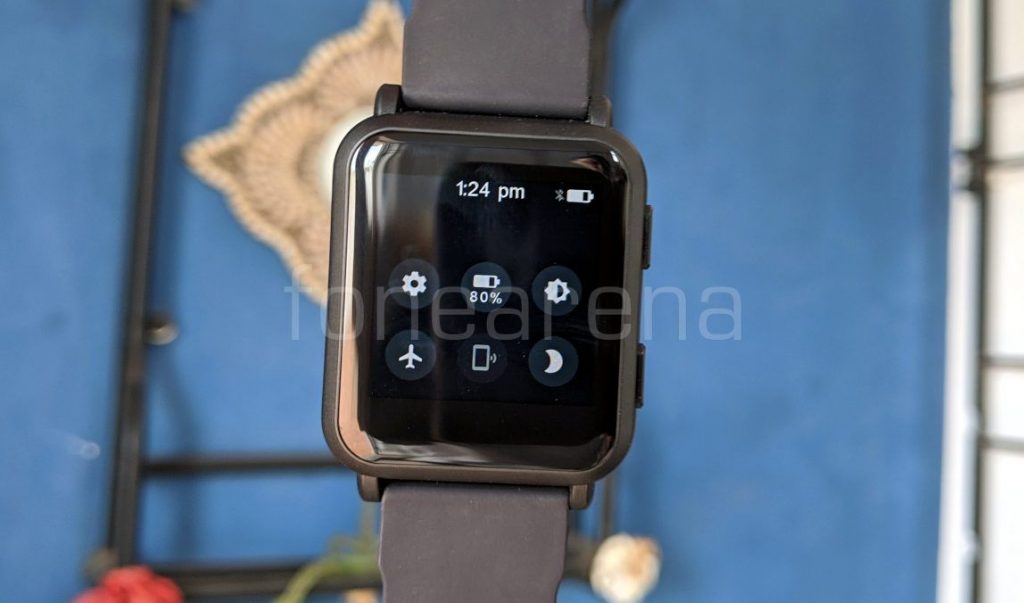 You can adjust the brightness when you swipe from the bottom, and you get 3 settings to choose from. Level 2 is more than enough even in bright outdoors, and level 1 is fine for indoors and during nighttime. There is also DND, Find phone, Airplane mode and battery indicator.
Swiping to the left or right shows a lot of options such as Activity that shows your daily activity such as distance, steps, active minutes and calories burnt for the day. Alarm option lets you set an alarm directly from the watch, Breathe option lets you practice breathing and the Heart rate option lets you measure your heart rate. Other options include music controls to Play, Pause or skip music on the phone, Reminders (Shows reminders, but can be added only on the app), and the Sleep option shows the amount of sleep for the week.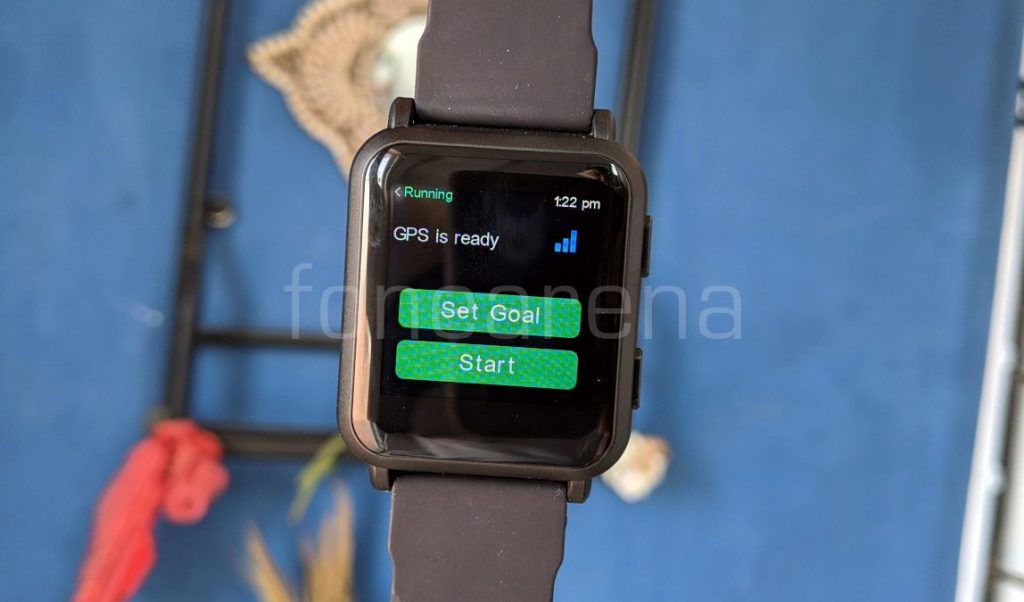 Other options include Stopwatch, Timer, Weather and finally workouts (Walking, Running, Outdoor Cycling, Indoor Cycling, Indoor Walking, Indoor Running, Yoga and Strength Training). After selecting an activity, you can manually select a target like Duration, Steps or Distance or start the workout without selecting one.
Performance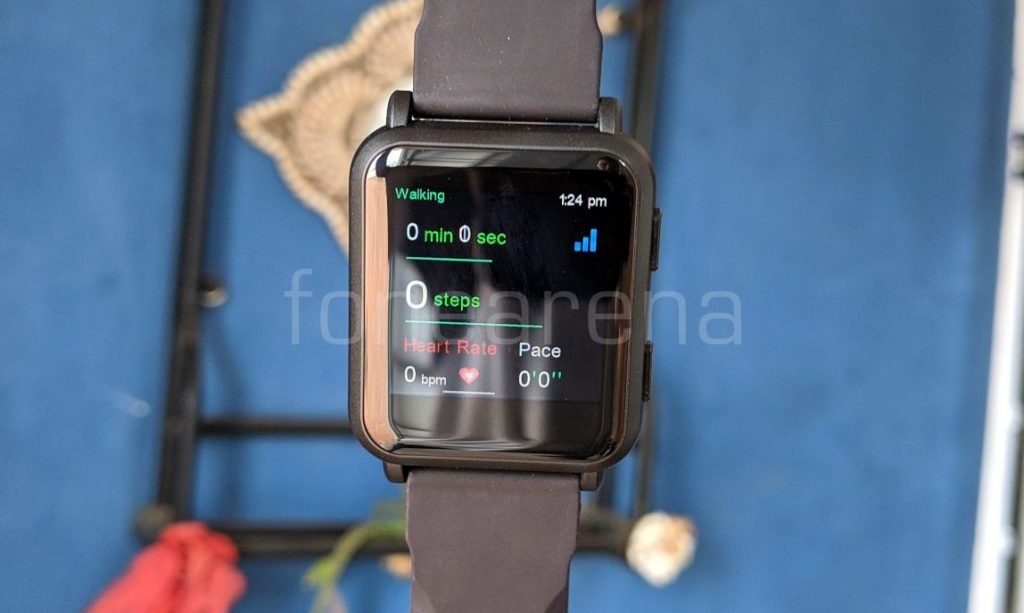 The watch runs proprietary OS and doesn't have any lags. I tried outdoor activities like walking and running. There are no issues when it comes to steps and sleep tracking. It also shows active time and calories burnt per day, and you can set goals for steps, active time, distance, calories and sleep in the settings.
Sleep tracking is accurate most of the time, and it tracks deep and light sleep, similar to most devices, but it doesn't track day time sleep. There is also day, week and month view for sleep tracking, just like steps tracking. You need to enable auto sleep mode, and you can set the bedtime and awake time from the app settings that alerts you to sleep and wake up.
Since it has a built-in GPS, you can use the watch as a standalone device for sports tracking and sync with the app later. Tacking runs with GPS is almost accurate compared to Samsung Watch and Nike Running smartphone app. It showed about 20 to 30m more distance per KM in GPS tracking, which is common in minimal. You get detailed steps data Steps tracking also has minimal error margin.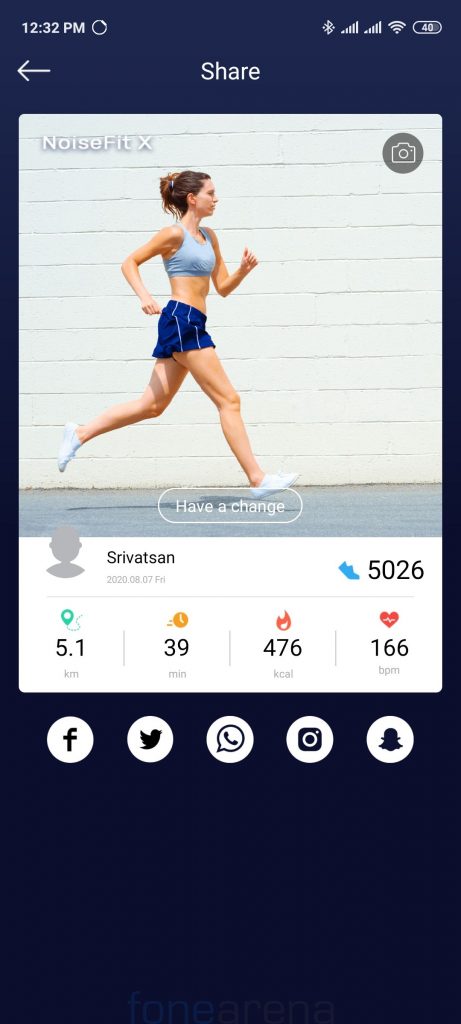 You can share the activity data with stock image or custom image or workout data with map data with other social apps like Facebook, Twitter or Instagram.
Heart Rate Sensor
The smartwatch uses LED lights and photo-diodes to illuminate blood vessel for a while and monitors the heart rate via the change of green light absorbed, similar to the older models. You can't say this is 100% accurate, but heart rate recordings — both resting and active are decent. This does the without any issues.  It takes 5 to 10 seconds to measure heart rate, and you get continuous heart rate tracking during workouts, which will also drain the battery. From the app settings you can set it to measure heart rate automatically from 5 to 60 minutes for every 5 minute interval. You can also set heart rate alert range from 40bpm to 220bpm.
Software

The Noisefit X app for Android and iOS lets you manage several things on the smartwatch. After downloading the app you just have to scan the QR code on the watch after selecting the 'Colorfit NAV' smartwatch model in the app. Pairing takes few seconds. You can register using Google account or your mail to sync your data so that you don't lose them when you switch devices. You can also set daily steps goal, change unit between metric and imperial, read FAQs about the watch, watch videos and resister for warranty. There is also an option to sync to Google fit.
Similar to the watch, even the app also lets you choose from 12 different watch faces, and the company has promised cloud based watch face via an OTA update in a few weeks. The app also has reminders for inactivity alert (from 15 up to 120 minutes) for particular time of the day, set reminder, and there is also a handwash reminder (Every 45, 60 or 120 minutes for 20, 30 or 40 seconds).
You can choose notifications for calls, SMS, Social media and more. There is also SMS quick reply option and lets you reject calls. Finally, the Advanced option lets you enable lift to wake, toggle 24-hour time and choose 5s,10s or 15s screen time.
Battery life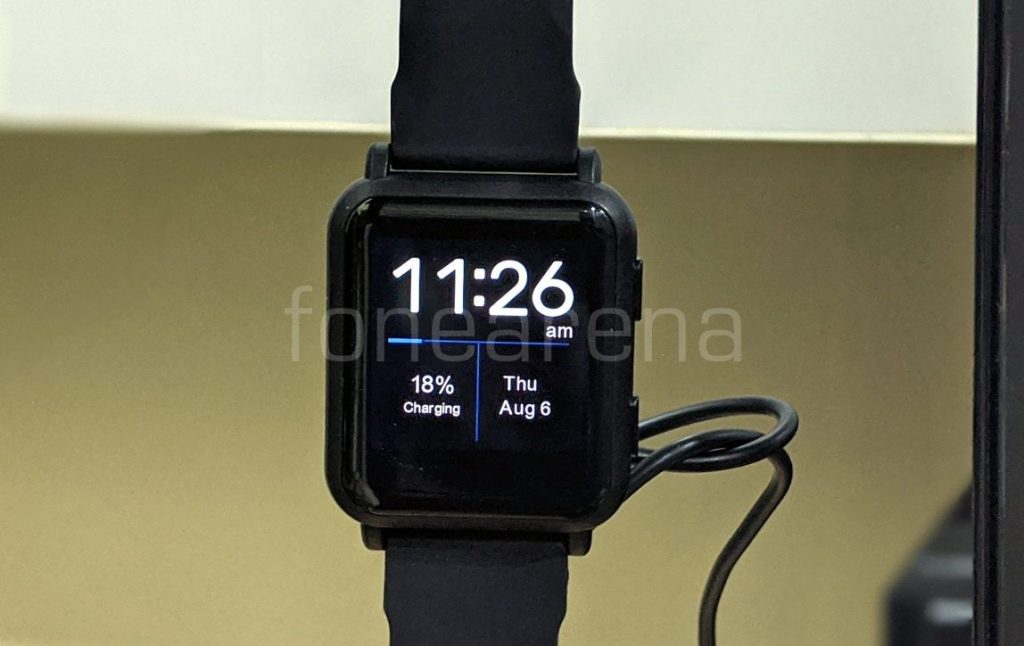 Coming to the battery life, the 180mAh battery promises 4 days of battery life, up to 30 days standby. It got about 6 days of battery life with the notifications off, running with GPS on every day for about 30 minutes and normal steps and sleep tracking. It uses a magnetic charging connector. Using a 5V-1A charger or charging from a USB port on a laptop or a PC takes about an hour to charge from 0 to 100%.
Conclusion
The Noise Colorfit NAV is a good GPS smartwatch option under Rs. 5000 segment. It has a large and bright LCD colour display, has several sports modes, is IP68 certified for water resistance and the battery life is good as well. Wish the company had added SpO2 monitor as well. Also, we will have to wait for OTA update from the company to get more watch faces. Under Rs. 5000 there are other GPS smartwatch options such as Amazfit Verge Lite with an AMOLED screen and Amazfit BIP S that offers weeks of battery life.
Pricing and availability
The smartwatch is available at Rs. 3999 on Amazon India during Prime Day sale and the regular price is Rs 4,499.