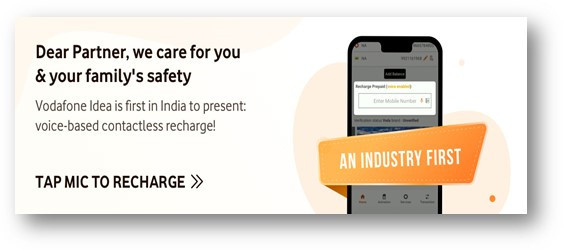 Vodafone Idea has introduced yet another initiative to help their customers maintain social distancing protocols when using their retail store services. It is a voice-based contactless recharge option that is enabled in the Vodafone Idea Smart Connect retailer app, using Google voice recognition to input a customer's phone number.
Retail stores like Vodafone Idea's own stores and multi-branded stores have begun opening in various Green and Orange zones across the country. When recharging with the Smart Connect app, the customer is often required to input their phone number by directly typing into the device. This is not practical considering the current social distancing rules, so Vodafone India enabled voice-input in the app.
Once the phone number is input, the recharge process will carry on as before. Initially Vodafone-Idea will support two languages: Hindi and English, and more language support will be gradually added later.
Commenting on the initiative, Ambrish Jain, Chief Operating Officer,  Vodafone Idea said:
As a customer oriented telecom operator, it is our constant endeavor to come up with products and services relevant to the times and keep our customers connected at all times. In line with our Digital first approach, we are digitizing our processes to offer convenient and efficient services to our nearly 300 million customers. The industry-first, Voice based Contactless Recharge enables recharges without touch and is extremely relevant in these times when maintaining social distancing is the need of the hour to stay safe.