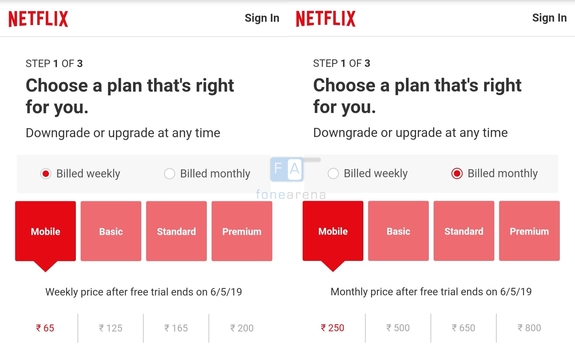 Netflix was launched in India in January 2016 with three plans for India starting at Rs.500, Rs.650, and Rs.800 respectively. We have been seeing the company bundling its services in partnership with various operators too. Now, Netflix has started testing a new weekly subscription in India and the plan is said to start at Rs.65/week. The new plans are showing only for selected users as of now.
Netflix is said to be working on 4 new weekly plans in India. The basic plan is a mobile-only plan that starts Rs.65/week, Rs.125/week for the Basic plan which is SD only, Rs.165/week for the Standard plan which is HD only and allows access for two devices and finally Rs.200/week for the Ultra Plan which allows 4K streaming and access for 4 devices.
The basic weekly plan which starts at Rs.65 is a mobile-only plan and allows watching only on 1 screen at the same time. The screen must be a smartphone or a tablet as it is a mobile-only plan. This plan offers only SD content of unlimited films and TV programmes. Like any other Netflix plan, the weekly plan can be tried before paying for the subscription.
Apart from this, Netflix is also testing a monthly mobile-only plan which starts at Rs.250/month. This plan offers similar benefits as the Rs.65/week plan, but with this monthly plan. The user can pay Rs.250 for the entire month instead of paying weekly.
The new weekly plan will interest users who would like to watch a particular TV series or a movie and doesn't wish to pay for the entire month. Also, it is to be noted that among the other streaming services in India, Netflix is the most expensive. Amazon offers Prime Video, Prime Music and other benefits for Rs.999 per year and Hotstar offers its VIP subscription for Rs.365 per year, while Premium subscription with Hollywood content costs Rs. 999.