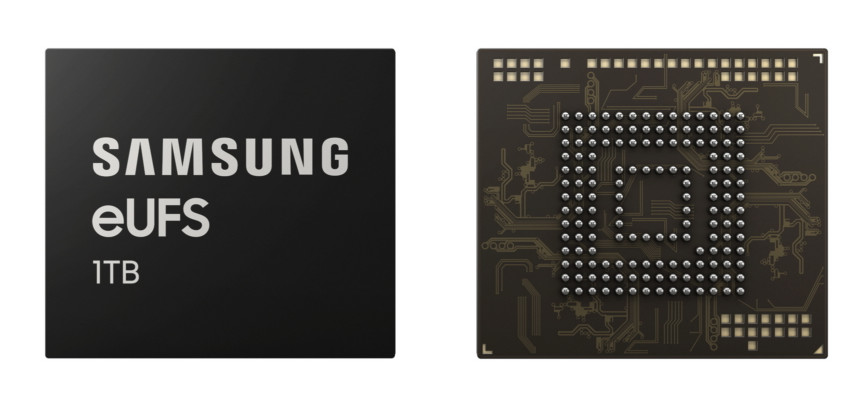 Samsung  has announced that it has begun mass production of first 1TB flash storage for next-generation mobile devices and it utilizes  16 stacked layers of 512-gigabit (Gb) V-NAND chips. It uses the same 11.5mm x 13.0mm package as the previous 512GB version, but this uses a newly developed proprietary controller. This will allow users to store 260 10-minute videos in 4K UHD (3840×2160) format, compared to 13 videos of the same size in 64GB eUFS.
The 1TB eUFS offers up to 1,000 megabytes per second (MB/s), offers up to 58,000 IOPS random read speed, which is up to 38 percent over the 512GB version and the random writes at up to 50,000 IOPS are 500 times faster than a high-performance microSD card (100 IOPS).
Samsung said that it plans to expand the production of its fifth-generation 512Gb V-NAND at its Pyeongtaek plant in Korea throughout the first half of 2019 to bring the 1TB eUFS to smartphones. Last year's Samsung Galaxy Note9 was introduced in 512GB version for the first time, and the 1TB storage will likely debut with the Galaxy S10+ next month, which is also rumored to come with 12GB of RAM.
Samsung has also listed its journey from eMMC 4.5 with 140 MB/s read speed to 1TB eUFS 2.1 offering 1000 MB/s speed.
Memory
Sequential
Read Speed
Sequential
Write Speed
Random
Read Speed
Random
Write Speed
Samsung
1TB eUFS 2.1
(Jan. 2019)
1000 MB/s
260 MB/s
58,000 IOPS
50,000 IOPS
Samsung
512GB eUFS 2.1
(Nov. 2017)
860 MB/s
255 MB/s
42,000 IOPS
40,000 IOPS
Samsung
eUFS 2.1 for automotive
(Sept. 2017)
850 MB/s
150 MB/s
45,000 IOPS
32,000 IOPS
Samsung
256GB UFS Card (July 2016)
530 MB/s
170 MB/s
40,000 IOPS
35,000 IOPS
Samsung
256GB eUFS 2.0 (Feb. 2016)
850 MB/s
260 MB/s
45,000 IOPS
40,000 IOPS
Samsung
128GB eUFS 2.0 (Jan. 2015)
350 MB/s
150 MB/s
19,000 IOPS
14,000 IOPS
eMMC 5.1
250 MB/s
125 MB/s
11,000 IOPS
13,000 IOPS
eMMC 5.0
250 MB/s
90 MB/s
7,000 IOPS
13,000 IOPS
eMMC 4.5
140 MB/s
50 MB/s
7,000 IOPS
2,000 IOPS