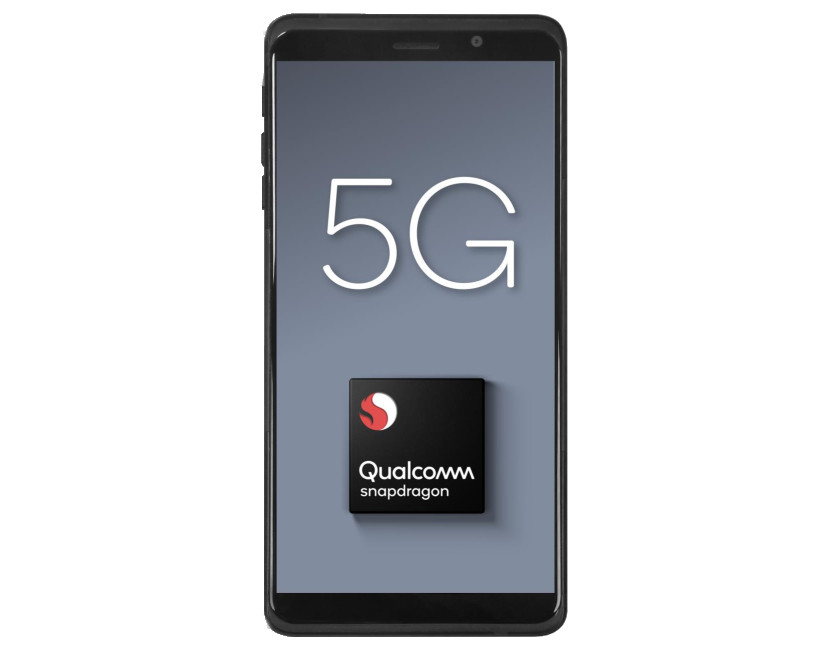 At the third-annual Snapdragon Tech Summit, Qualcomm introduced the first commercial 5G mobile platform, Qualcomm Snapdragon 855 Mobile Platform that will enable commercial 5G networks and mobile devices in Early 2019. Snapdragon 855 mobile platform will be combined with Snapdragon X50 5G modem family and Qualcomm QTM052 mmWave antenna modules with integrated RF transceiver, RF front-end and antenna elements, helping OEMs address the exponential increase in device design complexity that comes with 5G in both sub-6 GHz and mmWave bands.
5G Roll out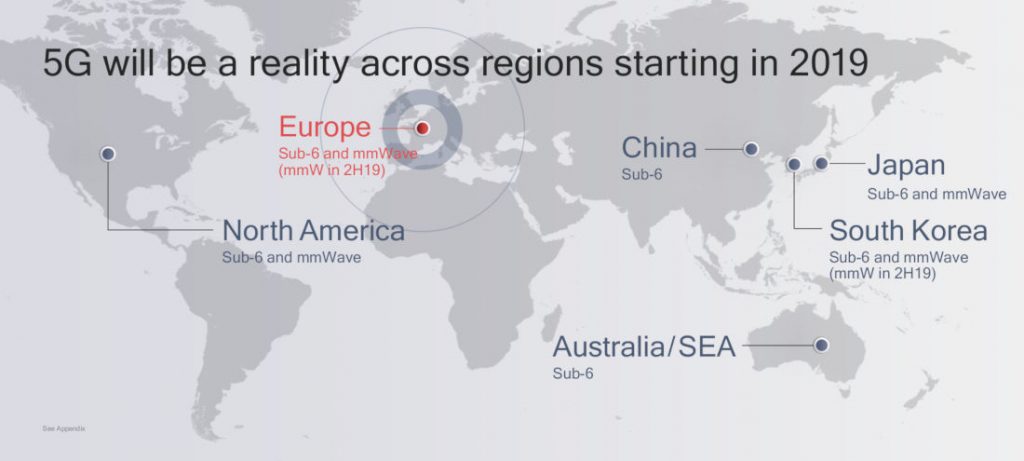 5G will be rolled out, starting in the first half of 2019 across the U.S., Europe, Japan, South Korea, Australia, and China, with deployments in sub-6 GHz and mmWave. By 2020-21, 5G is expected to be deployed in India and Latin America.
Operators across the world about their 5G launch
AT&T: "We plan to bring mobile 5G to 12 cities this year, reaching at least 19 cities in early 2019"
Sprint: "In the first half of 2019 we plan to launch mobile 5G in nine markets…"
T-Mobile: "T-Mobile is building out 5G in six of the Top 10 markets… and 100's of cities across the U.S. in 2018."
Verizon: "Verizon 5G mobility service will go live in early 2019 and expand rapidly."
Deutsche Telekom: "We're continuing on our strong preparation course for the rollout of 5G in 2020."
EE: "We're launching 5G in 16 UK cities in 2019… And that's just the start."
Swisscom: "We plan to bring 5G to 60 towns by the end of 2019."
Vodafone: "In 2019 we will be ready for launch across [60 5G sites] by the middle of the year… By 2020 we will scale
well past 1,000 sites…"
China Mobile: "With the goal of 5G pre-commercialization by 2019 and official commercialization by 2020, we are fully promoting 5G commercialization…"
China Telecom: "We will build 5G demonstration projects and conduct scale trials of 5G applications in 17 cities… launching commercial 5G
services in 2020."
China Unicom: "We are… conducting 5G application demonstrations and pre-commercialization in 2019, and plan to officially launch 5G
by 2020"
Korea Telecom: "[December 1] 5G frequency transmission means 5G is on stage. KT will build up nationwide 5G network coverage and provide high-quality 5G service…"
LG U+: "5G service begins here [December 1] and it will be the Company's growth engine the next 10 years."
SK Telecom: "At midnight [on December 1], the 5G network switch was turned on and marked the beginning of the new ICT era."
KDDI: "KDDI will continue our collaboration with various business partners and prepare for commercial 5G service launch in 2020."
NTT DoCoMo: "In September [2019], we will start [5G] precommercial service, and in the spring of 2020, the commercial launch    will be scheduled."
Optus (Singtel) – "…Optus is confident in its ability to deliver commercial 5G services in January 2019"
Telstra: "…[we] have been investing in our network to lay the groundwork for 5G. We expect to be offering 5G services in 2019."
Snapdragon 855 Mobile Platform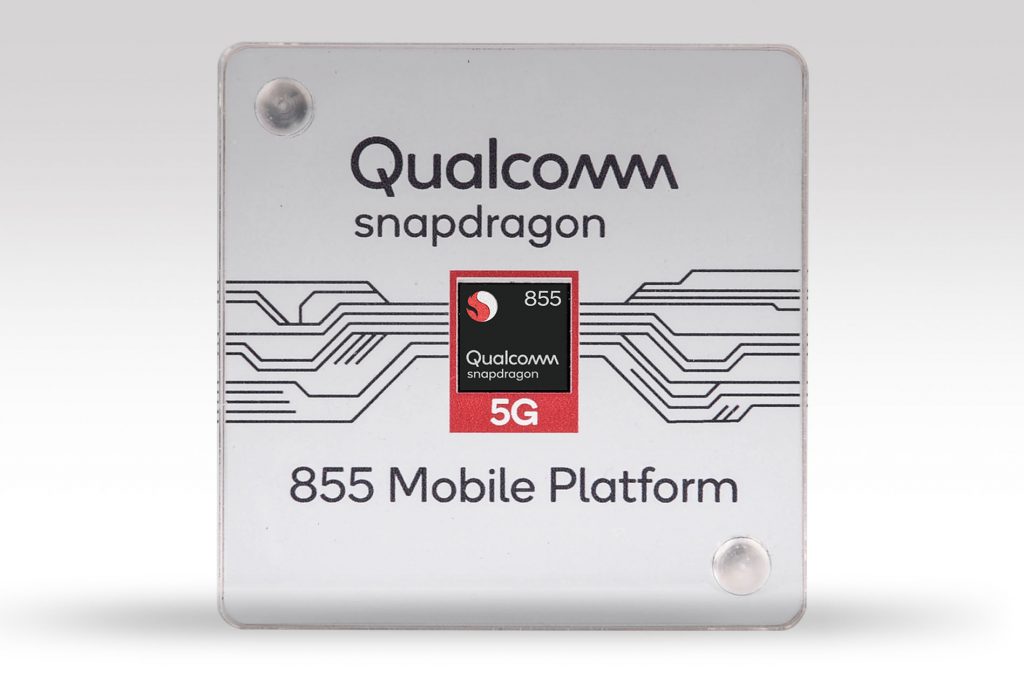 Qualcomm says that Snapdragon 855 is the world's first commercial 5G mobile platform featuring sub-6 GHz and mmWave support, 4th-generation on-device AI engine, offering 3 times the AI performance compared to the previous generation mobile platform, true 4K HDR video capture, 3D Sonic Sensor, the world's first commercial ultrasonic fingerprint solution supported under the display to accurately detect fingerprints through numerous contaminants.
It is based on 7-nanometer fabrication process. It also features the world's first Computer Vision (CV) ISP to enable cutting-edge computational photography and video capture features.  We should know all the details about the Snapdragon 855 tomorrow.