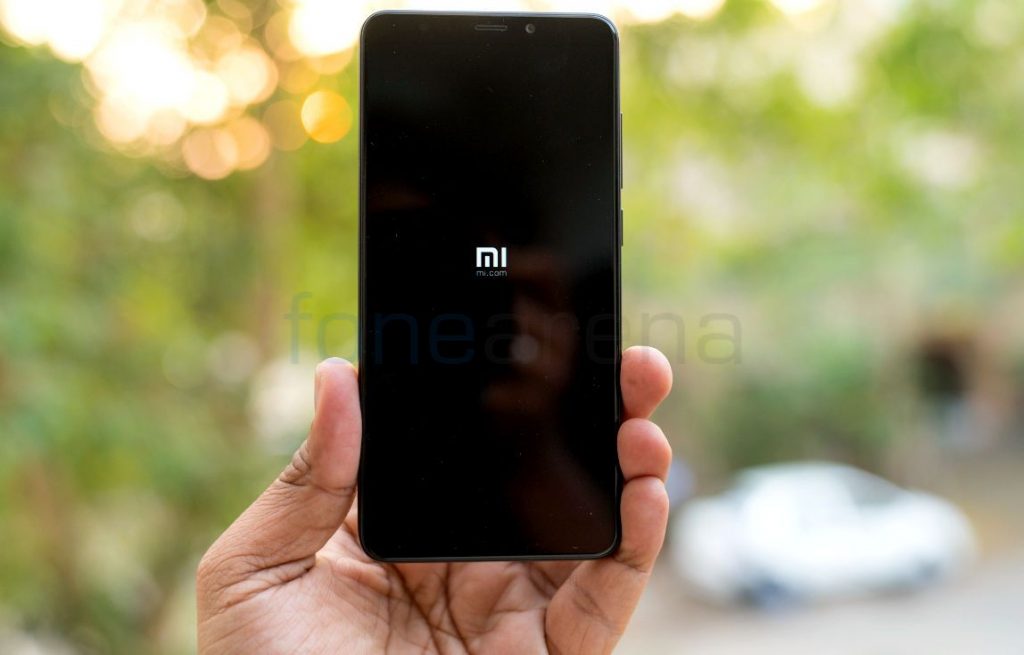 According to the IDC India's Quarterly Mobile Phone Tracker, smartphone companies shipped a total of 33.5 million units to India in the Q2 2018. This resulted in a growth of 20% year-over-year (YoY). This could be because of the slew of online exclusive launches and strong shipments by offline heavy vendors.
The top five vendors were responsible for a total of 79% of the market share in 2Q18. Though Counterpoint results showed that Samsung has surpassed Xiaomi, IDC claims otherwise. Xiaomi remained as the leader in the smartphone market with growing offline presence while maintaining dominance in the online space. A total of 56% market share were from the online, while 33% of its shipments were from offline channels in Q2 2018.
As for the online segment, Huawei remained strong thanks to its Honor brand. The company moved to the second position with an all-time high of 8% share in the online segment in Q2 2018. Other online-focused vendors with online exclusive launches were OnePlus with the new OnePlus 6, Realme with Realme1 and Asus with Zenfone Max Pro series. All of these phones led to an annual growth of 44% in the online channel shipments and taking the online share to 36% of the smartphone market.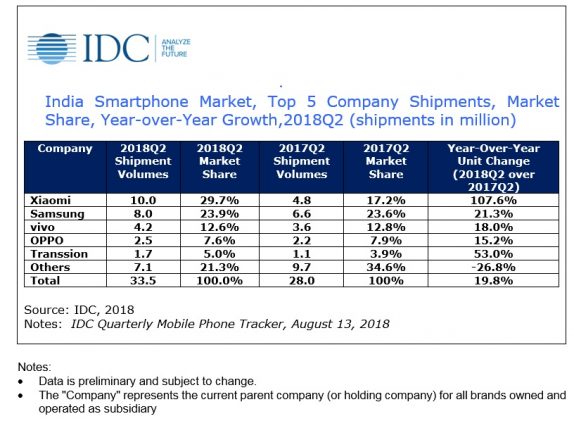 Moving to offline, Vivo had strong shipments during the quarter, thanks to new launches like the V9. The flagship and high-end segment grew almost two times year-over-year (YoY) mainly due to continued strong shipments of Samsung Galaxy S9 series and OnePlus 6. As for the feature phone segment, it remained still with total shipments of 44.0 million units in Q2 2018, seeing a growth of 29% over 2Q17. As expected Reliance JioPhone was the main driver of 4G feature phone segment.
The 4G feature phone market saw a slight decline of 10% QoQ with 19.0 million units. As mentioned above, Samsung remained in the second position in the smartphone market with an impressive 21% Year-over-year (YoY) growth. This change is mainly due to the phones like Galaxy J6 among others. Following Samsung is Vivo, and OPPO with a market share of 12.6% and 7.6%.
Xiaomi said that it had more than 56% market share in the online smartphone segment, and 33% of its overall shipments came from offline channels in Q2 2018. It also said that four out of the top five smartphones in Q2 2018 were Xiaomi smartphones — Redmi 5A, Redmi Note 5 Pro, Redmi Note 5 and Redmi 5, accounting for 26% of overall smartphone shipments in the country in Q2 2018. It added that Redmi 5A continued ranking as the number one selling smartphone after seven months, with more than three million units shipped in the quarter.
Online Smartphone Shipments, IDC Quarterly Smartphone Tracker, Q2 2018
| | | |
| --- | --- | --- |
| S.No | Smartphone Vendor | Market Share |
| 1 | Xiaomi | 55.6% |
| 2 | Huawei | 7.8% |
| 3 | Samsung | 7.3% |
| 4 | Lenovo | 6.6% |
| 5 | OnePlus | 3.5% |
Highest Shipped Smartphone, IDC Quarterly Smartphone Tracker, Q2 2018
| | | |
| --- | --- | --- |
| S.No | Smartphone | Market Share |
| 1 | Redmi 5A | 9.82% |
| 2 | Redmi Note 5 Pro | 6.22% |
| 3 | Redmi Note 5 | 5.22% |
| 4 | Redmi 5 | 4.40% |
| 5 | Vivo Y71 | 4.29% |
Navkendar Singh, Associate Research Director, Client Devices, IDC India said:
India will be the fastest growing large smartphone market for the next few years, making it a must for any smartphone player to be here. However, with increasing consolidation, it will be difficult for any new brand to carve a space here. IDC estimates the India smartphone market to continue growing in low double digits for the next couple of years. 2H18, with multiple sale events in the run-up to the Diwali festival, will be even bigger with growing aggression by online players, the sustained relevance of offline channel and several new launches planned by key vendors across price segments.
Manu Jain, Vice President, Xiaomi and Managing Director, Xiaomi India said:
This is a proud moment for Xiaomi India as we have continued ranking as the number one smartphone vendor in India for the fourth quarter in a row. We are so grateful for the immense love and support we have received from millions of Mi Fans, who have believed in us every step of the way. Our mission to deliver amazing products at honest pricing has changed people's lives and started a new chapter in the mobile Internet era in India, and I believe we will become an even bigger part of people's lives as we are committed to gaining our users' sustained trust and appreciation through constant innovation across our products, business model and infrastructure.