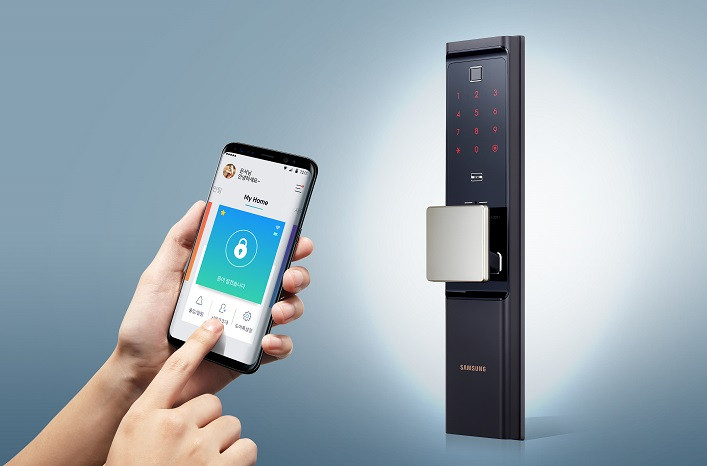 Samsung SDS, the company's Smart Home Division has introduced the first IoT-powered Wi-Fi smart door lock (SHP-DR900) that has built-in low-power Wi-Fi chip that doubles the battery life since it can be connected to the indoor wireless router. This can notify the door open status or intrusion attempts to a smartphone in real-time.
You can open the doors remotely from the smartphone when family members or relatives are vising, and you can check every access history at any time.  When leaving the house, the door lock sensor detects the movement and distance of the person and implements a smooth door opening, with the locking mechanism automatically loosening by the lock.
In addition to basic SSL/TLS, Samsung SDS has used its own security technology to improve security for hacking prevention. The technology is called SEAL: Samsung SDS-secure Encapsulation for Application Layer that encrypts data stored inside the door lock into a Samsung SDS proprietary algorithm, S-WBC (Samsung SDS-white box cryptography, Samsung SDS-White Box password), and the data sent from the smartphone to the server.
In addition, the SHP-DR900 is equipped with an improved fingerprint sensor compared to its previous generation smart locks that can recognize fingerprints more quickly and accurately. In addition to mobile app and fingerprint, you can also unlock the door using a password, RF key tag or an emergency key.