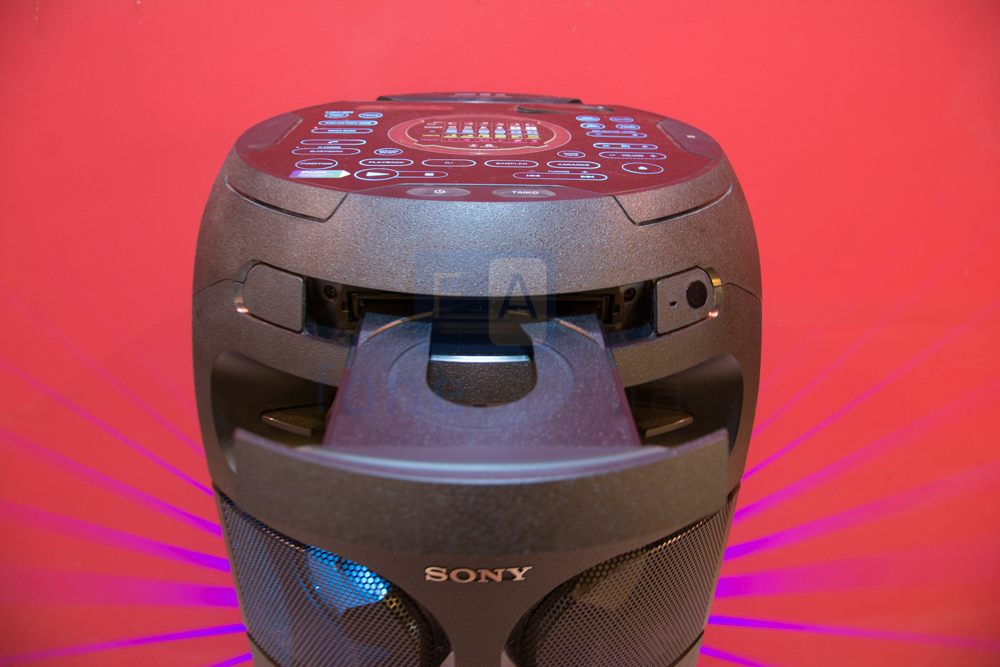 Turntables to boomboxes, home theatres to bookshelves and now party speakers, Sony has an audio product for everyone. Never to miss out on a trend, the Sony MHC-V81D is the company's effort to enter the party speaker category. So what exactly is a party speaker? Something that goes loud, provides oodles of bass and if Sony is to be believed, enough blingy lights to trigger an epileptic seizure. Jokes aside, this thing could absolutely replace your neighborhood DJ for that crazy birthday party you were  planning out. Sounds interesting? Check out our Sony MHC-V81D Bluetooth Speaker review below.
There's no pretense of holding back here. The Sony MHC-V81D is a loud, in-your-face piece of kit that looks like something that would be right at home in a club or block party. If you're building out an elegant looking media room, the V81D is certainly not going to fit in nor is it the right speaker for it.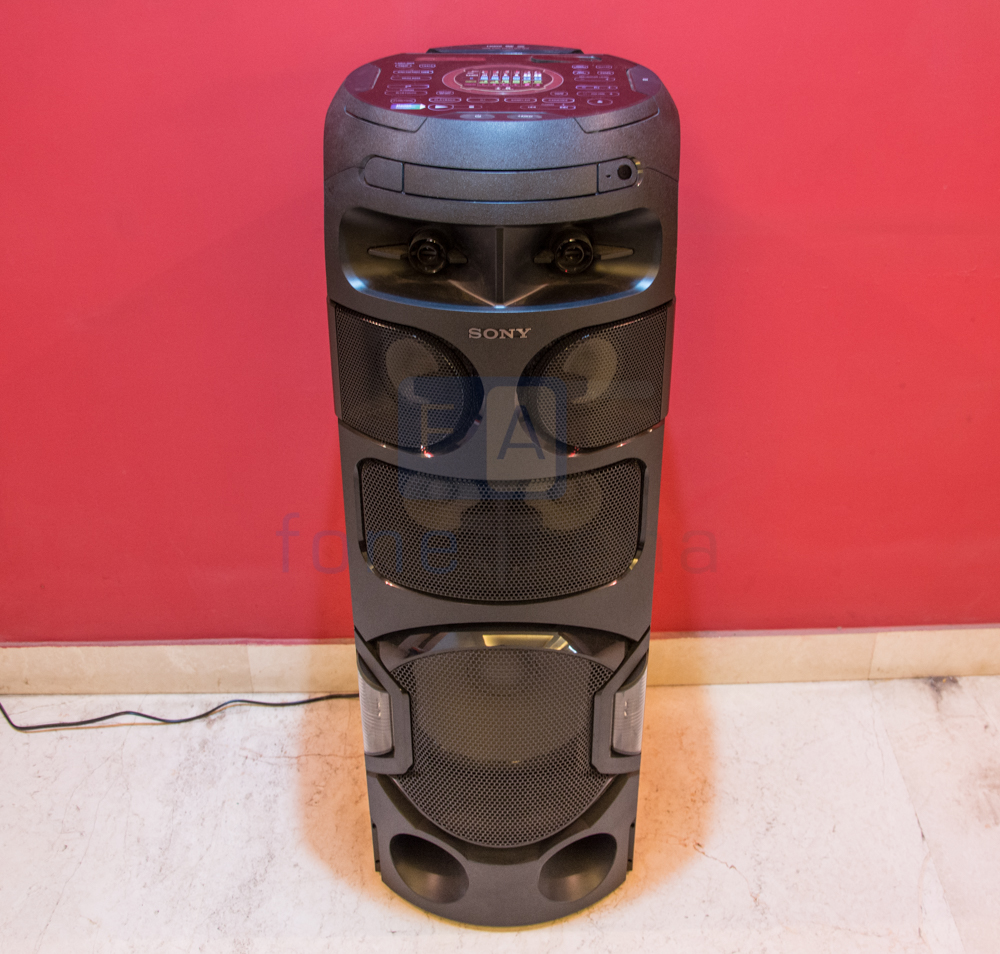 The Sony MHC-V81D is, simply put, a giant tower of speakers, no kidding! Clocking in at 3.5 feet, this is not your run of the mill Bluetooth speaker. Being cylindrical, the speaker can be stowed away in a corner thanks to the built-in handle and caster wheels but it sounds best when played in a relatively open space.
The Sony MHC-V81D has an array of 7 speakers. Over at the front, you can see five of these. At the top are dual tweeters followed by dual mid-range drivers. At the bottom is a single larger 12-inch woofer. You'll also observe massive bass ports below it. Another two tweeters are placed towards the back of the speaker. The V81D is, after all, advertising 360 degrees of sonic freedom.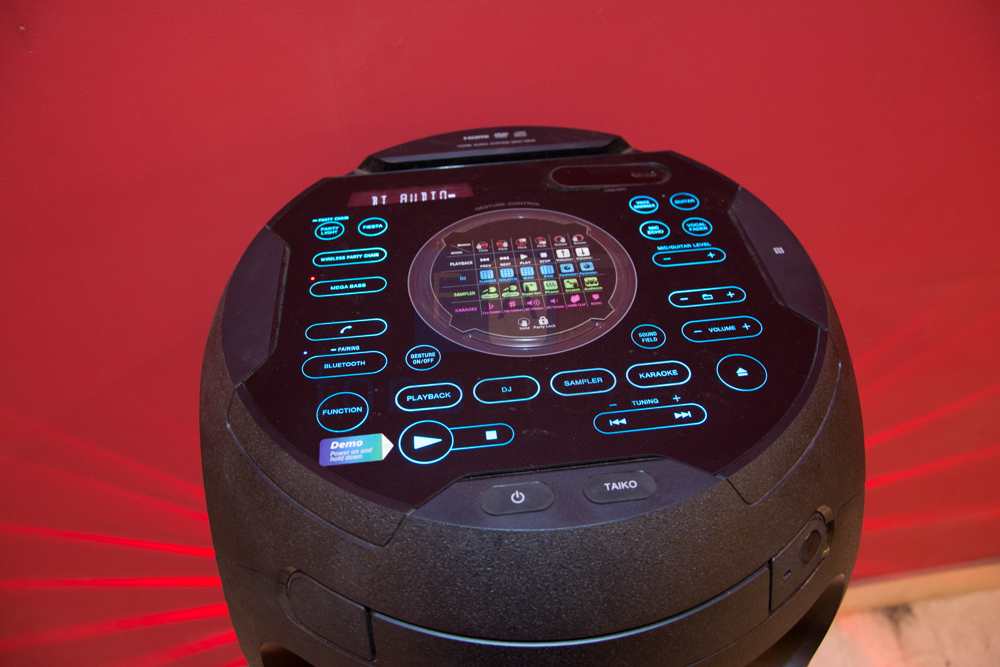 Up at the top is a control panel that would be right at home on the Starship Enterprise. It would take an entire article just to explain all the settings and options available here. All the basics are straightforward though. You can choose between the various input options on offer which includes Bluetooth (including tap to connect via NFC), USB Input, Guitar and Mic Input, DVD Player and FM Radio. Did we mention that there's a DVD Player built into this? Yes, there is and you can output to a television using the HDMI port.
If you fancy yourself as a DJ, you can use gesture-based controls to add effects like a flanger, sample selections from music and to manipulate other aspects of the audio track. The speaker also doubles up as a karaoke machine but we didn't get to test that out. Back to the gestures though, we thought they were a bit of a hit or miss. More than a few times, the gestures simply weren't detected. The DJ effects seem like they've been tacked on in terms of adding to the feature set, so don't expect a professional grade implementation here. It's something to mess around with and just have a bit of fun. And while we're on the topic of fun, there's a Taiko drum built into the speaker. The entire control surface emulates different sound effects and you can tap on it to play drums. Why would you want to do that? Well, why not!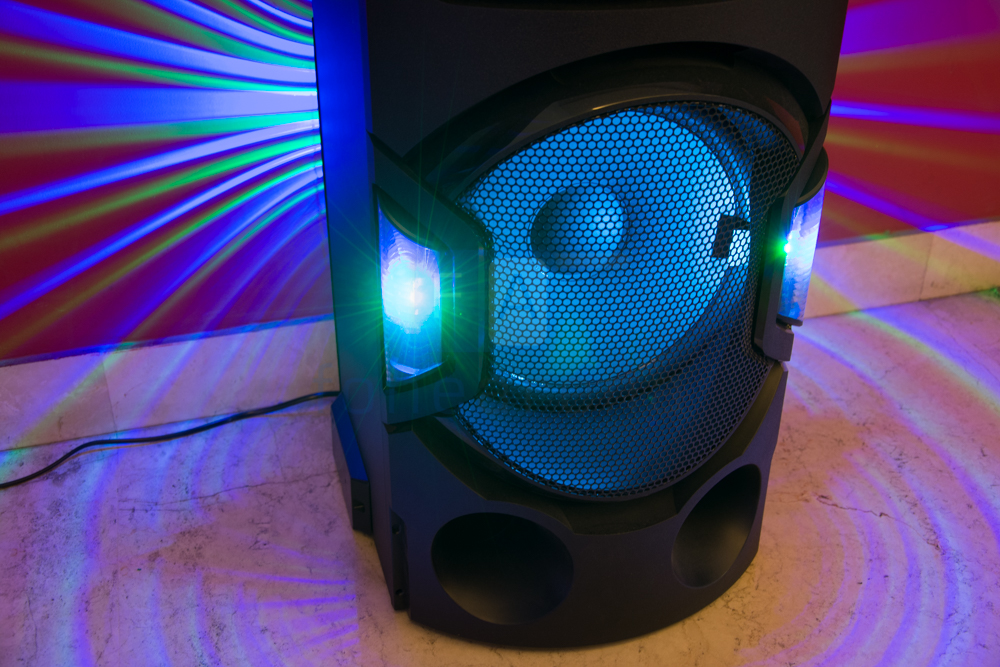 Before we move on to sound quality, there's one key feature that needs to be talked about. Lights. At a single button press, the Sony MHC-V81D goes from a seriously loud-speaker to a 70s disco throwback party. There are lights in the woofer, flashing lights in the tweeters and funky strobe lights everywhere else. Darken the room, switch on the lights, play some Boney M and get your groove on! You'll either hate them or love them, there's no middle ground with these.
Right then, on to the sound. The Sony V81D gets loud. Really loud. But you didn't have any doubts about that, did you?  Sony hasn't released any information about the power rating of the speaker but in our experience, we really weren't able to push it further than 70% of maximum volume without risking damage to our ears.
Sony advertises these as party speakers and that's what they excel at. Audiophiles and neutral sound signature seekers are looking in the wrong direction. These speakers are meant to play EDM, Trance, Pop, Bollywood or even the latest Punjabi numbers. As such the sound is bass heavy with most of the emphasis on the low end. If that isn't enough, you have a mega bass option that further boosts the low end. The issue is that the volumes of bass take over parts of the mids as well. Vocals sound clear for the most part but if there were any subtleties in the music, you probably won't notice them here. Highs are borderline non-existent. Being a single stack of speakers, there's very little separation.
Conclusion
Honestly, I'm not entirely sure who should buy the Sony MHC-V81D. The speakers aren't bad but a cinephile could get a decent surround set up at this price while you can get a very good pair of tower or bookshelf speakers if you love music. There's also the fact that the V81D is an absolutely gigantic speaker.
The V81D is geared towards people who host parties all the time, crank their music up loud. Maybe even DJs. And at Rs. 51,990, it's not even that expensive for the category. If you've got the space for it and a lifestyle that can accommodate such a speaker, the V81D is definitely worth a look.