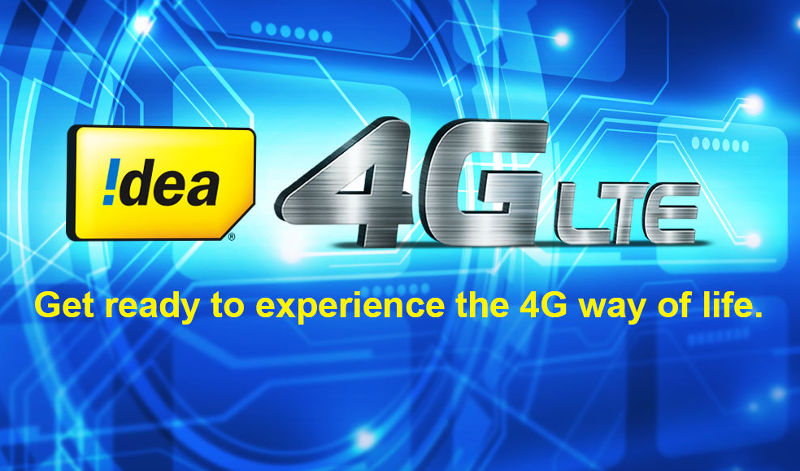 Earlier this month Idea Cellular started commercial roll out of VoLTE services across six circles  – Maharashtra (excluding Mumbai) & Goa, Gujarat, Kerala, Tamil Nadu, Andhra Pradesh & Telangana, and, Madhya Pradesh & Chhattisgarh, after rolling it out to its employees in the first phase. Today it has expanded VoLTE services to 9 more circles – Mumbai, Karnataka, Punjab, Haryana, West Bengal, UP East, UP West, Bihar, Jharkhand and Rajasthan.
It is also offering 10 GB of free data to its customers in these circles upon making first VoLTE call, 10GB on giving feedback about the service after four weeks, and another 10GB on giving feedback about the service after eight weeks, making it 30GB in total.
With the roll-out of VoLTE, Idea customers will now get benefits like "HD-quality" voice calls, faster call setup times, and, the ability to use 4G data simultaneously while on a voice call. Moreover, customers also don't have to pay anything extra to make calls on VoLTE, as call (and data) charges will be based on existing plans.
Furthermore, in an event of unavailability of 4G network, customers will be automatically switched to 2G/3G network using Single Radio Voice Call Continuity (SRVCC) to ensure constant connectivity.
Idea VoLTE is now available only for select Huawei and Vivo phones, but Idea has said that it's working with several handset manufacturers to ensure wider availability of Idea VoLTE compatible handsets in the market.  VoLTE feature shall be auto activated for all eligible Idea subscribers. If it doesn't work, you can activate it by sending a SMS 'ACT VOLTE' to 12345.
Idea said that customers need to ensure that the Idea 4G SIM is inserted in the SIM slot 1 with data capability and select the 4G/3G/2G (Auto) as the preferred network mode. Upon verification of the above, the handset should show 4G with HD/VoLTE icon on top bar of the screen, indicating that the device is ready for VoLTE calls.
Commenting on the launch of VoLTE in nine new circles, Sashi Shankar, Chief Marketing Officer, Idea Cellular, said:
Idea customers across 15 markets will now be able to experience High Definition voice calls on VoLTE. In addition to network expansion, Idea has been focused at providing attractive voice and data plans for postpaid and prepaid customers along with forging partnerships with handset makers to bring superior quality devices at affordable prices for Idea customers to enjoy high-speed 4G data and superior voice experience on VoLTE.