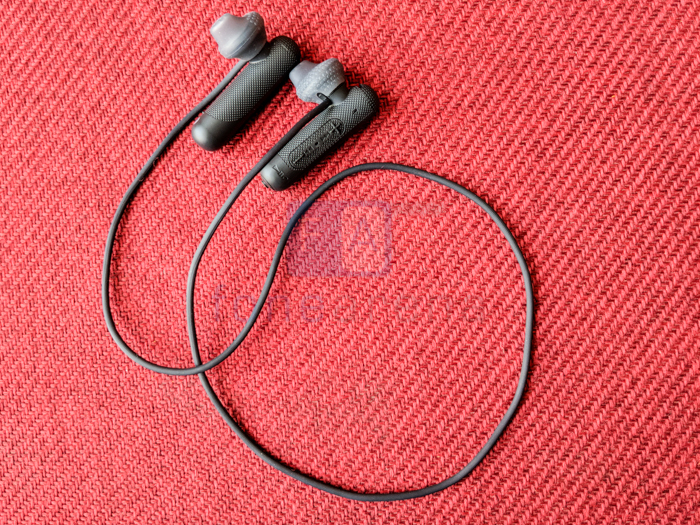 Sony has always had a pretty robust portfolio of audio products that target the sports or athletic use segment. The WI SP500 is one such product that was introduced recently. With an interesting design that sits somewhere between an old-school Bluetooth headset and the air pods but with a cable running between the two, the SP500 are earbuds with open-type drivers. Right then, on to the review.
Design & Connectivity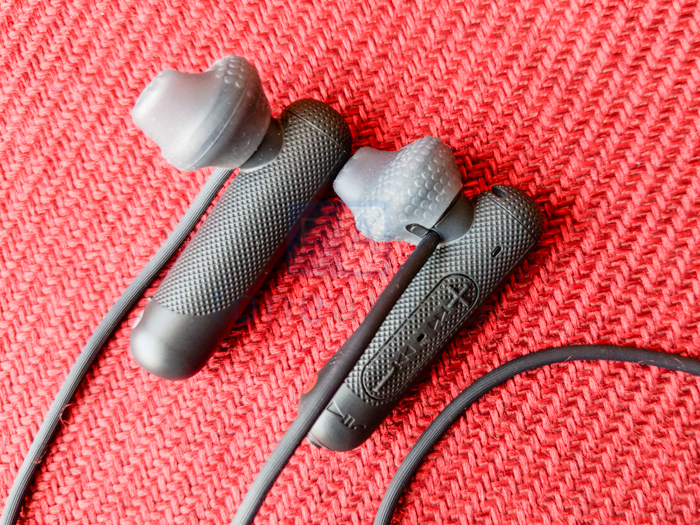 At first glance, the WI SP500 is pretty awkward to look at. The design of the earbud consists of a long cylindrical tube finished in rigid plastic. The entire finish is pretty grippy keeping in line with the sports aesthetic. Then there's the earbud itself with a silicon tip that has a protruding tip to help maintain a good fit.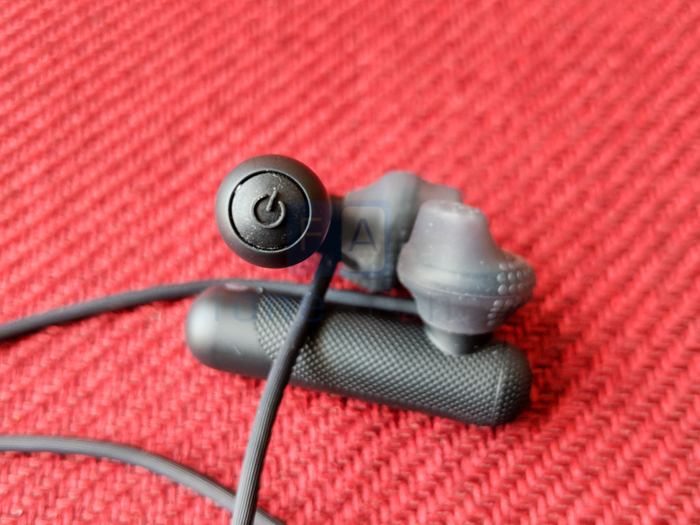 There's a cable connecting the two earbuds since these aren't truly wireless models. All the controls are located on the right earbud on the SP500. The power on and pairing button is located under the lower edge while on the side is a volume up and down button that doubles up as a way to jump forward or backward in the playlist. There's even an LED above the volume controls for visual feedback. The opposite end cap of the right earbud pops open to reveal a micro USB charging port. The SP500 is rated for 8 hours of use and we got pretty close to that number. Charging takes close to 2 hours to fully top off the earphones. Finally, along the edge, you'll notice an NFC logo that makes it a one-tap affair to pair your phone with the Sony WI SP500.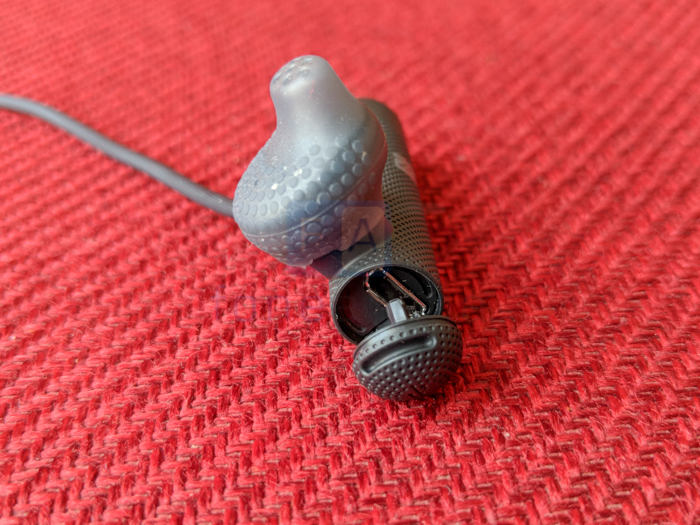 Sporting Bluetooth 4.2, the Sony WI SP500 supports only the SBC and AAC codecs. Perhaps due to the style of construction allowing for a larger antenna, we noticed that the earphones had a rock-solid wireless connection. Out for a run or be it when walking around the house, these stayed connected and continued playing music without skipping a beat.
Fit
I'm personally not a huge fan of earbuds since I can never really get a perfect fit. Left with a feeling that it is just about to fall out, I usually end up adjusting the earbud more than listening to music. This was not the case with the SP500.
Sony's done a great job of ensuring a good fit. In fact, I went jogging with the WI SP500 and not once did I feel even a modicum of discomfort. The silicon cover on top of the plastic earbud really helps with this.
Now do note that despite the fit, there is very little isolation here. The earbuds don't sit particularly deep in the ear canal and this has a very profound effect both on the sound quality and on how much sound gets in. In fact, the SP 500 was designed to let you hear a bit of your surroundings when you go out for a run. This makes them handy when you are out riding your bicycle, jogging on a road or even when working in your office since you can still hear a bit of your surroundings and aren't completely cut off.
Sound Quality
Owing to the nature of the headphone, sound quality isn't the main priority here. Obviously, this isn't an audiophile focussed headset. The WI-SP500 goes loud and provides a  slight warm edge to an otherwise balanced sound. There's a bit of room to the upper end that gives the sound a certain clarity.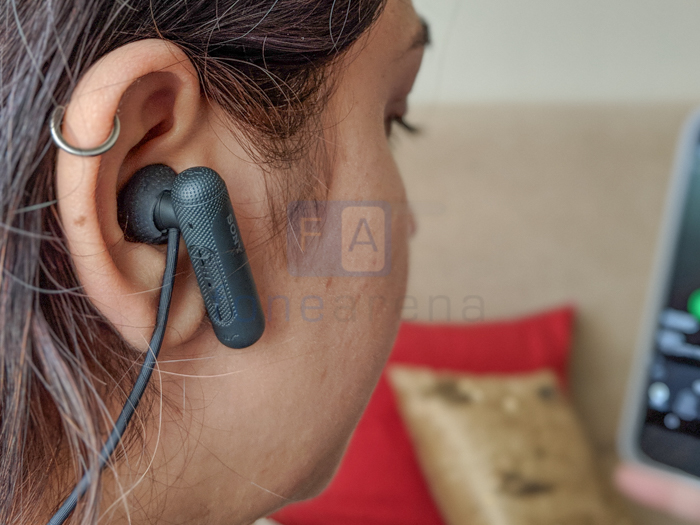 The mids are emphasized as well with vocals coming through clear. Most popular music be it R&B or metal, sounds very enjoyable on these earphones. You will notice a distinct lack of sub-bass so there's no rumble so to speak. If you're a bass head that needs eardrum-rattling sound, these are definitely not going to cut it.
Conclusion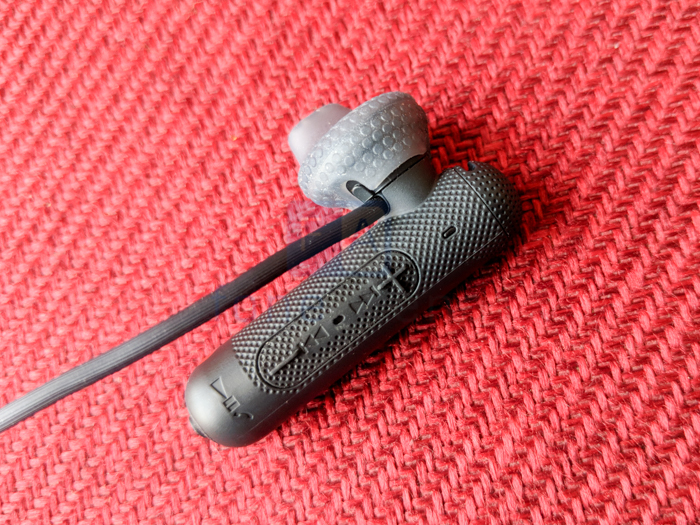 For sports oriented headphones, the Sony WI SP500 sounds remarkably nice. The sound signature is relaxed and enjoyable and you really shouldn't expect a completely balanced and resolving reproduction here. The fit is good and the earphones provide a solid 8 hours of actual battery life. Priced at Rs. 5,490, the Sony WI SP500 is a pretty good option if you lead an athletic life or just need something that doesn't completely isolate you from your surroundings. You can get it for as low as Rs. 4999 on Amazon.in.