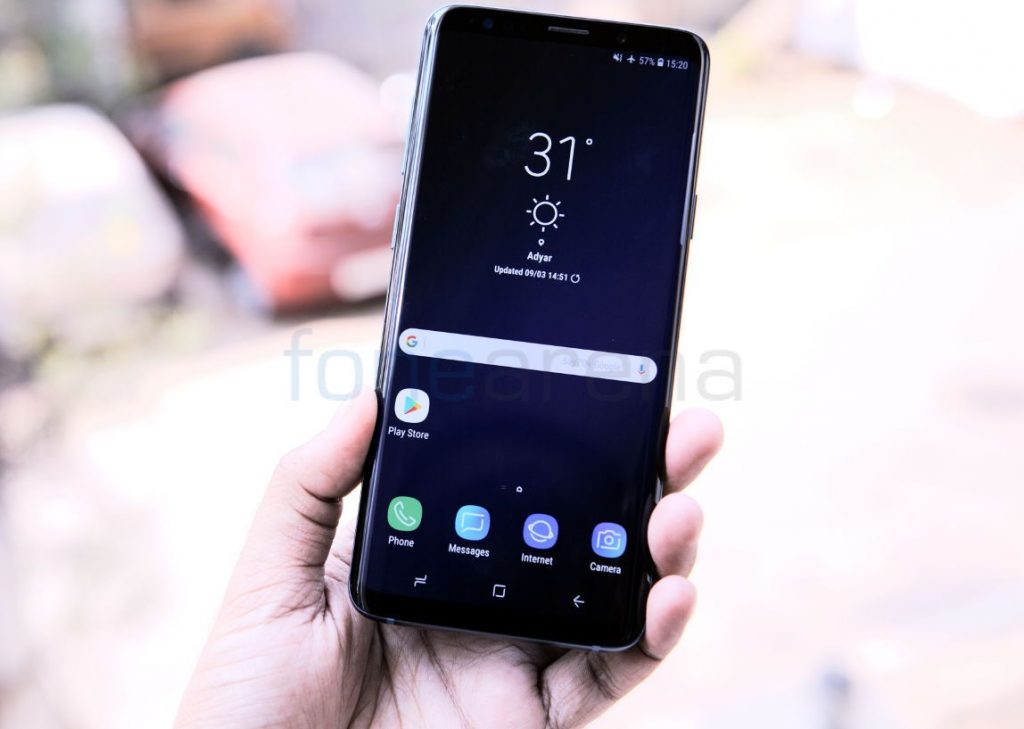 Samsung launched the Galaxy S9 and Galaxy S9+ smartphones in India last week starting at Rs. 57,900. As the name indicates, the S9 is the eighth smartphone in the 'Galaxy S' series. Even though both the phones don't feature a major improvement in terms of design, display and the battery, the S9+ stands out with its dual rear cameras. Is the Galaxy S9+ a good successor to the S8+? Let us find out in the review.
Unboxing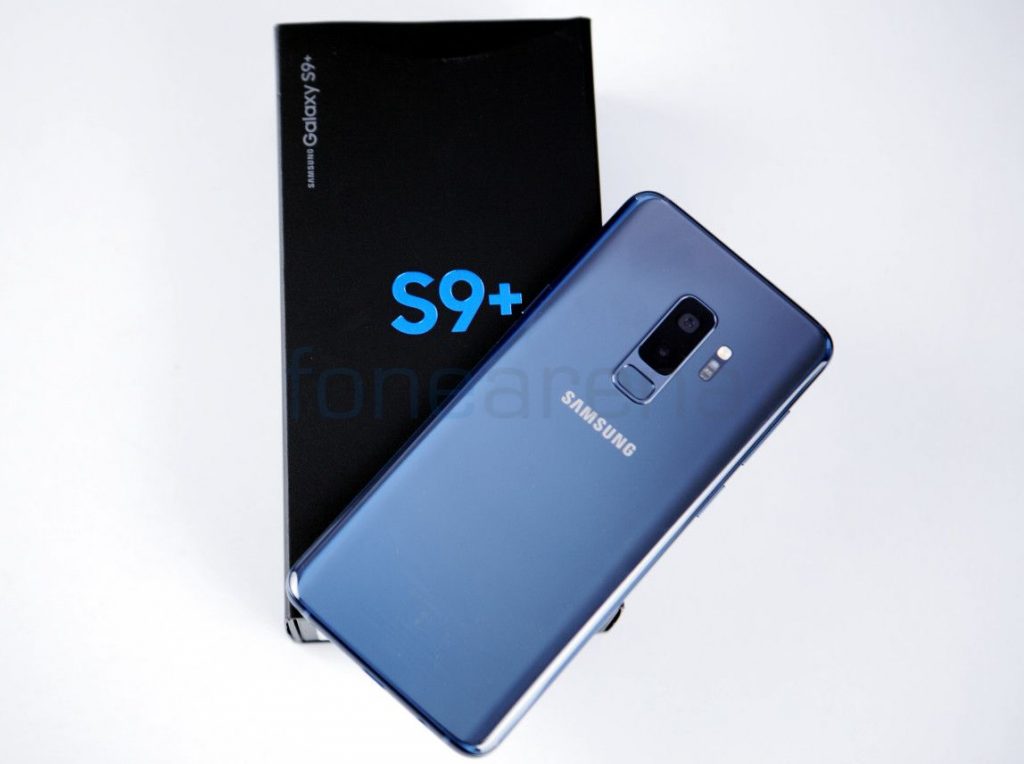 We unboxed the smartphone recently, check out the video.
Box Contents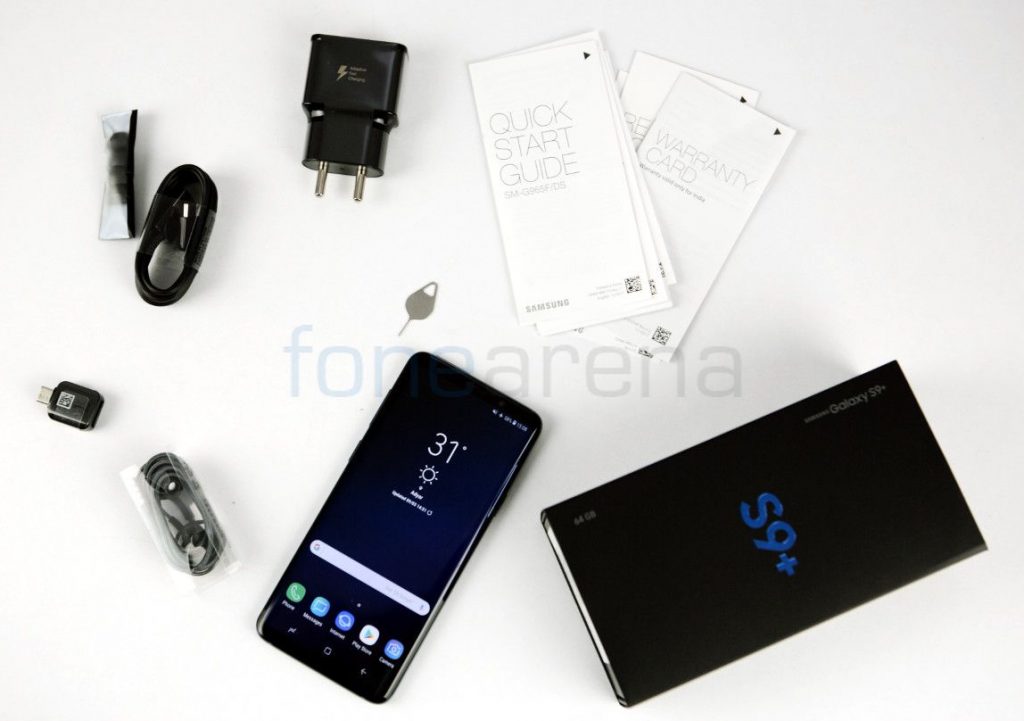 Samsung Galaxy S9+ smartphone 64GB version in Coral Blue color
Samsung charger with Adaptive Fast Charging (9V-1.67A/5V-2A)
USB Type-C cable
USB Type-C OTG connector
In-ear earphones tuned by AKG
SIM ejector tool
Quick start guide and warranty information
Display, Hardware and Design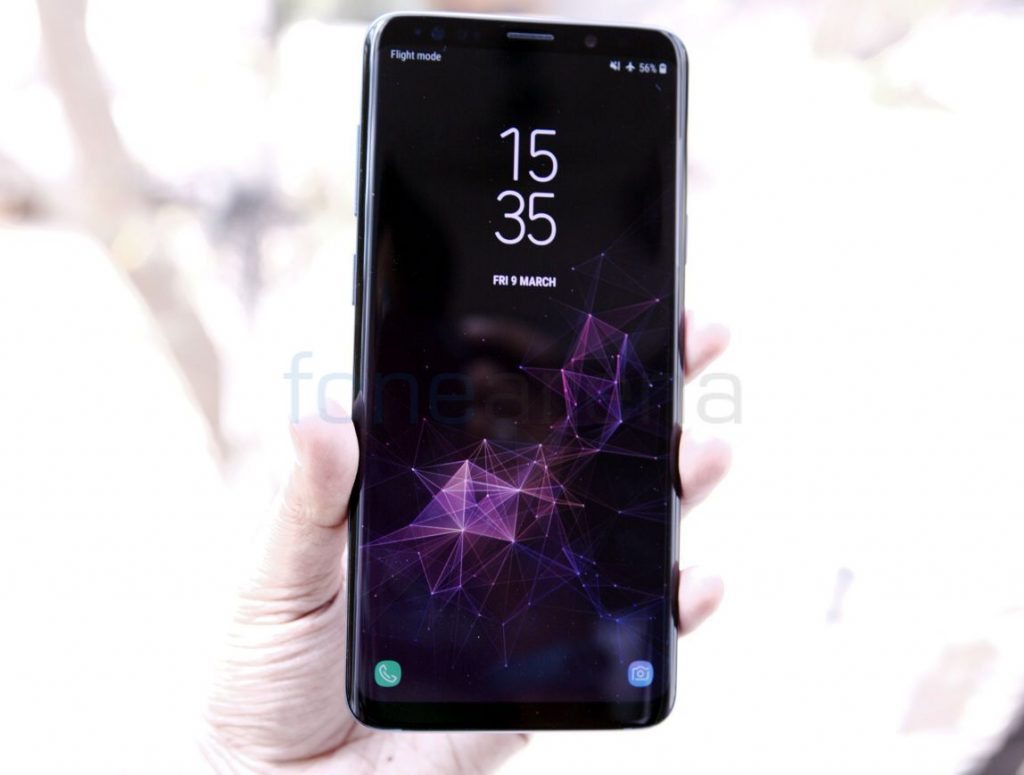 The Galaxy S9+ comes with a 6.2-inch Quad HD+ Super AMOLED Infinity display with a resolution of 2960 × 1440 pixels at 529PPI, aspect ratio of 18.5:9 and a screen-to-body ratio of 84.2%, which is slightly more than the S8+ and the Note8. Since the phone has AMOLED display blacks are perfectly black. At the launch the company said that the screen is 15% brighter outdoors compared to the S8+.
Due to the aspect ratio content doesn't extend to the sides of the phone when you are watching normal 16:9 videos. If you want it to extend to the sides, there is 'Crop to Fit' option that crops some part to fit the video to the sides. If you are watching a video in 21:9 aspect ratio, which has the benefit of removing black bars on the top and bottom of screens, the software stretches the image to fit the 21:9 format and allows you to watch the video as it more naturally.
Similar to the S8 phones, there is Blue light filter that is said to reduce eye strain by limiting the amount of blue light emitted by the screen. You can adjust the screen resolution from WQHD+ (2960 x 1440 pixels) to FHD+ (2220×1080 pixels) or HD+ (1480×720), change font size and style and select apps that you want to use in the full screen aspect ratio.
You also have different screen modes – Adaptive display, AMOLED cinema, AMOLED photo and basic along with color balance option to set the screen to cool and warm depending on your preference. You also get advanced color balance options to adjust the Red, Green and Blue colors, and also adjust cool and warm colors of the edge screen.
It also has Edge panel with Edge lighting for notifications  and Always on display that shows up in the lockscreen when the phone is in standby. Always on display doesn't consume a lot of power, but still it takes up some power.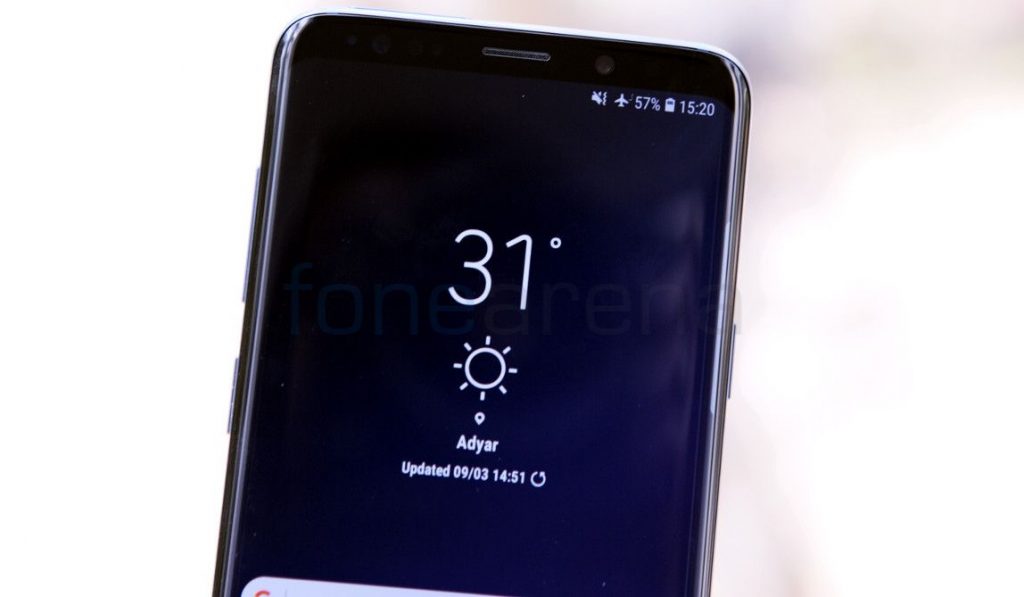 On the top, there are a lot of sensors. Next to the LED indicator, there is Iris recognition LED, and the usual set of proximity and ambient light sensors on the left side of the earpiece that also houses a speaker, on the right there is an 8-megapixel front camera and Iris recognition camera. The phone also has Gyro Sensor, Geomagnetic Sensor, Heart Rate Sensor and Pressure Sensor.
Compared to face recognition that uses only the front camera to detect your face unlock the phone, the Iris recognition uses iris patterns, codes them into a digital form and saves them in the secure TrustZone of Knox to match it and unlock the phone. Iris recognition is a bit slow and requires you to keep it 25-35 cm away from your face with the screen facing towards you, but it is more secure compared to face recognition that can be fooled even with an image.
Face recognition doesn't work well if the lighting is poor in the room, if you are wearing glasses, hats, or use heavy makeup, but Iris recognition looks only at your eyes so unless you have had any eye surgery or there is anything wrong with the eyes, it works fine.
It has a new intelligent scan feature that combines face and iris scanning for better accuracy and security event in low or very bright light. This really works as promised since it switches between the two depending on the condition, but it might consume more battery.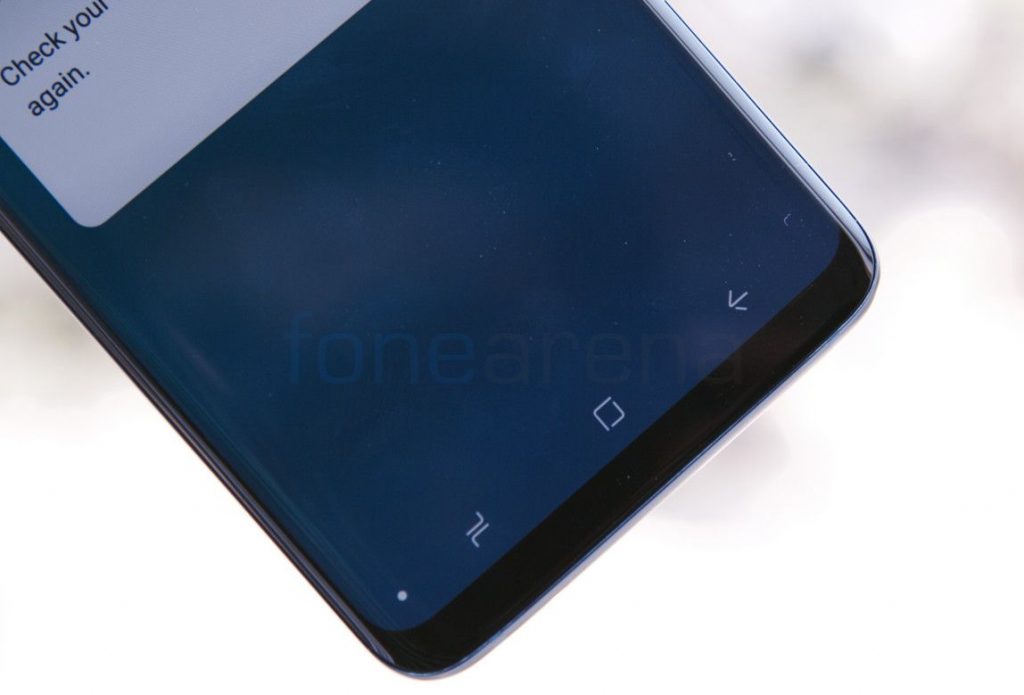 The phone doesn't have home button just like the S8 series and the Note8, so the fingerprint sensor has been moved to the back. It also doesn't have capactitive touch buttons, so you need to use the on-screen buttons. By default, the button layout is Recents-Home-Back, but you can change it to Back-Home-Recents and change the background color of it from the Navigation bar option in the settings. You can also add a button to the left side of the navigation bar to show or hide it.
The phone has metal frame, but it doesn't slip out of your hands easily. On the right side, there is a power button. On the left side, there is a volume rocker and a Bixby button. On the bottom, there is a 3.5mm audio jack, USB Type-C port, primary microphone and second loudspeaker grill. On the top, there is a Hybrid SIM tray and a secondary microphone. You can also see the antenna lines on the top and the bottom.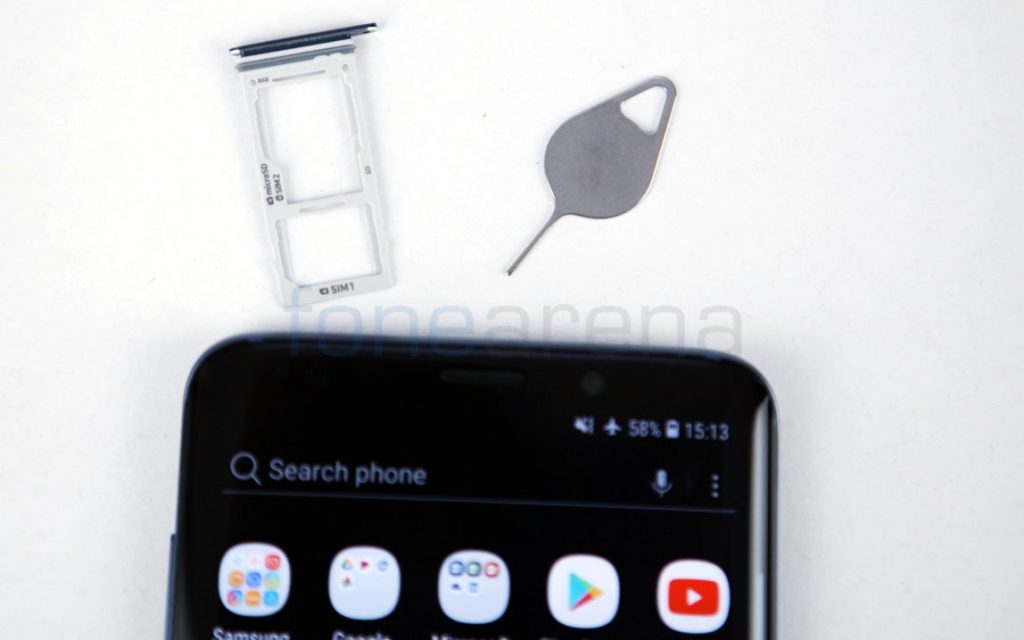 Since this is the Dual SIM model, it comes with a hybrid SIM tray that lets you use two nano SIM cards or a nano SIM and a microSD up to 400GB.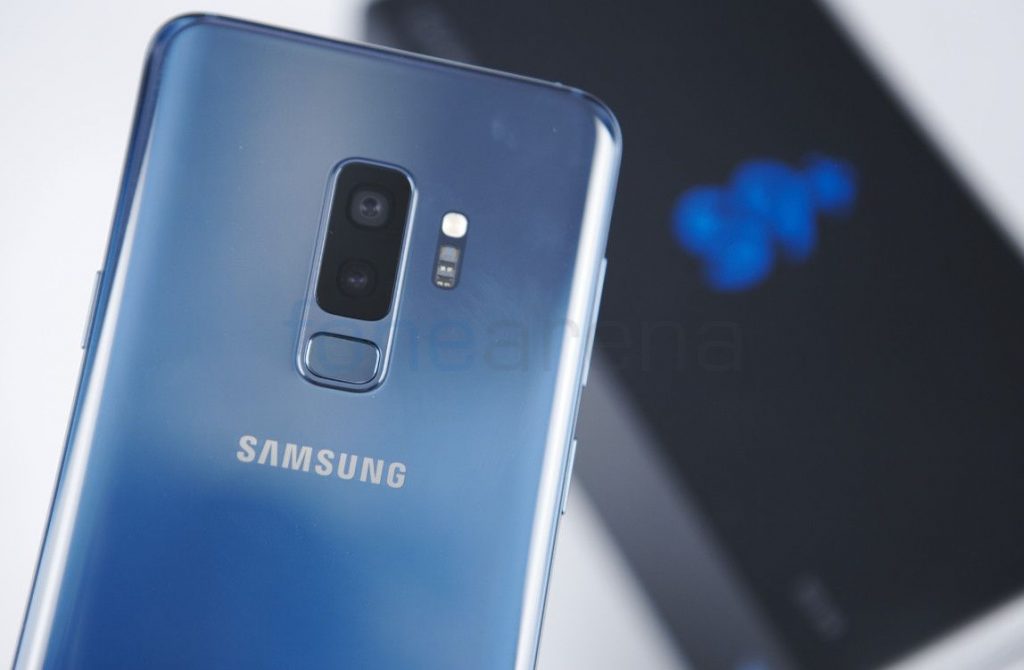 On the back, there are dual 12MP cameras with LED Flash, Heart rate sensor and the Fingerprint recognition sensor, finally below camera that is easy to access.
The heart rate sensor is quick to measure your heart rate. Samsung Health app also has pulse oximeter that uses light to measure the SpO2 level, which is the percentage of haemoglobin in the red blood cells that are carrying oxygen. There is also stress measurement that is calculated by measuring variations in the time between each heartbeat (heart rate variability, HRV). Samsung says that this is done by comparing your HRV data with the average of a large group of healthy people in your age group.
Samsung and the University of California, San Francisco (UCSF) recently launched My BP Lab, a jointly developed smartphone research app to help users monitor their blood pressure and stress levels and obtain personalized insights for improving their daily health using the Galaxy S9 and S9+. This app leverages the optical sensor on the phone and allows blood pressure to be directly measured by the smartphone without any external hardware. It is currently available for the U.S. users through the Play Store , but you can grab the APK here.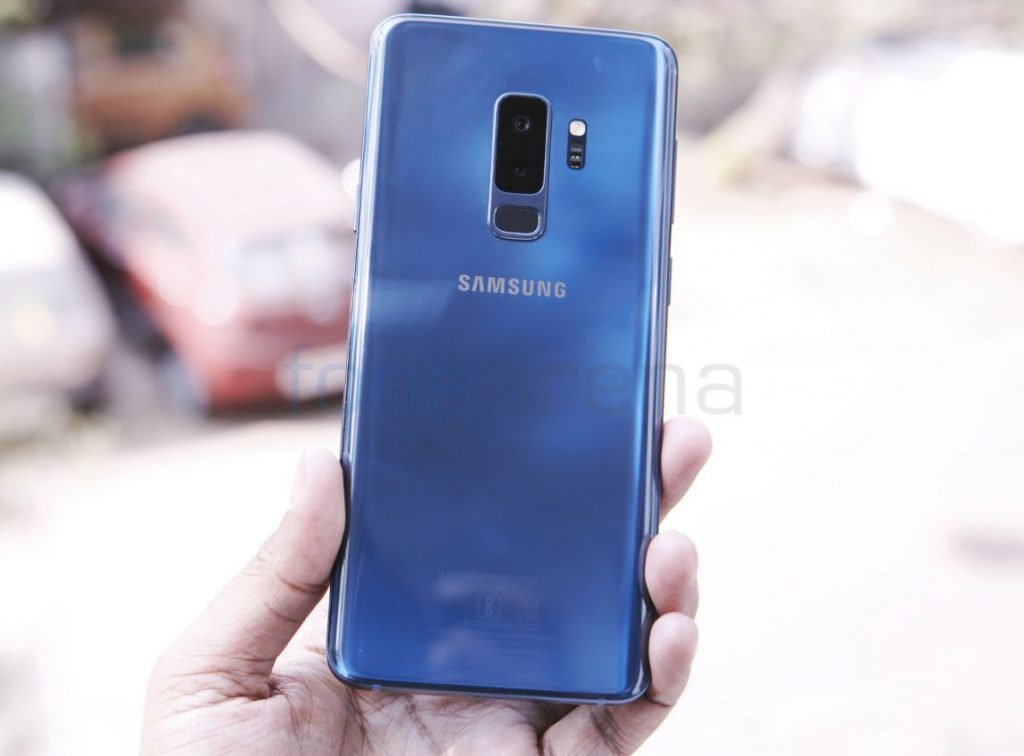 Just like the Galaxy S8 series and the Note8, this has a glass back with Corning Gorilla Glass 5 protection that protects it from scratches. Even though the phone has a huge 6.2-inch screen, it is compact to hold, making it one of the most compact large-screen phones. It measures 158.1 x 73.8 x 8.5mm, making to slightly smaller than the S8+, but it is about 0.4mm thicker. It weighs 189 grams, slightly heavier than the 173 gram S8+. The phone has IP68 ratings for Water and dust resistance, but Samsung warns that you should not immerse the phone in water deeper than 1.5 m or keep it submerged for more than 30 minutes.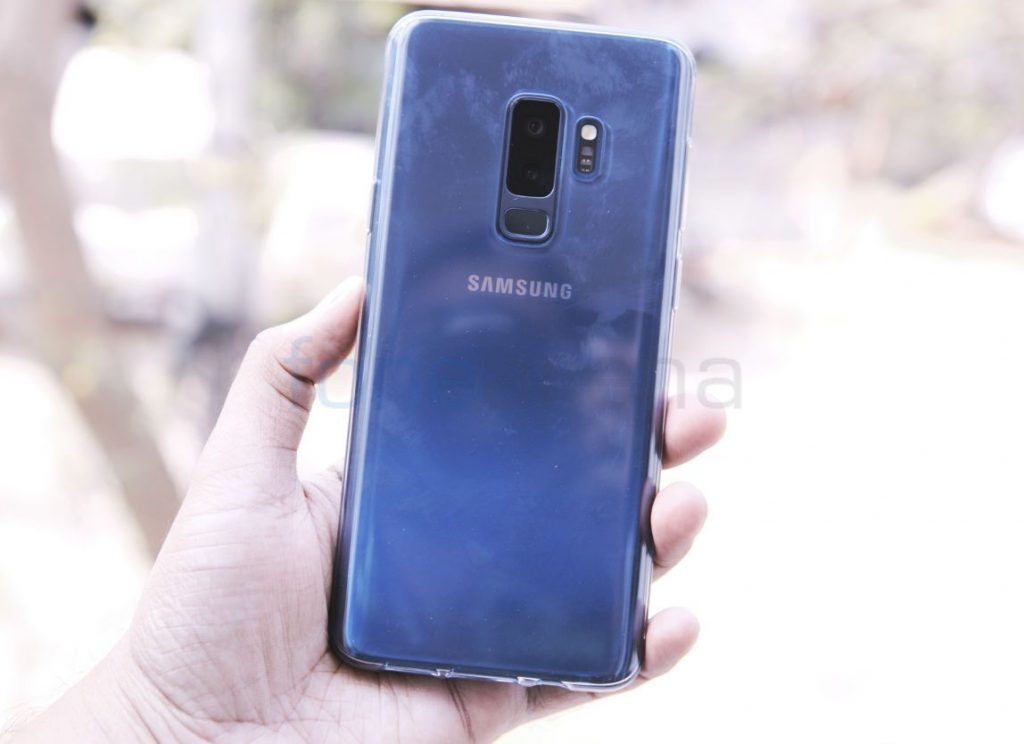 The glass back makes the phone slippery to hold, so it is recommended to use the case that comes with the phone in the box. Samsung is also selling several cases and covers for the phone – Silicon Cover costs Rs. 1499, Protective Cover costs Rs. 2199, Hyperknit Cover costs Rs. 2299, Alcantara Cover costs Rs. 2899, LED View Cover costs Rs. 3,999 and the Clear View Standing Cover costs Rs. 3,299.
Samsung DeX Station that was introduced with S8 phones is also compatible with the S9. It lets you to use phone as a desktop to access apps, browse the web, send messages and more directly from their phone on a larger display without having to carry multiple devices or transfer data. Samsung also introduced Dex Pad that lets you connect your phone where it sits flat and use it both as a keyboard and a trackpad, but it has not launched it in India yet.
Camera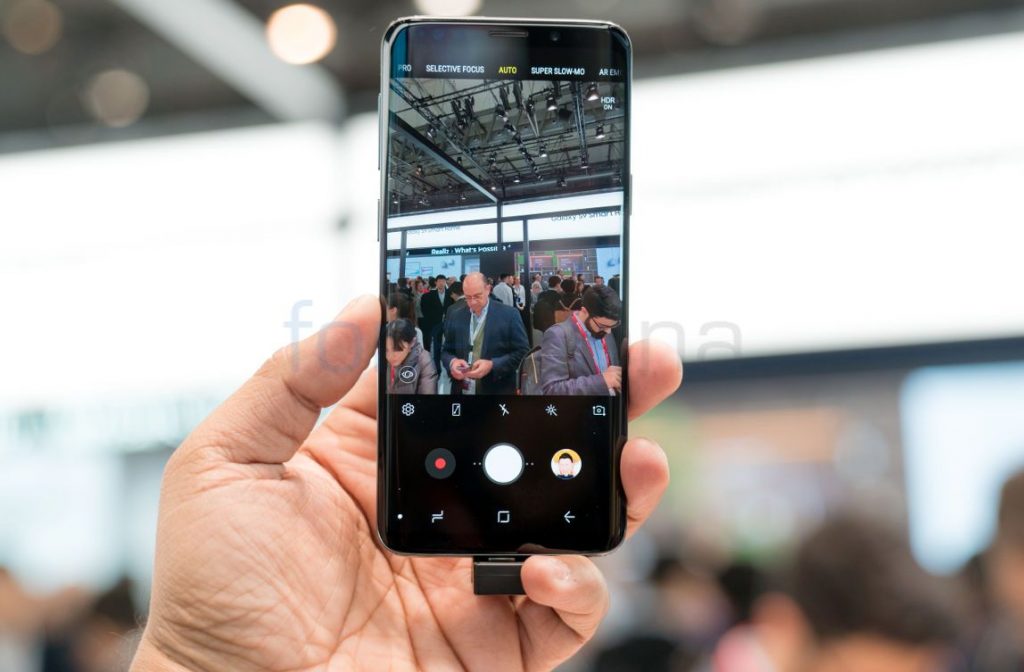 The Galaxy S9+ has a new 12-megapixel primary camera with wide-angle lens that has 1.4µm pixel size, 1/2.55″ sensor size, 77-degree FOV and OIS (Optical Image Stabilization), sames as the S8+ and Note 8, but it comes with a new dual aperture mode to switch between f/1.5 and f/2.4.
It uses a new SAK2L3 sensor that comes with dedicated DRAM memory chip.  It also has a 12-megapixel secondary camera with telephoto lens, 1.0µm pixel size, 1/3.6″ sensor size, f/2.4 aperture, 45-degree FOV and OIS, offering 2x optical zoom, same as the Note8.
It has a 8MP auto focus front camera with facial recognition technology, f/1.7 aperture, 1.22µm pixel size, 1/3.6″ sensor size and 80-degree FOV with S5K3H1 sensor, same as the S8 series and the Note8.
The phone has a new camera UI that lets you just swipe to switch between the modes – Auto, Live focus, Pro ( to adjust ISO, Shutter speed, focus, white balance and exposure manually), Food, AR Emoji and Hyperlapse. You can enable Slow motion and Sports modes from the settings. You can also make use the RAW capture in Pro mode to get untouched and uncompressed images. It also has a lot of stickers and stamps.
Variable aperture
The Dual Aperture camera is designed to adapt to various lighting conditions, automatically letting in more light when it's dark (f/1.5 mode) and less when it's too bright it switches to f/2.4 mode. The lenses automatically adjust their apertures to reduce visual distortion and deliver the best possible picture, and help the camera provide 28 percent better reception to light. You can manually switch to f/1.5 mode in pro mode, which is helpful in close-up shots but there is not much difference between the two modes in daylight.
Dual Camera
The first camera captures normal images while the second camera adds elements that are not captured with the primary sensor. When using the dual camera feature, two separate images are captured that are combined to produce a clear, high-quality photography with a greater depth of field. It utilizes both the phone's rear wide-angle lens and telephoto lens simultaneously to product optimal results.
It has 2X optical and up to 10X digital zooming capabilities. The telephoto lens uses the optics or optical zoom of the camera, to make the subject appear close without enlarging any portion of it compared to how digital zoom does. In doing so, the optical zoom produces clear images without losing quality.
Live Focus lets you adjust the bokeh effect – the aesthetic quality of the blur produced in the out-of-focus parts of an image – to change the depth of field of a shot. You can control the intensity of the overall blur effect and apply it before taking the image in preview mode, or after capturing the photo in the Gallery app.
Dual Capture mode uses phone's rear wide-angle and telephoto lenses work simultaneously to capture two separate images. You can get both zoomed-in and wide-angle versions of the image from the Gallery.
AR Emoji
It has a new AR Emoji feature analyzes more than 100 distinct facial features  to generate a personalized 3D avatar, capable of mimicking the user's own movements, but it doesn't look original. Samsung says that it uses deep learning and facial recognition technology to map more than 100 facial features to produce a 3D replica. 18 stickers in AGIF file format are created automatically and show a range of emotions, but there is a slight delay in the action of the animated version. Samsung recently partnered with Disney to bring classic Disney characters – Mickey Mouse and Minnie Mouse– as AR Emoji to create personalized messages.
Coming to the image quality, there is a considerable improvement in the S9 compared to the Galaxy S8 series and the Note 8 in the normal mode. The camera captures a good amount of detail, creates really well exposed photos with good dynamic range and detailing, and dynamic range can further be improved using the HDR mode, which can be set to auto from the settings. The autofocus speeds are fast and accurate. Thanks to Dual Pixel technology, every single pixel enables precise and fast focusing. light performance is really good and noise is really kept under control.
In the 2x mode, images are crisp and clear, even when shot at far distances or in low lighting conditions. Live Focus applies a strong background blur effect. It looks a bit uneven when looking in the camera, but the final output is good.
Low-light shots are better than the S8 and Note8. Samsung says that it has upgraded Multi-Frame Noise Reduction technology enhances low-light image quality even further by capturing and combining 12 pictures in quick succession to eliminate up to 30 percent more noise compared to the Note8 for  a perfect shot. Low-light shots are good, but it is not on par with the Pixel 2 or the iPhone X.
The front camera is same as the S8, which is an 8MP smart auto-focus camera with facial recognition technology that can easily recognizes and tracks faces, even when the distance between the camera and the subjects in the photo is increased. Selfies are clear and offers good details. There is also a portrait option to blur out the background using software, but it is nowhere near the Pixel 2 or iPhone X.
Check out some samples (Click the image for the full resolution sample).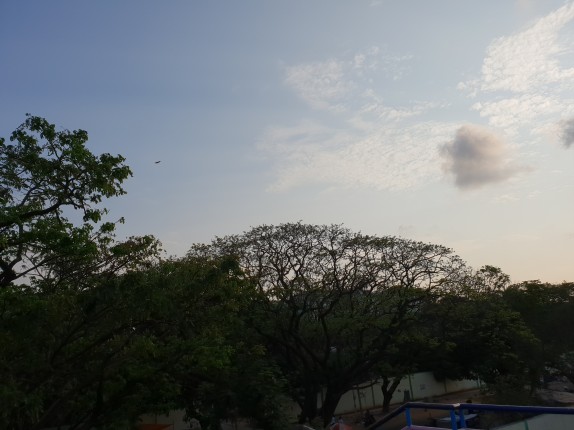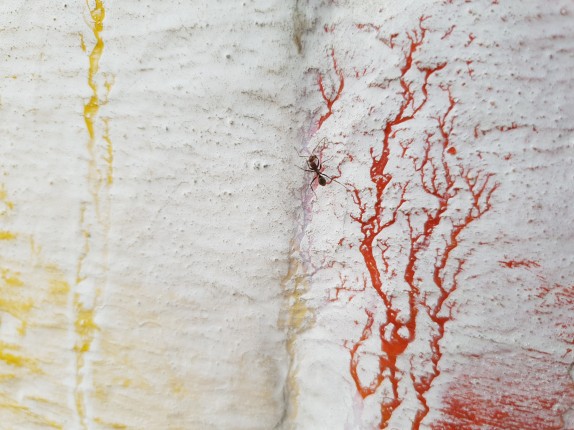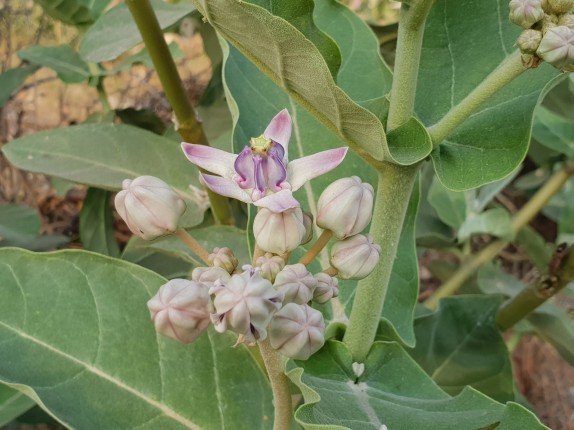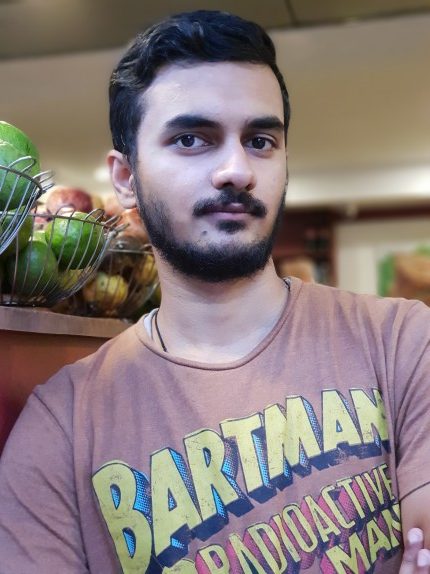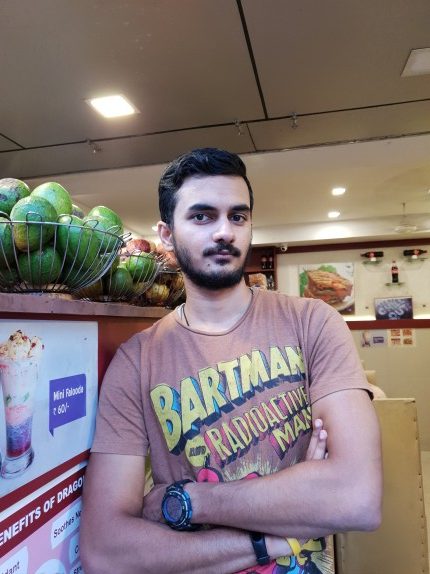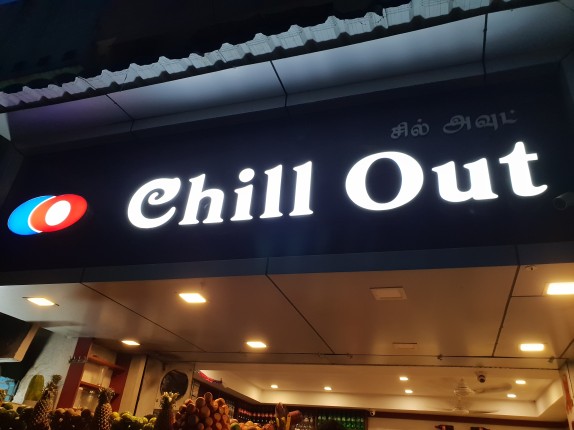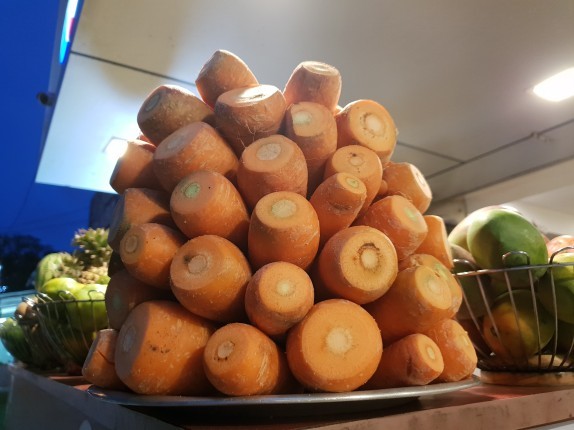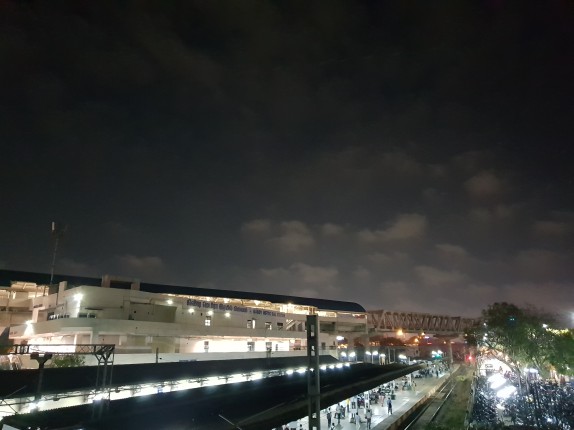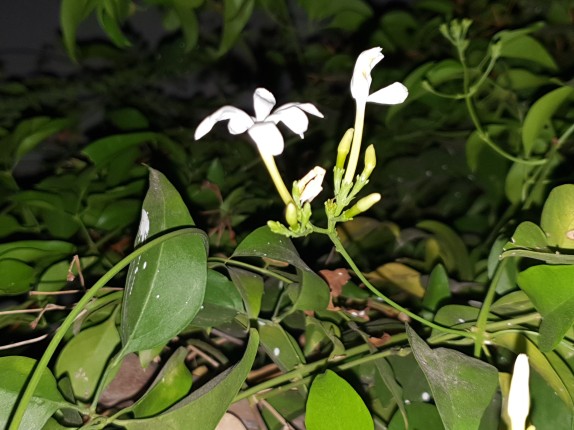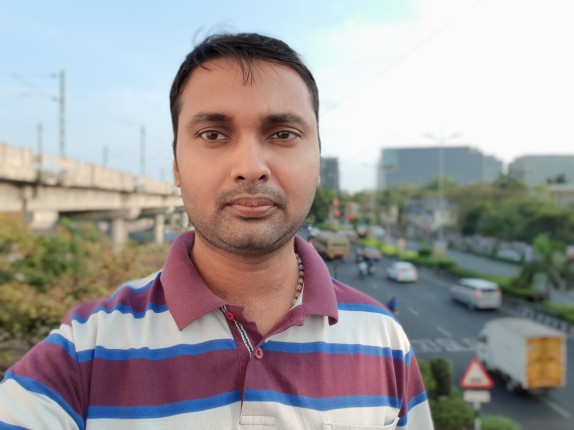 It can record videos at 4K (3840 x 2160 pixels) resolution at up to 60 fps,  1080p resolution at up to 60 fps and Slow Motion video recording in 720p at 240 fps. There is also hyperlapse mode. There is a new HEVC (H.265)  video mode. Tracking AF and Video works only for 1080p 30 fps or lesser resolution that that. Video quality is good, and the audio is good as well, thanks to secondary microphone. Check out the video samples.
Super Slo-mo
The new 960 frames per second (fps) Super Slow-mo function uses Dual Pixel image sensor that supports faster image processing, a fast readout circuit, and a smart dedicated DRAM memory chip to record content that's 32 times slower than normal video, and four times slower than any other slow-motion mobile technology. It has Automatic Motion Detection, which allows users to capture any fleeting moment easily. You can set and motion-detection area on the camera screen that can be adjusted. You can capture it can capture either a Single-take or Multi-take, with the latter allows you to record up to 20 slow-motion clips.
You can create a GIF of the clip that can be saved and can also be shared with three playback options: on loop, in reverse, or in swing mode. You can also add a soundtrack to the video, utilizing a song from their library or any of Super Slow-mo's 35 built-in options, and choose to display the Super Slow-mo clip on the phone's home screen or lock screen. It can record Super Slo-mo only at 720p resolution. Check out the sample video below.
Check out the complete set of Galaxy S9+ samples here.
Software, UI and Apps
Coming to the software, the phone runs on Android 8.0 (Oreo) and got Android Security patch for March 2018 recently. On the top of Oreo, it has Samsung Experience version 9.0. It has support for Project Treble, but it doesn't have support for A/B seamless updates. Since Samsung took ages to roll out Android Oreo update for the S8 series, we can't expect Samsung to roll out Android P soon after the release. The drop-down notification shade shows six toggles on the top, and more when you swipe down again. You can easily change the button order and the button grid (3×3, 4×3, 5×3). There are also brightness control slider and option to choose SIM cards easily.
It has vertical swiping interface by default instead of separate apps button, so to navigation between the home screen and app tray you need to swipe up or down. You also have option to add apps screen button to the home screen. You can also simultaneously move multiple apps into a folder easily. You can tap and hold an app icon to open a quick options menu that lets you perform tasks such as uninstalling apps or moving them to Secure Folder without having to open the app.
The advanced features option has Smart stay to keep the screen on while you are looking at it, Games Launcher that gathers your games downloaded from Play Store and Galaxy Apps into one place for easy access and one-handed operation mode that lets you use the phone easily with one hand. Similar to other Android phones it also has Multi Window mode that was first introduced by Samsung several years back.
Other options include Smart capture to capture the current screen and scrollable area, and crop and share the screenshot immediately, Palm swipe to capture a screenshot, direct call to make a voice call by picking up and holding the device near your ear while viewing call, message, or contact details, Smart alert to set the device to alert you if you have missed calls or new messages when you pick up the device, Easy mute to mute incoming calls or alarms by using palm motions or facing the device's screen downwards, Swipe to call or send message, and Panic mode to Send SOS message by pressing the Power key three times, including option to sound recordings along with the message to the recipients.
The Device maintenance option lets you manage your device's battery life, storage, RAM usage, and security all in one place. The Samsung Secure Folder that lets you save your personal data and information.
Apart from the usual set of utility apps and Google Apps, the smartphone comes with Facebook app and Microsoft Apps – Word, Excel, PowerPoint, OneNote, OneDrive and Skype. You also get option to install apps when you are setting up the phone.
The phone has Samsung Pay, which is Samsung's own payment service. It works with Samsung's patented Magnetic Secure Transmission (MST) technology as well as with Near Field Communication (NFC). MST replicates a card swipe by wirelessly transmitting magnetic waves from the supported Samsung device to a standard card reader, so Samsung pay works seamlessly on a majority of Point of Sale terminals in India. It has three levels of security—fingerprint authentication, card tokenization and Samsung's security platform Samsung KNOX. It also has UPI support.
It also has Bixby Assistant that was first introduced with the S8 series. You can slide to the left to view the Bixby screen or press and hold the dedicated Bixby button to launch it. It has Vision, Home and Reminder features currently. Vision option can detect what users are looking at and take action according to what they see, Home lets users see the content they care most about and Reminder helps users remember important events and to-do tasks.
It has deeper Bixby integration that lets the camera utilize augmented reality and deep learning technologies for wide range of helpful, real-time information. It  features nine different camera modes, including Text, Food, Makeup, Wine, Shopping, Image, QR Code and more. It is capable of detecting 54 languages and translating them into a total of 104. In addition to disabling Bixby option from home screen, you can also disable the Bixby key from the settings and also disable Bixby voice, but you can't remap the Bixby key without using third-party apps.
Samsung started rolling out its Bixby Voice assistant globally last August and it was launched in India officially in September. It supports U.S. English, and Samsung says that it has been optimized to understand English in Indian accents.
You can easily activate voice commands by pressing the Bixby button and saying "Hi, Bixby." You can also type the commands. It works well most of the times, but sometimes it can't understand what you are trying to say.
Out of 6GB (LPDDR4) of RAM, you get 5.19GB of usable RAM, out of which about 3.2GB of RAM is free when the default apps running in the background. Out of 64GB (UFS 2.1) of internal storage, 51.2GB of storage is free.
Fingerprint Sensor
The fingerprint sensor is present on the back of the phone, below the camera sensor so it is easy to access. It immediately unlocks phone just by keeping your finger. You can add up to 4 fingerprints. Now you can just swipe your fingertip down over the fingerprint sensor to scan. It scans quickly for enrollment, but when you try to unlock, it fails sometime, so it is recommended to use the old method for enrollment. It can also be used for Samsung Pay in markets where the service is available and for Samsung Pass to verify your identity with browser and other supported apps.
Music Player
Google Play Music is the default music player. It has equalizer, UHQ upscaler, Surround and Tube Amp Pro sound effects that can be enabled from the settings. It also offers Surround sound with Dolby Atmos technology (Dolby Digital, Dolby Digital Plus) and supports Ultra High Quality Audio Playback – UHQ 32-bit & DSD support PCM: Up to 32 bits, DSD: DSD64/128. All these improve the audio when listening through earphones. Separate app sound option lets you set to play a selected app's sound through your device's speaker or the connected Bluetooth headset or speaker. That said, audio through the bundled Samsung-made headphones tuned by AKG is good and the loudspeaker output from the new stereo speaker tuned by AKG is good as well and is loud. It doesn't have FM Radio, similar to earlier Samsung flagships.
Connectivity, Calling and Messaging
The connectivity options include, Wi-Fi 802.11ac (2.4/5GHz), VHT80 MU-MIMO, Bluetooth v 5.0 (LE up to 2Mbps), GPS with GLONASS, NFC and USB 3.1 with support for USB OTG. It has Bluetooth 5 support with Bluetooth Dual audio that lets you Stream audio from S9+ to up to two Bluetooth headsets or speakers simultaneously. You can also adjust the volume levels for each device independently. However, the two connected devices may exhibit a slight difference in sound output, according to Samsung. We tested it and hardly found any delay.
It has 4G connectivity with support a lot of bands and also has Voice-over-LTE (VoLTE) support for Reliance Jio, but it doesn't have Airtel and Vodafone VoLTE support yet. Both the SIMs support 4G, but you can enable 4G only in one SIM at a time, while the other goes to 3G. At the launch Samsung said that both the S9 and S9+ support 4G LTE Carrier Aggregation on Airtel and Jio in select cities that promises 2.5X faster speeds compared to normal 4G or up to 250Mbps download speeds. We hardly got 70 Mbps maximum speed in several areas in Chennai for both Airtel and Jio.
You can set preferred SIM for voice call, text and data from the SIM card manager. As usual it has Smart Dual SIM feature, similar to other latest Samsung Dual SIM smartphones. This automatically forwards calls from the phone number on SIM 2, even if a user is on the phone with SIM 1's number. There is a new option called confirm SIM card for calls so that it asks which SIM card to be used for the next call when you make a call without your preferred SIM card for calls.
The dialer and messaging have the same UI as the other Samsung phones. Since this is a dual SIM phone, you get option to select either SIMs when calling or sending text message. There are no call drops and the earpiece volume is good.
Performance
The Indian version of the Galaxy S9+ is powered by an Octa-Core Samsung Exynos 9 Series 9810 processor that has four of the company's 3rd generation custom designed Exynos M3 CPU cores clocked at up to 2.9GHz per core and four ARM Cortex-A53 cores clocked at up to 1.9GHz per core. It uses big.LITTLE architecture similar to earlier Samsung's high-end SoCs. It has 6GB of LPDDR4x RAM and packs a Mali G72MP18 GPU. The performance is smooth and we did not find any heating issues on usage and gaming. Check out some synthetic benchmark scores below, in which the S9+ topped in most of the benchmarks.
AnTuTu Benchmark 6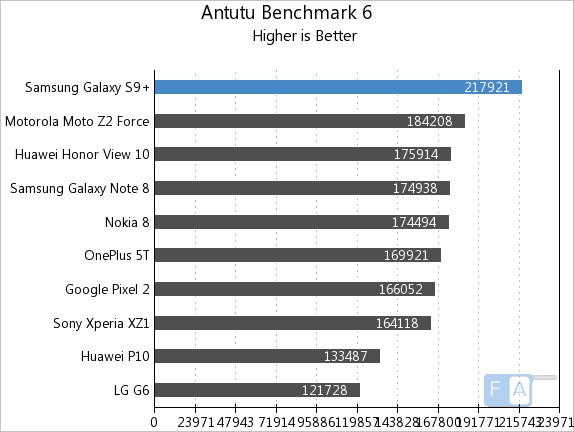 Geekbench 4 Single-Core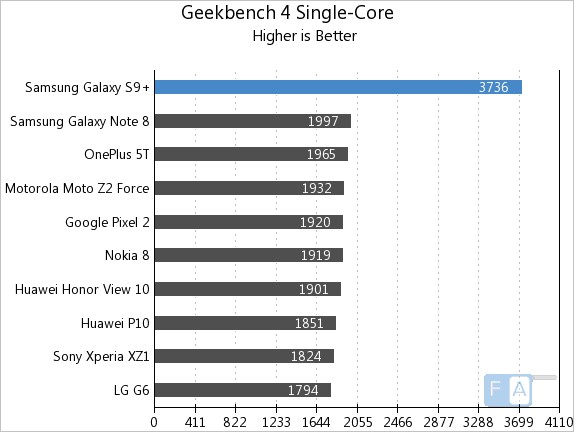 Geekbench 4 Multi-Core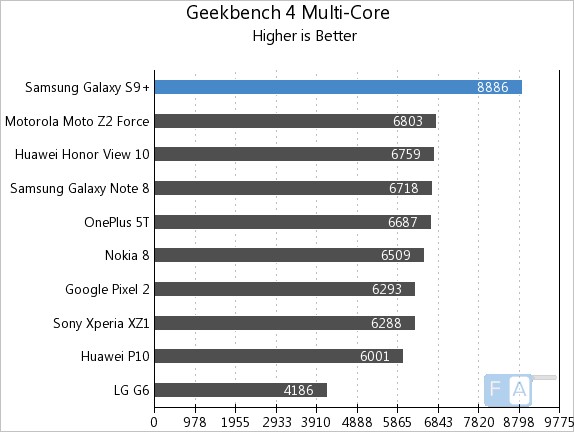 3DMark Ice Storm Unlimited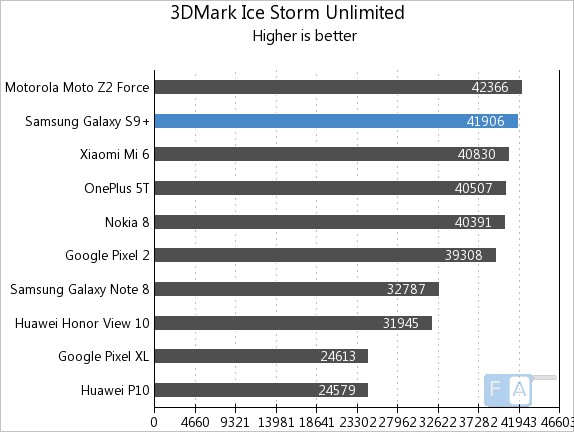 Coming to the gaming, the 18-core Mali-G72 MP18 GPU does a brilliant job in latest games, including some high-end games, but it is not optimized for old games, hence you might face lags.
Battery life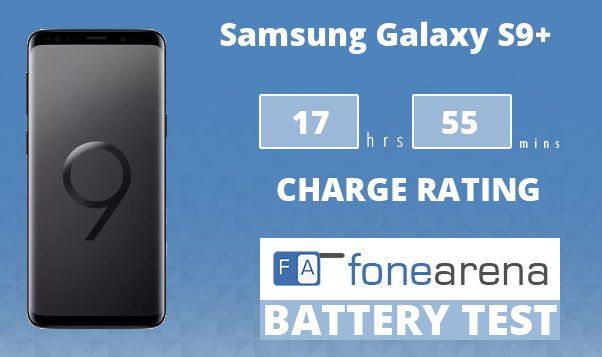 Coming to battery life, the 3500mAh battery lasts for a day heavy use and more than a day with average use, which is good compared to the S8+ and Note8.
It has Medium power saving mode that reduces brightness, reduces the screen resolution to FHD+, reduces the CPU speed and turns off the Always On Display. The Max mode does all this and also puts the display resolution to HD+. You can customize these based on your usage. There is also App power monitor that alerts you when an app is using more power so that you can close it.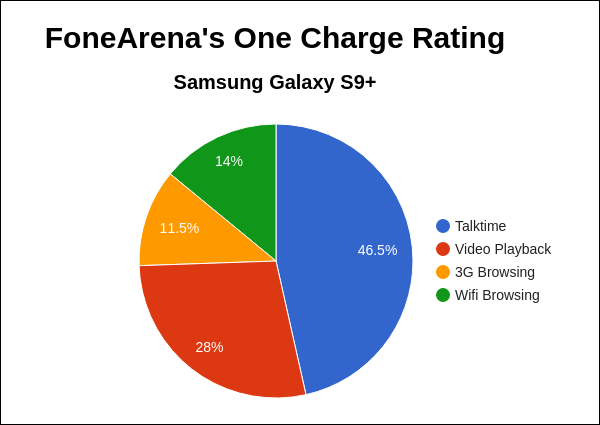 In our battery test the smartphone achieved a One Charge Rating of  17 hours and 55 minutes, which is better than the Galaxy Note8 with a 3300mAh battery that got 14 hours and 46 minutes in our test, mainly due to good talk time and video playback results. Thanks to adaptive fast charging, it can charge from 0 to 100% in 1 hour and 26 minutes and from 0 to 50% in just 40 minutes. We will bring you the complete set of battery life test results soon.
Conclusion
Overall the Samsung Galaxy S9+ is a good upgrade to the Galaxy S8+. Even though it has the same display, it has slightly smaller bottom bezels, packs a faster processor with 6GB RAM, comes with a better dual-aperture and telephoto rear cameras, which is a huge improvement compared to the S8+, stereo speakers and finally perfect placement of the fingerprint sensor. Samsung finally offers a 256GB version for those who need it. It has the same old front camera and Bixby is still not up to the mark compared to Google Assistant, when it comes to showing the info you need. The camera quality is still not up to the mark when compared to the Pixel 2 series or the iPhone X, especially in low-light, since Pixel 2 images offer better shadow and highlight and portraits are obviously better in Pixel 2.
At a starting price of Rs. 64,900, same as the launched price of the S8+, the Galaxy S9+ is a bit costly compared to some of the flagships, but it comes with several launch offers. However, the S9+'s direct competitor, the Pixel 2 XL is also available at  much cheaper rate with discounts and cashback offers. The phone is available exclusively from Flipkart online, in addition to Samsung Online Shop and is also available from offline stores across the country.  To summarize, here are the pros and cons of the smartphone.
Pros
Brilliant display
Good primary Dual Aperture and secondary Telephoto cameras
Good performance
Cons
Same old front camera
Bixby still needs improvement