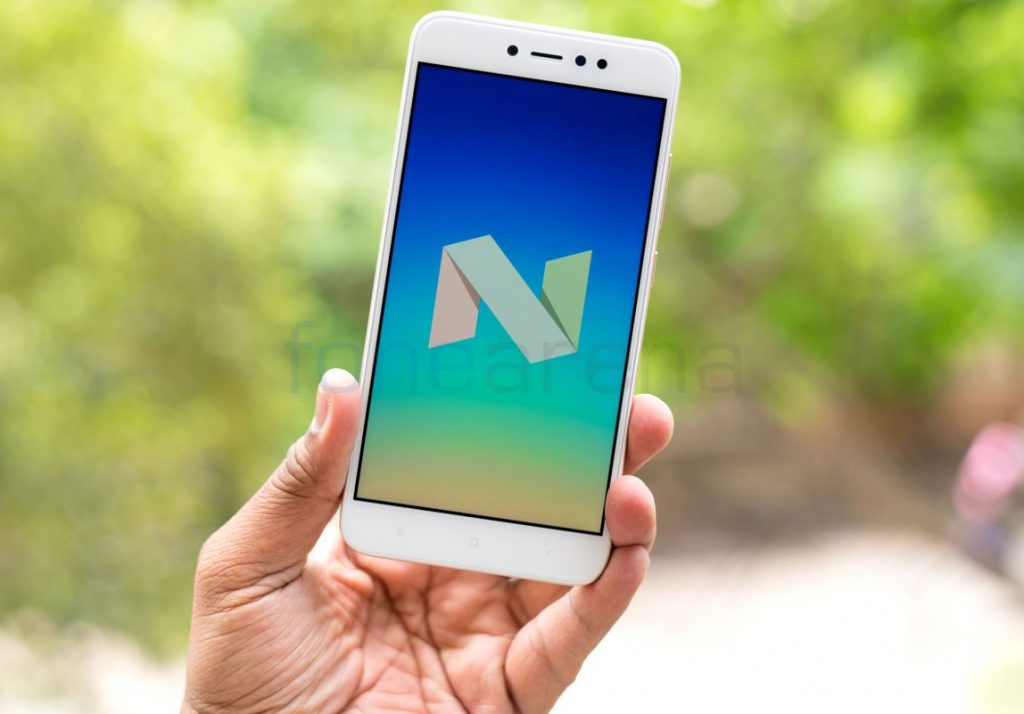 [Update: Xiaomi has finally started rolling out MIUI 9 stable ROM for the Redmi Y1 and Redmi Y1 Lite smartphones. If you don't have the update, you can download the Recovery ROM  for the Redmi Y1 and for the Redmi Y1 Lite here and flash on your device using updater method. Check out the complete changelog below]
Highlights

New – Switch for turning Battery saver automatically when charged (07-19)
New – New display formats for update logs in Updater (07-25)
New – Search for apps in the Dual apps settings (08-03)
New – Mi Picks gets a new name and a new icon! Meet Apps! (08-21)
New – Quick ball goes back to the edge after 3 seconds of inactivity (08-30)
New – Added Mi Drop (11-09)
Optimization – Protection from unintentional tapping for Dial pad (08-08)
Optimization – Redesigned homepage (08-24)
Optimization – Devices with rare Bluetooth profiles are hidden in the device list (08-29)
Optimization – Simplified and improved the design of the virus scan result page (09-07)
Optimization – New Feedback (11-09)

System

Optimization – Devices with rare Bluetooth profiles are hidden in the device list (07-25)
Optimization – Devices with rare Bluetooth profiles are hidden in the device list (08-29)
Optimization – Adjustments for gradual ringtones (11-09) (Y1)
Optimization – Faster launch time (11-09) (Y1)
Fix – Apps stopped working in the background (06-24)
Fix – Issues with video playback (11-09) (Y1 Lite)
Fix – Issues with screenshots in Split screen (11-09) (Y1 Lite)
Fix – Issues with search (11-09) (Y1 Lite)
Fix – FC issues (11-09) (Y1 Lite)
Fix – Speaker issues appeared before video calls were answered (11-09) (Y1)
Fix – Multiple missed calls made the device reboot several times (11-09) (Y1)
Fix – Clearing cache on the Home screen force closed (11-09)
Fix – The Downloads app couldn't connect to the internet (11-27)
Fix – Issues with animations in the Notification shade (11-27)
Fix – Names of contacts weren't shown during T9 search (11-27)
Fix – App lock security issues (11-27)

App Lock

New – Added the App lock step before unlocking using a new fingerprint for the first time (08-15)

Contacts

Optimization – Protection from unintentional tapping for Dial pad (08-08)

Messaging

Fix – Messages with one-time passwords disappeared (09-07)

Home screen

Optimization – Users can set their main Home screen in the editing mode (08-29)

Themes

Optimization – Redesigned home page (08-24)
Optimization – Updated Peach blossom and Asphalt themes (09-14)
Fix – Previews in recent wallpapers rotated (09-20)

Weather

Fix – Issues with the Weather app when the device is offline (11-09) (Y1)
Fix – Issues with the Weather app when the device is offline (11-09) (Y1)

Music

Fix – Issues with playlists in global MIUI (11-09) (Y1 Lite)

Settings

New – Search for apps in the Dual apps settings (08-03)
Optimization – Introducing Button and gesture shortcuts (09-15)
Optimization – Media volume can be turned back on using volume buttons in DND mode. (09-14)
Optimization – Floating notifications are restricted by default in DND mode. (09-14)
Optimization – Vibration response in DND mode. (09-14)
Optimization – Improved timers for Silent/DND. (09-14)
Fix – Android security patch level was shown with the wrong date (09-07)
Optimization – New Feedback (11-09)

Mi Drop

New – Added Mi Drop (11-09)

Battery Usage

New – Switch for turning Battery saver automatically when charged (07-19)

Security

Optimization – Simplified and improved the design of the virus scan result page (09-07)

Quick Ball

New – Quick ball goes back to the edge after 3 seconds of inactivity (08-30)

Other

New – Mi Picks gets a new name and a new icon! Meet Apps! (08-21)
Earlier: Xiaomi announced Redmi Y1 and Redmi Y1 Lite along with MIUI 9 Global ROM on 2nd Nov in an event and released a schedule for MIUI 9 stable ROM roll out. As per the schedule, Redmi Y1, Redmi Y1 were kept in second batch of devices which were supposed to receive MIUI 9 update in mid November. Yesterday morning Xiaomi started rolling out a Stable Nightly update for Mi 5 and the same day in evening Stable Nightly update roll out began for Redmi Y1.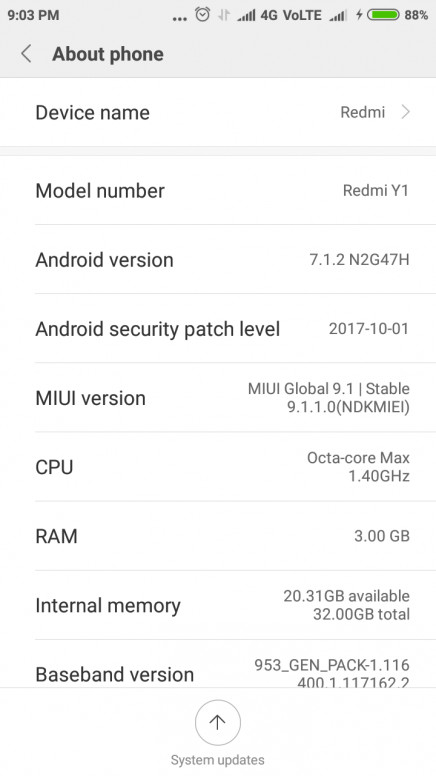 Nightly Stable ROMs are rolled out to random users, for more info on Nightly Stable builds refer to this post. The new update comes as MIUI 9.1.1.0.NDKMIEI and also brings October security patch to Redmi Y1.
Xiaomi is also asking for feedback from the users who have received this update, in case you have got update on your device you can submit your feedback here.