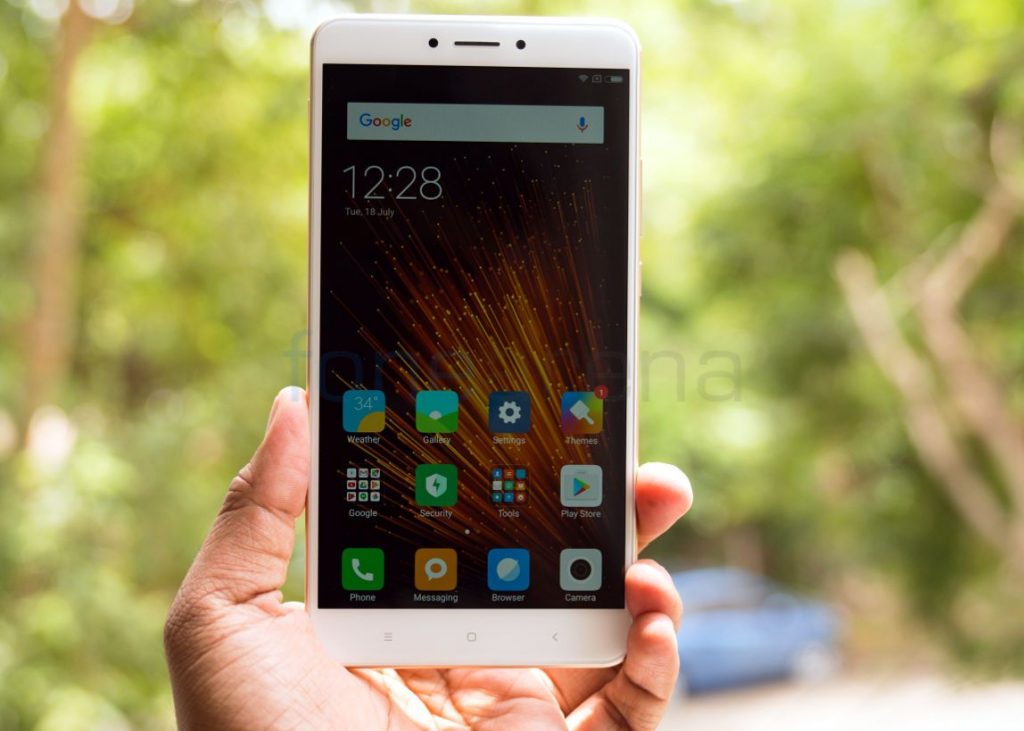 When Xiaomi announced the Mi Max last year, nobody expected it to be particularly popular. The gigantic size was expected to be a deterrent but as it turns out, the phablet saw massive uptake amongst users. Serving as a good mid way ground between carrying smartphones and a tablet, the Mi Max delivered battery life, a large screen and a generally great experience in a well priced package. One year on, Xiaomi is back with the Mi Max 2. With a bigger battery in roughly the same sized package, the Mi Max 2 is already looking quite exciting but is it worth an upgrade? We discuss that and more in our full review. 
Video Review
Xiaomi Mi Max 2 specifications
6.44-inch (1920 x 1080 pixels) Full HD IPS 2.5D curved glass display with 450nits brightness, 1000 : 1 contrast ratio, 72% NTSC color gamut, Corning Gorilla Glass 3 protection
2GHz Octa-Core Snapdragon 625 14nm Mobile Platform with Adreno 506 GPU
4GB RAM, 64GB internal storage, expandable memory with microSD
MIUI 8 based on Android 7.1.1 (Nougat)
Hybrid Dual SIM (micro+nano/microSD)
12MP rear camera with dual-tone LED Flash, PDAF, f/2.2 aperture, Sony IMX386 sensor, 1.25μm pixel size
5MP front-facing camera with 85-degree wide-angle lens, f/2.0 aperture
3.5mm audio jack, stereo speakers
Fingerprint sensor, infrared sensor
Dimensions: 174.1×88.7×7.6mm; Weight: 211g
4G VoLTE, Wi-Fi 802.11ac (2.4 / 5GHz) MIMO, Bluetooth 4.2, GPS + GLONASS, USB Type-C
5300mAh (typical) / 5200mAh (minimum) battery with Quick Charge 3.0
Design
The Mi Max 2 follows in the footsteps of the Redmi Note 4 and offers a design that is familiar to Xiaomi fans. That is not to say that the design hasn't changed at all. The phone retains a similar footprint as the device it replaces but there's a degree of refinement and maturity to the design compared to the first generation Mi Max.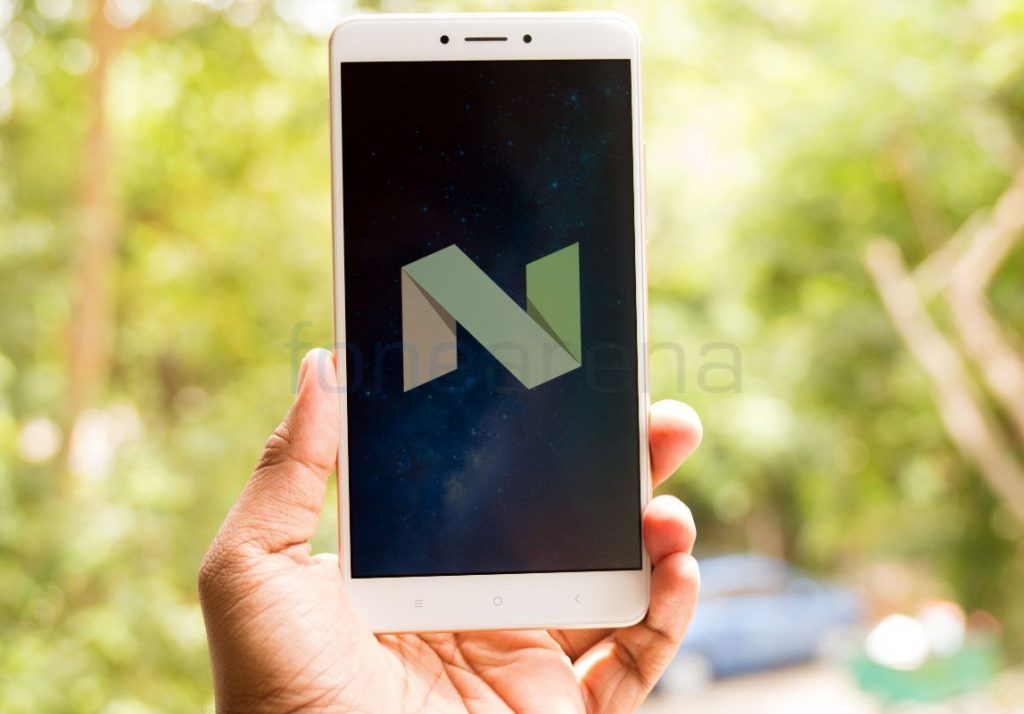 The front of the phone packs a 6.44 inch screen. The notorious black border around the display on the Mi Max has been reduced by over 50% this time around and it really enhances the visual appeal of the phone. Generally, the size of the phone is almost the same as the Mi Max and there are fairly large bezels on all sides of the phone.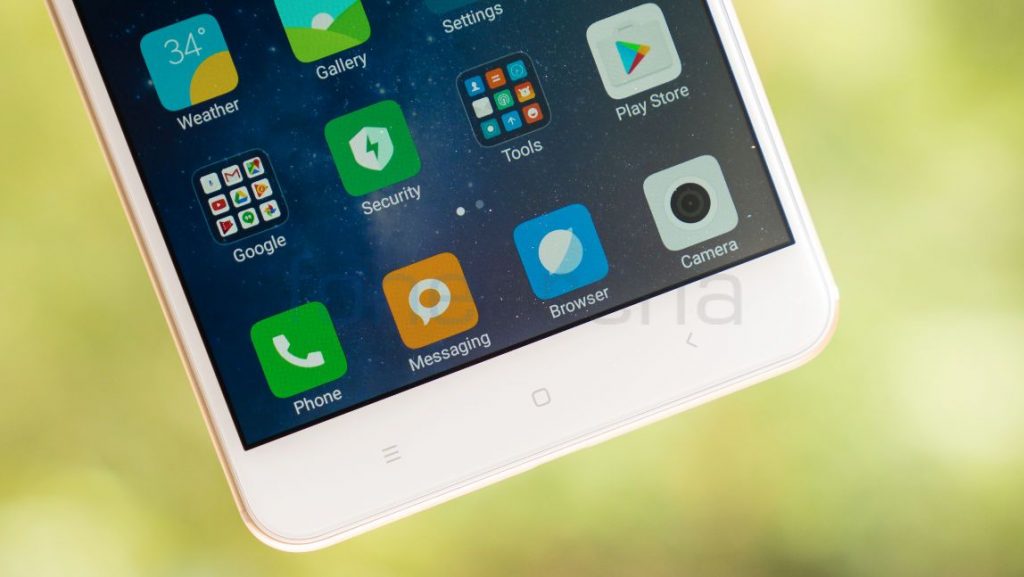 The top of  course houses the earpiece and 5MP front facing camera. Along the bottom lie three backlit capacitive keys that correspond to menu, home and back. This layout has been consistent on Xiaomi phones for years now and anyone used to their devices should feel right at home.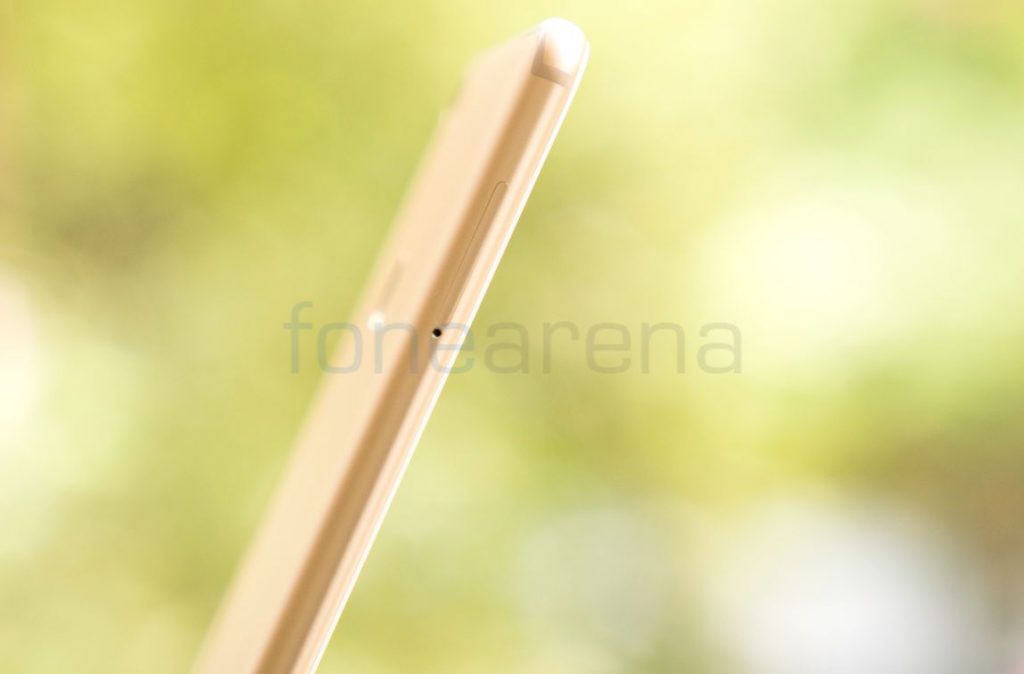 The volume rocker and power button lie on the right side of the phone and we observed tactile feedback to be much improved over the previous generation device. Button presses have excellent feedback and a reassuring click makes it easy to press the buttons with the phone in your pocket or without looking at it. The left side of the device has the hybrid SIM slot that doubles up as dual SIM slots or a single SIM and a microSD expansion slot. Along the top edge is a 3.5mm audio jack with an IR blaster placed next to it.
So far it might appear that the Mi Max 2 is merely a repackaged version of the same device but that's not entirely true. Xiaomi has bestowed the second generation Mi Max with a USB Type C port which brings it in line with most of the higher end devices from the company's portfolio. The phone also sports dual loud speakers with are a huge step above the tinny sounding speakers on the first gen Mi Max. While not quite the loudest speakers around, the dual speakers sound clear & distortion free through the soundscape. They of course won't be replacing dedicated bluetooth speakers but will serve well enough in a pinch if you just want to watch a YouTube video or sample a track with a friend. Due to the placement of the speakers (one bottom firing and another in the earpiece), certain tracks that make use of stereo effects can sound a bit unbalanced but then again, you shouldn't really expect very high quality audio from phone speakers anyway.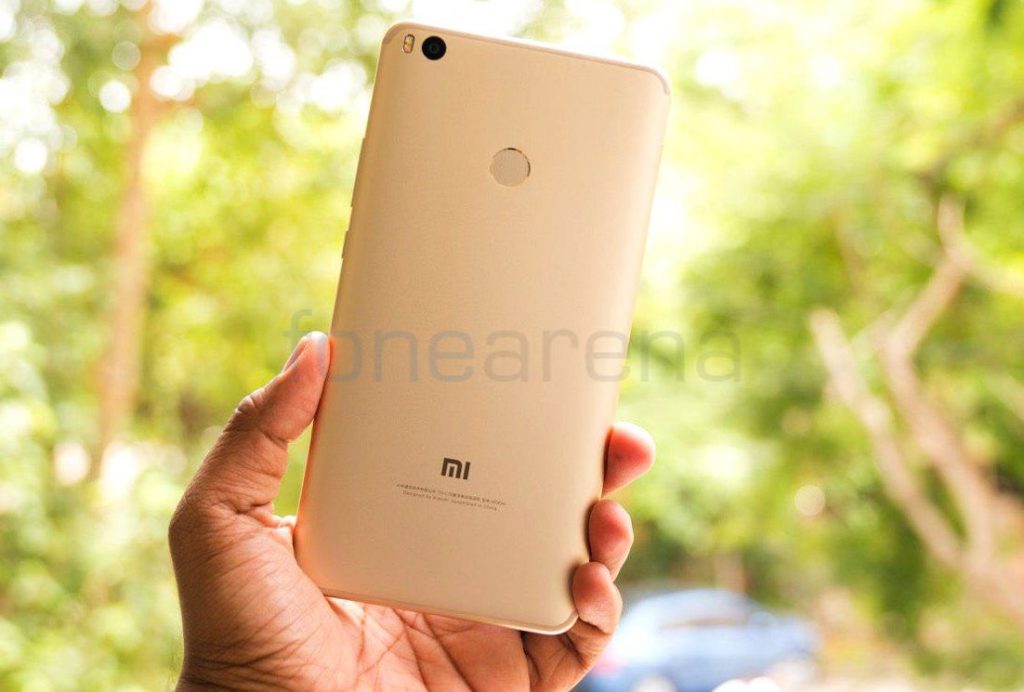 Moving over to the back of the phone and once again you'll observe some big changes in design. Gone are the large plastic end caps of the Mi Max and they've been replaced with very discrete antenna bands along the top and bottom. Perfectly matched on the matte black color variant of the Mi Max 2, you might not even notice the bands at first glance. The entire back panel is very smooth and almost but not quite slippery. Something we're not entire sure of are the entirely smoothened out curves. While this makes a lot of ergonomic sense on a smaller handset, here we felt a bit unsure while holding up the device. The smooth panel makes us fear dropping the handset. In that sense, the Mi Max with its boxy look was a bit more easier to grip. Beyond that you've got the usual fingerprint and scanner placed at the back and not much more. In fact the back is surprisingly spartan. The bare metal however feels very good in the hand. We've mentioned a couple of times that the handset has a similar footprint as the Mi Max and in fact weighs a bit more owing to the larger battery. Despite that, the rounded edges and gently sloping back help in making the phone feel smaller than it is. It is still not the most pocketable phone and you probably won't be able to fit it in skinny jeans but it is a lot more comfortable than the first generation device when held in the hand.
Software
The Mi Max 2 ships with Android 7.1.1 onboard and has MIUI 8.5. The phone will receive an update to MIUI 9 soon which is expected to bring a number of new features including split screen mode. As it stands, the interface is exactly the same as we've seen on a whole range of phones from Xiaomi.
Swiping up the lock screen brings you straight to the home screen where all the apps are laid out directly in a similar fashion as iOS devices. Typical of Xiaomi devices, there's quite a few preloaded apps and for anyone who prefers a stock Android style experience, this isn't going to cut it. That said, MIUI 9 is said to bring the ability to uninstall system apps and that should help users who want a leaner experience.
One of the key preinstalled apps is the Security app that combines a whole range of functionality into one interface. Starting from a deep cleaner that can help clear out storage to direct access to app permissions, the app also lets you maintain a contact block list. While you can create a second space or multiple versions of the same app from the settings page, the Security app affords quick access to the same functions. Added relatively recently is the ability to create Tasker like automated tasks. You can create a condition which could be based on time or battery percentage and a resulting series of actions. While it isn't as feature rich as Tasker, it should prove to be sufficient for most users who simply want to adjust WiFi, Bluetooth, Brightness and similar basic options.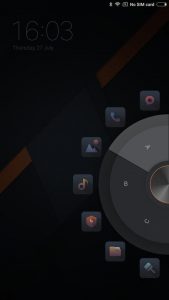 A special Mi Max 2 theme has also been released that adds a unique twist to the quick ball feature. From the lock screen, you can access up to 21 apps using a series of gestures. While we never got too used to the actions and preferred to dive in straight into the home screen, the functionality worked flawlessly and we can see a lot of people using this to drop into the WhatsApp app or any other preferred applications.
Performance
Compared to the Snapdragon 652 processor on the Mi Max, the Snapdragon 625 on the Mi Max 2 might appear a bit underpowered. This is somewhat true if you are looking at outright performance but poses no issue in real world use. The higher clock speed too compensates to a degree. All said and done, paired with the 4GB of RAM, performance is absolutely satisfactory and we had no trouble juggling through multiple apps. We did notice the phone choking a bit while handling high-resolution images wherein it would display a bit of checker boarding before loading the full image. The hardware focus here is on power efficiency though and the Snapdragon 625 chipset barely sips into the massive battery on the device as you'll observe in our battery tests. We've included some synthetic benchmarks below for your perusal.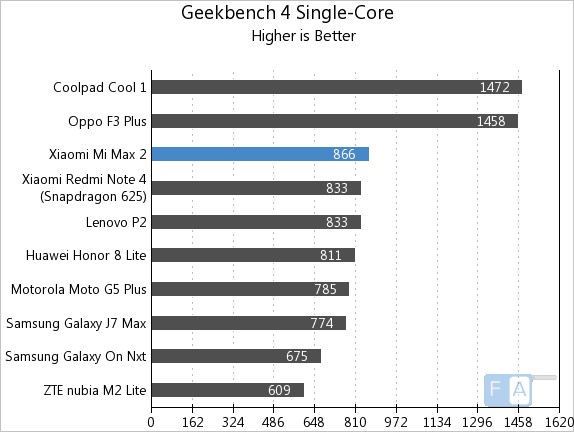 In the Geekbench 4 benchmark, the Mi Max 2 scored 866 points placing it just slightly ahead of the Redmi Note 4 which has similar specifications.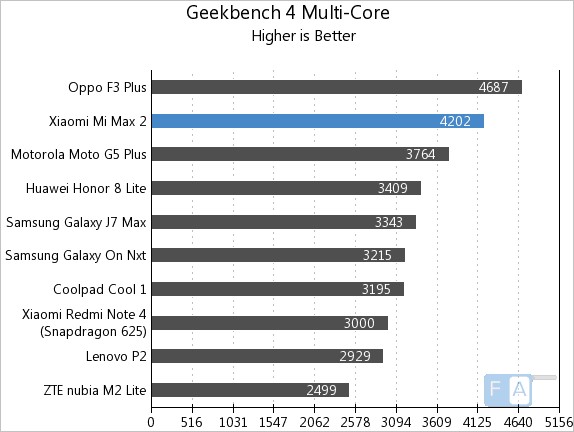 In the Geekbench 4 Multi Core benchmark, the Mi Max 2 scored 4202 points.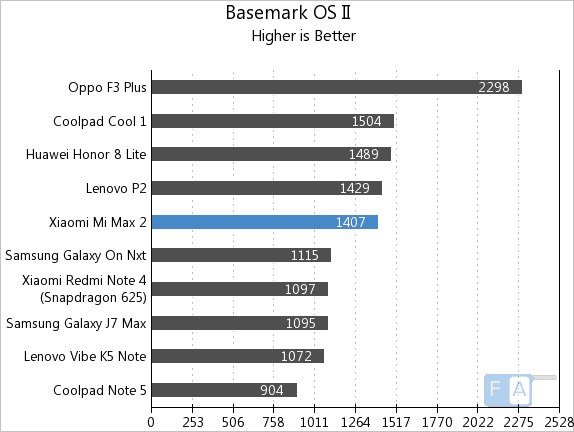 In the Basemark OS II benchmark, the Mi Max 2 scored 1407 points which was much higher than the Redmi Note 4.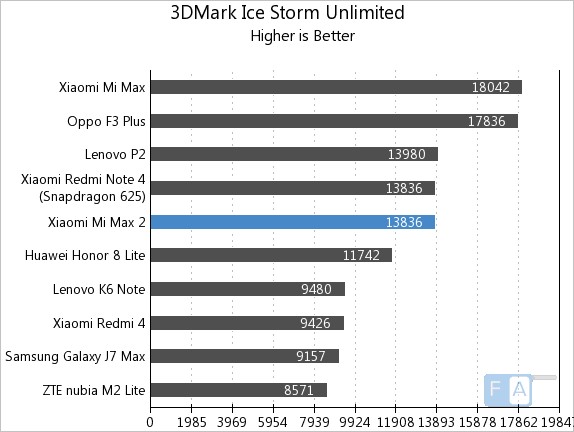 In the GPU centric 3D Mark Ice Storm benchmark, Mi Max vastly outscores the Mi Max 2 due to its higher end GPU.
Display
One of the key aspects of the Mi Max 2 is of course the display. The large 6.44 inch Full HD panel is great to look at. If we had to nitpick, a higher screen resolution would've been nice to have but it would also require a more powerful processor all of which would eat into the battery advantage that the Mi Max 2 offers.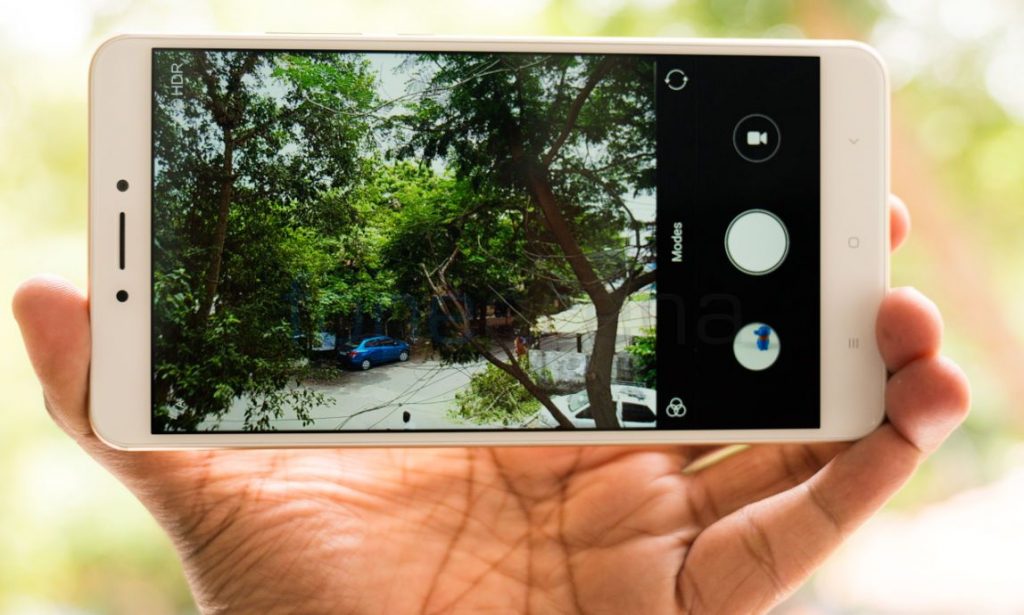 Color reproduction and brightness levels are quite good though not the absolute best. The brightness levels are just about sufficient to ensure daylight visibility though once again, we'd have preferred a higher level here. All said and done, the Mi Max 2 like the original Mi Max, faces little competition across segments. There are few if any smartphones that provide such a large screen experience at this price point and it is clear that certain forgivable sacrifices have had to be made to achieve it.
Camera
We didn't particularly care for the camera on the Mi Max and the Mi Max 2 continues the trend of being able to take serviceable photos and not much more. The rear facing 12MP camera has an IMX386 sensor with a pixel of 1.25μm. The lens has an f/2.2 aperture which is reasonably bright enough. A phase detection auto focus mechanism is also employed to facilitate faster focussing. Finally, there's a dual LED flash for night time shots though it has a tendency to completely wash out subjects and we wouldn't recommend using it.
Coming to image quality, day light shots are predictably decent and the phone manages good color rendition with a decent level of clarity across shots. Photos are generally sharp as long as the lighting remains good. In low light, images rapidly degrade. There's ample noise and unless you hold the phone absolutely still, taking sharp images is going to be an exercise in frustration.
In terms of video capabilities, the phone is capable of capturing pretty good-looking 4K video in well-lit conditions. Keep in mind that there's no optical stabilisation so video can be quite shaky if you don't have a steady hand.
Connectivity & Battery Life
Like most Xiaomi devices,  the Mi Max 2 is well endowed when it comes to connectivity options. You've got a full range suite of network connectivity features that include 4G VoLTE, Wi-Fi 802.11ac (2.4 / 5GHz) MIMO, Bluetooth 4.2 and GPS + GLONASS. The Mi Max 2 also joins the USB Type C bandwagon and sports the new connector though it is not capable of some of the niftier features of the standard like video out over Type C. There's still a IR blaster on top that you can use to control most consumer electronics. Unfortunately the dual SIM card slots are still of the hybrid variety which means that you'll have to choose between two SIM cards or storage expansion. That said, the phone does ship with 64GB of storage of which close to 53GB is available at first boot.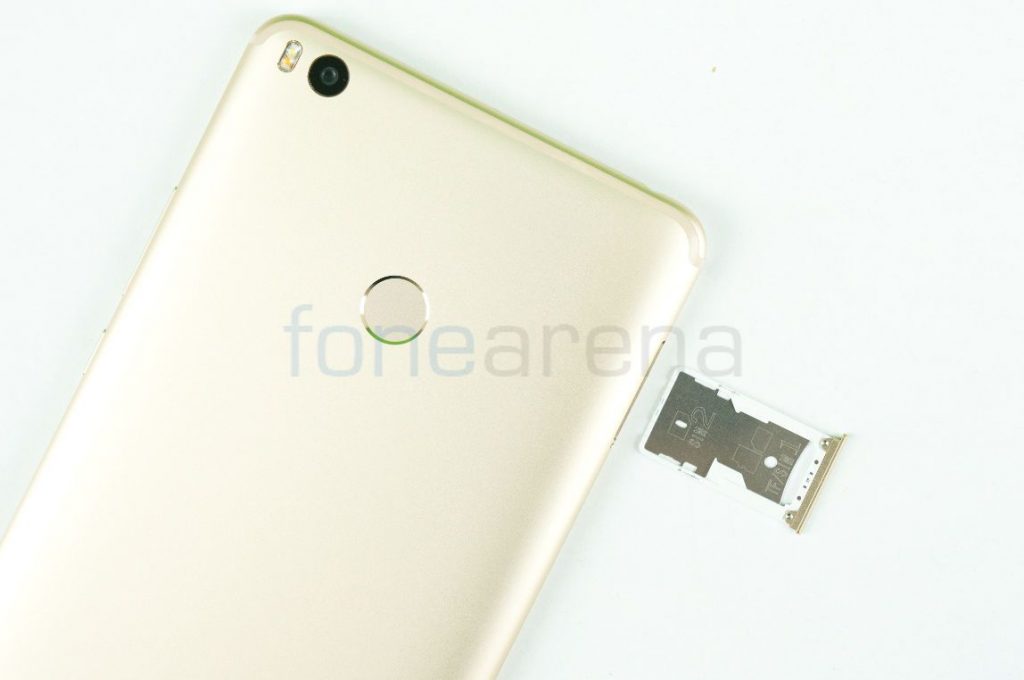 While the display is one of the biggest features of the Mi Max 2, the battery life too is of paramount importance. While keeping roughly the same dimensions, Xiaomi has managed to increase battery life up to 5300 mAh and this has a profound effect on longevity. The phone easily lasted at least 2 days of extensive use and still had a bit of charge left over. We've done more extensive battery testing that you can read here but suffice it to say that the Mi Max 2 delivers phenomenal battery life that blows away most of the competition. The phone also has Quick Charge 3.0 support to top off the large battery in a reasonable amount of time.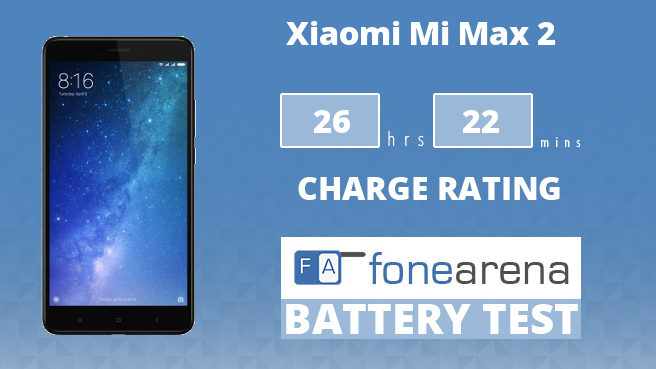 It achieved a One Charge Rating of 26 hours and 22 minutes in our battery test. Check out the complete set of battery life test results here.
Conclusion
The Mi Max 2 is a unique device that is larger than most so-called phablets yet it is uniquely positioned to be much more portable than tablets. Given the success of the Mi Max, it is clear that a market most certainly exists that craves for a device that sits at the cross-section of these two categories. The Mi Max 2 takes everything good from the original and improves it further. Excellent battery life and a refined design alongside the same massive screen is the USP here. We do wish that the company had opted for a better or at the very least, a better optimised camera. It isn't terrible but it does feel like a let down on what is otherwise a very well-rounded device. The Mi Max 2 is priced at Rs. 16,999 and is definitely recommended for anyone who wants a large screen device or massive battery life.