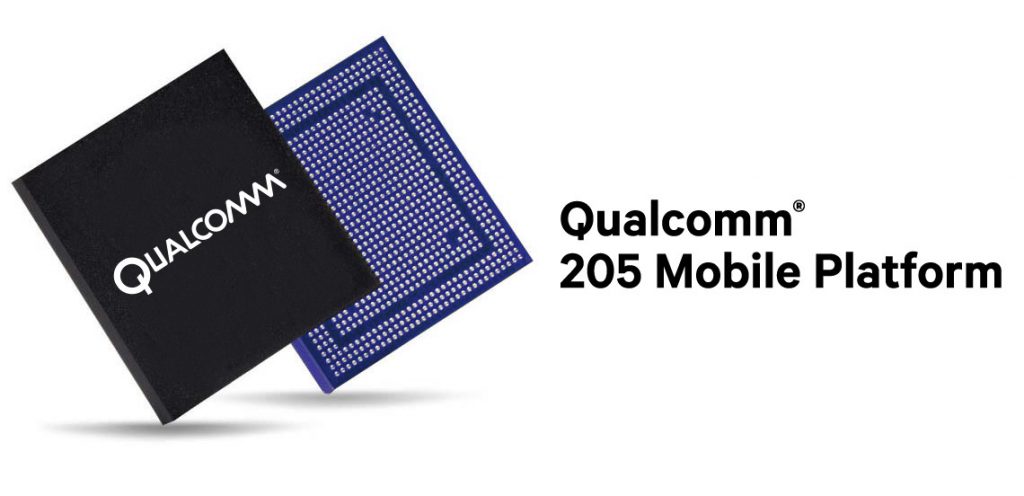 Qualcomm at an event in Delhi announced its new Qualcomm 205 Mobile Platform to bring 4G LTE connectivity and 4G services to entry-level feature phones. It includes the Qualcomm 205 SoC, which encompasses the baseband functionalities, plus hardware components including RF front end, discrete Wi-Fi, power management, audio codec, speaker amplifier, and software for a comprehensive mobile solution. Qualcomm also showed off a VoLTE feature phone with a keyboard developed by FIH/Megafone, similar to the Lava 4G Connect M1.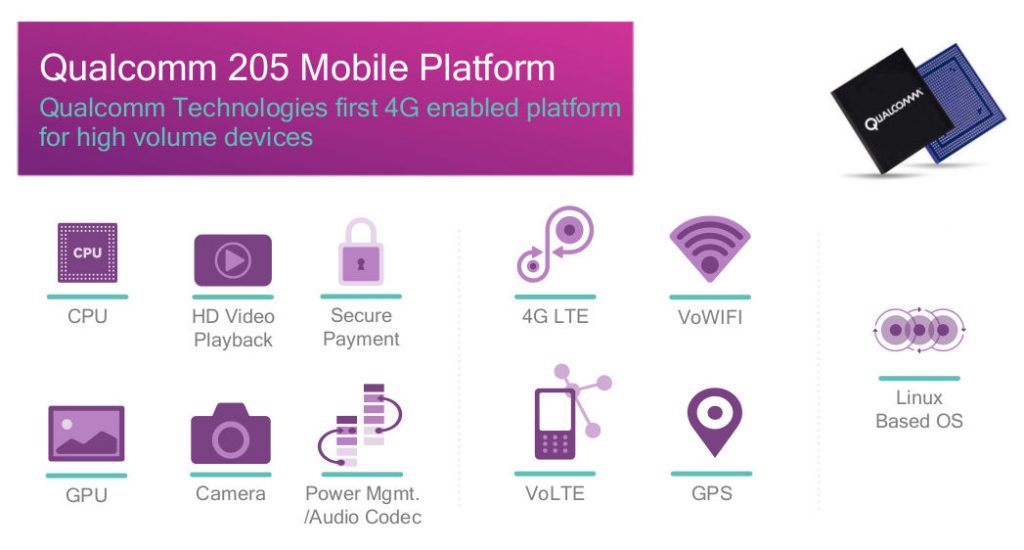 The company said that Qualcomm 205 Mobile Platform is designed for emerging regions, such as those in India, Latin America, and Southeast Asia for OEMs and ODMs that service consumers who may otherwise be unable to gain access to high quality, affordable, reliable mobile devices.
It also said that the latest Mobile Platform is designed to support consumers, micro-enterprises, and others, to economically communicate using advanced LTE data services such as Voice over LTE (VoLTE) and Voice over Wi-Fi (VoWi-Fi).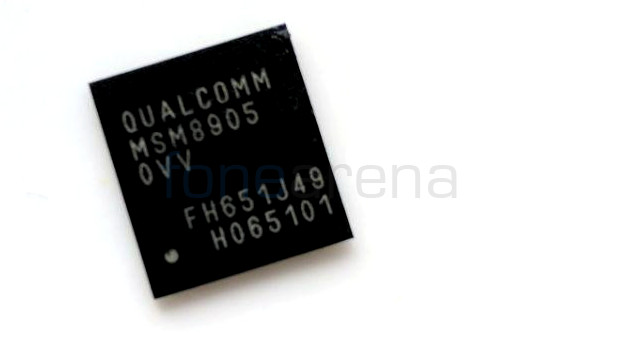 Highlights of Qualcomm 205 Mobile Platform (MSM8905)
Dual Core CPU up to 1.1GHz, 28nm LP process technology
Integrated X5 LTE Global Mode modem, supporting HSPA+, GSM, TD-SCDMA, DSDS, Support for VoLTE and VoWIFI
Memory – LPDDR2/3 at 384MHz, Storage – eMMC 4.5
Linux-based software platform
Cat 4 download speeds of up to 150 Mbps, upload speeds up to 50 Mbps
LTE Broadcast and LTE multimode dual SIM
Adreno 304 GPU: OpenGL ES 3.0
Supports up to VGA display
Up to 3MP rear camera, VGA front camera
Qualcomm SecureMSM technology, Qualcomm Snapdragon StudioAccess technology
720p at 30fps decode, 480p at 30fps encode, H.264, VP8, MP4
Integrated Wi-Fi 802.11b/g/n, Bluetooth 4.1, ANT+, FM radio, GPS, GLONASS, Beidou
Global Emergency Services Support, Assisted GPS, OTDOA (LTE-based positioning), Advanced Location Features, Low Power Geofencing and Tracking
The Qualcomm 205 Mobile Platform is available today for OEMs and ODMs and devices are expected to be available for customers in Q2 2017.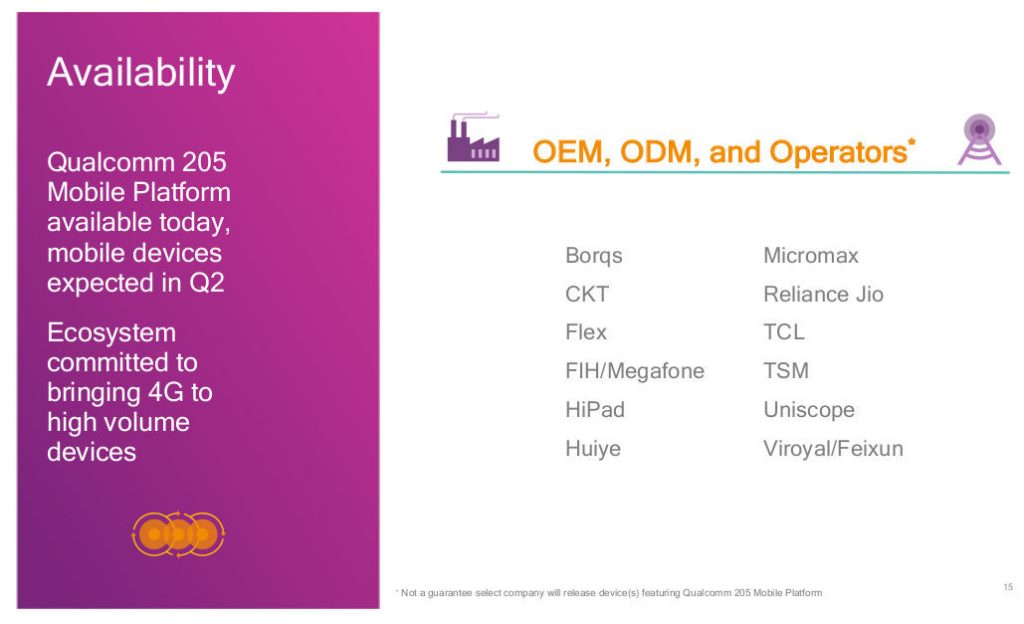 Qualcomm has partnered with OEM, ODM, and Operators such as Borqs, CKT, Flex, FIH/Megafone, HiPad, Huiye, Micromax, Reliance Jio, TCL, TSM, Uniscope, Viroyal/Feixun. Hope we can expect VoLTE feature phones powered by Qualcomm 205 Mobile Platform from Micromax and more in India soon.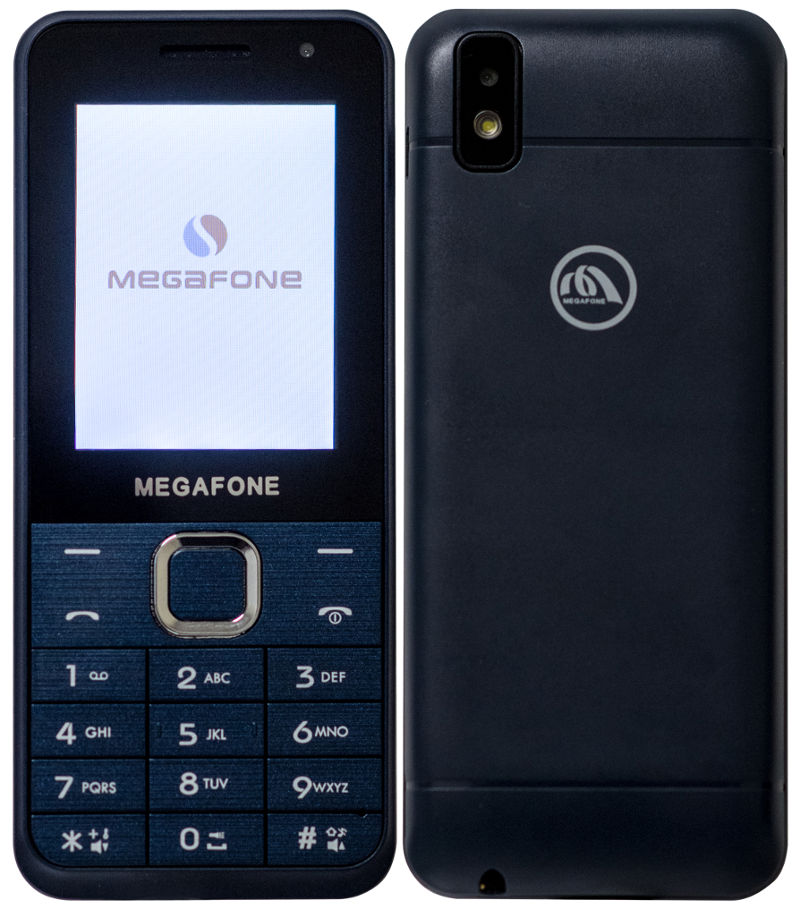 Commenting on the new Mobile Platform, Jim Cathey, senior vice president and president, Asia Pacific and India, Qualcomm Technologies Inc., said:
India and the South East Asia regions present growth opportunities in the telecom space with 4G adoption rising and continued adoption of feature phones. The launch of Qualcomm 205 Mobile Platform presents a unique opportunity for OEMs, operators and content providers to extend superior experiences to users by enabling data on feature phones. A greater percentage of the population will now have access to data and services at speeds that help dramatically improve user experience.
Kedar Kondap, vice president, product management, Qualcomm Technologies, Inc., said:
Qualcomm Technologies is committed to the migration of users and networks from 2G, 2.5G, and 3G to 4G.Feature phones are a lifeline in many emerging countries and the Qualcomm 205 Mobile Platform allows us to bring 4G connectivity and services to the masses with devices at price points never seen before.