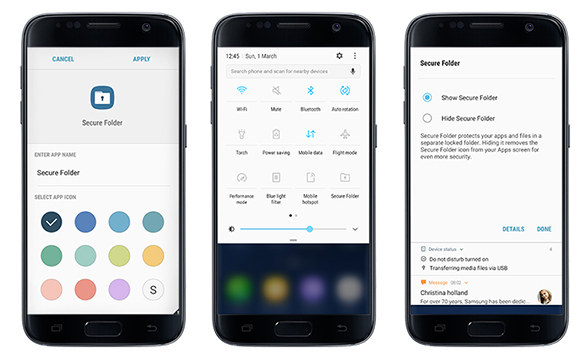 Samsung has officially released Secure Folder that helps the user to save their personal data and information. Once an app or data moved into the secure folder, it becomes Sand box, which means more protective and encrypted adding an another layer to the security and privacy from malicious attack.
Moreover, user can access the Secure Folder by using authentication methods including PIN, Pattern, Pass code and Fingerprint scanning. They can also make copies of their favorite apps and easily access them via alternate profiles.
Any notes, photos, contacts or browsing history within the apps stored in Secure Folder will remain separate from the same apps outside Secure Folder. This feature is more or less similar to 'Dual Space' in Xiaomi devices and Secure Zone in Lenovo devices.
In case of moving your sensitive data, you can select Move to Secure Folder from native apps such as Gallery, My files, or Contacts, or by tapping Add files inside Secure Folder. Additionally, the Secure Folder feature also supports cloud-based backup and restore to provide users with an easy way to migrate to a new device.
The backup in Secure Folder isolated when compared to general and backup data can only be restored through the Settings inside Secure Folder, and only by the original Samsung account user.
Secure Folder is available for download from Galaxy Apps, and is compatible with the Galaxy S7 and Galaxy S7 edge smartphones supporting Android OS 7.0 or later versions. Samsung plans to extend support to additional devices soon.