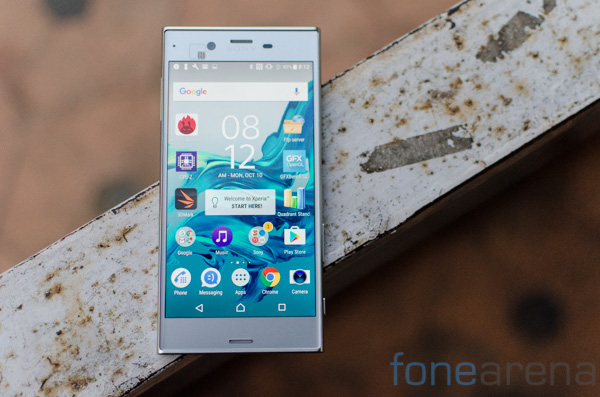 The Xperia XZ is the latest in a long line of Sony flagships that look, feel and perform very similar to each other. Yes, there is a certain refinement to the hardware and the specs have been suitably upgraded but is it enough to cater to a very demanding audience? Let's try to find that in our review.
Sony Xperia XZ specifications
5.2-inch (1920 x 1080 pixels) Triluminos Display with Corning Gorilla Glass protection
Quad-Core Snapdragon 820 64-bit 14nm processor with Adreno 530 GPU
3GB RAM, 64GB internal memory, expandable memory up to 256GB via microSD card
Android 6.0 (Marshmallow)
Hybrid Dual SIM (nano+nano/microSD)
Water Resistant (IP65/IP68)
23MP rear camera with Exmos RS sensor, 1/2.3″ sensor, f/2.0 lens, Predictive Hybrid AF, Laser AF, 5-axis stabilization, 4K video recording
13MP front-facing camera with 1/3" Exmor RS sensor, 22mm wide-angle f/2.0 lens, 1080p video recording
DSEE HX, LDAC, Digital Noise Cancelling
Fingerprint sensor
Dimensions: 146 x 72 x 8.1 mm; Weight: 161 grams
4G VoLTE, WiFi 802.11 ac (2.4GHz / 5GHz) MIMO, Bluetooth 4.2, GPS/ GLONASS, NFC, USB Type-C
2900 mAh Battery with Qnovo's Adaptive Charging technology
Design
Where most brands tend to have a fresh new design language with every third smartphone, Sony has more or less stuck to its guns. There's a point to be made that from the Xperia Z1 to the latest Xperia XZ, every successive device has just been a refinement of the prior. We're not going to complain though. The Xperia XZ is a solid albeit utilitarian looking handset that gets the ergonomics right more often than not. Called Loop Design, the Xperia XZ is an effective mix of curves and sharp pointy corners.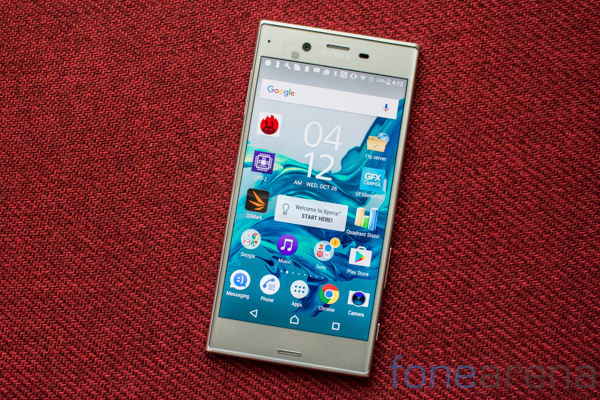 The screen on offer is a 5.2 inch Triluminos panel with Gorilla Glass protection onboard. There are significant bezels above and below the screen that make the phone quite a bit taller/longer.  Above the display lies the 13MP front facing camera alongside the regular array of sensors. There are no capacitive buttons on offer and the phone makes do with onscreen controls. There's dual speakers on the front of the Xperia XZ that go fairly loud and should prove to be useful to listen to podcasts and such. Don't expect it to be a party starter though.
Like most other smartphone flagships, the Xperia XZ employs a USB Type C port for data connectivity and charging. There's a 3.5mm audio jack up top allowing you to easily connect your headphone jack, a feature that is fast becoming a privilege. The tray for the hybrid SIM slots are placed on the left of the phone. As is usually the case, you can either have two SIM cards in the slot or a single SIM and microSD card.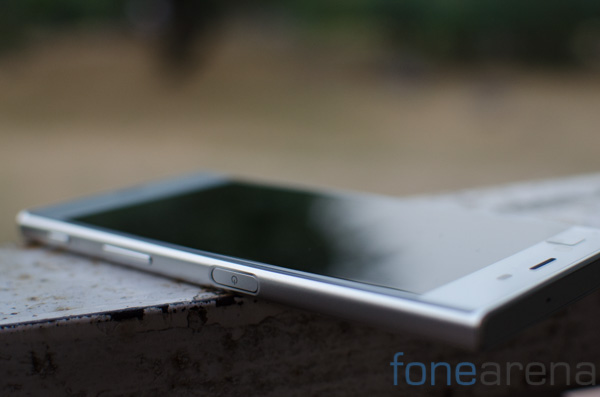 The coolest hardware element though in our opinion has to be the fingerprint reader that is embedded into the power button. Instead of taking up space on the front or back of the phone, scanner built into the power key on the side is a very elegant solution. In practice, the scanner works well and quickly drops you into your homescreen. Having the scanner on the side does mean that you can't use it while the phone is lying on a table. The volume rocker is placed below the power button which proved to be a rather bizarre location for it. Unlike most other phones, you can't just reach out and stretch to access the volume button.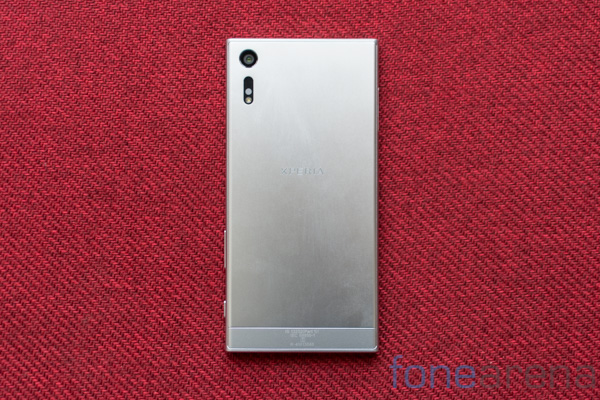 While the design at the back of the phone continues to be understated, Sony has done some interesting engineering here. The phone makes use of three different materials and over at the back you'll find something known as ALKALEIDO alloy. Manufactured by Kobe Steel, the metal alloy has a bit of lustre to it and creates a feeling of depth that makes the phone appear more premium. In practice, the effect isn't particularly pronounced but the phone still feels quite nice to hold. Beyond that, you can spot the camera lens over at the top left corner with the LED flash and laser autofocus module below it. The Xperia XZ measures 146 x 72 x 8.1 mm and weighs about 161 grams. As an added bonus, the phone is rated at IP68 making it both waterproof and dustproof.
Software
We've always appreciated Sony's approach to software. Light on customisations, the Xperia XZ continues the tradition and uses Android 6.0.1 as a base.
Since this is very similar to stock Android, the interface paradigm remains the same. There's a lockscreen that shows essential notifications alongside the date and time. Since the phone is activated using a side mounted power button, there's a very cool animation that pushes the lockscreen aside when unlocked. Beyond that, the basic interface is what you'd expect with a two level app hierarchy. A persistent shortcuts bar is placed at the bottom of the homescreen while a shortcut button drops you into the app drawer. The app drawer allows you to quickly search through your apps.
The Xperia XZ comes preloaded with a number of multimedia centric apps. Designed and developed by Sony, these are genuinely useful apps that bring an intuitive interface, solid feature set. A recent addition is a new app that acts as a TV Guide and shows you whatever is airing at the moment. The app also integrates playlists of popular shows from YouTube.
Performance
With a Snapdragon 820 processor and 3GB of RAM onboard, the phone has enough power under the hood to keep things running smooth and this was true for the most part. The chipset is based on 4 Kryo cores and includes an Adreno 530 GPU. Perhaps the only glaring concern is that where the competition has moved on to 4 or even 6GB of RAM, the Xperia XZ lags behind. Performance was never really a pain point during our time with the device though it did seem to heat up drastically on occasion, more so while using the camera. On its own, the Xperia XZ does very well but place it next to the competitors like the iPhone 7 or the brand new Pixel and you really start noticing the difference. The performance difference is particularly noticeable while multitasking. We've added some performance benchmarks below so you can get an idea of comparative performance.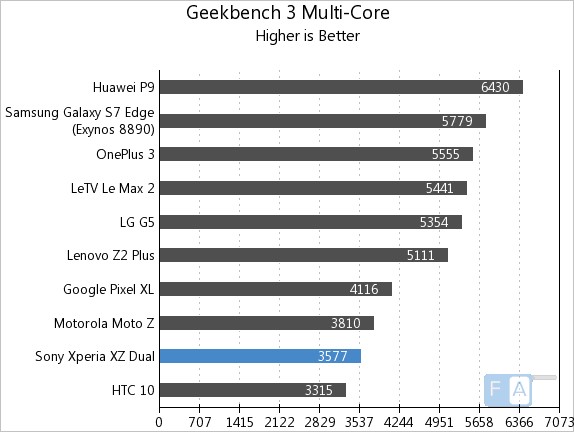 In the Geekbench 3 Multi Core benchmark, the phone scores 3577 points placing it along the lower end of our test bench.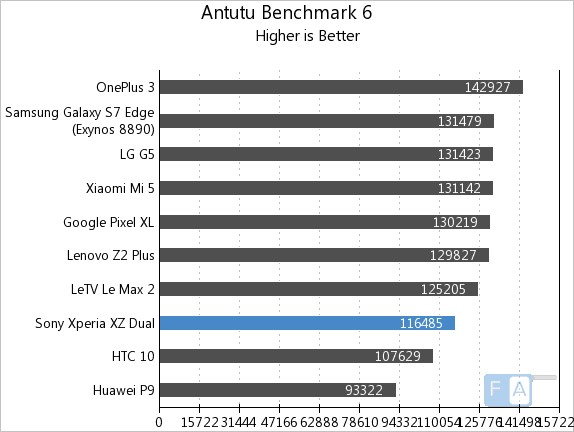 In the AnTuTu 6 benchmark, the phone scores 116485 points which is again towards the lower half of the test bench.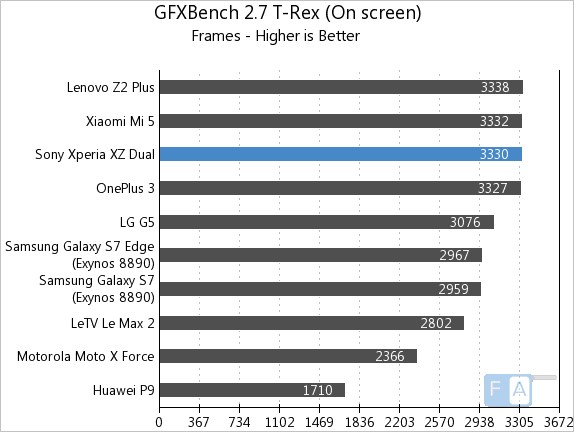 Finally in the GPU centric GFXBench, we observed that the Xperia XZ scored 3330 points.
Display
Coming to the display, the Xperia XZ sports a 5.2 inch Full HD panel. Despite the fact that most of the competition is moving to Quad HD panels, the 1080p screen on the Xperia XZ is more than satisfactory.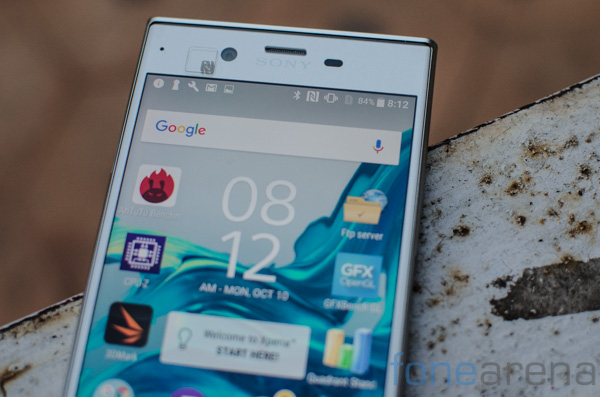 Brightness levels are brilliant and allow the phone to be visible even in bright sunlight. We also noticed that the contrast ratio is excellent making the handset an excellent device for media consumption. Lastly, color shift even at extreme angles was negligible. Overall, the display on the Xperia XZ certainly impresses and is one of the finer parts of the hardware.
Camera
A Sony built IMX300 sensor powers the 23MP camera module on the Xperia XZ. This is a multi-aspect sensor that allows you to shoot in either 22.8 or 20.1MP to get a 4:3 or 16:9 shot. Alongside you also get both PDAF and laser based autofocus. There's a new RGB-IC sensor as well that helps get a more accurate white balance. The phone unfortunately lacks optical image stabilisation which is surprising given the high-end focus of the phone however you do get a brand new form of electronic image stabilisation that works across 5-axis. The phone can effectively compensate for the yaw, pitch and more importantly roll alongside the X and Y axis.  Quite interesting in theory, the stabilisation system works only for 1080p video and that too in only very specific situations.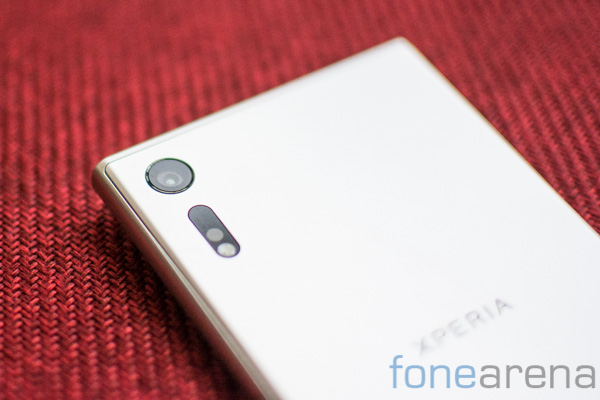 Image quality on the Xperia XZ was just about satisfactory but doesn't stand out much. This is particularly evident when you start comparing it to devices like the Galaxy S7, iPhone 7 and even the Pixel. First the good things, autofocus is fairly fast and the phone maintains a good fix even on moving subjects. This is thanks to the triple hybrid focussing system that combines laser based focussing with phase detection and contrast based focussing.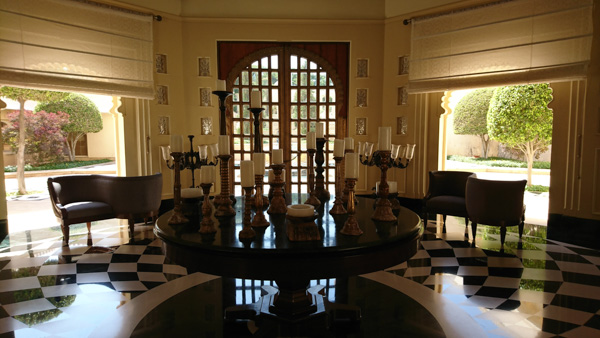 Image quality in good light is pretty solid and you get nicely detailed shots with well controlled noise. Unfortunately this changes drastically as soon as lighting conditions start changing. Unlike almost every competitor, Sony has stuck to a higher resolution sensor instead of one which packs a lower resolution but has bigger photosites. This has a profound effect on low light shots where grain and mushed out details are very common. The phone also struggles to deal with high contrast situations and you usually end up with burnt highlights. While HDR mode does help, it also drastically increases noise and the lack of OIS means that you'll often get blurry shots. The RGB-IC sensor on the other hand works very well in practise and color rendition, white balance is spot on for the most part.
Video can be captured at up to 4K resolution but is activated through a rather convoluted system. The 4K resolution can't be activated directly through the camera UI and is instead available as a completely separate mini app. Video quality isn't anything special and the narrower field of you makes footage appear somewhat soft. Keep in mind that you do not get access to the 5 axis stabilisation while recording in 4K.
Connectivity, Multimedia & Battery Life
The Xperia XZ comes well endowed with connectivity options. The Indian variant sports a hybrid SIM tray that allows you to use dual SIM cards or a single SIM and microSD card. There's the usual 4G VoLTE connectivity, WiFi 802.11 ac (2.4GHz / 5GHz) MIMO, Bluetooth 4.2 and GPS/ GLONASS. You also get build in NFC. Of the 64GB of storage almost 13GB is used by the system which is certainly on the higher side. Given Sony's audio pedigree, we were expecting something special from the Xperia XZ and we weren't entirely disappointed. Output from the headphone jack is pleasing and there's a range of software functions to further enhance it. DSEE HX tech let's the software upscale regular MP3s to loss less level audio. Of course this is merely a software enhancement and can't sound as good as proper FLAC audio but it does do a remarkable job. LDAC is another Sony specific tech built in that allows for much higher quality wireless audio than A2DP.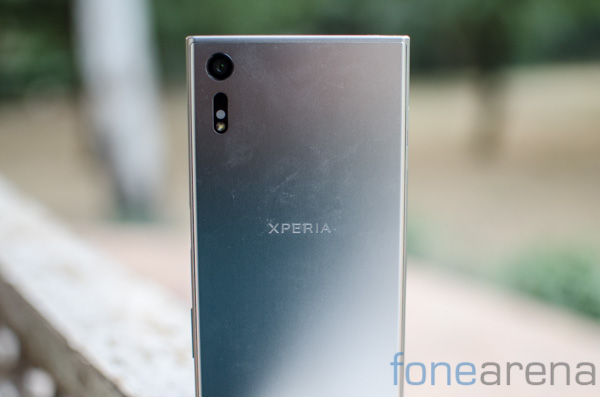 In terms of battery life, we were somewhat disappointed by the Xperia XZ. The 2,900 mAh unit pales in comparison to what you get on the competition and the phone would barely last a full day. Generally with a number of email accounts configured, extensive usage of WhatsApp, Slack and Telegram and half an hour of calling, we'd be looking for charging point by 4pm which isn't very ideal. The phone does have Qnovo's charging tech which actively monitors the charging status  of your phone and should theoretically allow the battery to keep its charging capacity over a longer duration. While it is an important factor for a high-end phone, it isn't something that can be tested out easily. On the other hand, Quick Charge 3.0 support means that you can quickly top off your phone. The Xperia XZ gets Sony's software based Stamina mode that can optimise battery usage on the phone by switching off hardware features. This works well in practise though there are obvious tradeoffs with the under clocked CPU and similar optimisations.
Conclusion
The Xperia XZ isn't a bad phone by any means. A solid attempt from Sony, it brings top of the line hardware and a very pleasing software build. There's some nifty additions too like the ALKALEIDO metal back and the utilitarian form factor that looks understated yet modern. The proprietary TRILUMINOS display too is rather excellent for media consumption.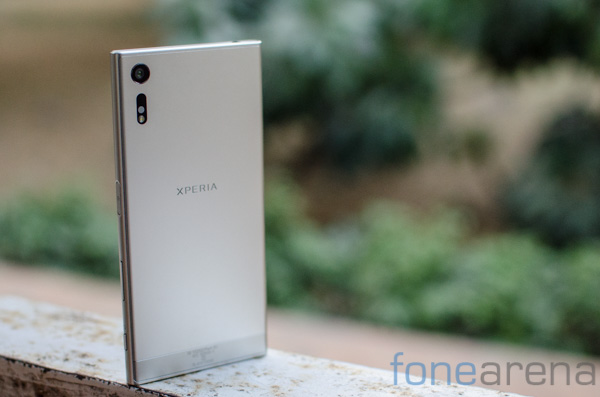 Unfortunately, the competition is simply way far ahead. This is particularly evident in the camera department where the Xperia XZ is not very competitive. Priced at Rs. 49,990, it is very hard to justify the cost of the phone when the competition provides a much better package at similar or even lower prices.
Pros
Good display
Audio playback
Competitive performance
Cons
Disappointing camera
Tendency to heat up