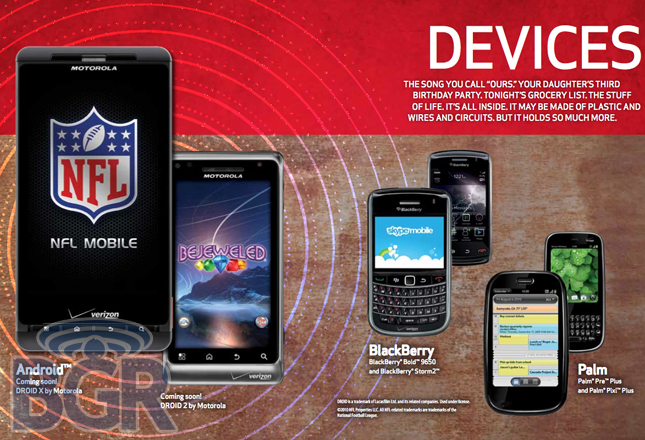 BGR got their hands on the leaked Verizon Wireless Summer device catalog, in which we will see a lot of interesting things. The most interesting thing we will see is the successor of the Original Droid/Milestone (read our review), the Droid 2 (and the image above confirmed that the phone will be called Droid 2). We are only waiting for Verizon to come out and announce the Droid 2. The image confirms that the announcement of the Droid 2 is around the corner, and Verizon will launch the phone later this Summer. The images also confirms the specs of the Droid 2.The Droid 2 features a powerful 1GHz CPU (probably the same Droid X cpu) 8GB SD Card factory installed, 5 megapixel camera, and 3G Mobile Hotspot functionality. The catalog also shows some new devices like Pantech Jest, the Samsung Intensity 2, Verizon Wireless Salute, and the Samsung Gusto in "Coming Soon" list.
Droid 2 is better and improved device as compared to the original Droid, the design is almost similar, only the corners and bezel is made up of metal (you can see in the pic above) and the D-Pad is removed from the hardware keyboard. According to rumors, Verizon will be announcing the Droid 2 on August 23rd, and it's also rumored that the Droid 2 will pack Android 2.2 instead of Android 2.1 on the launch day.
One thing was missing in the catalog, guess what? The Samsung Fascinate (Verizon Samsung Galaxy S), I don't know why it's missing, may be Verizon will not be launching the Samsung Fascinate in later this Summer. Well, you can head over to BGR to check out the whole catalog.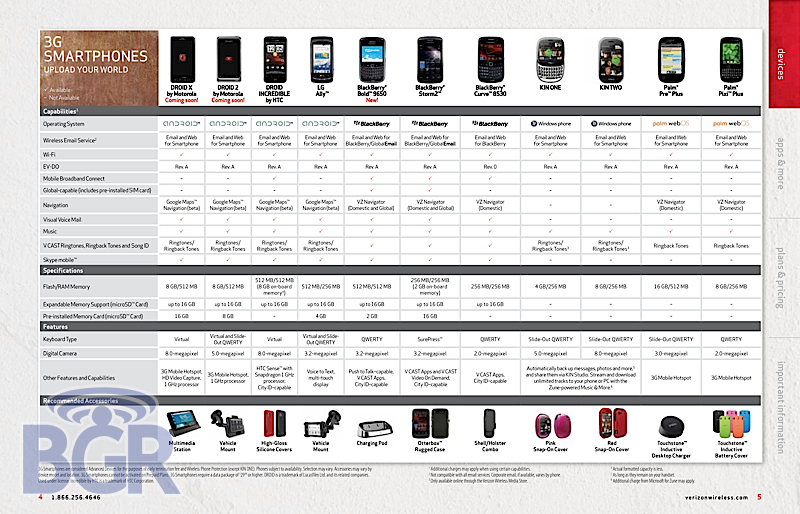 via BGR