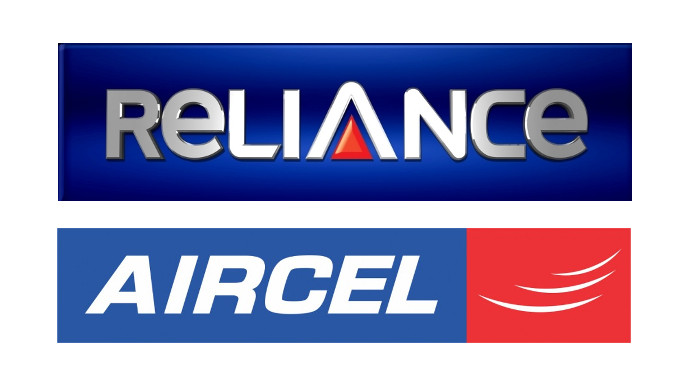 Reliance Communications (RCOM) and Maxis Communications
Berhad (MCB), promoters of Aircel today announced that they have signing an agreement for the merger of their Indian wireless
businesses, in a largest-ever consolidation in the Indian telecom sector.
"The RCOM-Aircel combination will create a strong operator clearly ranked amongst India's top 4 telcos by customer base and revenues, also ranking amongst the top 3 operators by revenues in 12 important circles," said the company.
MergedCo will have the second-largest spectrum holding amongst all operators, aggregating 448 MHz across the 850, 900, 1800 and 2100 MHz bands, and will enjoy enhanced business continuity through extended validity of spectrum holdings till 2033-35. It will be one of India's largest private sector companies, with an asset base of over Rs. 65,000 crore (US$ 9.7 billion) and net worth of Rs. 35,000 crore (US$ 5.2 billion).
RCOM and MCB will each hold a 50% stake in the merged entity (MergedCo), with equal representation on the Board of Directors and all Committees.  The Company will be managed by an independent professional team under the supervision of the Board.
RCOM's overall debt will reduce by Rs 20,000 crore (USD 3 billion) or over 40% of its total debt, and Aircel's debt will reduce by Rs. 4,000 crore (USD 600 million), upon completion of the transaction in 2017.
MergedCo's subscribers will have access to nationwide 4G LTE services on the sub-1 GHz band, under RCOM's existing nation-wide spectrum sharing / ICR arrangements with Reliance Jio Infocomm. This will offer a robust platform of services across all customer segments in all 22 telecom circles. The transaction is subject to applicable approvals, including inter alia, shareholder and regulatory approvals, lenders' consents, etc.
Commenting on the merger, Anil D. Ambani, Chairman, Reliance Group, said:
Together with our partners, MCB, we are delighted to have taken the lead in consolidation of the Indian telecom sector, first, with RCOM's acquisition of the wireless business of SSTL (Sistema / MTS), and now, with the combination of our business with Aircel Ltd. in a 50:50 Joint Venture with MCB. We expect this combination to create substantial long term value for shareholders of both, RCOM and MCB, given the benefits of the wide-ranging spectrum portfolio and significant revenue and cost synergies.
Maxis Communications Berhad (MCB), said:
This deal further reinforces MCB's commitment to India. Since acquiring Aircel in 2006, MCB has invested in excess of INR 35,000 crore (USD 5.2 billion) into Aircel, making this one of the largest foreign investments into India, not only in the telecom industry but across all sectors. The magnitude of this investment, and the further equity commitment in support of this deal, are underpinned by MCB's belief in the long term growth potential of both India and the Indian telecom sector.