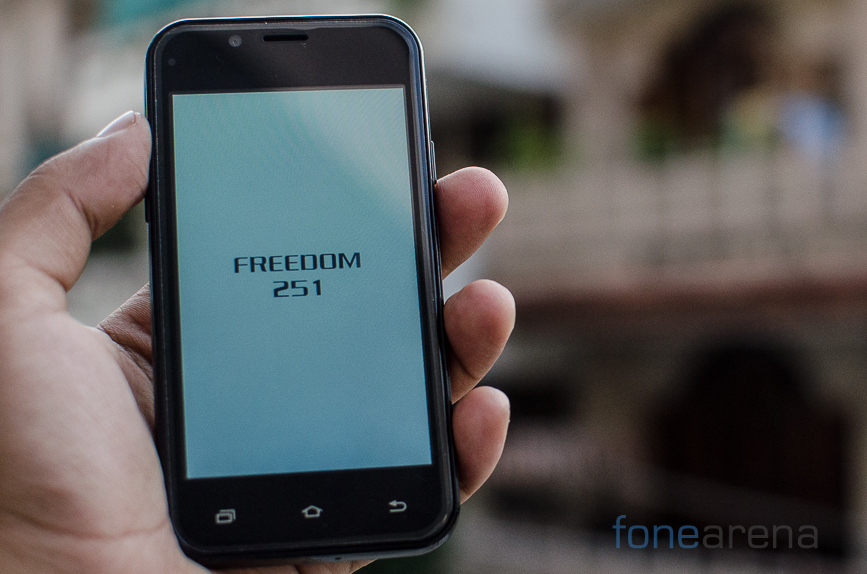 A lot has been said and written about Ringing Bells, the company behind the infamous Freedom 251 handset. A phone that has almost reached mythical status due to the ambiguity around its availability. While the company says that they've started shipping the phones, large-scale availability still remains a concern. We got our hands on a review unit to bring you the low down on what makes the Freedom 251 tick.  
Freedom 251 Unboxing
Ringing Bells Freedom 251 specifications
4-inch (960 x 540 pixels) HD IPS display
1.3GHz Quad-core MediaTek MT6580M processor with Mali-400MP GPU
1GB RAM, 8GB internal memory, expandable memory up to 32GB with microSD
Android 5.1
Dual SIM
3.1MP rear-facing camera, 0.3MP front front-facing camera
Weight: 130g
WiFi 802.11 b/g/n, Bluetooth 4.0, GPS
1450mAh battery
Design
A smartphone that costs less than a frapuccino at Starbucks makes you put away any prejudices you might have towards specifics like design. That said, the Freedom 251 isn't a bad-looking phone and if it is any consolation, it most definitely does not feel like a device that costs Rs. 251. The design has been kept utilitarian and that definitely goes in its favor.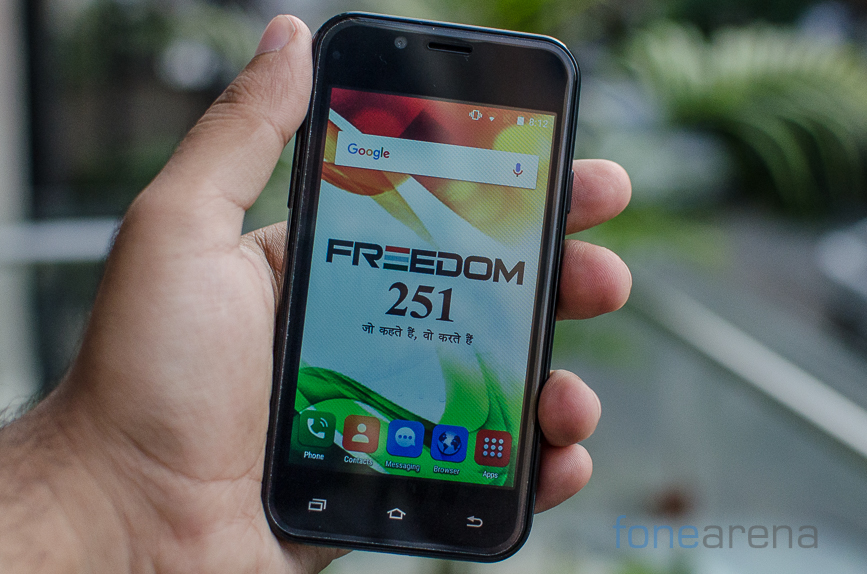 Up front is a 4-inch IPS display with moderately sized bezels on the left and right. Below the screen however is a pretty massive lip that also includes the menu, home and back capacitive keys. Up top is a 0.3MP front facing camera and a very curiously placed proximity sensor. The screen does not have any protective glass whatsoever but that'd be expecting a bit too much at the price.  The plastic display attracts a lot of fingerprints.
Over on the right is the power button while the left side sports the volume rocker. Color us surprised but the buttons definitely feel up to the mark in terms of ergonomics and tactile feedback. There's very good feedback in how the buttons go down, especially the volume rocker.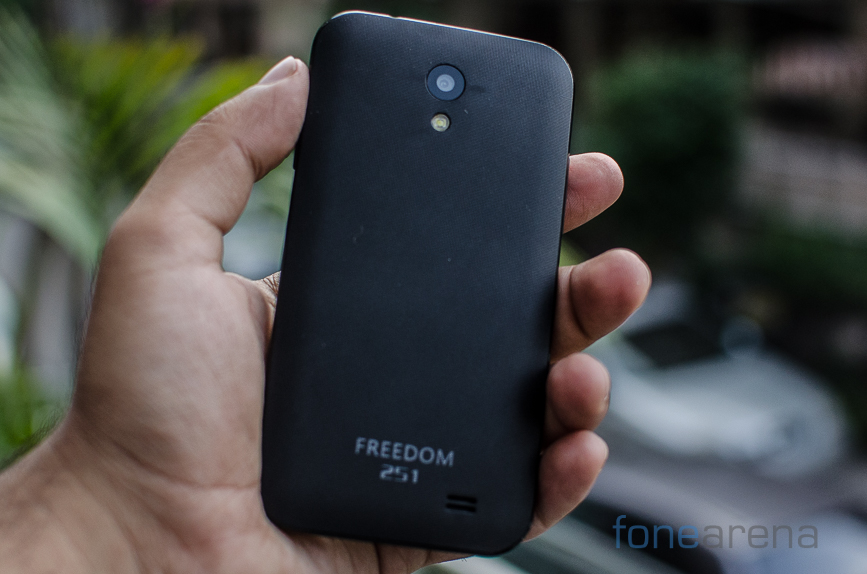 The back of the phone has a tendency to pick up stains. That said, the patterned hard plastic back feels good enough to hold. The mesh like pattern at the back also prevents it from slipping from your hand. A silkscreened Freedom 251 logo is placed near the bottom of the phone while the top of the device has the 3.2MP camera with single LED flash.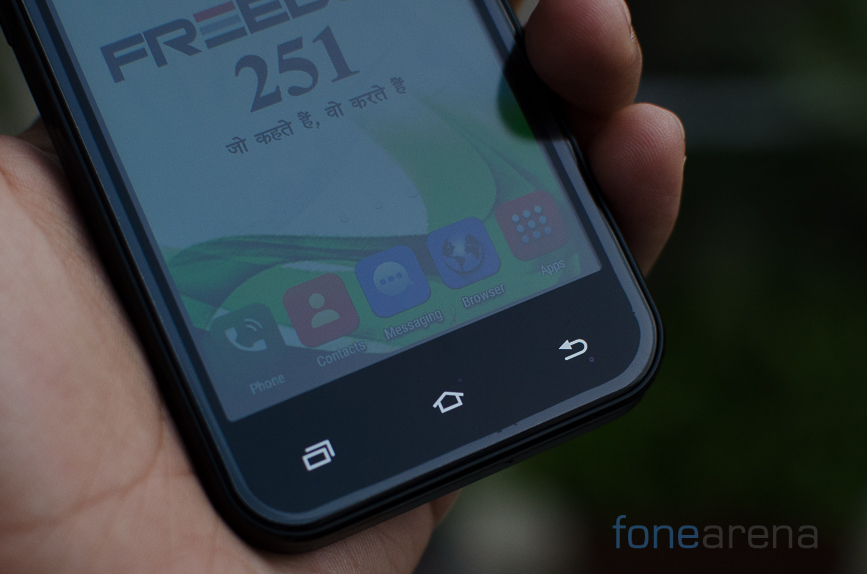 Let's just put away the price point for a minute. The Freedom 251 isn't a badly designed phone at all. Yes, it is pretty utilitarian but the ergonomics are on point and there isn't much in the way of creaks and shoddy manufacturing. All of this takes on much more meaning once you factor in the price point of course. For a budget ultrabudget device, the Freedom 251 isn't bad at all.
Software
There's Android 5.1 onboard with a custom UI layer and little else to talk about. You won't be getting any nifty software based features here but thankfully there's not too much bloat either.
The skin is fairly basic and mostly just involves icon skinning though we'd have eschewed even that for slightly better performance. The phone follows the lockscreen > homescreen > app drawer hierarchy as on all stock Android devices.
The homescreen is a simple affair and allows for widgets and apps to be placed side by side. The notifications hub and indeed most of the remaining UI works exactly the same way as you'd expect.
Performance
The make or break factor for any device is its performance and in the case of the Freedom 251, this rings particularly true. Nobody is expecting this device to take on flagship or a midrange or truth be told, even an entry-level device. The Freedom 251 would be a success if it can just be consistently smooth with a basic underlying work load. The phone is powered by a 1.3GHz Quad-core MediaTek MT6580M processor with Mali-400MP GPU and from a performance perspective, the news is both good and not so good. With a fresh and clean start, the Freedom 251 tends to be pretty smooth through the UI. Pulling up the contacts section does take a second and so does the mail app but we could learn to live with it. The consistent lag where the phone tries to keep up with you yet trails by a second or so is certainly not ideal but we are willing to cut the device some slack. Multitasking however is out of the question. With just 1GB of RAM onboard, the moment you try to switch between apps, things just come to a grinding halt. The only way to effectively use the device is to use it for a single purpose at a time. The woeful amount of storage also means that it won't take more than a couple of apps for it to run out of app storage space. Performance is most definitely not its forté. As long as you completely refrain from multitasking, the performance of the Freedom 251 can be lived with. Since this device is being targeted at first time smartphone buyers, it is a compromise that many might learn to live with. Remember, at a price point of Rs. 251, you are willing to give a lot of concessions to hardware. For a device like the Freedom 251, performance benchmarks don't really mean much but we've included some below anyway.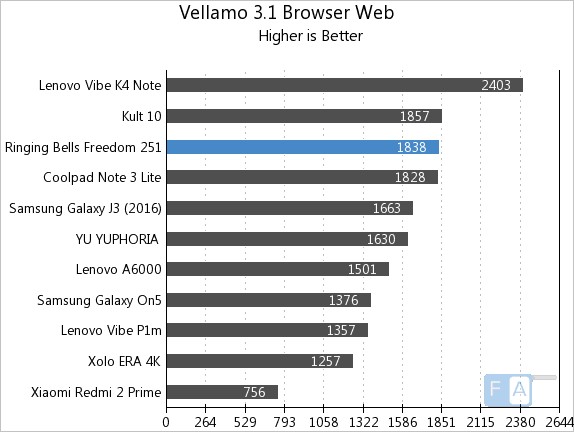 In the web centric Vellamo benchmark, the phone scores 1838 points.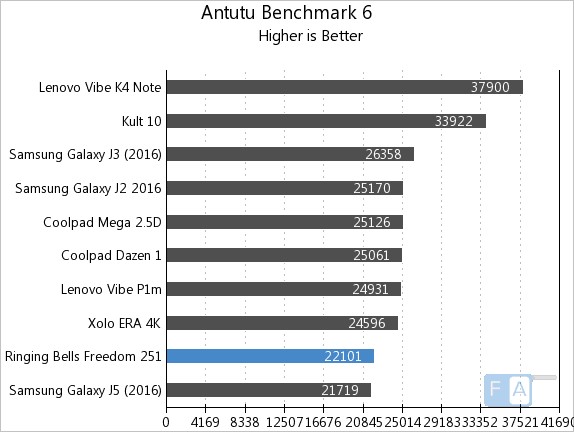 While in the AnTuTu benchmark, the phone scores 22101 points. Do keep in mind though that the benchmark scores aren't really indicative of real world performance. Yes, the processor isn't too bad but the woeful amount of RAM highly limits anything you can do with the device.
Display
Look at it head-on and the display on the Freedom 251 can pass off as usable. Despite being an IPS panel, the quality here is abysmal. Viewing angles are absolutely terrible and there is massive color shift the moment you shift the screen sideways.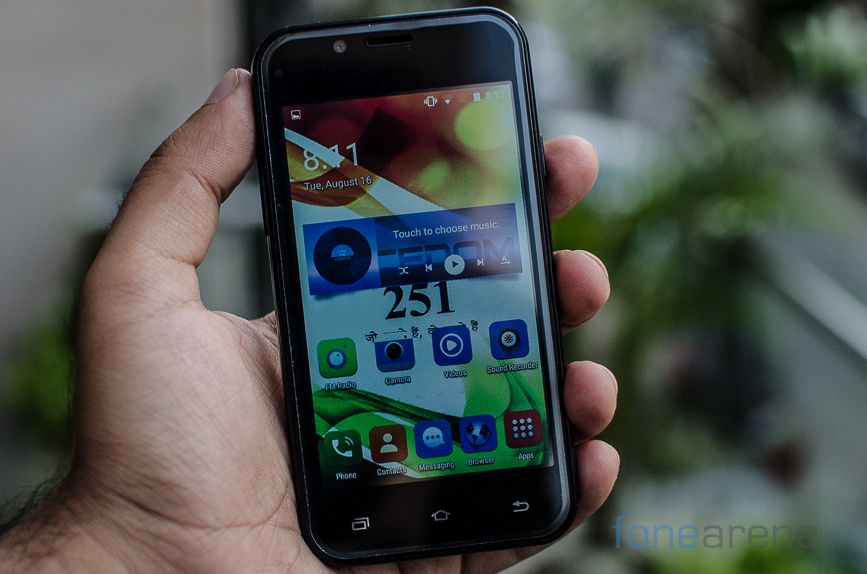 Brightness levels too tend to be pretty low and you'll be left struggling trying to make out the display outdoors. Owing to the lack of any form of protection, the display is very susceptible to scratches.
Camera
While Ringing Bells says that the Freedom 251 is equipped with a 3.2MP camera, the built-in software pegs this at closer to 2MP. Either way, the image quality is so bad that you probably wouldn't bother with it anyway.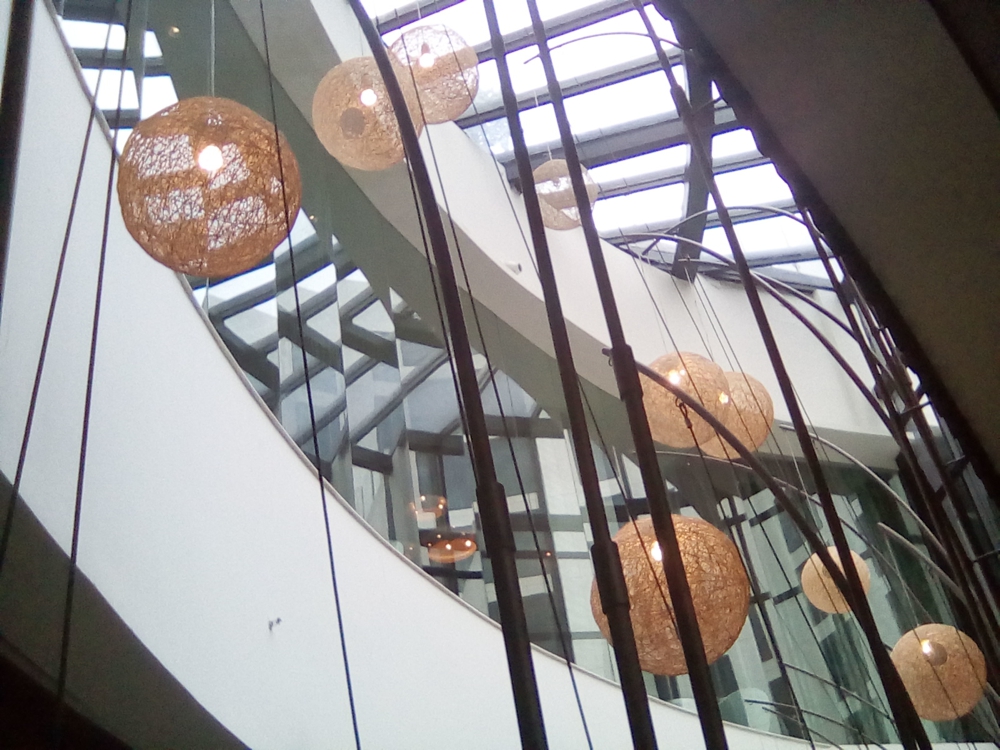 The lack of autofocus capabilities means that you can't shoot close-ups on the Freedom 251. Photos are low on details and heavy on noise.
Connectivity & Battery Life
Connectivity features on the Freedom 251 includes WiFi 802.11 b/g/n, Bluetooth 4.0, GPS. For what its worth we never really faced any issues on that front and the handset was able to maintain a solid signal. Leaving aside the sluggish Google Maps performance on the phone, the handset maintained a fairly solid GPS lock as well.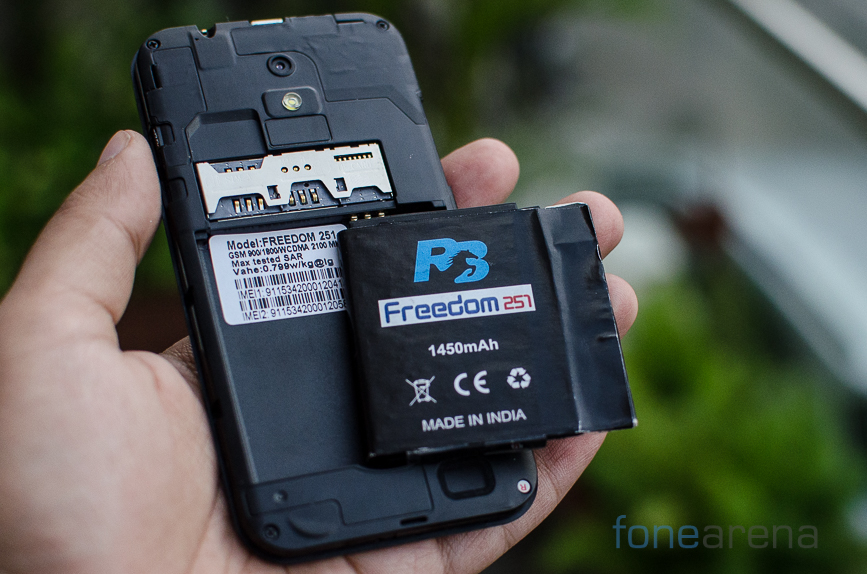 When cutting corners, quality does end up being dropped. We understand that but the shoddy battery unit on the Freedom 251 just can't be justified. Even before we get into the battery life and capacity, simply the ramshackle condition of the battery seems to point at a unit that just doesn't seem safe to use. Not only does the unit flex when in the hand, we're fairly positive that pushing too hard might have exposed the cells beneath and that can be a major safety hazard. Considering this was a demo unit, we do hope that Ringing Bells is able to sort out this issue. Now coming to the battery life itself, the 1450 mAh unit isn't anything special and the phone hardly manages to last a work day. More often than not we had to charge up the phone in the middle of the day.
Conclusion
We went in with zero expectations from the Freedom 251. Indeed, the thought that a handset is being sold for Rs. 251 seems so incredulous that you have to keep reminding yourself about it every time you pick it up. For most of our discerning audience, this would be a novelty item or just something to play around with at best but the fact remains that Ringing Bells wants this to be the first smartphone for India's masses.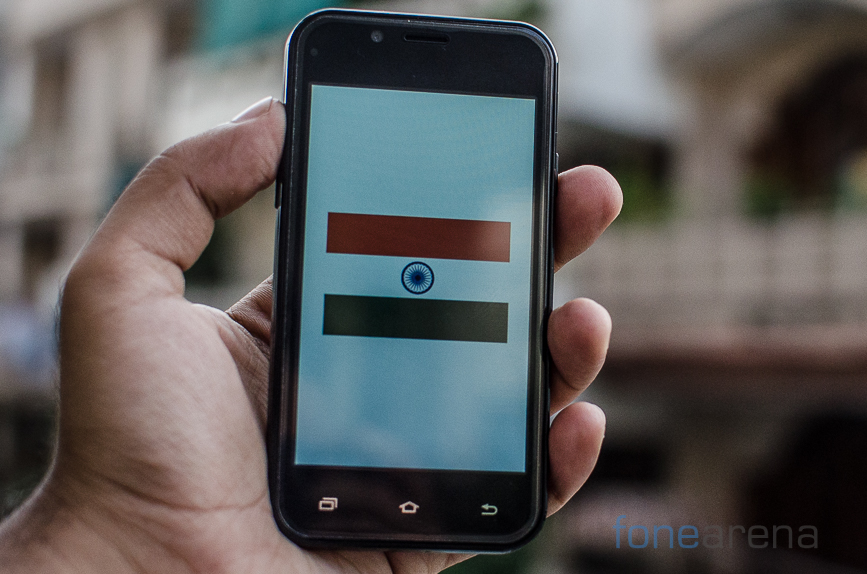 With that in mind, you can almost begin to appreciate what the company has achieved here. Unfortunately, the smartphone experience is so poor that you'd be better off just using it as a regular phone. With poor battery life thrown in for good measure, you really do begin wondering why you're not just using a regular dumb phone that will be reliable, will do all the basics well and will also last a full day or two of use.
Amidst all the controversy around the phone, Ringing Bells has provided a less than satisfactory line of communication to buyers and media alike. The company says that it has shipped out its initial lot of 5000 units to buyers but that really pales in comparison to the number of bookings they've received. How long will it take for buyers to receive their devices? Will they every receive those devices at all? These are just a few of the questions that remain lingering in our mind.
A device that costs as much as or even lesser than the memory card you'd put in it is something unbelievable. While we're there with the Ringing Bells Freedom 251, this isn't quite the smartphone experience you're looking for.