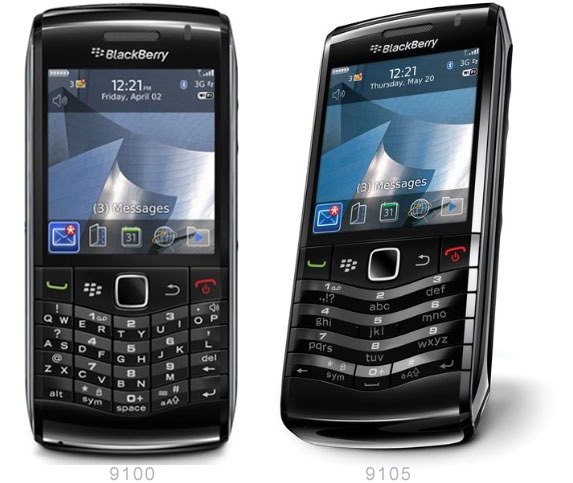 Today in a event in Mumbai ,  Research in Motion – RIM launched the Blackberry Pearl 3G in two models 9100 and 9105 in India.The BlackBerry Pearl 9100 features a 20-key condensed QWERTY keyboard and the BlackBerry Pearl 9105 features a 14-key traditional phone keyboard. Both the models include SureType which is T9 equivalent in BB world. Surprisingly no price has been announced but we are guessing it to be around the Rs.16-20000 mark.

Blackberry Pearl 3G Features
Elegant candybar design measuring 108mm x 50 mm x 13.3 mm and weighing only 93 grams
624 Mhz processor with 256 MB Flash memory
360×400 sharp-resolution display (238 ppi)
Optical trackpad that makes navigation fast and smooth, plus a comfortable keyboard that enables quick and accurate typing
Media player for videos, pictures and music (music plays up to 30 hours), plus dedicated media keys integrated along top of the handset
3.2 MP camera with zoom, autofocus, flash and video recording
Built-in GPS for location-based applications
Wi-Fi (802.11 b/g/n) – first BlackBerry smartphone to support 'n'
microSD/SDHD memory card slot that supports up to 32 GB cards
Premium phone features, including voice activated dialing, speakerphone and Bluetooth® (2.1) with support for hands-free headsets, stereo headsets, car kits (including systems that support the Bluetooth Message
Access Profile standard) and other Bluetooth accessories
Access to BlackBerry App World™, featuring a broad and growing catalog of mobile applications developed specifically for BlackBerry smartphones
Support for BlackBerry® Media Sync for easily syncing photos as well as iTunes® and Windows Media® Player music with the smartphone
BlackBerry® OS 5
Support for tri-band UMTS/HSDPA and quad-band EDGE/GPRS/GSM networks
Removable, rechargeable 1150 mAhr battery that provides approximately 5.5 hours of talk time on 3G networks
Video recording requires a microSD card, which may be sold separately.
Certain music files may not be supported, including files that contain digital rights management technologies. Photo syncing is currently only available for Windows-based PCs.
Frenny Bawa, Managing Director, India, Research In Motion, said "The new BlackBerry Pearl 3G is an ideal smartphone for people who want to take their friends with them wherever they go. It has a rich set of communications and multimedia features in an incredibly compact and sleek design, making it particularly attractive to customers who are looking to upgrade from a traditional cell phone to a powerful 3G handset. Both models enable quick and easy text input for maximum enjoyment of real-time communications applications like BlackBerry Messenger, email and social networking."
FoneArena was at the launch event and we are working on uploading live pics of these new BBs !