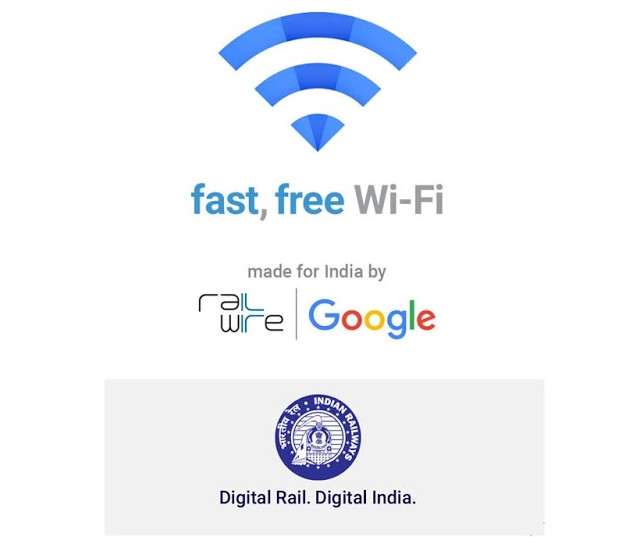 Indian Railways, RailTel and Google have launched free WiFi in three more stations – Vijayawada (Andhra Pradesh), Kachiguda (Telangana) & Raipur (Chhattisgarh) in India. It was launched at the Mumbai Central station earlier this year and was expanded to 9 more train stations last month.
To access the internet with RailWire, you need to connect to RailWire network from your WiFi settings, go to railwire.co.in from your browser, enter your mobile number in the WiFi login screen and request for OTP SMS. Once you have received the 4-digit OTP code, enter it in the login screen and press 'Done'. You will see a checkmark and will be connected.
It will be launched soon in 14 more stations – Allahabad, Bhopal, Pune, Ranchi, Ernakulum Jn. (Kochi), Jaipur, Patna, Guwahati, Ujjain, Vishakhapatnam, Lucknow, Lucknow Jn (NE), Gorakhpur & Sealdah. Google already said that 100 stations will get free WiFi by the end of 2016, connecting more than 10 million people who pass through every day. The project will be eventually rolled out to cover 400 train stations across India.
Commenting on the launch, Minister of Railways, Suresh Prabhu, said:
Digitalization and technology is one of the prime requirements of any country or organization to bloom fully. This facility at Kacheguda, Raipur and Vijayawada stations will enable the thousands of passengers commuting through these stations to enjoy high speed Wi-Fi service. Affordable smartphones have made it possible for the commonmen to experience the power of Internet and thus users will be able to easily stream a high definition video while they're waiting, search their destination, download a book or a new game to enjoy the journey. The Railway is soon going to launch Wi-Fi at 14 more stations & will cover 100 stations by the end of this year.