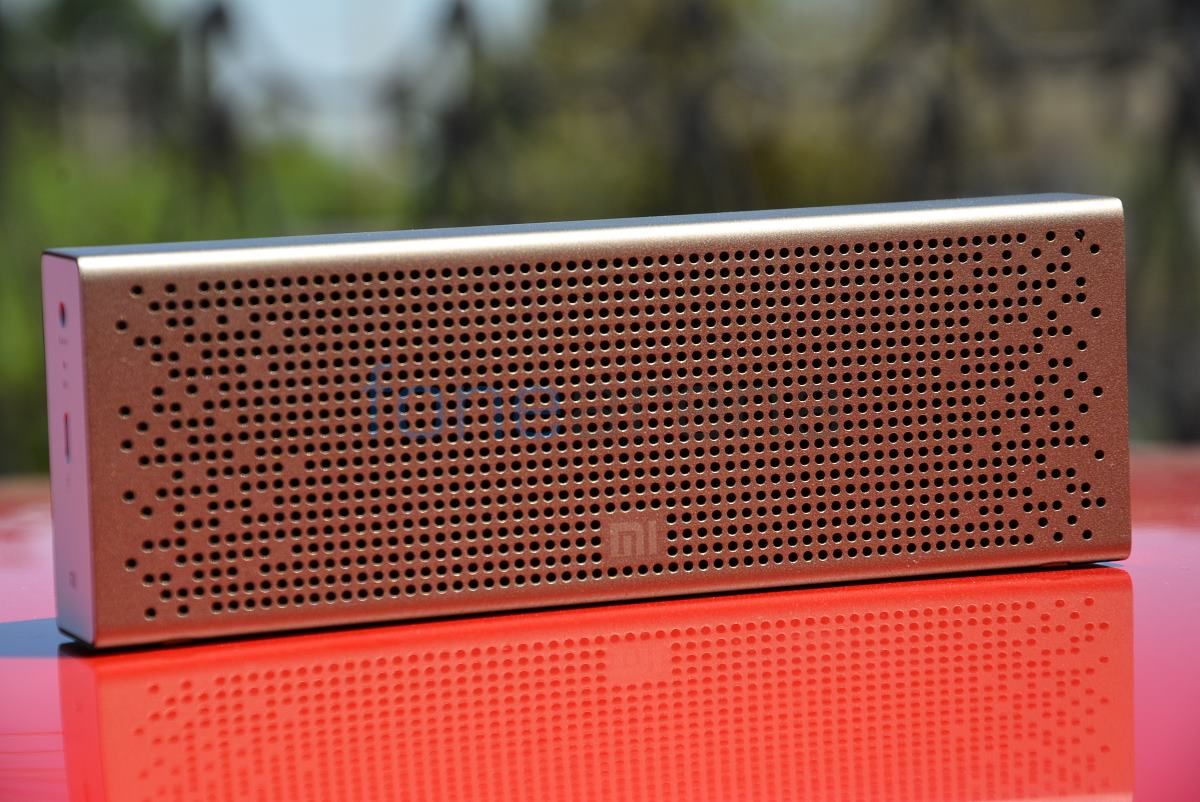 Xiaomi is not just a smartphone company, but it has quite a few interesting products up its sleeve that makes it stand apart from the other players in this crowded market. One such product is its newly launched Mi Bluetooth speaker, which was first introduced at the Mi 4c launch event in China last year in September, and Xiaomi announced it in India earlier this month only, alongside the Redmi Note 3. But the speaker has now finally gone on sale in the country, so do checkout our full review before buying.
Box Contents
Mi Bluetooth speaker
Pouch bag
User Guide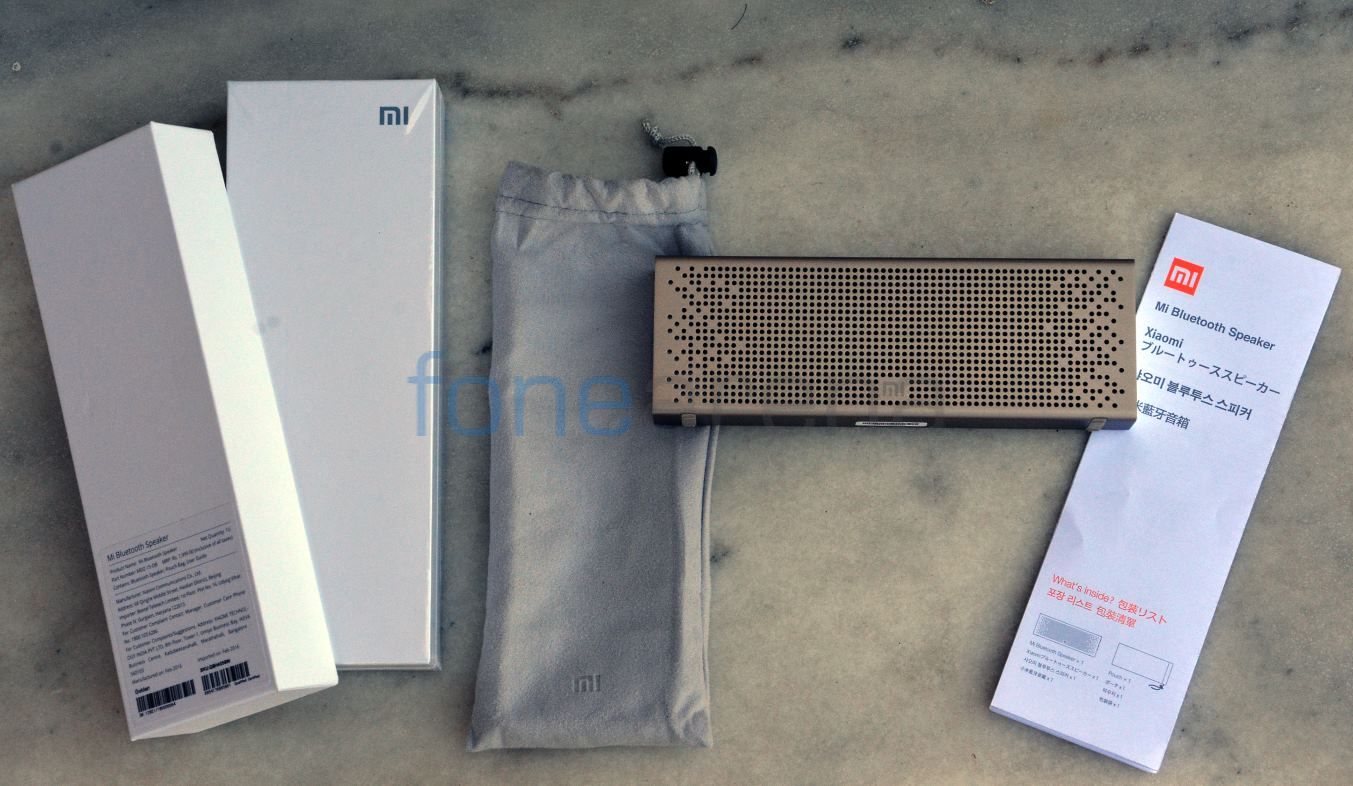 Design, Build and Portability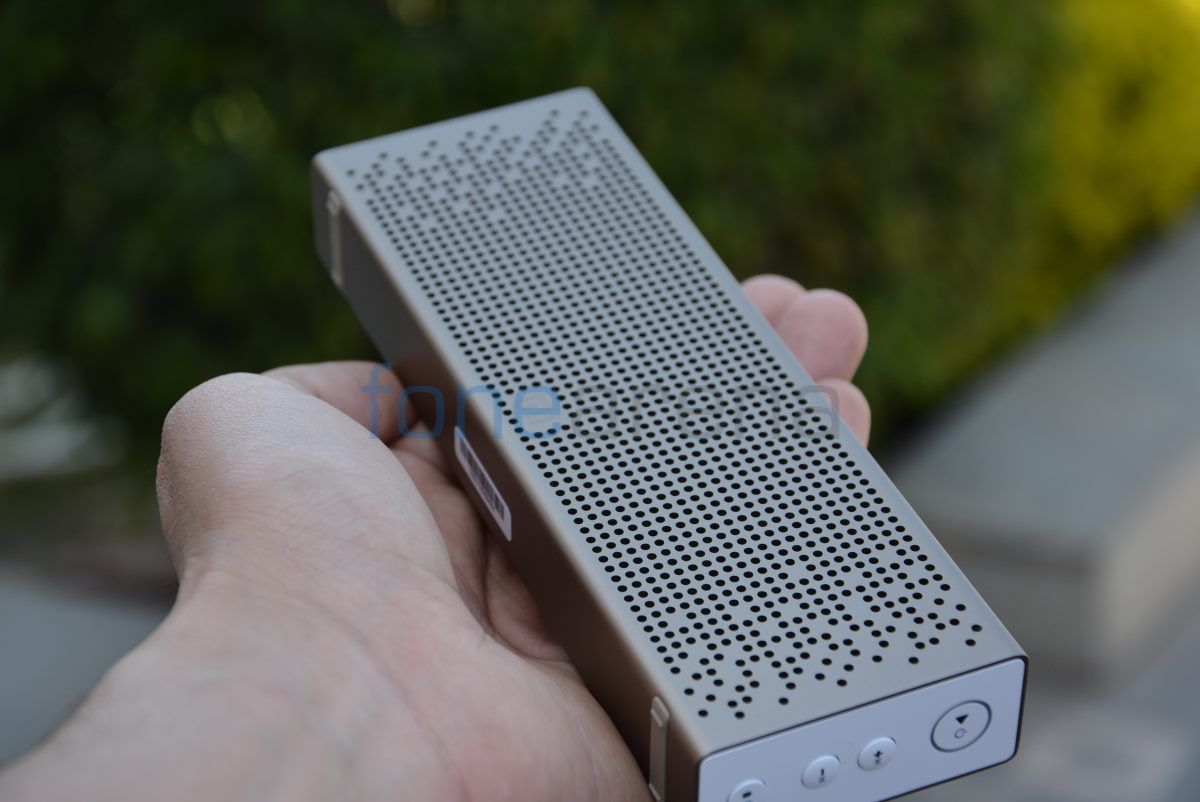 The Xiaomi Mi Bluetooth speaker has got a compact pencil box design with matte-finished aluminium metal body. It isn't a rugged speaker, although the build is definitely impressive and feels solid. At the same time, the speaker just weighs 270 grams and measures 168 x 24.5 x 58 mm. Company claims that you can easily fit this in your jeans pocket – well that's partially true, but we'd rather carry it otherwise.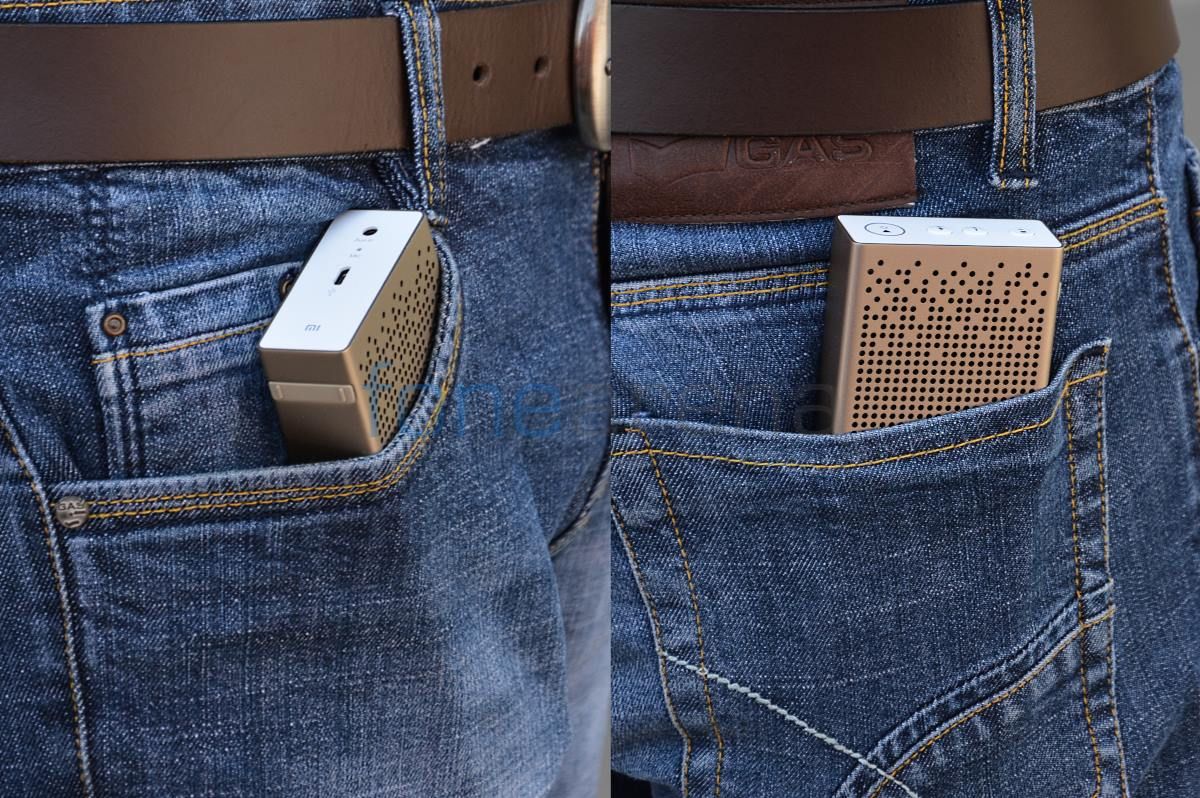 The Mi Bluetooth speaker comes in Gold, Blue and Pink colours, as Xiaomi officially announced during the launch, but we have noticed a Red variant on the India website too.
Various buttons and Ports
Right edge of the Mi Bluetooth speaker has 4 buttons – Play/ Pause / Power button, Volume Up / Next Track button, Volume Down / Previous Track button, and Battery / Bluetooth button. All of these have dual functionality, as it is evidently marked on the keys.
The Play / Power button lets you play or pause a track with single press and switches OFF or ON with long press.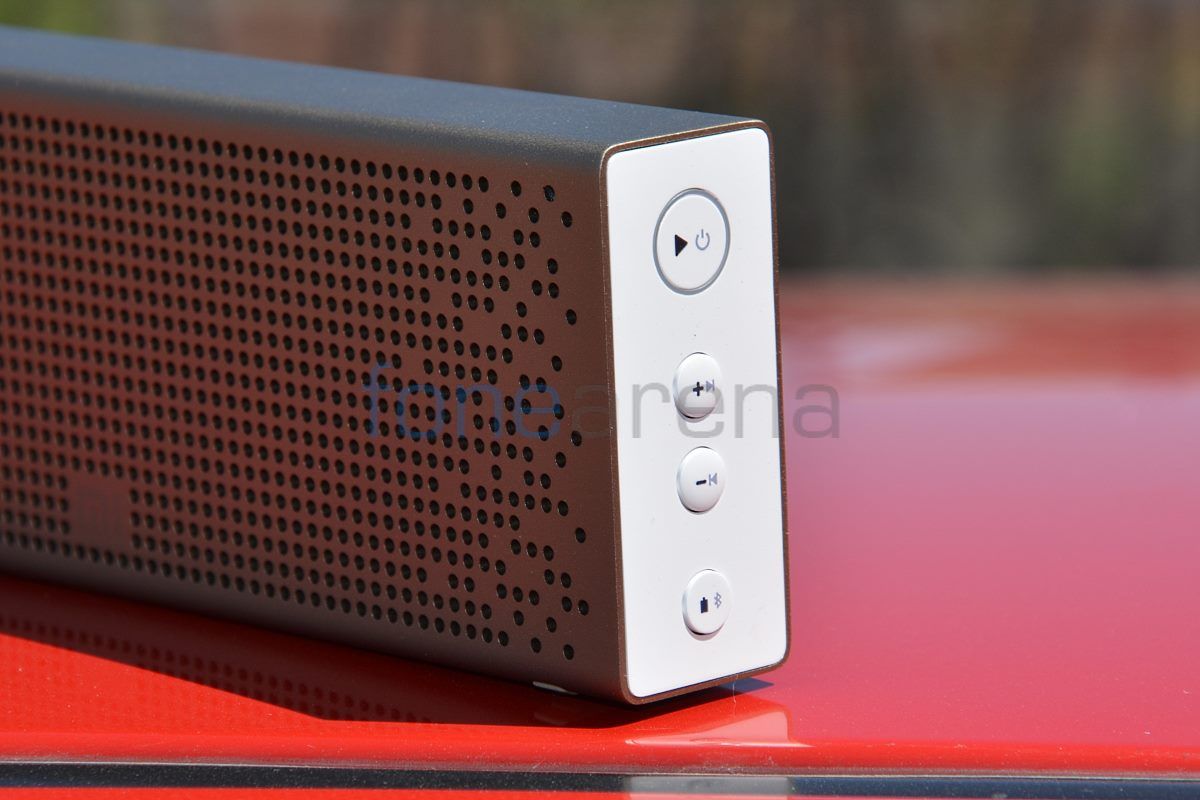 The Volume Up and Down keys works with single press for increasing or decreasing volume of the speaker, but for your mobile device's volume level you will still need to do it on the device. The same keys with long press can change (Next and Back) tracks, so you don't need to touch your connected mobile device.
Lastly, the Battery / Bluetooth button lets you do two things as other keys. Single press enables a voice sound telling you the remaining battery percentage. Long press let's refreshes the Bluetooth and makes the device ready for pairing.
Coming to Left edge, the Mi Bluetooth Speaker has an Aux port, Microphone for taking voice calls and a Micro-USB port for charging.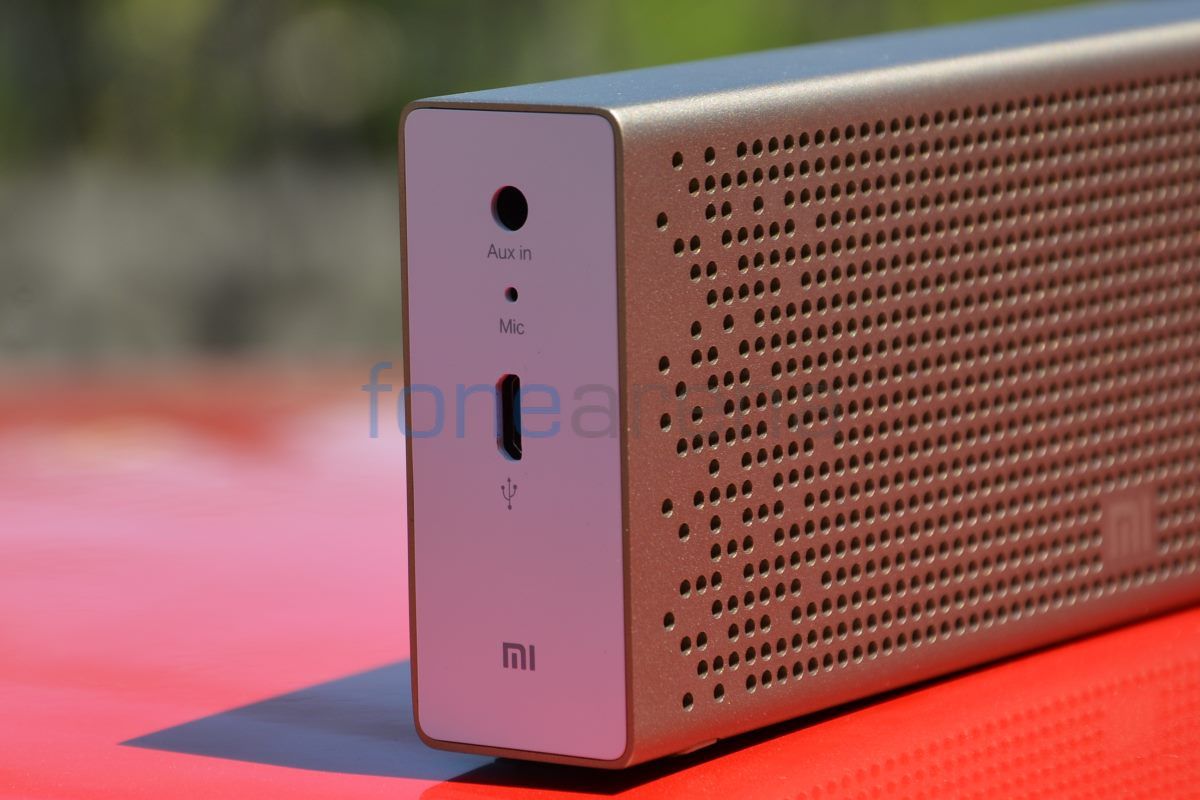 No microSD card slot for India
One thing that Xiaomi didn't include in Indian variant is the microSD card from Chinese variant of the Mi Bluetooth speaker. Xiaomi is offering the same product in China with a microSD card slot, and at almost the same price as India (199 Yuan in China). And that's such disappointment.
Pairing, Functionality and Audio
To pair, you need to first switch on the speaker using play / power button. Now start Bluetooth of your mobile device and search for Mi Bluetooth speaker and then Tap to connect. Until the speaker is connected, you'll see a blue color LED flickering around power button and once it's connected the speaker confirms with a voice sound saying 'Connected' and the blue circular ring LED becomes static. To simply disconnect from one device and to connect to another device, you need long press the Battery / Bluetooth button on the right side itself.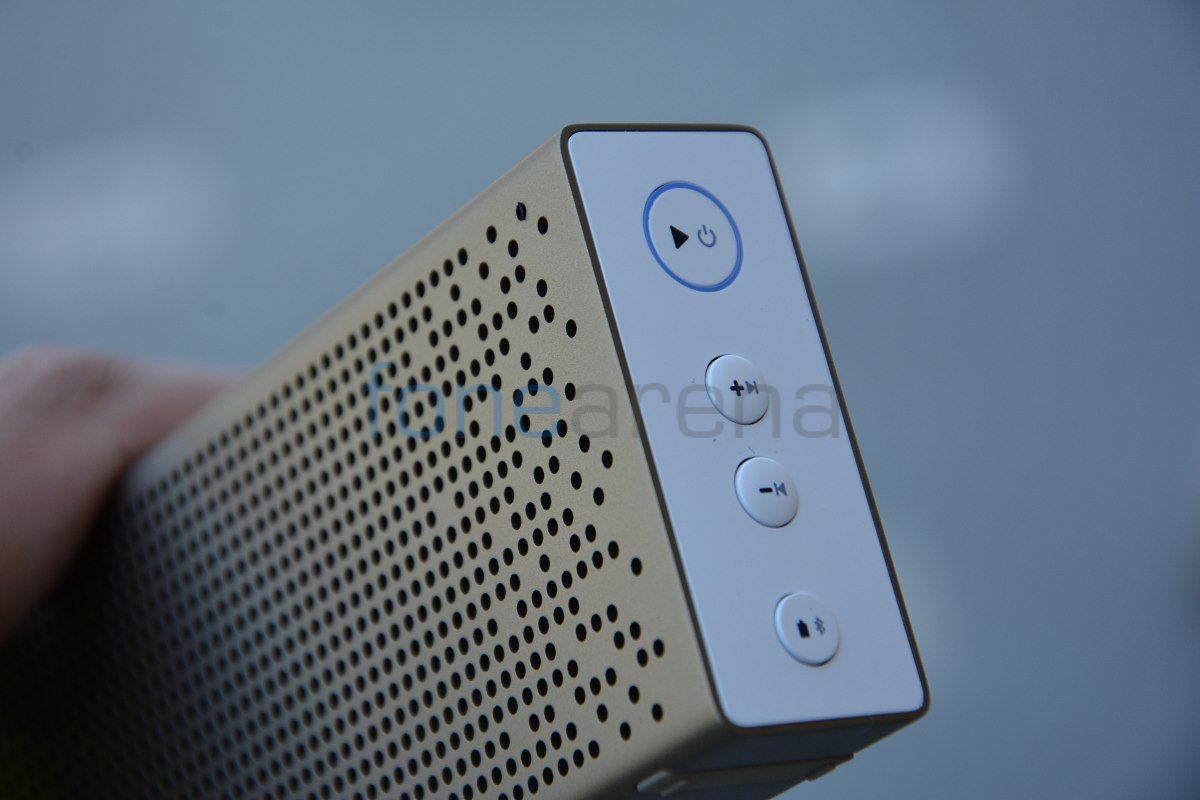 Now, if you want to connect it to a device which doesn't have a Bluetooth, then the Aux port on the left edge of the speaker is available to use. Xiaomi has also added a Microphone that allows you to take calls on the speaker itself whether your phone is connected through Bluetooth or Aux wire. This eliminates the need of touching your phone for receiving calls, but to dial a call you will need your phone and rest you can talk through the speaker.
The construction of the center console is as such that it accommodates a small sub-woofer sandwiched between two 3 watts, 36mm audio drivers. The two rubber feet lets the speaker grip on surface quite well, even on the full volume it doesn't move.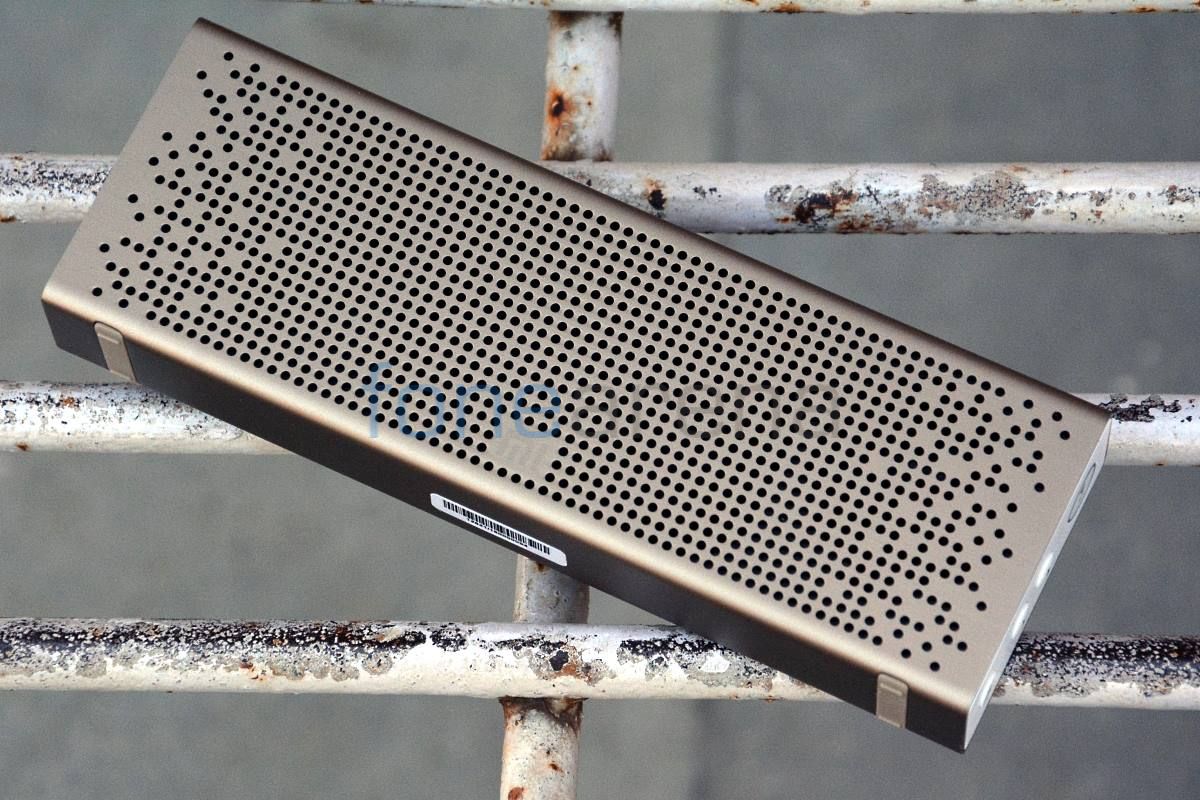 Coming to the audio performance, the Mi Bluetooth speaker can go fairly loud that it can fill a room easily, but the audio quality on high volume isn't as great as it is on lower levels and the output felt a bit muffled. But having said that it is still decent enough at this price point. So for those who care about good and quality sound, this might not be the right choice and you are better of with expert brands in this space.
Battery and Charging
The Xiaomi Mi Bluetooth speaker has a non-user replaceable 1500mAh built-in battery that typically charges in 2.5 hours using 5 volts – 2 amp charger. Xiaomi claims that the speaker can deliver 8 hours of non-stop music playback on single charge, which we found correct as well. With multiple calls and continuous music streaming, it lasted for almost 7 hours in our test.
Conclusion
At a price of Rs 1,999, Xiaomi has managed to offer a great product in Mi Bluetooth speaker for Indian market. We really liked the overall functionality of it and the hands-free call option from speaker is another good addition. Also, we found the build quality to be impressive for the price. There's only one thing that Xiaomi has excluded from the Indian variant of the Mi Bluetooth speaker is the microSD card support, which is already there on the Chinese variant. Moreover, we would have loved the FM radio as well. So in conclusion, we highly recommend the Xiaomi Mi Bluetooth speaker for the price, but if you can invest a little more, then the market has plenty of other options available from the brands with audio forte.
Pros
Design and Build
Average Audio for price
Built-in Mic and Hands-free Call receiving from speaker
Cons
Indian variant doesn't feature microSD slot like China
Could have included FM radio