Lenovo introduced its own virtual reality headset, ANT VR along with the Vibe K4 Note. Later it extended it to the Vibe X3. Lenovo says both these smartphones have TheaterMax technology that will offer widescreen virtual cinematic experience. What is it actually? How is the ANT VR different from other VR headsets such as Google Cardboard. Let us find out.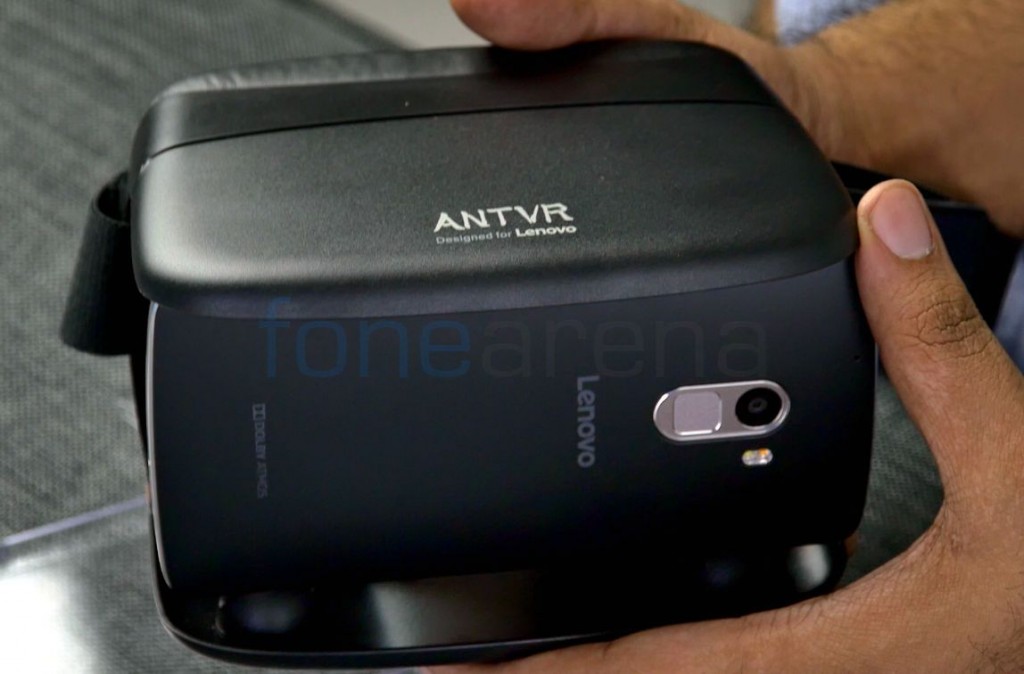 The ANT VR headset is similar to Google cardboard that lets you watch VR content using couple of aspherical lenses, but the ANT VR has a better build quality. It has spring mechanism that holds your phone firmly in its place and also has an adjustable band so that you don't have to hold the headset for a long time. Since there is a soft padding on the front, you can wear it without any strain around your eyes. The padding also has enough gap between the lenses and your eyes so that you can also use the headset even if you wear spectacles. It supports phones from 4.5 inches to 6 inches in size. Since there are gaps on the sides of the headset, it might not be perfect for outdoor conditions where it is bright.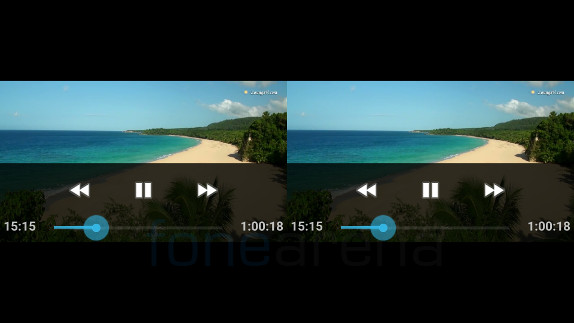 You can download the Google Cardboard app (Scan this QR code to setup the headset) and also ANT VR app for Android. The ANT VR app also has recommended VR games that can be downloaded from Google play and also shows the videos in the phone that can be played in VR mode. You can get more 360 videos on YouTube that doesn't require you a separate app. You just need to click the cardboard button on the right bottom corner to experience it in 360. Google recently released Spotlight Stories 360-degree experience on YouTube for Android, but it works only with some phones.  Since the ANT VR doesn't have a magnet trigger like the Google Cardboard, you can't navigate easily. It is also recommended to use a Bluetooth controller for games and use headset for a better experience.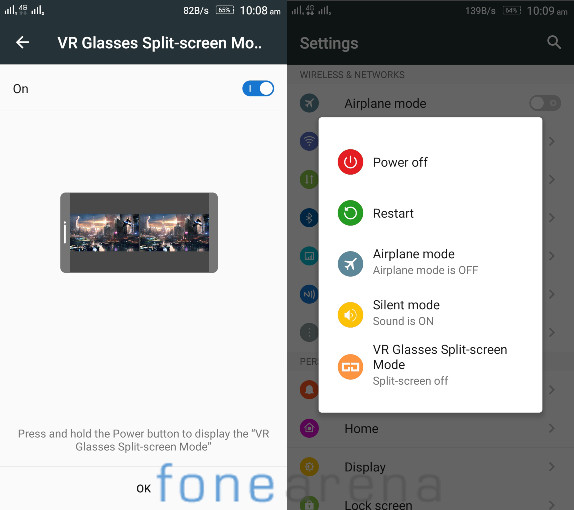 In addition to offering 360-degree experience for movies and videos, it also has a built-in split-screen mode that lets you view the whole UI using the VR glasses. After enabling this option from the 'Feature' settings, you can press and hold the power button to turn on this mode. Since the phone supports OTG, you can easily connect a mouse for easy navigation. This mode also lets you watch videos in dual screen mode with your default video player. The experience is also better than the Google cardboard in terms of viewing, along with the audio experience since both these phones have Dolby Atmos and stereo speakers.
Will the Lenovo ANT VR headset work with other Android phones?
Of course, if will work with most smartphones that have a built-in gyroscope. Even though most phones have accelerometer and magnetometer, gyroscope is required for VR experience since this calculates how exactly the phone is positioned. Both the Lenovo Vibe K4 Note and the Vibe X3 have gyroscope and magnetometer. Some mid-range smartphones, including the most popular Moto G (3rd Gen) lack gyroscope, so that you can't enjoy VR content on the phone.
Conclusion
The Lenovo ANT VR is good if you want to watch videos or play VR games, especially in the night, without disturbing others. VR experience definitely drains phone's battery, but both these smartphones have a huge battery so it will last for few hours. Wish Lenovo had continued the K4 Note and VR bundle that was sold a promotional price of Rs. 12,499 during the launch. Now the VR headset alone costs Rs. 1299 on Amazon.in, which is a bit costly. If you already like the Cardboard VR experience, this will definitely be better, mainly due to comfort the ANT VR headset offers.