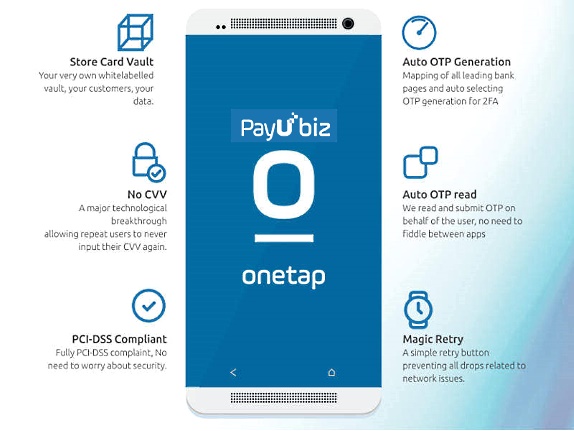 PayUbiz India has unveiled a new mobile payment system technology for merchants called 'One Tap'. This new technology enables all the mobile payments made through debit or credit card to happen by just tapping once on to the screen.
However, the new 'one tap' technology by PayUbiz doesn't bypass the two-factor authentication system, it only eliminates the need of manual typing of CVV and OTP by user.
In this 'One Tap' system, the first factor authentication of putting the CVV each time has been dispelled by No-CVV feature, and the second factor authentication of OTP, gets auto read and submitted in this process.
So now if you will make a payment on a merchant's Android app, it will not ask you anything for your stored card. Furthermore, if the payment doesn't go through because of any network issue, then PayUbiz also have a 'magic retry' feature that picks up the transaction from the point where it stopped and the process repeats itself.
For security, PayUbiz says that its 'One Tap' technology is PCI-DSS compliant. Company has also filed for patent of this 'One Tap technology'. This is a combination of 4 different tech innovations that together provide a seamless online payments experience to the users. The store card feature that starts the seamless payment journey, ensures that the consumers don't have to go through the pain of putting in the 16 digit card number repeatedly.
Consumers can presently experience this technology on Android, and through PayUmoney app and Twigly app. Company says that it is working with other partner e-commerce companies to get this feature, and is expected to go live in next few weeks on Peppertap, Redbus, Goibibo, Grofers, Big basket, Just dial, Xiaomi, Musafir and Nearbuy apps on Android.
Elaborating on the 'One Tap' feature, Mr. Rahul Kothari, Business Head, PayUbiz commented:
We are absolutely delighted to be the first to introduce 'One Tap' technology. This is set to disrupt the way mobile payments are made in India. With this technology, e-commerce companies will be able to deliver absolute customer delight through faster and hassle free payments experience with just one tap.