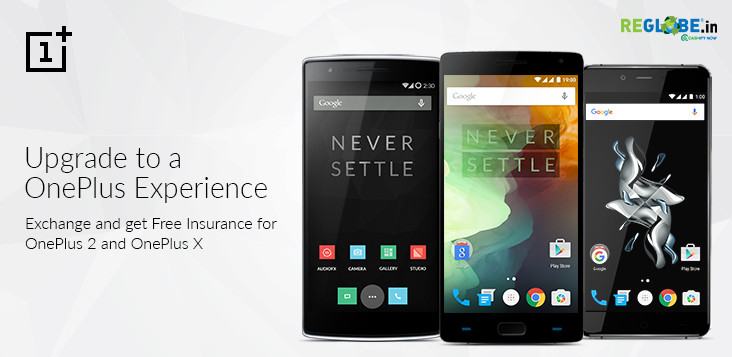 OnePlus India has launched exchange and buyback programs for the OnePlus One, OnePlus 2 and OnePlus X smartphones in partnership with ReGlobe. This lets you exchange your old smartphones for any of the OnePlus devices. Exchange value varies depending on the smartphone and its condition. It also offers B2X Service with the OnePlus 2 and B2X On-Guard Plus with the OnePlus X as part of this scheme if the buyback / exchange price of your old device is Rs. 5000 and above.
There are two types of exchange schemes:

Buy First, Sell Later Option: If a customer opts to buy the new device first, ReGlobe's customer service will share the invite code for the OnePlus smartphone of your choice and will schedule a pick-up for a future date. ReGlobe will then approve the sale of the older device as well as receive a confirmation from OnePlus on activation of the invite by the buyer. Once the above procedures are completed, a page-link is sent to the customer to avail the Free Insurance* being offered (only on the OnePlus 2 and OnePlus X) and an Amazon Gift Coupon matching the quote of your older device within 3-5 working days.
Sell First, Buy Next Option: If a customer would like to sell their older device first, ReGlobe will assist them in the same. Once this sale transaction is complete, the customer will receive an invite for their choice of OnePlus smartphone along with an Amazon Gift Coupon which matches the negotiated quote of the older device.
You can visit ReGlobe page or register on OnePlus page here with your contact details to check whether your present device is listed to register your interest for an invite for a OnePlus 2 or the OnePlus X. "Upon successful acceptance of the quote provided by ReGlobe for your old device, their customer service personnel will contact you for re-confirmation of exchange details and an intent to exchange is confirmed," said OnePlus.