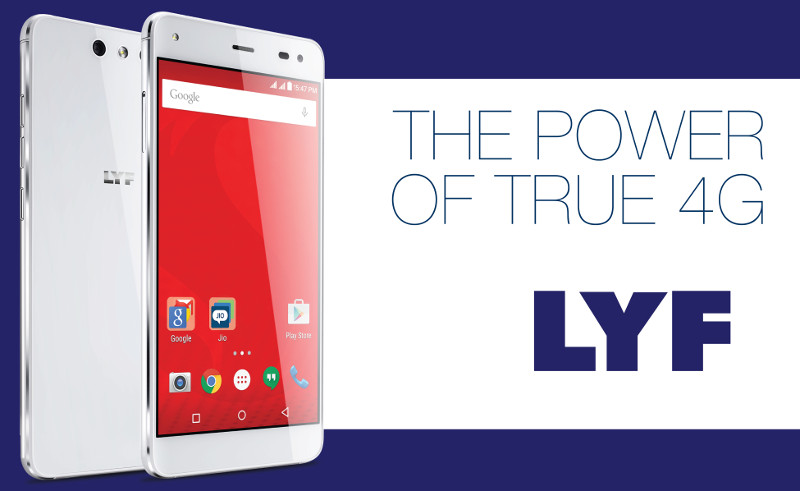 Reliance Industries Limited (RIL) today reported its quarterly financial results that ended 30th September, 2015. Reliance Jio already announced that it plans to launch 4G services by December 2015 and introduce 4G smartphones below Rs. 4000 during that period. Today Reliance Retail said that it has achieved a milestone of 5,000 crore quarterly turnover mark for the first time last quarter announced its plans to launch 4G LTE smartphones under the brand LYF.
The company did not reveal the specifications of the LYF smartphone that is shown in the image above, but the image reveals a metal frame, glass back, Android Lollipop OS and a front-facing flash. It confirmed that LYF phones will come with Voice over LTE (VoLTE), Voice over Wi-Fi (VoWi-FI), HD Voice and HD quality video calling.
RJIL holds pan India Unified License. It already announced its plans to provide 4G services using LTE in 800MHz, 1800MHz and 2300MHz bands through an integrated ecosystem. The combined spectrum footprint across frequency bands provides significant network capacity and deep in-building coverage, said the company. It has also filed intimation for sharing of spectrum in the 800MHz band with RCOM across seven circles to DOT. It also said that it has substantially completed its 4G roll-out across the country and the network is currently being tested and optimized.
LYF phones will be available across India through one of the widest distribution and retail network for smartphones. These phones will soon be available at multi-brand outlets (MBOs) and modern trade including Reliance Retail stores across India, said the company.