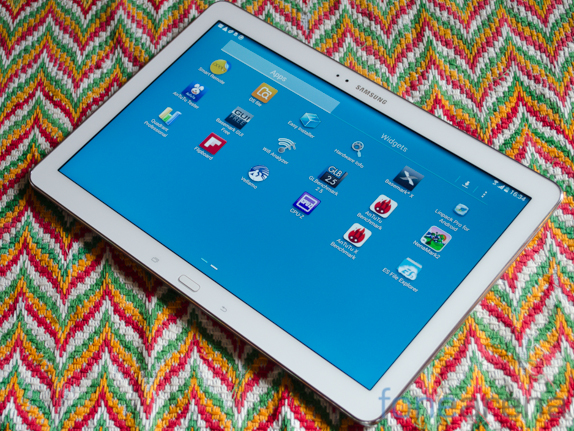 Samsung isn't a new name when it comes to tablets and that also includes larger tablets that are bigger than some notebooks and laptops such as the Note Pro 12.2 and Tab Pro 12.2. But this new rumored device would make it a first even for Samsung as the source states that the company is working on a tablet powered by Android that has an 18.4″ display.
It still isn't the biggest tablet that we've seen since that award goes to Panasonic for their 20″ 4K tablet that they launched at CES. If you haven't seen it then do check out our photo gallery of the device.
Nevertheless, an 18.4″ tablet is surprising especially since its from Samsung and it is said to run on Android. A Windows tablet would make more sense given the real estate we think. The tablet with model number SM-T670 will reportedly only pack a 1080p display despite the big size.
It is expected to be powered by a 64 bit octa-core Exynos 7580 processor clocked in at 1.6GHz and will have 2GB of RAM as well as 32GB of internal memory that can be expanded using microSD cards upto 128GB. The device also seems to have a rather under whelming battery capacity of 5700mAH which is typically fine for a 1080p tablet but considering the screen size, we aren't so sure.
It will have an 8 Megapixel primary camera and a secondary front facing 2.1 Megapixel camera. Considering the large display and dimensions that measure 451.8×275.8×11.9mm, we assume this would primarily be used indoors perhaps in the kitchen for recipes or by designers, artists and architects to create and view their works.