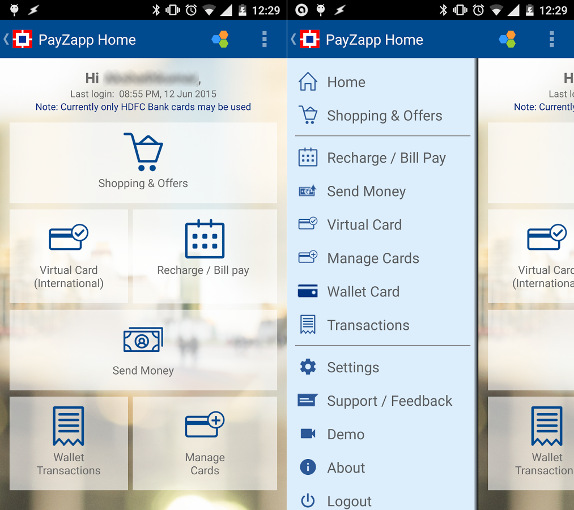 HDFC Bank has launched PayZapp, a SmartBuy portal and payment solution for HDFC Bank's customers. The bank has partnered with leading e-commerce portals to offer additional discounts and exclusive deals on using the HDFC Bank payment options. It also provides easy payment solution and can be used as a mobile wallet as well. The company says that it is India's first 1-Click payment solution. It is currently available for Android and will soon be available for iOS.

httpv://www.youtube.com/watch?v=TtMERgCER4k
Features of PayZapp
Experience One Click payments on partner apps such as BigBasket, MakeMyTrip.com, Cleartrip.com, Bookmyshow.com and more.
Get great deals in one place.Compare and book flight tickets and hotels, shop online, buy music and experience one click payments
Send Money instantly to anyone in your phone book or email list.
Mobile/DTH/Data card Recharge in just one click
In PayZapp, credit or debit card numbers and their security codes are not required to be entered with every purchase.
PayZapp maps the device with the card number to determine authenticity of a transaction, thus enhancing security.
In-app creation of NetSafe Virtual International Card
No restriction on daily / monthly limits as payments are done through linked cards
Download PayZapp By HDFC Bank – Android
Commenting on the new launch, Parag Rao, Business Head, Cards, Payment Products and Merchant Acquiring Services said:
PayZapp is pathbreaking. For the customer, whose world has now converged on his mobile device, this innovation will mean that he'll be able to do every type of payment and purchase from a single App with a single PIN, whenever and wherever he wants, without worrying about prepayment and re-loading. Like all our innovations, the genesis of this platform is customer convenience. As part of our Bank aap ki muththi mein initiative, this product is another major digital leap. In fact, the customer will find it is not only the #PowerofBanking which is in his muththi, but effectively the whole world.