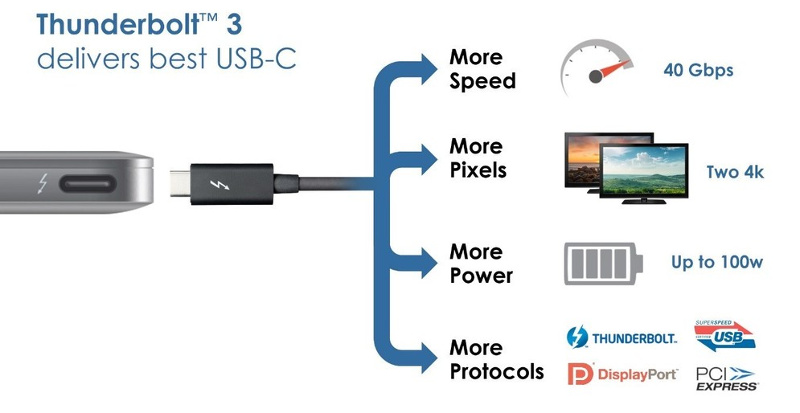 Intel has introduced Thunderbolt 3, the next-generation Thunderbolt with USB-C connector offering 40Gbps speed, double the speed of Thunderbolt 2 and four times faster than USB 3.1. For the first time, one computer port connects to Thunderbolt devices, every display, and billions of USB devices, said the company. A single cable can provide four times the data and twice the video bandwidth of any other cable, while supplying power. It supports two 4K 60 Hz displays and notebook charging up to 100W with a single cable.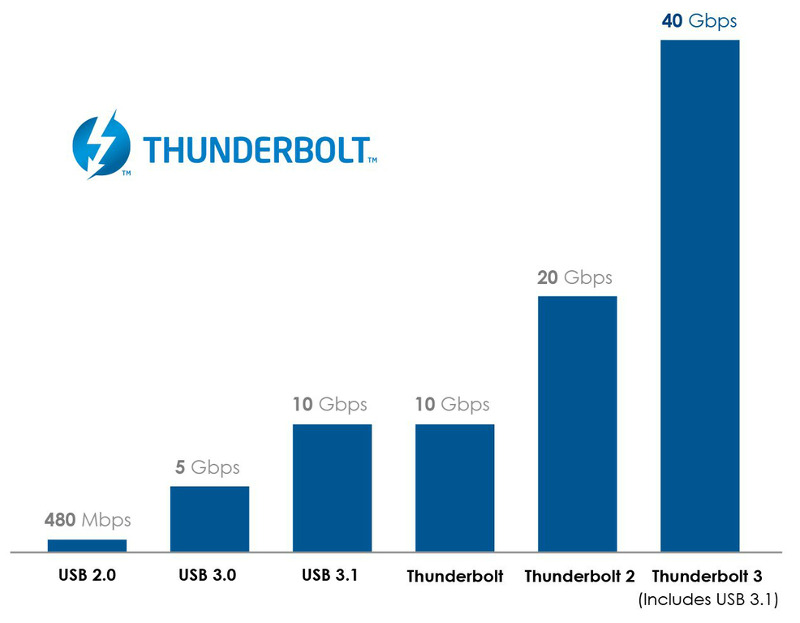 Feature of Thunderbolt 3 
Thunderbolt, USB, DisplayPort, and power on USB-C
USB-C connector and cables (small, reversible)
40 Gbps Thunderbolt 3 – double the speed of Thunderbolt 2
Bi-directional, dual-protocol (PCI Express and DisplayPort), 4 lanes of PCI Express Gen 3
8 lanes of DisplayPort 1.2 (HBR2 and MST) – Supports two 4K displays (4096 x 2160 30bpp @ 60 Hz)
USB 3.1 (10 Gbps) – compatible with existing USB devices and cables
DisplayPort 1.2 – compatible with existing DisplayPort displays, devices, and cables
Connect DVI, HDMI, and VGA displays via adapters
Power (based on USB power delivery) – Up to 100W system charging, 15W to bus-powered devices
Thunderbolt Networking – 10Gb Ethernet connection between computers
Daisy chaining (up to six devices)
Lowest latency for PCI Express audio recording
Products built to Thunderbolt and Thunderbolt 2 specifications will work with Thunderbolt 3 via an adapter, said the company. Initial products with Thunderbolt 3 are expected to start shipping before the end of 2015 and more expected in 2016.