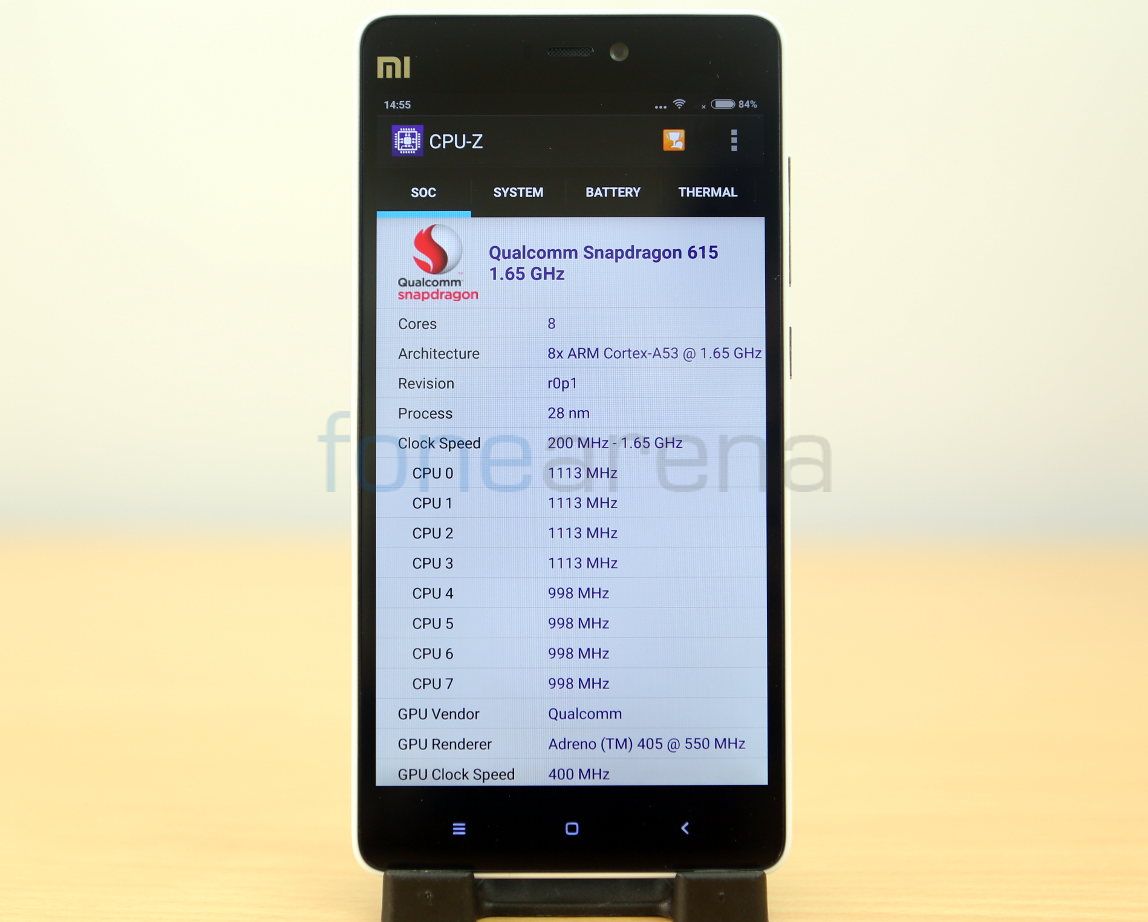 Xiaomi launched its Mi 4i smartphone in India last week at a price tag of Rs. 12,999. We brought you the hands-on impressions and the unboxing of the smartphone recently, here we have the benchmarks of the smartphone. It is powered by a second-generation Octa-Core Qualcomm Snapdragon 615 64-bit processor that has four ARM Cortex A53 cores clocked at 1.65 GHz per core and other four Cortex A53 cores are clocked at 1.1 GHz per core. It has Adreno 405 GPU clocked at 550 MHz, 2GB DDR3 RAM, 5-inch 1080p screen and runs on MI UI 6 based on Android 5.0.2 (Lollipop). We were not able to achieve the scores that Xiaomi has mentioned on their website, but these are close enough. Check out the synthetic benchmark scores below.
Quadrant Benchmark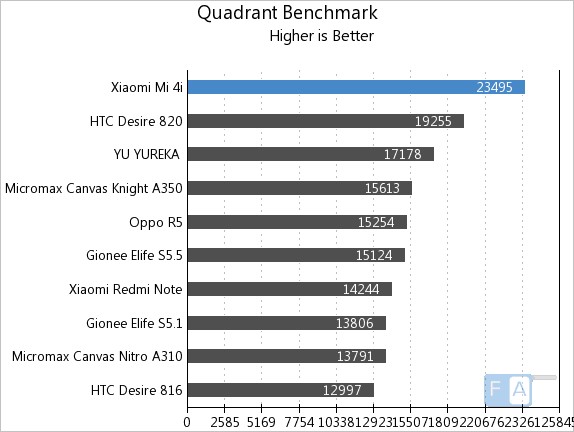 It scored 23495 points and topped the Quadrant Benchmark, better than other smartphone powered by an Octa-Core SoC.
AnTuTu Benchmark 5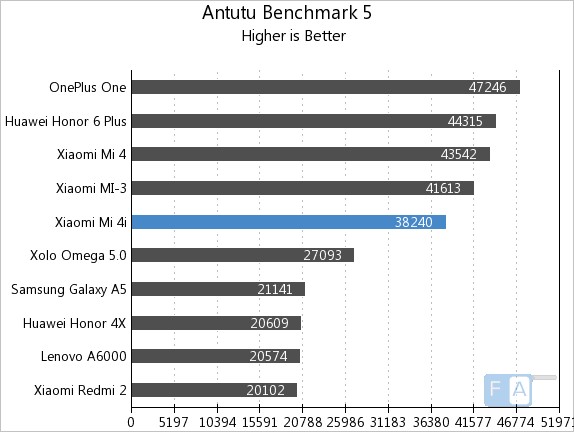 It scored 38240 points in the AnTuTu Benchmark 5 and lies below the Snapdragon 800-powered Xiaomi Mi 3.
Vellamo 2.0 HTML5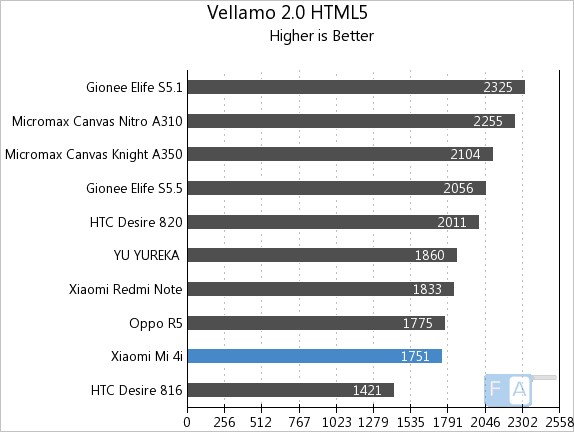 It managed to score 1751 points in the Vellamo 2 HTML5 browser benchmark, which might be mainly due to its custom OS.
Vellamo 2.0 Metal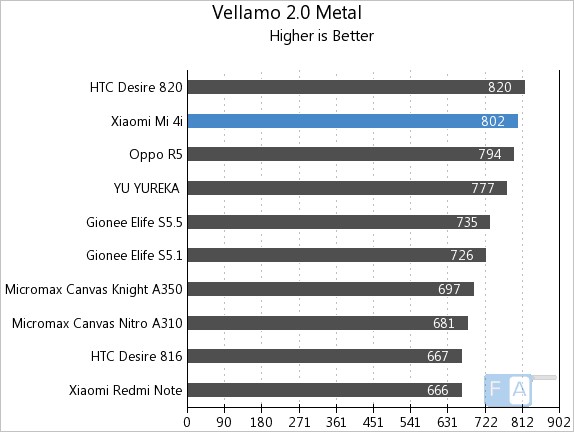 It scored 802 points in the Vellamo 2 Metal CPU subsystem performance test and grabs the second spot.
Linpack Single Thread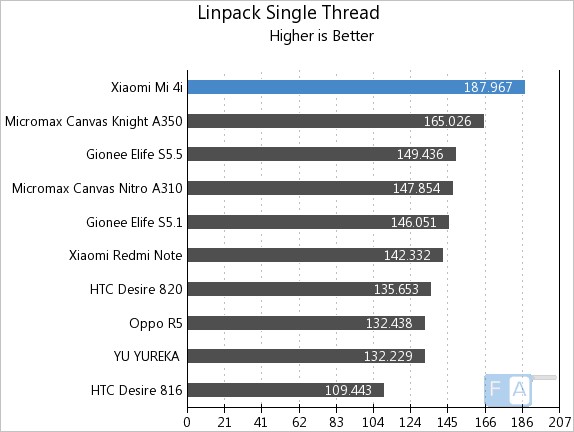 It tops the Linpack Single Thread benchmark by clocking around 187.96 MFLOPS. We did not include the Linpack Multi-Thread scores since it was very low.
Geekbench 3 Single-Core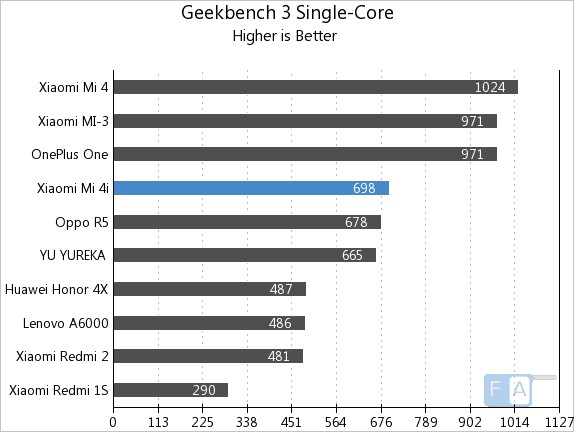 It scored 698 points in the Geekbench 3 Single-Core benchmark, slightly better than Yu Yureka and Oppo R5 that are powered by the same Snapdragon 615 SoC.
Geekbench 3 Multi-Core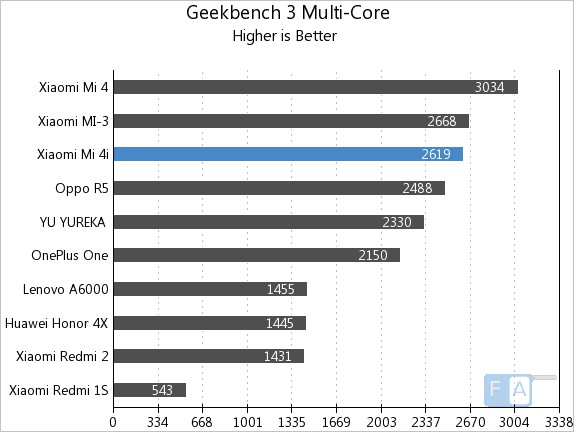 Again, the Mi 4i scores 2619 points, better than the other two smartphones. This could be due to faster second-generation Snapdragon 615 chip.
NenaMark 2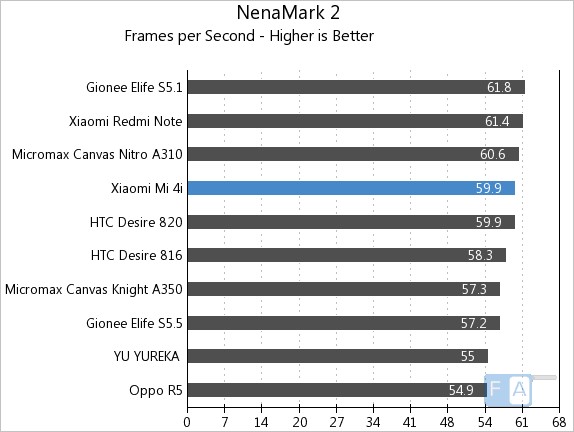 It clocked 59.9fps in the NenaMark 2 GPU benchmark.
GFXBench 2.7 T-Rex (On screen)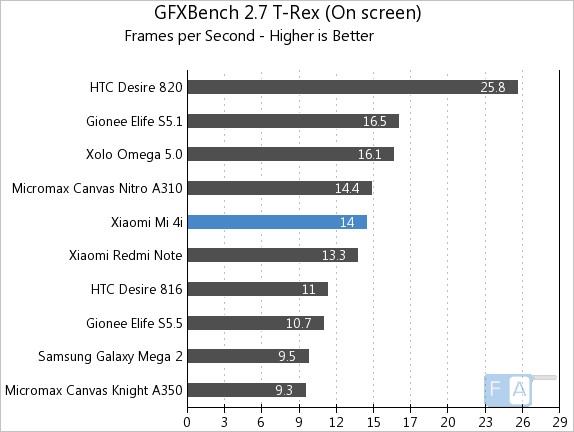 It clocked 14fps in the GFXBench 2.7 T-Rex OnScreen benchmark, slightly better than the Xiaomi Redmi Note.
GFXBench 3.0 Manhattan (On screen)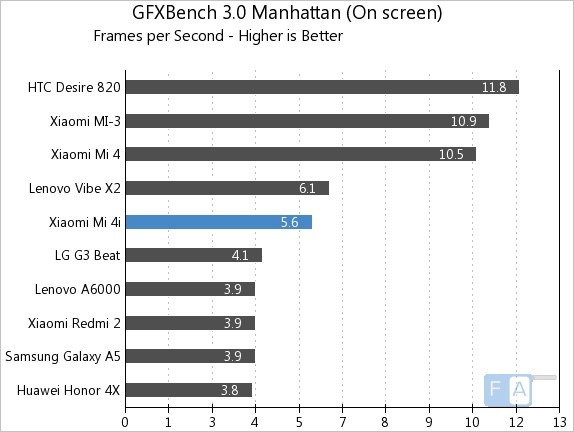 It clocked 5.6fps in the GFXBench 3.0 Manhattan OnScreen benchmark.
3DMark Ice Storm Unlimited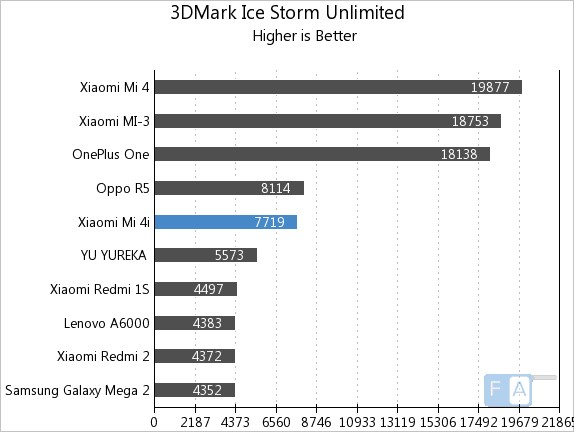 It scored 7719 points in the 3DMark Ice Storm Unlimited GPU benchmark and lies behind the Oppo R5.
Basemark X 1.0 HD (Onscreen)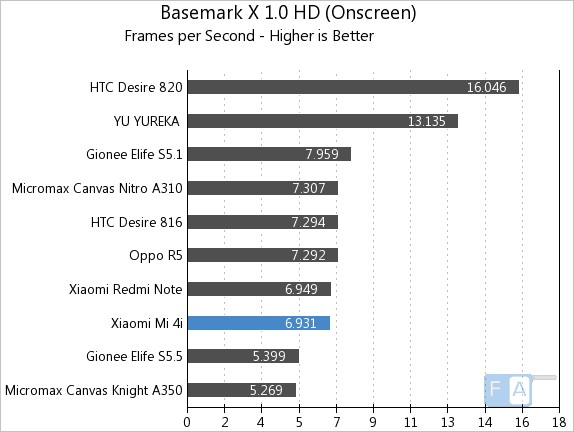 It managed to clock around 6.93fps in the Basemark X 1.0 OnScreen benchmark.
Basemark X 1.0 HD (Offscreen)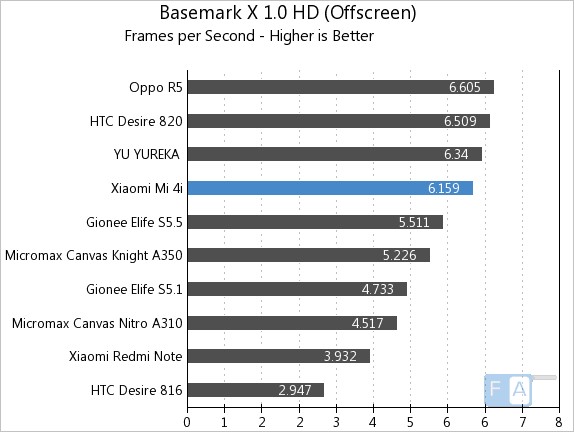 It managed to clock around 6.15fps and lies behind other Snapdragon 615-powered smartphones.
Basemark OS II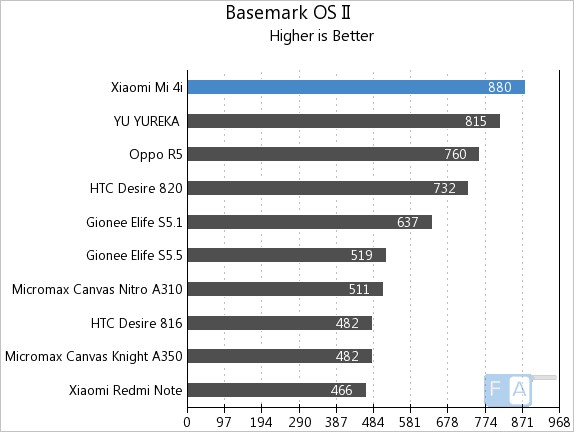 It scored 880 points in the Basemark OS II benchmark and tops it. We will bring you the gaming review of the smartphone soon.