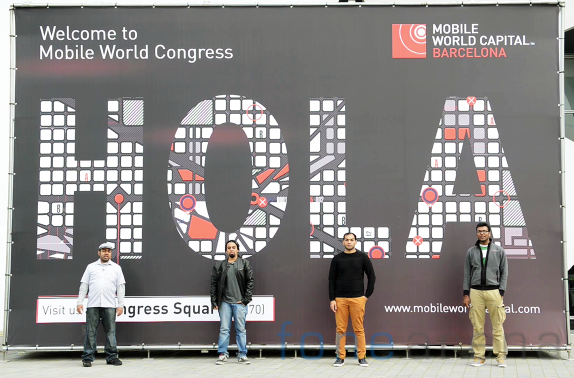 Just over a week ago we were in Barcelona for Mobile World Congress 2015 and, as I have done for many years now, I used my Vodafone SIM card with EuroTraveller to provide me data whilst on the ground. It's been a year since we were last in MWC and in that time, Vodafone have introduced 4G Roaming in Spain alongside double speed 4G across their European network.
Traditionally Barcelona has really poor mobile data speeds (whether using a local SIM or roaming) during the MWC week as 90,000+ people descend upon the city for the annual conference. Ahead of the trip, I expected the traditional data coverage and speeds issues with previous years suggesting large ping times, really slow speeds and overall, a lack of reliable data. Yet, a week in Barcelona changed those preconceptions…
Vodafone EuroTraveller allows you to use your inclusive UK allowances (minutes, texts and data) for just £3 per day when travelling in Europe. My UK plan with Vodafone comes with unlimited minutes and texts along with 6GB 4G data each month which allowed me to use these allowances for just £21 whilst in Barcelona for MWC.
As a network, Vodafone is one of the most reliable in the UK and like the largest network EE, Vodafone also offer double speed 4G (although it is limited to London at the moment). Whilst in Barcelona, the LTE Cat 6 enabled Galaxy Note Edge we were using picked up Vodafone's double speed network in Spain with rather interesting results.
It's not only about the speeds however, as when in the Fira Gran Via venue itself, we found Vodafone 4G Roaming to be more reliable than local networks (such as Orange) and the in-venue Wi-Fi. On countless occassions through the week, Vodafone 4G proved to be crucial; from tethering whilst travelling between events to providing from events and the venue, the Vodafone 4G SIM was essential to providing coverage on the first couple of days of MWC.
Disclosure: Vodafone UK provided us the Galaxy Note Edge to use during MWC but I used my own Vodafone 4G SIM card and this feature is completely impartial and based on our usage results.