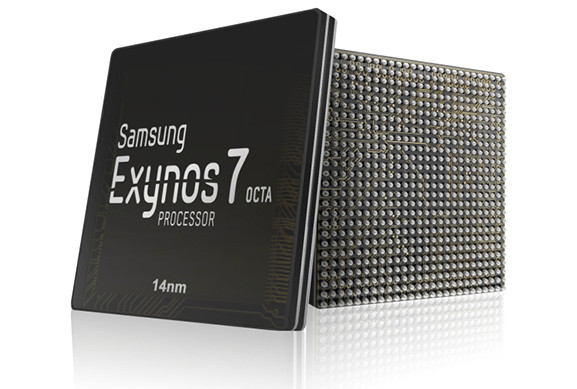 Samsung has announced that is has started mass production of Exynos 7 Octa processor that is based on 14nm FinFET process technology. Exynos 7 Octa was first announced back in October last year, which was based on 20nm HKMG process technology. Samsung's FinFET process technology enables system-on-chip (SOC) designers to reap all of the advantages for the latest energy-efficient processors: die-size reductions, faster frequencies, and lower power consumption, the company had said earlier.
Compared to Samsung's 20nm process technology, this newest process enables up to 20 percent faster speed, 35 percent less power consumption and 30 percent productivity gain, said the company. As we already know, the Exynos 7 Octa has ARM Cortex-A57 cores and Cortex-A53 cores with ARM big.LITTLE Heterogeneous Multi Processing (HMP). The 14nm model is also expected to use the same implementation. The Samsung Exynos 7420 Octa-Core SoC is said to be used in the Galaxy S6 and the Galaxy S6 Edge.
The advanced 14nm FinFET process will be expanded to other products throughout the year followed by the Exynos 7 Octa, said Samsung.